Labeled Map of Montana with Capital & Cities
Labeled Map of Montana shows all the details about the Montana state, situated in the US. It is not only a landlocked US state, but also mountainous in its land profile. Montana is situated in the east of the Bitterroot Range of the Rocky Mountains, and south of Canada. In the Plains and the Northern Rockies, the state is located in the region of northwestern United States. Montana has borders with provinces of Canada, such as Saskatchewan, Alberta, and British Columbia in the north.
Labeled Map of Montana
It has borders with other US states, such as South Dakota and North Dakota in the east. In the south, it has borders with Wyoming. In the west and southwest, it has borders with Idaho. The nickname of this state is, "The Treasure State." Hence, on the vehicle license plates, it is possible to see, "Big Sky Country." As the 41st US state, Montana got admitted to the Union on November, 8th of 1889. The labeled map of Montana will provide all the details about the state's boundaries surrounding it.
It also provides the user the location of the state capital city, Helena, populated places and major cities, Principal as well as interstate highways, and railroads. The land area occupied by Montana is 147,042 square miles or 381,154 square kilometers. Montana is recognized as the fourth-largest US state. When compared, it is somewhat larger than Japan or Germany. In the western part of Montana, there are several mountain ranges.
The population of Montana state is just about 1.07 million people. Billings Logan International Airport and Bozeman Yellowstone International Airport are the largest airports situated in this state. The ten long rivers that flow in this state are Missouri River, Milk River, Yellowstone River, Kootenai River, Bighorn River, Powder River, Clark Fork River, Musselshell River, Tongue River, and Frenchman River. Major religion followed is Christianity.
Printable Map of Montana Labeled
With reference to the labeled map of Montana with states, the state of Montana is divided into fifty-six counties. Out of this, the state has two consolidated counties. They are Butte with Silver Bow County and Anaconda with Deer Lodge County. Montana local government comprise fifty-four county governments and 129 city governments. Besides, there are special districts numbering 736, and school districts numbering 321.
Labeled Map of Montana with Cities
As a part of the labeled map of Montana with cities, Billings is the largest city and an urban area. The metropolitan area of this city has a population of 181,000 people. Other large cities of Montana state with a population of more than 20,000 people, include Missoula with a population of 74,400, Great Falls with a population of 58,700, Bozeman with a population of 48,500, Butte with a population of 34,300, Helena with a population of 32,300 and Kalispell with a population of 24,000.
Labeled Montana Map with Capital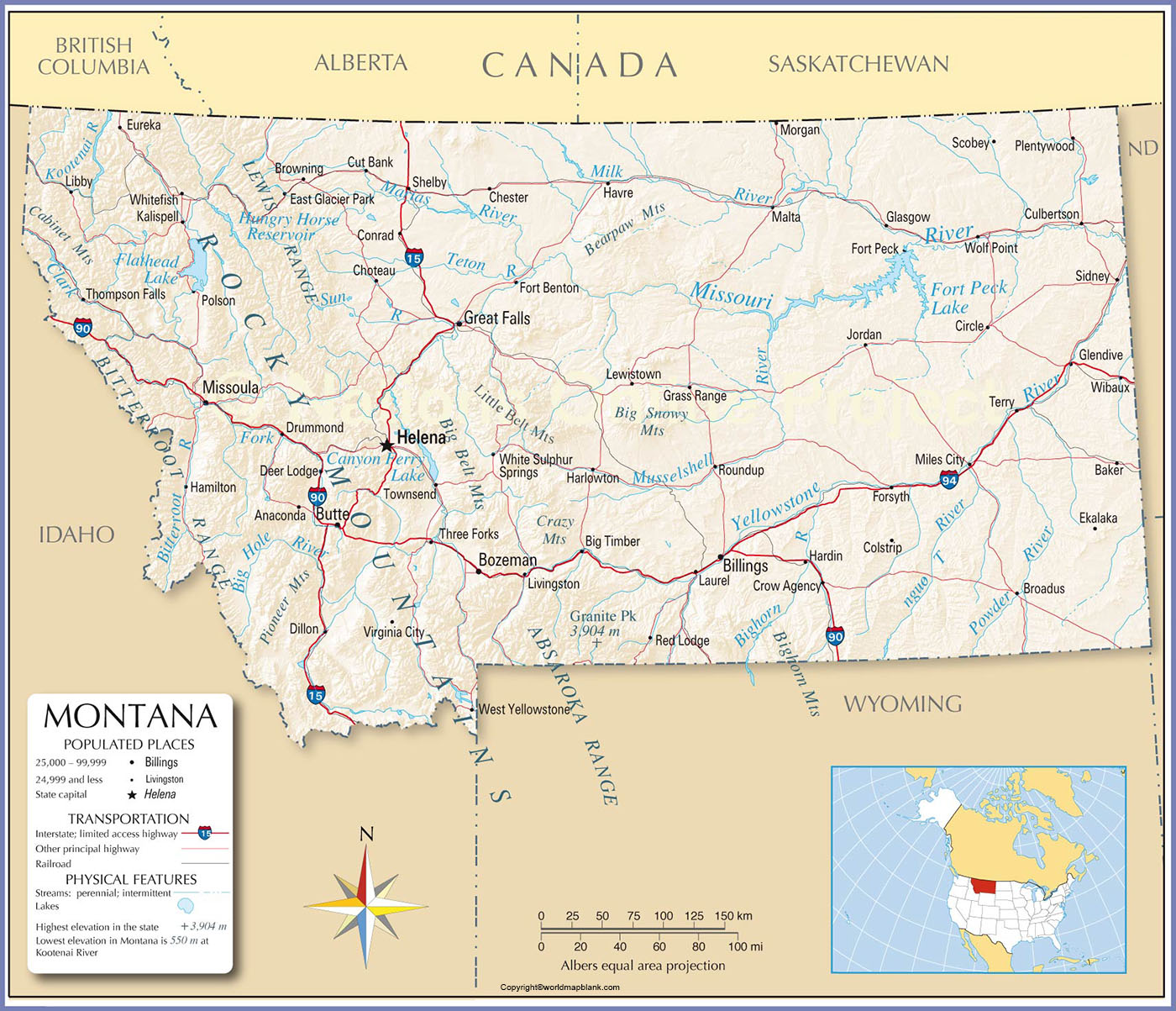 Labeled Montana with capital indicates that Helena is recognized as the state capital city. It has neoclassical buildings wherein important offices of the State Legislature are located.