Printable Blank World Map – World Map Blank [PDF]
Do you need a blank world map that you can use for any purpose? Look no further! You can download an empty world map right here and for free! Our outline world map does not contain any labels, so you can fill it in with whatever you want. All our maps are available as PDF files, and many are both in A4 and A5 sizes.
Blank world maps are a fantastic resource for students who want to learn more about the different geographic features of our planet. As a teacher, you can use them as templates for assignments or worksheets, and they're also great for personal and professional purposes.
In addition, you can combine any map from this page with our labeled maps of the world in various categories. And our country and continent maps will make your collection complete. So what are you waiting for? Download your free blank world map now!
Blank Outline Map of the World
Our first map is a world outline map that only shows the outer boundaries of the land masses of our planet. An unlabeled world map like this helps school children and other learners to practice and remember specific geographical features.
Download as PDF (A4)
Download as PDF (A5)
A useful exercise could be to color the different continents in various tones, e.g. North America in blue, South America in red, Africa in yellow, and so on. Another activity might be adding continent and country names as well as the names of the oceans of the world. You might also ask your students to draw typical animals or mountain ranges on the map.
Unlabeled Blank World Map
To give you more choices, here is another outline blank map of the world. Like all our other maps, this black-and-white world map without names is free to download as a PDF file.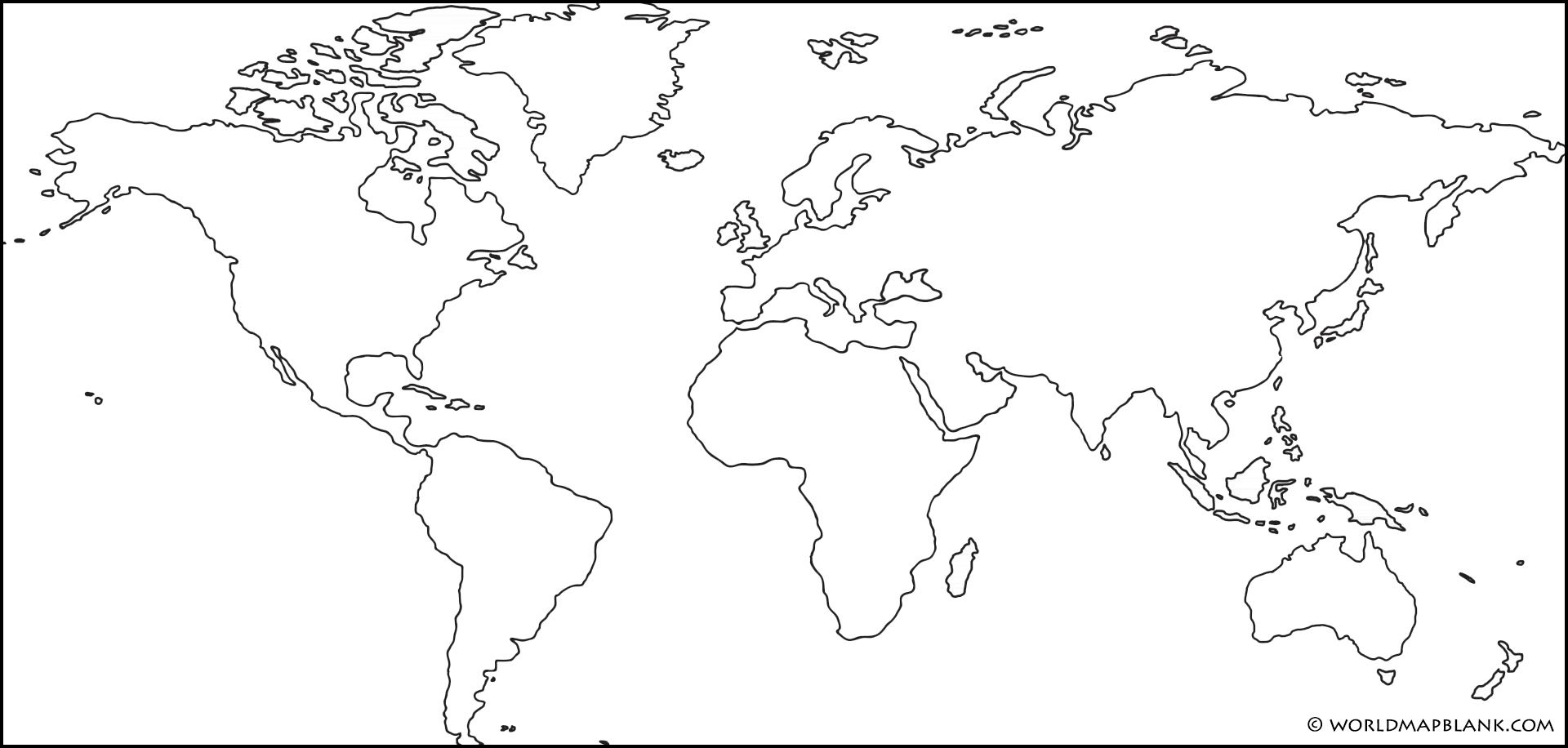 Download as PDF (A4)
Download as PDF (A5)
Click on the link below the image to download this unlabeled world map. You can also print the map directly from your browser without saving it on your device. If you need a larger map for decoration, you can check out the blank world wall maps on our World Map Blank Shop site.
Blank World Map with Countries
If you want a more detailed outline world map, try our next one! It also includes the location of the major countries of the world and their boundaries.
Download as PDF (A4)
Download as PDF (A5)
Blank world maps are widely used in geography teaching and to outline different parts of the world. To understand the geography of planet Earth, students need to learn about the physical locations of continents, countries, oceans, rivers, lakes, mountain ranges, and more. An unlabeled world map is a best-practice resource for memorizing these geographical features. Exercises like coloring, drawing, or adding symbols to a blank world map enhance learning.
Blank World Map to Fill in
Improve the learning experience by combining any blank map from this page with a labeled world map. We also offer free printable maps of continents and single countries. The outline map below is another one that includes international borders.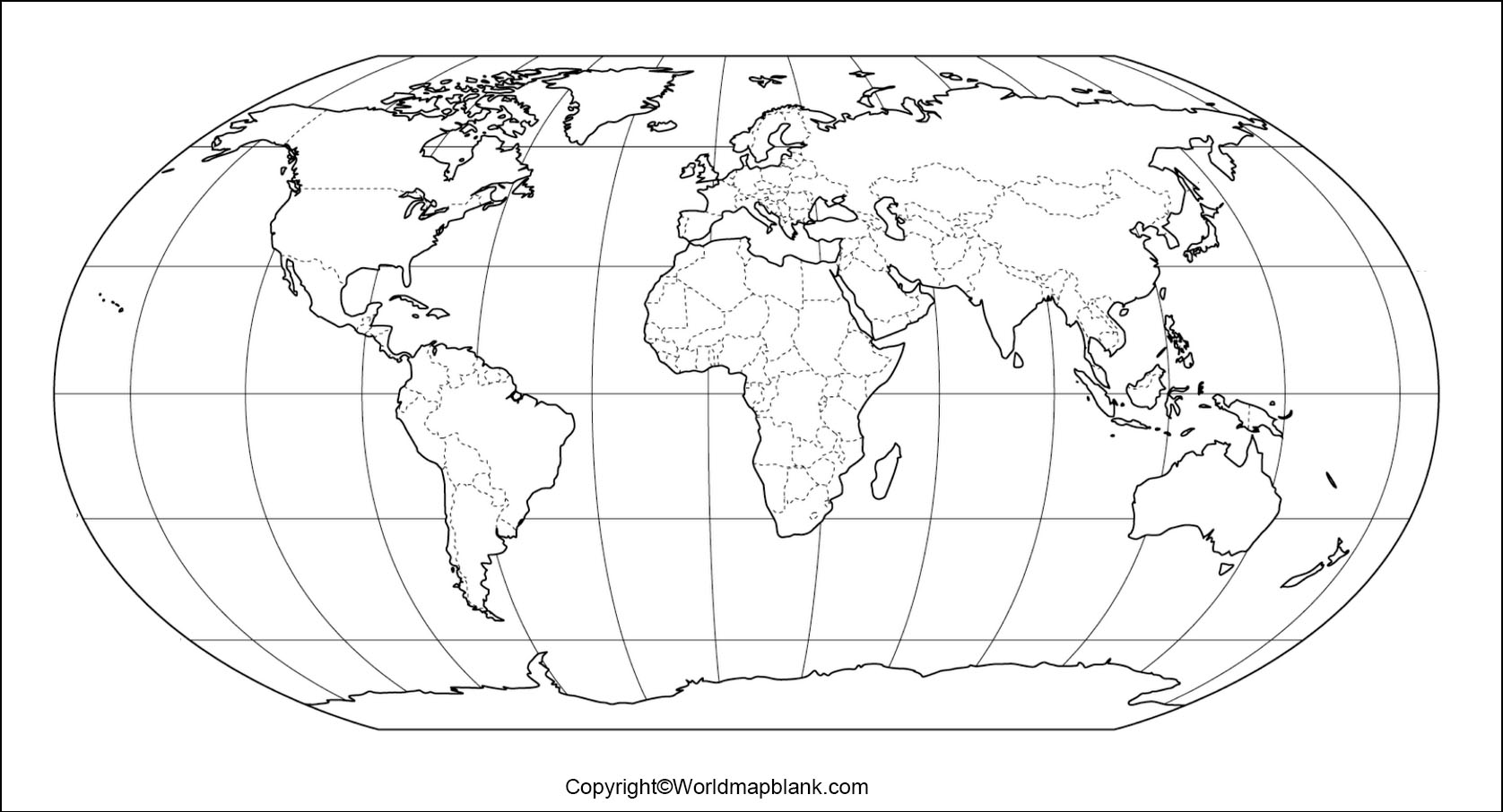 Download as PDF (A4)
Download as PDF (A5)
You could hand it to your students for coloring or make a world map puzzle by cutting it into pieces. You might also ask them to color particular countries or regions by answering specific questions. For example, your class could mark all the English-speaking countries worldwide. Another idea would be to color all the nations of a single continent, such as Europe or Africa.
Blank Map of the World with Borders
Our following map is another alternative blank world map with borders that can be used for classroom exercises, homework assignments, worksheets, and quizzes. If you want to save time in lesson preparation, get our ready-made and customizable blank world map worksheets!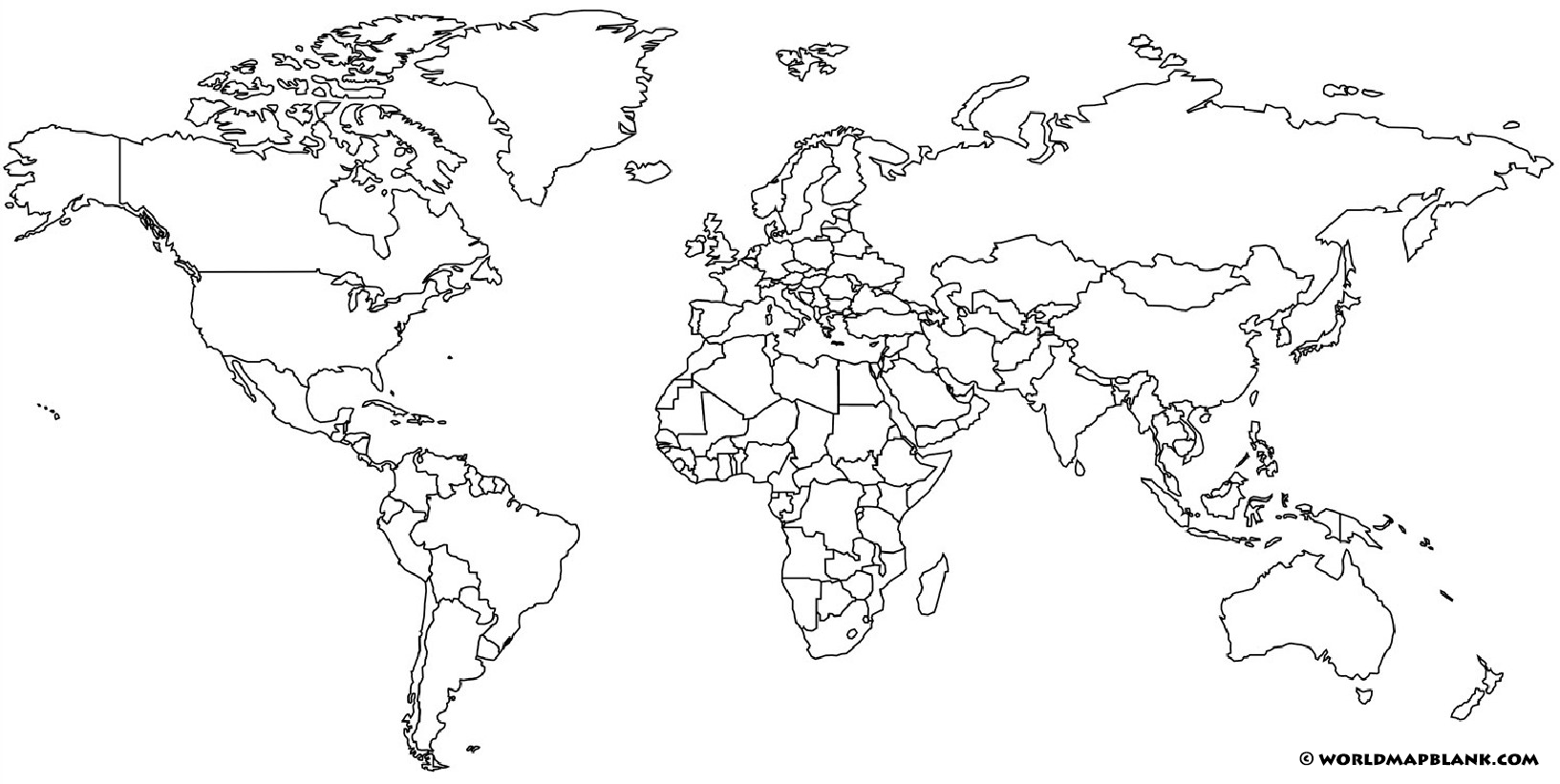 Download as PDF (A4)
Download as PDF (A5)
Of course, all of our maps are also great for homeschooling activities. There are plenty of possibilities with our printable blank maps of the world!
Colored Blank World Map
The map below is a printable world map with colors for North America, South America, Europe, Africa, Asia, Australia, and Antarctica. It also contains the borders of all the countries. However, the world's fifth-largest continent – Antarctica – is almost entirely covered by ice and has no countries on it.
Download as PDF (A4)
Download as PDF (A5)
Further below, we have included more blank world maps in different variations.
Printable Blank World Map
Here is another map that only shows our planet's landmasses without any country borders.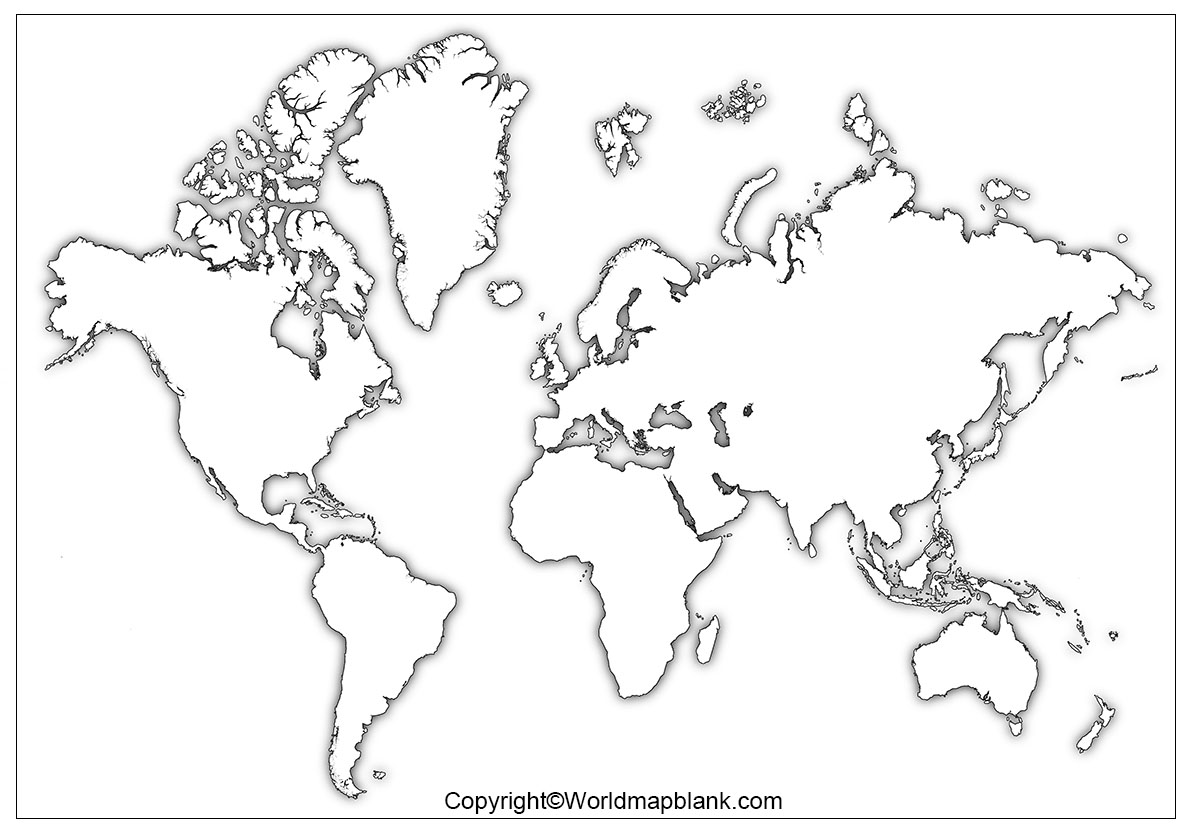 Download as PDF (A4)
Download as PDF (A5)
While labeled maps are helpful for initial learning, a white map or a blank world map to fill in is particularly useful for repeated practice. You can use it to confirm what has been learned or for final testing.
Download as PDF (A4)
Download as PDF (A5)
All the maps you can download here have been optimized for printing purposes. Click on the link below the images to get your free printable world map. Many of our maps are available in a larger A4 and a smaller A5 format.
Printable Blank Map of the World
Below, we would like to provide another simple world map outline.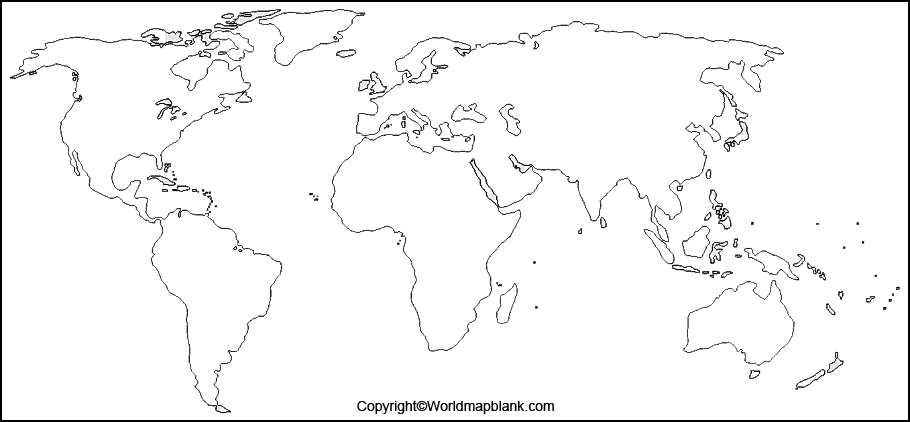 Additionally, we offer many other types of world maps for different purposes and learning objectives. Our free maps can be applied to learning about major volcanoes, the countries with the largest rivers, all the nations of a particular continent, natural resources, oceans, capitals, the Mercator projection, and much more.
Download as PDF (A4)
Download as PDF (A5)
You can use a map of the world for a practice worksheet for regular practice sessions. It is a perfect option for students, parents, and teachers to thoroughly understand the world map and learn or teach about geography and everything that can be outlined on world maps.
Blank World Map Worksheet
Here is another printable blank map of the world that you can use for creating worksheets. Such tools help to memorize and verify what has been learned.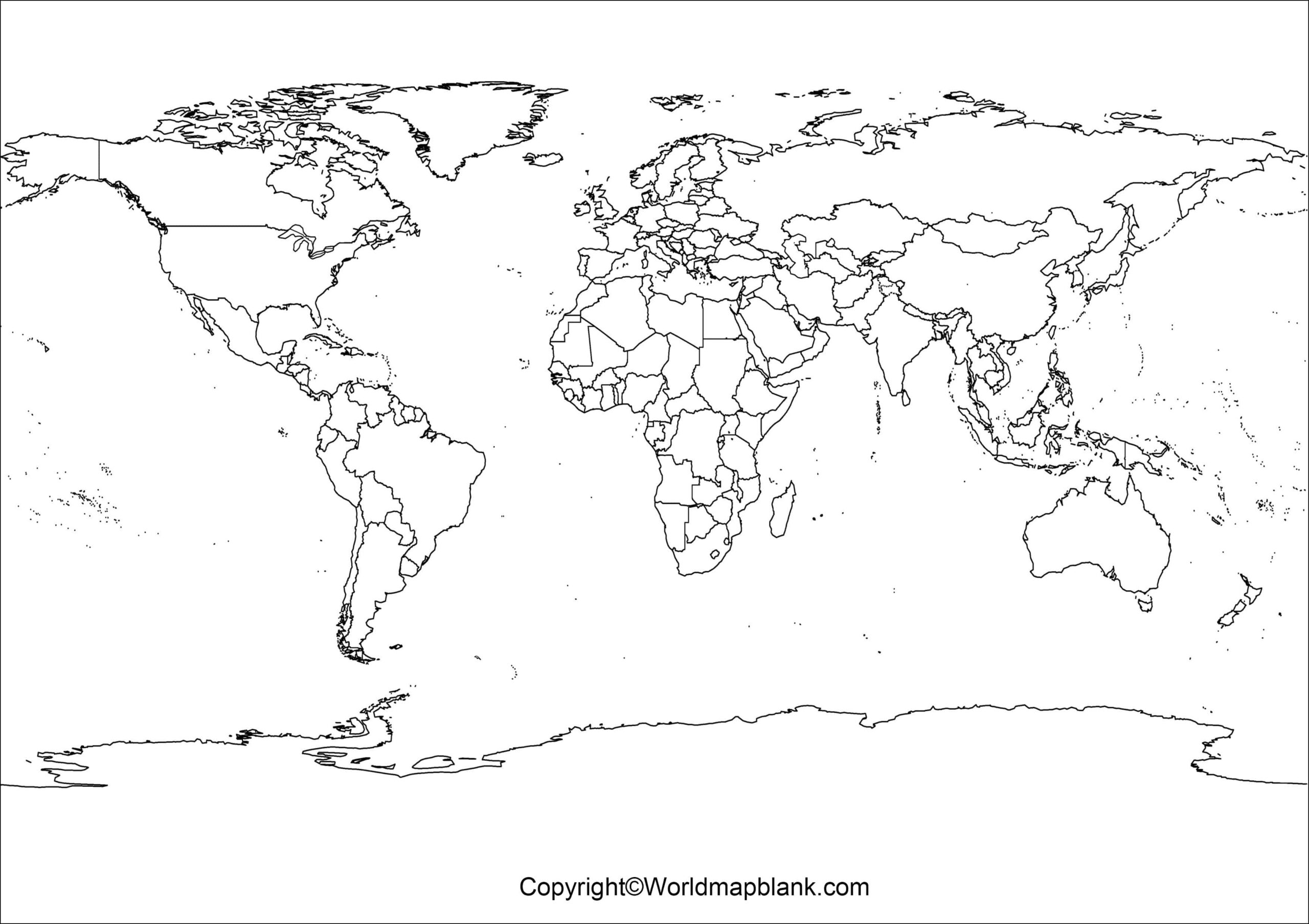 Download as PDF (A4)
Download as PDF (A5)
Additional blank political maps can be found on our website. We also provide physical world maps as well as many USA maps.
Download as PDF (A4)
Download as PDF (A5)
More Free Maps for Download
Here are links to other printable world maps, continent maps, and country maps downloadable as PDF files. If the map you need is not listed, you can use the search feature at the top of this page. If you still need help finding what you're looking for, please send us a message. Please tell us exactly what kind of map you need, and we will try to create it for you.
World Maps
Continent Maps
USA Maps
Country Maps