Map of California With Counties and Cities [PDF]
Download from this page your labeled map of California with counties or your California map with cities. You can save any map as a PDF file and print as many copies as you like.
Labeled California Map with Counties

California is a state located on the West Coast of the United States. It is the most populous U.S. state, with an estimated 2022 population of 39.2 million. More than half of the population of California have Spanish as their mother tongue. The state is one of several majority minority areas in the United States. This means that minorities, instead of Non-Hispanic whites, make up the majority of the population.
Our first map is a CA county map with all the counties of California.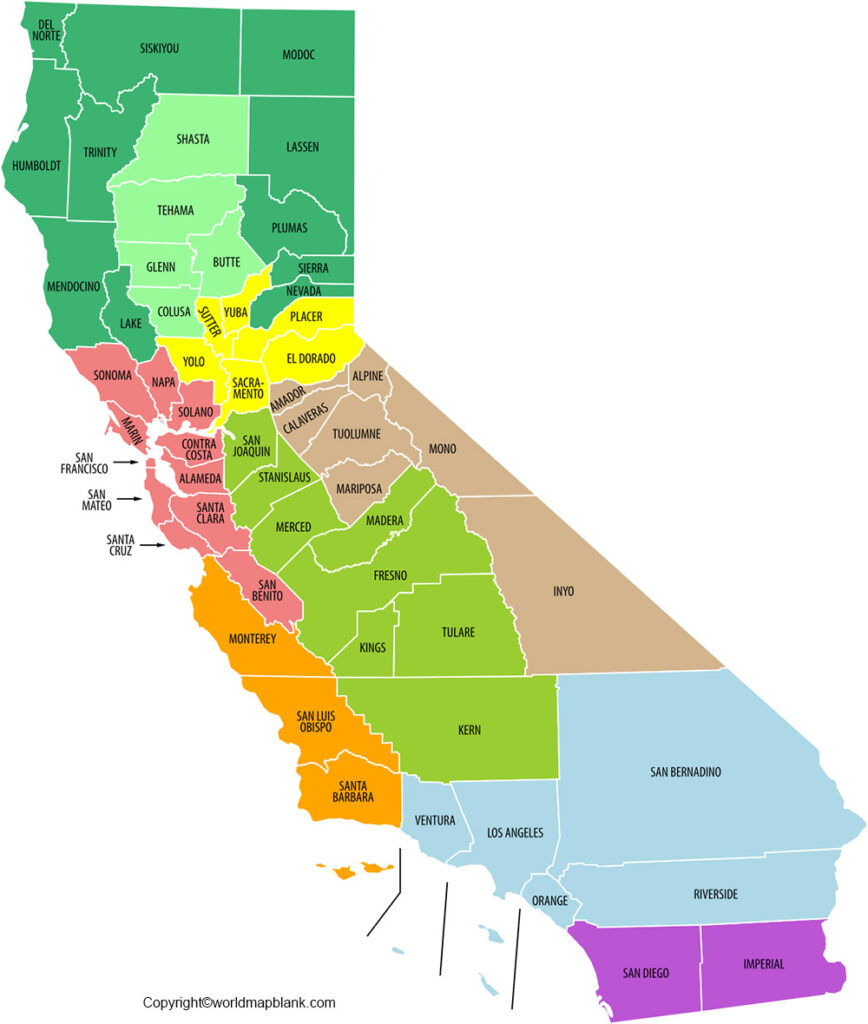 California became a state of the USA in 1850 after the Mexican-American War from 1846 to 1848. In the Treaty of Guadalupe Hidalgo, Mexico agreed to sell California and other territories to the United States for $15 million (approx. $470 million today). Other territories of Mexico ceded to the United States were Texas, Arizona, Nevada, New Mexico and Utah as well as parts of other present-day U.S. states.
The "Golden State" California is the third largest state in the U.S. by area, after Alaska and Texas. California is called the "Golden State" because of the discovery of gold in 1848 at Sutter's Mill, which sparked the California Gold Rush, one of the largest mass migrations in U.S. history.
California borders Oregon to the north, Nevada and Arizona to the east, and the Mexican state of Baja California to the south. With an area of 163,696 square miles (423,970 square kilometers) it is 13% larger than Germany.
Printable Map of California with Cities

The capital of California is Sacramento, but Los Angeles is the state's most populous city. It is also the second most populous city in the United States after New York City. California also has the nation's most populous county, Los Angeles County, and its largest county by area, San Bernardino County. The City and County of San Francisco are among the most densely populated areas in the United States as well.
The state has a diverse geography with a Mediterranean climate in the coastal areas, as well as a humid subtropical climate in the interior Valley regions. The Badwater Basin in Death Valley in the Mojave Desert has the lowest point in North America.
Several rivers have their origin in the Sierra Nevada including the Tuolumne, Kings, Kern, and Sacramento Rivers. The longest river in California is the San Joaquin, which flows through the central valley. California also has the tallest dam in the country, Oroville Dam.
Labeled California Map with Cities
California's economy is dependent on trade and international related commerce accounts for about one-quarter of the state's economy. The top exports of California are electronic products, transportation equipment, agricultural products and computers and information technology.
California has been ranked as the fifth largest economy in the world if it were a sovereign country. The economy is fueled by innovation and a diverse range of industries including agriculture, tourism, entertainment, technology, and manufacturing.
Some of the largest companies in the world are headquartered in California including Apple, Alphabet (Google), Meta (Facebook), Twitter, and Uber. Silicon Valley near San Francisco is considered the global center for high-tech innovation and development.
The state of California is rich in natural resources including timber, oil, and minerals. It also has a large agricultural sector, producing over 400 different commodities. The main agricultural products from California are dairy, grapes, and almonds. Wine from California is also very popular, and there is a large and increasing legal cannabis production.
Tourism is a major industry in California as well. Some of the most popular tourist destinations in California include Disneyland, the Universal Studios Hollywood, the San Diego Zoo, and Yosemite National Park. The movie industry in Hollywood is responsible for the majority of American movies and TV shows.
California is also home to many well-known universities including Stanford, Berkeley, and USC. These institutions are not only leaders in academia, but also in research and development.
Labeled California Map with Highways
There are several major highways in California that are essential for travel throughout the state. Highway 101 runs along the coast and is a key route for visitors exploring California. Highway 5 goes through the Central Valley, connecting Northern and Southern California. It runs from San Diego up to Vancouver in Canada, also crossing the states of Oregon and Washington. Highway 10 is an east-west route that connects Los Angeles with Phoenix, Arizona.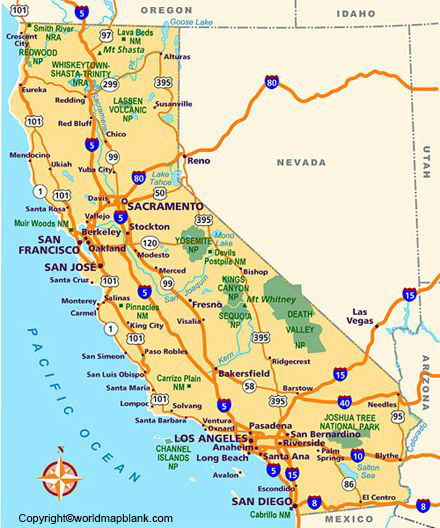 A labeled map can be used in school for a variety of learning activities. For example, students can use labeled maps to identify the location of different countries and cities. Additionally, labeled maps can be used to teach students about the physical features of an area, such as mountains, rivers, and forests. By using labeled maps in the classroom, teachers can help students learn about the world around them in a fun and engaging way.
It also makes sense to combine labeled maps with blank maps at a later stage in the learning process. This can help children learn about map symbols and how to read a map. It is also a good way of revising what has been learned and consolidating knowledge. Labeled and blank maps can be used for assessment purposes and testing students as well. They are a useful tool for worksheets and homework assignments, too.
Other Free Printable Maps for You to Download
Please see below a collection of links to other labeled maps and more printable maps in PDF. You will find further free maps via our search feature in the top menu of this page.
Labeled Maps
Ocean Map of the World with Labels
Blank Maps
Blank Map of the United States
Continent Maps
Country Maps
Map of Germany with States and Cities
Belarus Map with States and Cities