Blank Map of Mexico – Outline Map of Mexico [PDF]
Are you teaching or learning about the geography of Mexico? Do you need a blank map of Mexico for a presentation? Would you like to create your own personal map based on an outline map of Mexico? Maybe for tracking your travel route through this amazing country? Then take a look at this article where we offer several black and white maps of Mexico for free!
Any printable blank Mexico map on this page is available as PDF file in two different sizes (A4 and A5). You can download the maps via the relevant link below the relevant images or print them out directly via your browser.
We also provide a labeled map of Mexico and many other interesting maps of various regions of our planet. So take a look around our website and see what we have for you!
Outline Map of Mexico
Mexico is bordered by the United States to the north, the Pacific Ocean to the west, Guatemala, Belize, and the Caribbean Sea to the southeast, and the Gulf of Mexico to the northeast.
It covers an area of approximately 761,610 square miles (1.97 million km2) and is the third-largest country in Latin America after Brazil and Argentina. Mexico's landscape is diverse and ranges from snow-capped mountains and deserts to tropical rainforests and white-sand beaches.
Download as PDF (A4)
Download as PDF (A5)
This map is great for drawing in those geographic details, like mountain ranges, rivers, landmarks, and climate zones.
Activity Idea: Identify the climate zone of each region, draw in a symbol that represents the geographic characteristics of the area. It's a great way to visualize the diversity of Mexico.
Blank Map of Mexico with States
The United Mexican States is a federal republic made up of 32 federal entities, which include 31 states and the national capital, Mexico City. Each state has its own constitution and congress, which operate independently from each other. This means that each state has the power to govern its own internal affairs, within the limits set by the federal constitution.
The legislative branch of each state government is made up of a unicameral congress, which is responsible for passing laws and regulations specific to each state. The executive branch is led by a governor, who is elected through universal suffrage and serves as the head of the state government. The judicial branch is represented by the Superior Court of Justice, which is responsible for interpreting and enforcing state laws.
In the Congress of the Union, each state is represented by three senators. Two of these senators are elected by relative majority, and one is assigned to the party with the largest minority. In addition to these 96 senators, 32 additional senators are elected through proportional representation. The federal Deputies, on the other hand, represent citizens rather than states.
Download as PDF (A4)
Download as PDF (A5)
The above map includes the 32 states and the inner borders of the country. This map is great for memorizing the names and locations of every Mexican state as well as other study purposes.
Blank Map of Mexico with Capitals
Each state in Mexico has its own capital city. The country's national capital, Mexico City, is located in the Federal District. Mexico City, also known as Ciudad de México or CDMX, is the capital city of both the country of Mexico and the federal entity of Ciudad de México. While it is not technically a state, it has its own government and is considered a separate entity with the same level of autonomy as the other 31 federal entities of Mexico.
Our fourth blank map of Mexico shows the outlines of each state and the location of its capital. This map can be useful for anybody studying Mexican politics and government, as it helps understand the country's administrative divisions.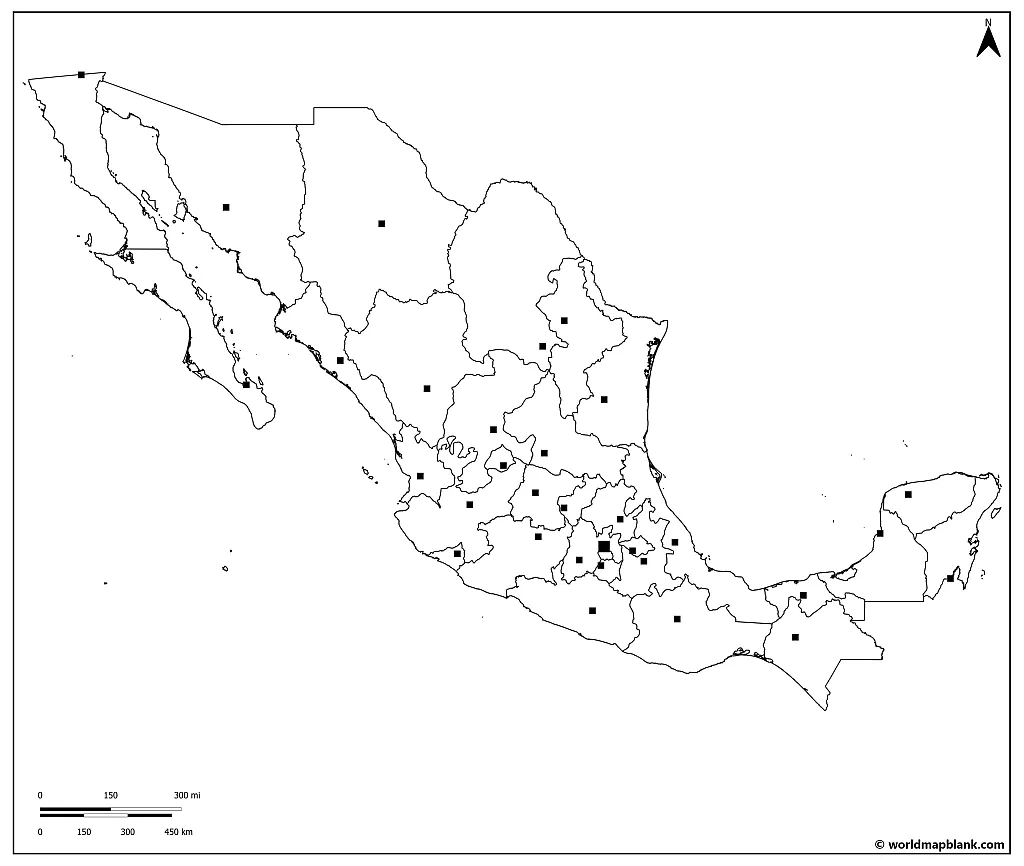 Download as PDF (A4)
Download as PDF (A5)
Here is a list with of the states and their capitals, capitals first in alphabetical order, followed by their states and populations:
Aguascalientes— Aguascalientes (1,435,000)
Chetumal — Quintana Roo (1,857,000)
Chihuahua — Chihuahua (3,801,000)
Ciudad de México (Mexico City) — Ciudad de México (9,209,000)
Colima —Colima (732,000)
Cuernavaca — Morelos (1,988,000)
Culiacán — Sinaloa (3,067,000)
Durango — Durango (1,848,000)
Guadalajara — Jalisco (8,302,000)
Guanajuato — Guanajuato (6,303,000)
Hermosillo — Sonora (3,141,000)
La Paz — Baja California Sur (798,000)
Mérida — Yucatán (2,341,000)
Mexicali — Baja California (3,765,000)
Morelia — Michoacán (4,780,000)
Oaxaca — Oaxaca (4,130,000)
Pachuca — Hidalgo (2,949,000)
Puebla — Puebla (6,583,000)
Querétaro — Querétaro (2,368,000)
Saltillo — Coahuila (3,215,000)
San Francisco de Campeche — Campeche (984,000)
San Luis Potosí — San Luis Potosí (2,862,000)
Tepic — Nayarit (1,236,000)
Tlaxcala — Tlaxcala (1,380,000)
Toluca — Estado de México (Mexico State) (17,249,000)
Tuxtla Gutiérrez — Chiapas (5,588,000)
Villahermosa — Tabasco (2,471,000)
Xalapa — Veracruz (8,182,000)
Zacatecas — Zacatecas (1,579,000)
Chilpancingo — Guerrero (3,633,000)
Oaxaca de Juárez — Oaxaca (4,130,000)
Would you like to pair this map with a similar Mexico labeled map showing all the names of the state capitals? Then take a look at our Mexico map with cities!
Where is Mexico on the World Map?
Mexico belongs to the continent of North America, and in the northern hemisphere. It is the southernmost country of the continent of North America, and a close neighbor to Central America. It's position between both continents, and also between both the Atlantic, and the Pacific Oceans make it extremely valuable.
Mexico has four standard time zones, that mirror the timezones in the United States. However, there are actually only three principle time zones that are used year round. The fourth had to do with daylight savings time. Officially, in 2022, Mexico abolished the concept of Daylight savings time. This means that in effect they eliminated one time zone.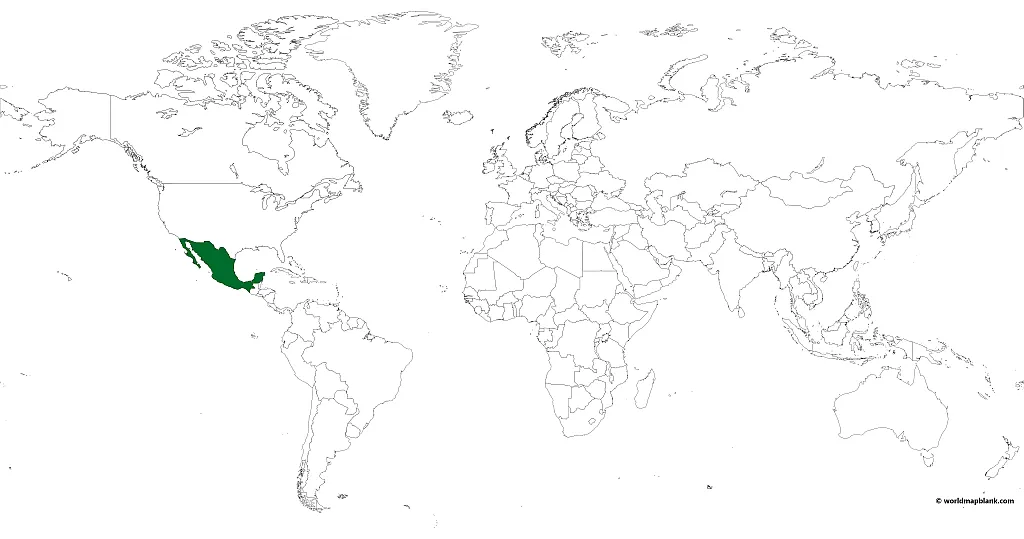 Download as PDF (A4)
Download as PDF (A5)
This map was created with MapChart. It displays Mexico on a world map.
Blank Map of Mexico with Cities
The following map of Mexico shows the outlines of the states as well as the locations of major cities throughout the country. This map can be useful for students who are learning about Mexican urban geography or for anyone who wants to explore Mexico's cities and their locations. Mexico has many large cities, including Mexico City, Guadalajara, Monterrey, Cancún, and Puebla.
Download as PDF (A4)
Download as PDF (A5)
The cities of Mexico offer a wide range of experiences, from bustling urban centers with vibrant nightlife to laid-back beach towns with a relaxed vibe. Each city has its own unique history and attractions, such as museums, markets, and festivals. All of them offer an interesting glimpse into Mexico's diverse culture.
Blank Map of Mexico with Neighboring Countries
What are the borders of Mexico? This last map shows Mexico's neighboring countries, including the United States to the north and Guatemala and Belize to the south. Look at this blank map of Mexico and Central America, and you can get an idea of what countries Mexico has relationships with. Mexico has a rich history of cultural and economic exchange with these countries, and their proximity makes for easy travel between them. Also, Mexico is bordered by the Caribbean Sea and the Pacific Ocean.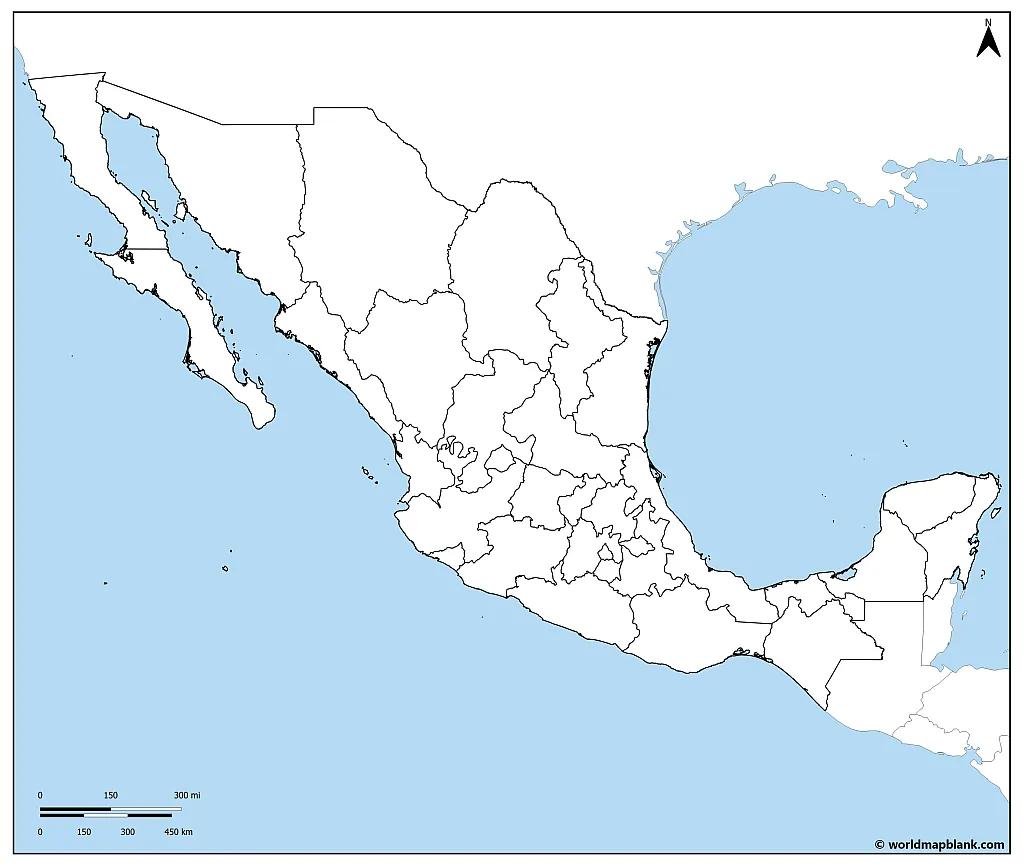 Download as PDF (A4)
Download as PDF (A5)
For students studying Mexican history and politics, this map can provide valuable insight into the country's relationships with its neighboring nations. Understanding these relationships is essential to comprehend Mexico's place in the larger regional context.
More Free Maps for Download
Did you find what you are looking for? If not, there are so many more maps to check out! Any of the maps on our site can be used for a variety of educational, professional, and personal purposes. If you are interested in learning more about Mexico, download one of our labeled maps of Mexico. Otherwise, take a couple minutes and surf our site. You will find blank, labeled, and many other maps free to print and download!
Latin America Maps
North America Maps
World Maps
Continent Maps
Other Country Maps