Canada Provinces Map – Map of Canada [PDF]
Our map of Canada and our Canada provinces map show all the Canadian provinces and territories. It is an excellent tool for learning more about the geography and administrative regions of the country. Download any Canada map from this page in PDF and print as many copies as needed. Alternatively, you can directly print your map from your browser.
We also offer a map of Canada with cities and different versions of a blank map of Canada. And if you want to teach or learn more about this fantastic country, get our Canada map worksheets!
Map of Canadian Provinces
Canada is a very diverse country located in North America. It's the world's second-largest country by total area (after Russia), covering about 3.8 million square miles (almost 10 million square kilometers). Canada has a population of approx. 38.5 million people (as of 2022) with a plethora of rich cultures and traditions ranging from indigenous peoples to immigrant communities from all over the world.
Our first map is a Canada map with provinces and territories. Click on the link below the image to download it for free in the desired format.
Download as PDF (A4)
Download as PDF (A5)
Canada is a vast country made up of ten provinces and three territories. From East to West, the provinces include Newfoundland and Labrador, Prince Edward Island, Nova Scotia, New Brunswick, Quebec, Ontario, Manitoba, Saskatchewan, Alberta and British Columbia. The Canadian territories of Yukon, Northwest Territories, and Nunavut stretch from Alaska in the west to the Arctic Ocean in the north and the Atlantic Ocean in the east.
Political Map of Canada
The following map shows the Canadian provinces and territories, including their capitals. These are Victoria (British Columbia), Edmonton (Alberta), Regina (Saskatchewan), Winnipeg (Manitoba), Toronto (Ontario), Quebec City (Quebec), Fredericton (New Brunswick), Halifax (Nova Scotia), Charlottetown (Prince Edward Island), St. John's (Newfoundland and Labrador), Whitehorse (Yukon), Yellowknife (Northwest Territories) and Iqaluit (Nunavut).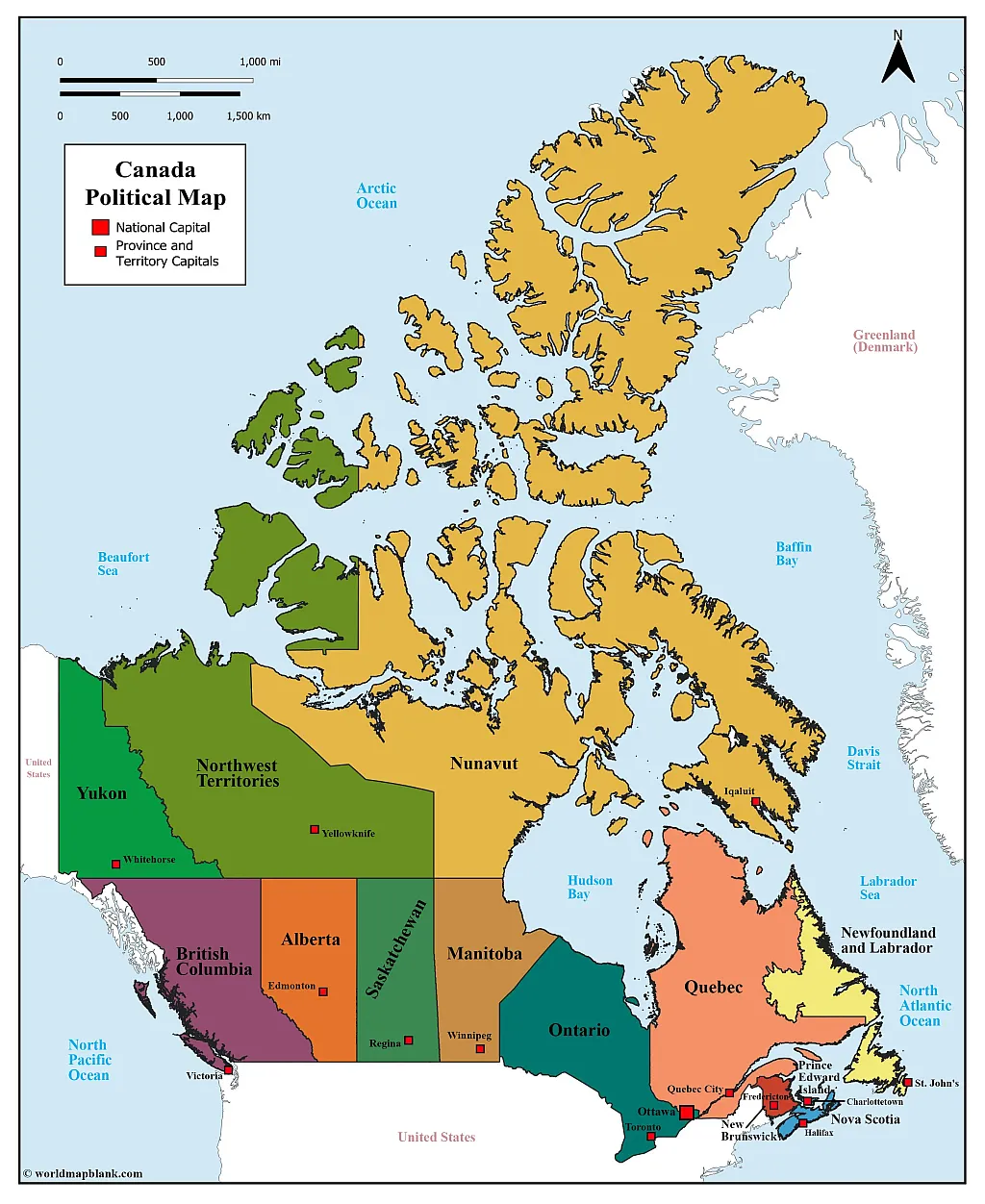 Download as PDF (A4)
Download as PDF (A5)
What are the Longest Rivers in Canada?
The longest rivers in Canada are the Mackenzie River, the Yukon River, and the St. Lawrence River. The Mackenzie in the Northwest Territories is Canada's most extended river system, with a length of 2,635 mi (4,241 km). Its headwaters are located in the Great Slave Lake, from where it flows north into the Arctic Ocean.
The second longest river in Canada is the Yukon River, which runs from British Columbia through the Canadian territory of Yukon to Alaska with a total length of 1,979 mi (3,185 km). It is commonly known as one of North America's great salmon rivers for its excellent fishing opportunities.
The third longest river in Canada is the St. Lawrence River, totaling 1,900 mi (3,058 km). From its headwaters in Lake Ontario, it flows eastward across Ontario and Quebec before draining into the Gulf of St. Lawrence and eventually the Atlantic Ocean.
What are the Largest Lakes in Canada?
The five largest lakes in Canada are Lake Superior and Lake Huron (both in Ontario), the Great Bear Lake, and the Great Slave Lake (both in the Northwest Territories), as well as Lake Erie (in Ontario).
Canada has a huge number of lakes, the total number of which is unknown. There are more than 31,000 Canadian lakes larger than 3 km² (1.16 mi²) and 561 lakes larger than 100 km² (38.6 mi²).
Canada Map
Canada has a very diverse geography with seven distinct regions. The Canadian Shield is a large area that covers much of the northern part of the country around Hudson Bay and consists of rocky, glaciated mountains, lakes, and forests. The Appalachian Mountains region can be found in eastern Canada. It runs from Newfoundland all the way south to the state of Alabama in the USA. The Canadian Rocky Mountains, the Coast Mountains, and other mountain ranges form the Pacific Cordillera as the northern part of the North American Cordillera.
Download as PDF (A4)
Download as PDF (A5)
The Canadian Rockies have several high peaks, such as Mount Robson (12,972 ft or 3,954 m) and Mount Columbia (12,293 ft or 3,747 m). Other significant landforms include the Great Lakes-St Lawrence Lowlands located near Ontario's border with the United States, the Hudson Bay Lowlands, the Arctic Archipelago in Nunavut and the Northwest Territories as well as the Canadian Prairies in western Canada (as part of the Interior Plains of North America).
Canada Map Labeled
Our following Canada province map can be used as a reference map combining all the features of our other maps. Like most of our website's free maps, it was created with professional GIS mapping software.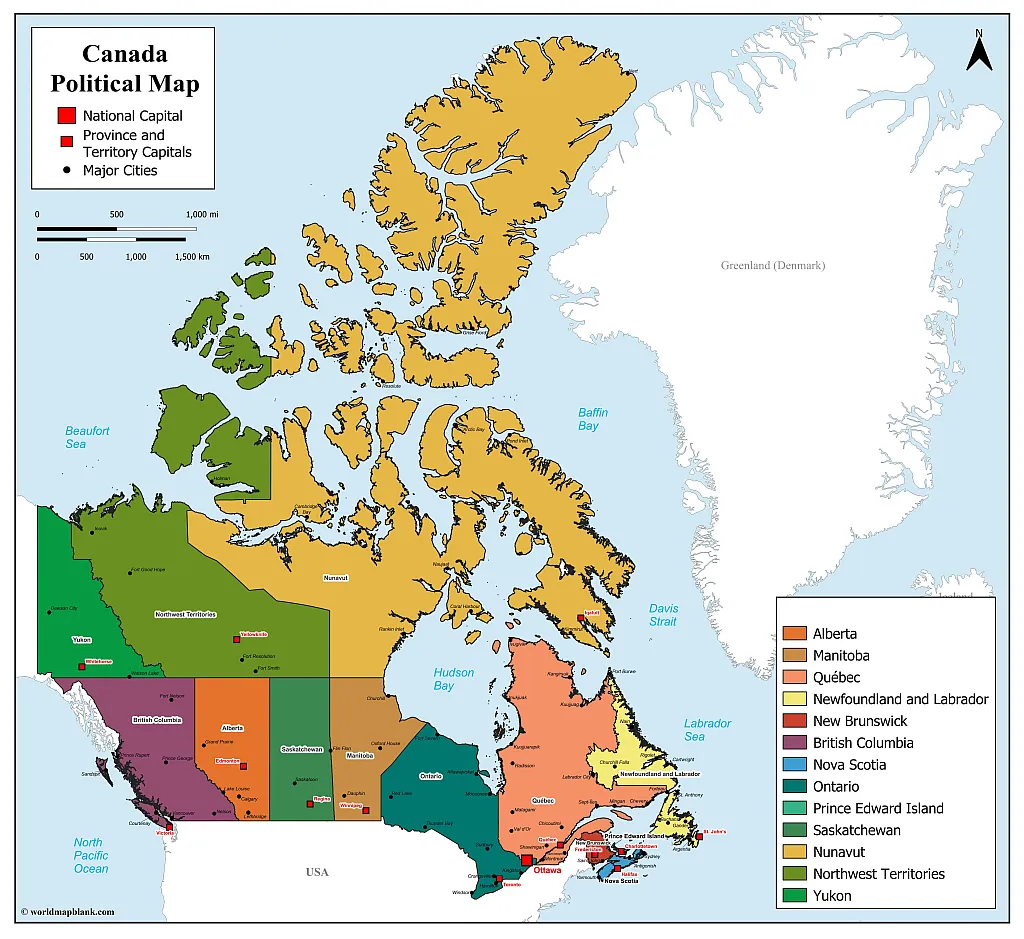 Download as PDF (A4)
Download as PDF (A5)
If none of our Canada provinces and territories maps is helpful to you, please get in touch with us and describe what kind of map you need. We will then try to create it for you free of charge and publish it here.
Canada Map with Cities
The below map of Canada with cities also shows the locations of the major cities in the country. For best learning success, combine this map with a similar blank map of Canada with cities.
Download as PDF (A4)
Download as PDF (A5)
The capital of Canada is Ottawa, located on the south bank of the Ottawa River in Ontario. It was founded in 1826 as Bytown and received its current name in 1855. Today, it has a population of approx. 1 million people (1.4 million in the metropolitan area of Ottawa-Gatineau), making it the sixth-largest city in Canada.
The major cities in Canada by population are Toronto, Montreal, Vancouver, Calgary, and Edmonton.
More Free and Printable Maps for Download
Further below, we have collected a few links to other maps you might be interested in. All of our printable maps can be used free of charge. Also, try our search feature at the top of this page to find more maps that might be useful to you. Download your PDF maps now!
World Maps
Continent Maps
Country Maps