Printable Blank Map of North America – Outline Map, Transparent PNG
Download here a blank map of North America or a blank outline map of North America for free as a printable PDF file. It is a great learning and teaching resource for the geographical structure of the continent.
A blank map of North America can be used at home or in the classroom to teach the geography of the United States, Canada and Mexico. It is particularly useful for drawing and marking geographical features such as cities, borders, rivers and mountain ranges into the map. Finally, it is equally great for coloring exercises and for creating worksheets.
Blank Outline Map of North America
Our first North America outline map shows the outer borders of the continent comprising Canada, the Unites States and Mexico. Additionally, it includes some Caribbean islands including Cuba and Hispaniola. However, it does not depict the national borders between the countries.
Depending on the definition, North America might or might not include the Caribbean and Central America with countries such as Cuba, Haiti, Panama, Costa Rica or Belize. Generally however it does.
Below is another blank map of the North American continent, now with the international borders between the countries and some labeling.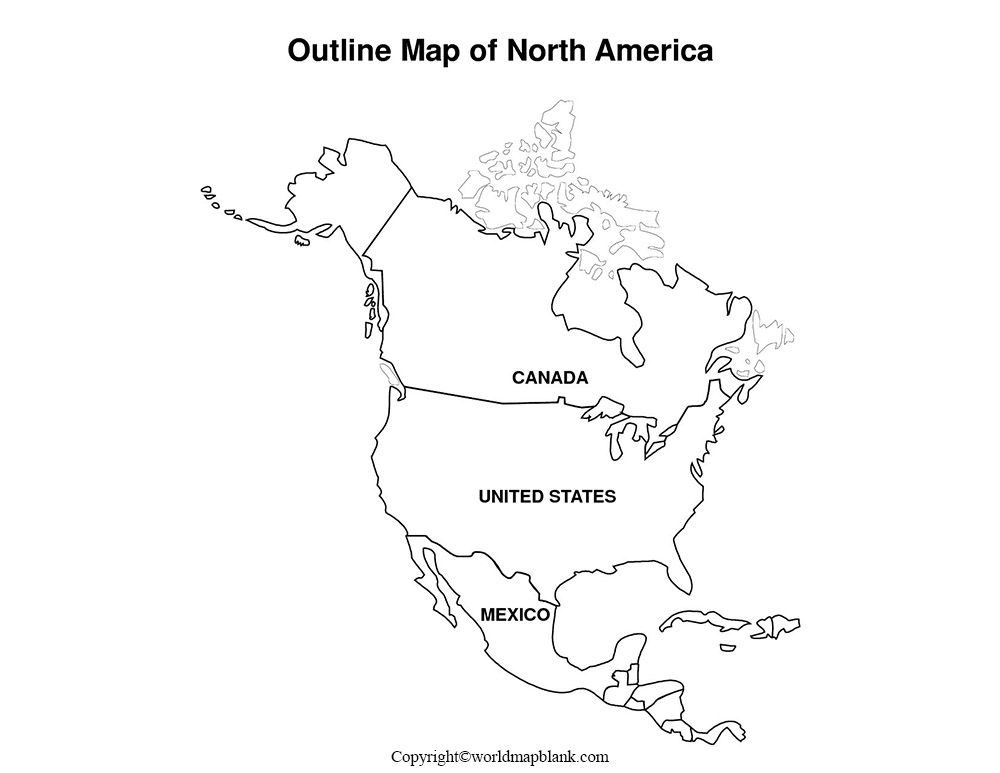 Printable Blank Map of North America with Borders

Our next printable blank map of North America includes all the US state and Canada provincial borders as well as the international borders of Mexico and other countries.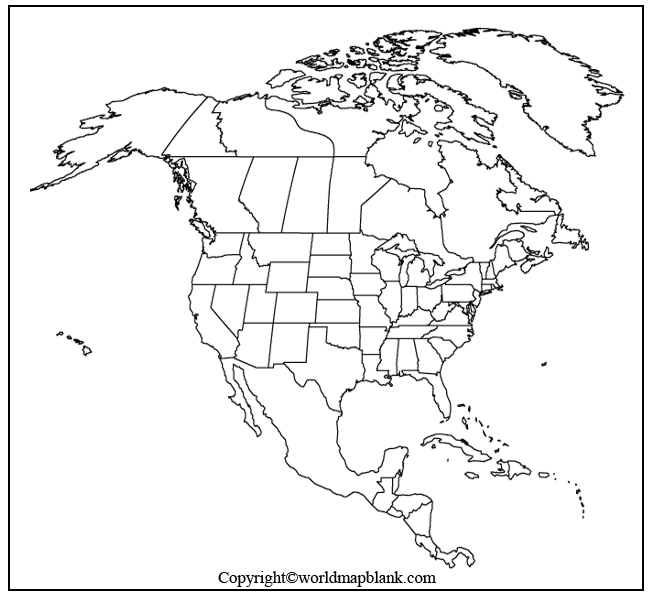 This map is particularly great for coloring exercises or to mark the names of the countries, states, provinces and territories into the map.
Geographically, Greenland belongs to North America, too.
North America Map Transparent PNG

The following transparent PNG map of North America has a transparent background and is solid black.
You can download as a PDF file anyway just like the other maps and print it out.
Blank Map of North America for Practice Worksheet
Use the next map as an image or PDF file to create your own practice worksheet about North America.
More Free Maps to Download and Print
Below you will find a few links to more free maps of North America, Central America and South America as well as other regions. Additionally, we offer blank country maps, labeled maps as well as a blank and labeled world map. You will even find river and mountain maps on this website!
Simply click on the links to be forwarded to the relevant page where you can download your maps as PDF files and print them.
North America Maps
South America Maps
Central America Maps
World Maps
Continent Maps
Country Maps
River and Mountain Maps