Blank North America Map – Outline Map of North America [PDF]
Download here a blank map of North America or a blank outline map of North America for free as a printable PDF file. A blank North America map is a great learning and teaching resource for the geographical structure and features of the North American continent.
Our blank maps of North America can be used at home or in the classroom to teach the geography of the United States, Canada, and Mexico. They are handy for drawing and marking geographical features, such as cities, borders, rivers, and mountain ranges on the map. Finally, they are great for coloring exercises and for creating map worksheets.
Remember to complete your map collection with a United States map with states, a blank USA map, or an outline map of Canada!
Blank Outline Map of North America
Our first blank outline map of North America shows the outer borders of the continent comprising Canada, the United States, and Mexico. Additionally, it includes some Caribbean islands, like Cuba and Hispaniola. However, it does not depict the national borders between the countries. Most of the nations in the Caribbean are not included either.
Depending on the definition, North America might or might not comprise the Caribbean and Central America with countries like Cuba, Haiti, Panama, Costa Rica, or Belize. However, most definitions do include these countries. And, geographically, Greenland belongs to North America, too.
North America Outline Map
Here is another option of an outline map of North America, only showing the outer boundaries of the continent. It follows the Mercator projection, so Greenland is shown much larger than it really is. If you'd like to learn more about the distortion of land masses in maps, you can read our article about the Peters projection map.
Download as PDF (A4)
Download as PDF (A5)
The above map is one of three of our printable North America outline maps that you can download both in A4 and A5 size.
North America Blank Map
Our second North America blank map includes the borders between countries and also parts of other continents like Europe, Africa, and South America. Additionally, the surrounding oceans are colored. This map is ideal for marking geographical features and labeling the names of countries and water bodies.
Download as PDF (A4)
Download as PDF (A5)
You could combine this map in your activities with an oceans map of the world. We also offer continent maps of the other land masses shown on the map.
Blank Map of North America and Central America
The following map is a variation of the one before. However, this blank map of North America and Central America is totally in black and white, and it does not show any landmasses other than the Americas and Greenland.
Download as PDF (A4)
Download as PDF (A5)
If you are interested in other continent maps, check out our blank map of South America or download a Europe outline map. We offer continent maps for Asia, Africa, and Australia, too.
Printable Blank Map of North America with Borders

Our following printable blank map of North America includes all the US state and Canadian provincial borders. It also shows the international borders of Mexico and other countries.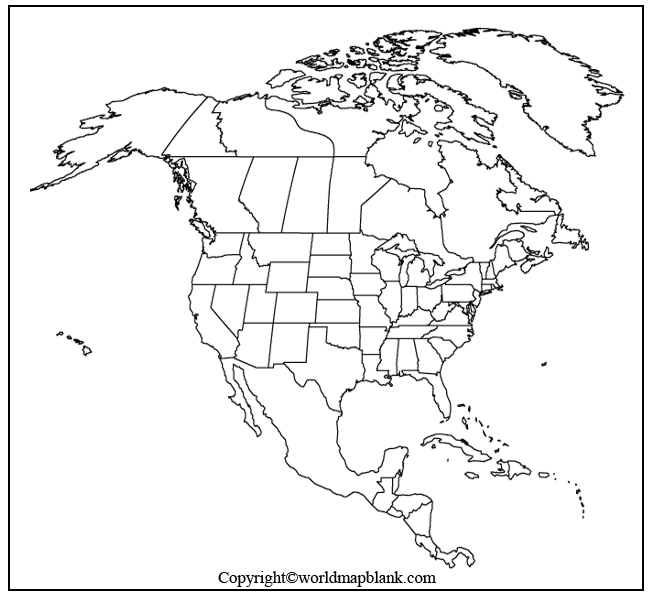 This map is great for coloring exercises or to mark the names of the countries, states, provinces, and territories on the map. To download maps of single countries, see the list of related maps at the end of this page.
Blank Map of North America for Practice Worksheet
Use the last map on this page as an image or PDF file to create your own practice worksheet about North America. To save some activity planning time, check out our ready-made and editable USA states and capitals worksheets and Canada map worksheets!
If you need a different empty map of North America than the ones shown here, get in touch with us! Let us know what map you need, and we will try to make it for you.
More America Maps to Download and Print
Below are a few links to additional free maps of North America, Central America, and South America. But we also offer world maps, country maps, and continent maps.
Click on the links to be forwarded to the relevant page, where you can download your maps as PDF files or print them from your browser.
North America Maps
South America Maps
Central America Maps