Printable Blank Map of Canada – Outline Map of Canada
A blank map of Canada or an outline map of Canada is a great tool for practicing your knowledge of the country's borders, provinces and territories. It can also be used for teaching and learning the names and locations of major cities. Simply print out any unlabeled Canada map you like from this page or save it on your computer for future reference.
Blank Map of Canada
Canada is a country located in the northern part of North America. It consists of ten provinces and three territories. The land mass of Canada stretches from the Pacific to the Atlantic and northward into the Arctic Ocean. It's the world's second-largest country by total area, covering 3.85 million square miles (9.98 million square kilometers). Canada's southern border with the United States is the world's longest land border between two countries.
Our first blank map of Canada includes all the territory and province borders and is available both in A4 and A5 size.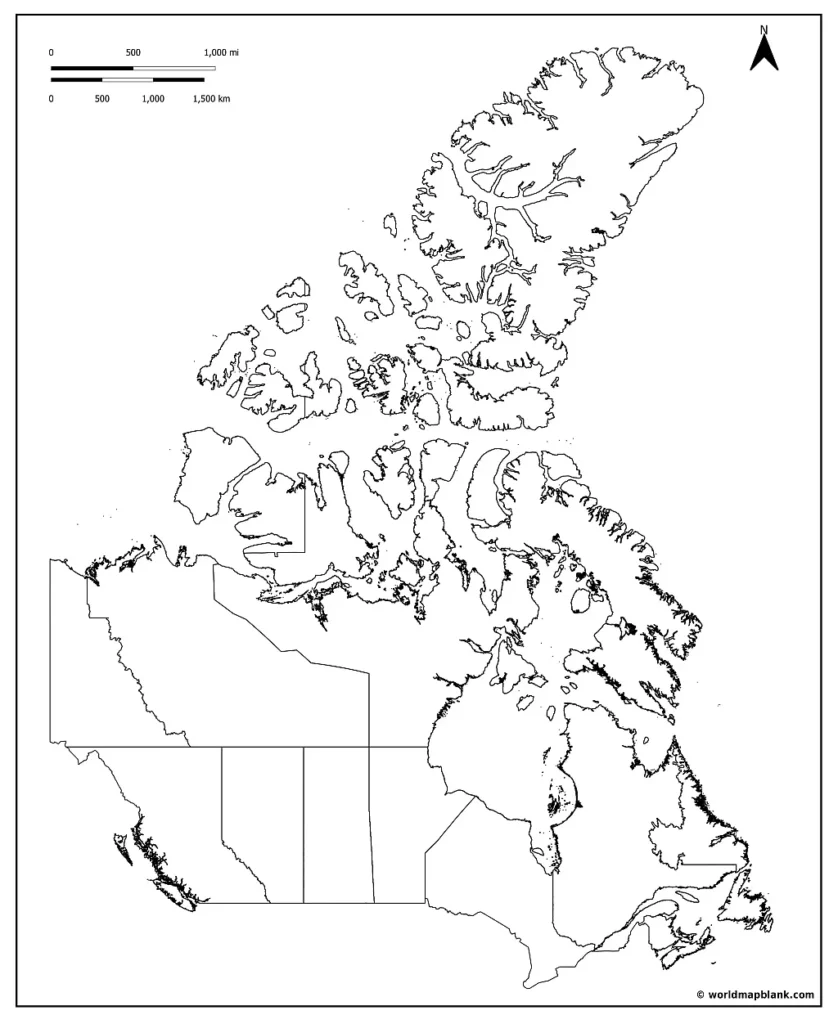 Download as PDF (A4)
Download as PDF (A5)
The provinces of Canada and their capitals are Alberta (Edmonton), British Columbia (Victoria), Manitoba (Winnipeg), New Brunswick (Fredericton), Newfoundland and Labrador (St. John's), Nova Scotia (Halifax), Ontario (Toronto), Prince Edward Island (Charlottetown), Quebec (Quebec City), and Saskatchewan (Regina).
The three territories of Canada are the Northwest Territories (Yellowknife), Nunavut (Iqaluit), and the Yukon Territory (Whitehorse).
Canada has a population of over 38 million people, the national capital is Ottawa.
Blank Map for Canada
Using a blank map is an excellent way to teach or learn about geography. Not only will you or your students be able to label countries, cities, and other geographical features. But you can also teach or learn about the physical features of the relevant region. Finally, you can use a blank map to create or study for a test, or simply to improve your general understanding of geography.

Here are some tips on how to use a blank map for teaching and learning:
Start by familiarizing yourself with the overall shape of the country, it's states or provinces, capital and major cities. A labeled map, physical map and/or political map can be a helpful reference. You might also want to use an outline map first to get familiar with the outer boundaries of a country or continent.
Next, focus on learning the location of the provinces and territories as well as major cities and inner-country borders. Again, refer to your reference maps if necessary.
Once you have a good understanding of the general layout, you can take your blank map and begin filling in the names of the provinces and territories. Maybe you could mark the national capital as well.
Then, you continue with the names of major cities, rivers and even mountain ranges. If you're unsure about a certain location, you might again want to check your reference maps. You could even try to draw the province borders into a blank outline map.
Blank Map of Canada Outline
An outline map of Canada is a great way to teach children and other learners about the geography of this vast country. The blank outline map provides a simple, yet effective, way for kids to learn about the outer shape of the country's borders. Plus, it's a great way to introduce them to the world of map making!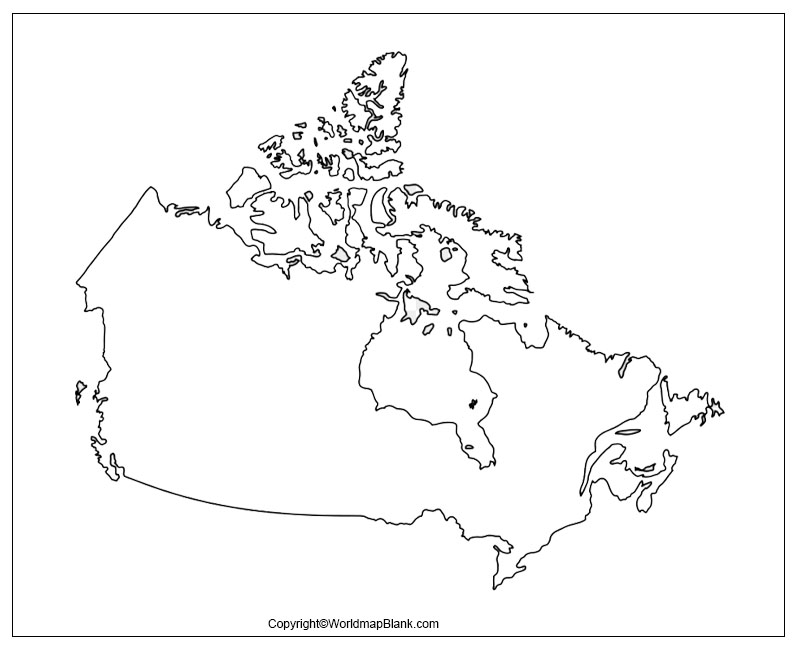 Outline maps are also very useful in the classroom setting. Teachers can use them to create customized learning materials for their students. For example, an outline map of Canada can be used to teach about the country's physical features, such as its mountains, rivers, and lakes. It can also be a means to practice the location of major cities and towns. You just need to draw the desired features into the map (or have your students do that) and double check with a labeled map.
Outline of Canada Map
Below we provide an alternative blank map showing the outline of Canada without any provincial borders or other markers.
Download as PDF (A4)
Download as PDF (A5)
For example, you can start the teaching and learning process with using a simple outline map. Then, you continue with a blank map with all the borders of provinces and territories. Combining a blank map with a labeled map can speed up the learning process. Finally, you can use a blank map for testing and ask your students to draw the most important geographical features into the map.
Printable Blank Map of Canada
All the blank maps of Canada on this page are free to download as PDF files. Print as many copies as you need for worksheets and other school or study materials. In order to download, simply click on the relevant links below the images.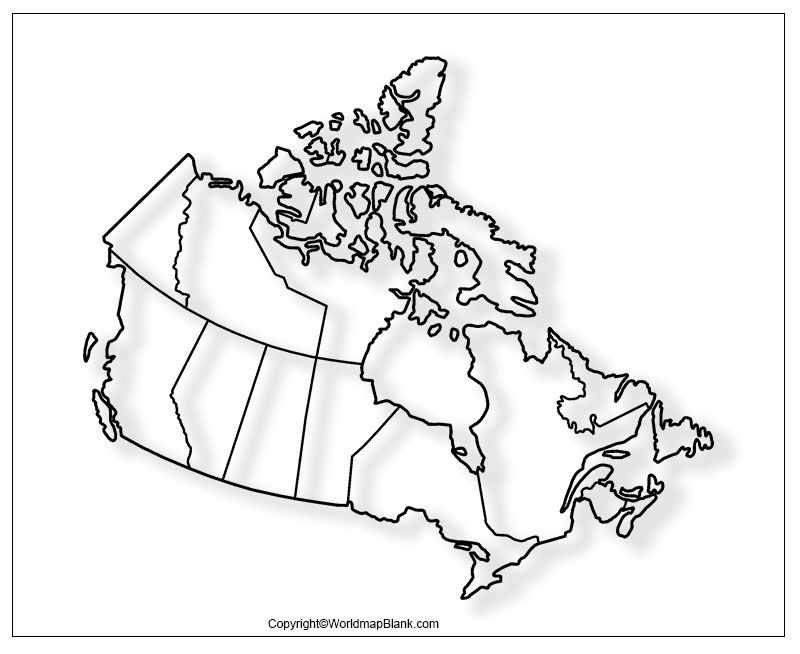 Apart from the Canada maps on this page, we offer a vast variety of other free printable maps with or without labels. At the end of this page, you will find a link collection of further interesting maps.
Blank Canada Map with Provinces and Capitals

Choose from the different versions of blank Canada maps to teach and study the Canadian geography. All maps are black and white which makes them great for coloring the Canadian provinces and marking big cities and other characteristics.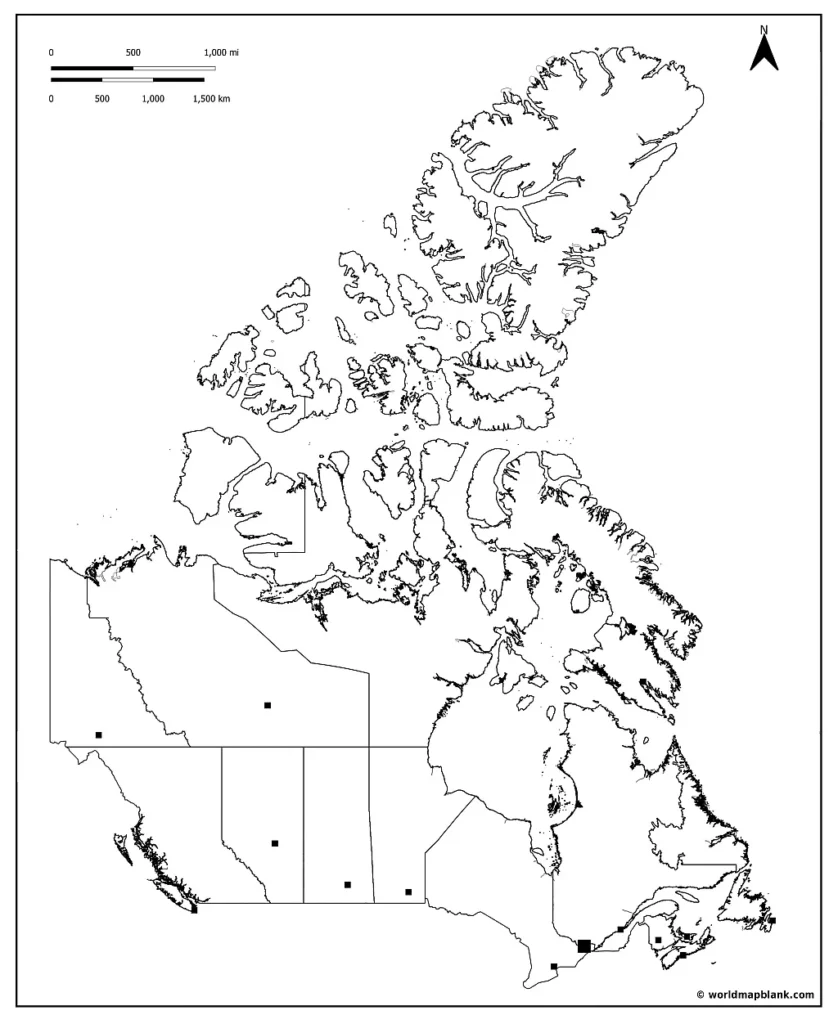 Download as PDF (A4)
Download as PDF (A5)
Above blank Canada map includes not only the provinces and territories but also the locations of their capitals.
Blank Canada Map with Cities
An an even more detailed black and white map of Canada, our next one also includes markers for many major cities and towns.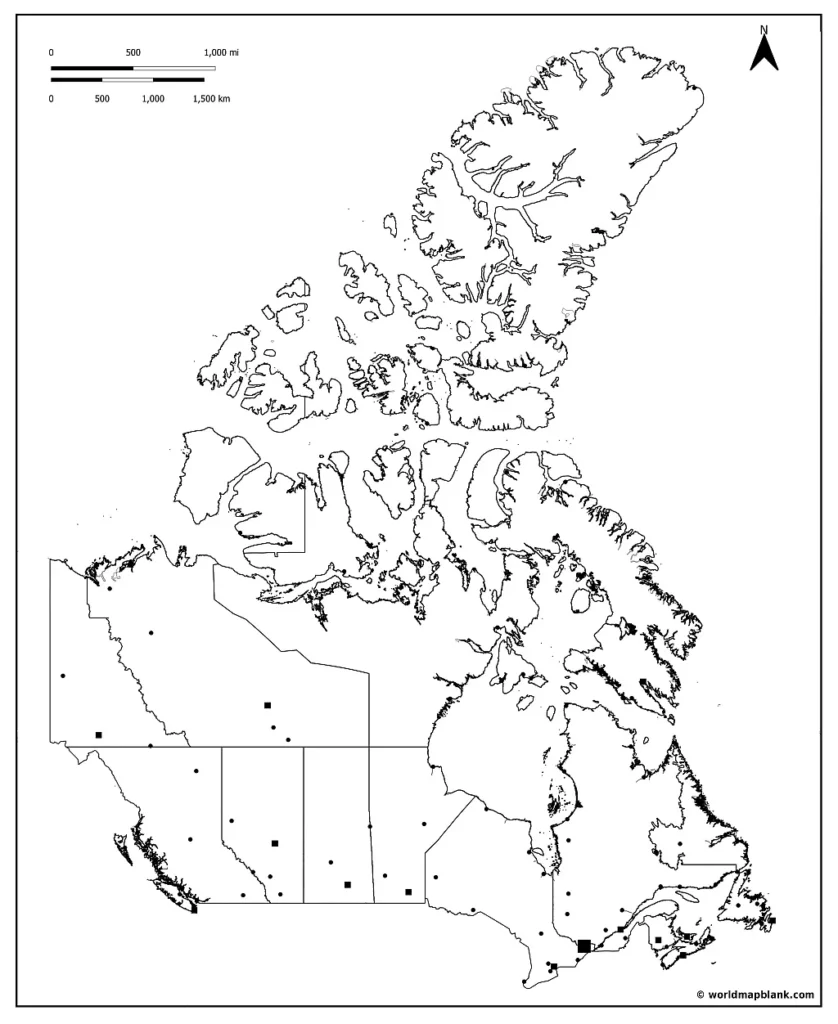 Download as PDF (A4)
Download as PDF (A5)
For maximum learning success and easy teaching, combine these maps with matching labeled maps of Canada.
Blank Map of Canada Provinces
The following map includes not only the Canadian territories and provinces. It also shows Canada's neighboring countries as well as the oceans surrounding the country.
Download as PDF (A4)
Download as PDF (A5)
Above map can be used to also learn and memorize which oceans and seas Canada is bordering with.
Map of Canada for Practice Worksheets
One of the best methods used for improving the geographical knowledge of Canada is to make worksheets with your own instructions and questions. You can easily include the maps from this page into your own worksheet creations and use them in the classroom, for homework assignments or in exams.
Other ideas could be creating a puzzle game by cutting maps up into pieces or making a memory game with cards showing the outline maps and names of several countries.
More Free Printable Maps for Download
Whether you want to create a memory game or simply teach the shapes of the countries of the world, you will find a lot of blank maps on our website. Please see below a few links to relevant pages. If your desired map is not included, simply use the search feature at the top of the page. Should you still not be able to find the map you require, please leave a comment and we will try to create it for you.
Blank Country Maps
Labeled Maps
World Maps
Continent Maps