Italy Outline Map – Blank Map of Italy [PDF]
An Italy outline map or a blank map of Italy is a great means to learn and memorize the geographical features of the country. Download here for free your printable blank map of Italy in PDF. For reference and best learning results, combine your outline map of Italy with a labeled Italy map with regions.
Italy Map Outline
Our first map is a simple Italy outline map only showing the outer borders of the country. It is perfect to get familiar with the shape of Italy and can also be used as a worksheet map. Learners can draw geographical features into the map such as mountain ranges, rivers, major cities, regions etc.
Download as PDF (A4)
Download as PDF (A5)
Tasks could include to mark mountain ranges such as the Alps and Apennines as well as major cities like Rome, Milan, Turin, Florence, Naples or Palermo. Another idea could be to use the map in order to memorize the courses of the rivers Po, Tiber and Adige.
Blank Map of Italy with Regions
The next blank Italy map shows the borders of the 20 Italian regions as the first-level administrative divisions of Italy. Can you remember all of their names? You might as well use the map for coloring exercises with your students or kids.
Download as PDF (A4)
Download as PDF (A5)
We offer very similar version of a labeled Italy map which you can use as reference resource.
Additionally, here is a list of the regions of Italy and their capitals:
Abruzzo (L'Aquila)
Aosta Valley (Aosta)
Apulia (Bari)
Basilicata (Potenza)
Calabria (Catanzaro)
Campania (Naples)
Emilia-Romagna (Bologna)
Friuli Venezia Giulia (Trieste)
Lazio (Rome)
Liguria (Genoa)
Lombardy (Milan)
Marche (Ancona)
Molise (Campobasso)
Piedmont (Turin)
Sardinia (Cagliari)
Sicily (Palermo)
Trentino-Alto Adige (Trento)
Tuscany (Florence)
Umbria (Perugia)
Veneto (Venice)
Italy Blank Map
Our next variation also includes water bodies as well as the neighboring countries of Italy. There include France, Switzerland, Austria and Slovenia which all have land borders with Italy.
The other countries represented in the map are Algeria, Tunisia, Liechtenstein, Germany, Croatia, Bosnia and Herzegovina, Serbia, Hungary, Albania, Montenegro and Greece.
If you are looking for blank maps of the neighboring countries of Italy also, check out our blank map of Germany or our France outline map for instance. Alternatively, you can take a look at our overview page with blank maps of countries, continents and the world.
Download as PDF (A4)
Download as PDF (A5)
You might as well have your students mark the several seas around Italy. These are the Tyrrhenian Sea, the Adriatic Sea and the Ionian Sea – all parts of the Mediterranean Sea.
Outline Map of Italy with Cities
The two following versions of our Italy blank map also include city markers. The first one shows the national capital Rome as well as the locations of all the regions capitals.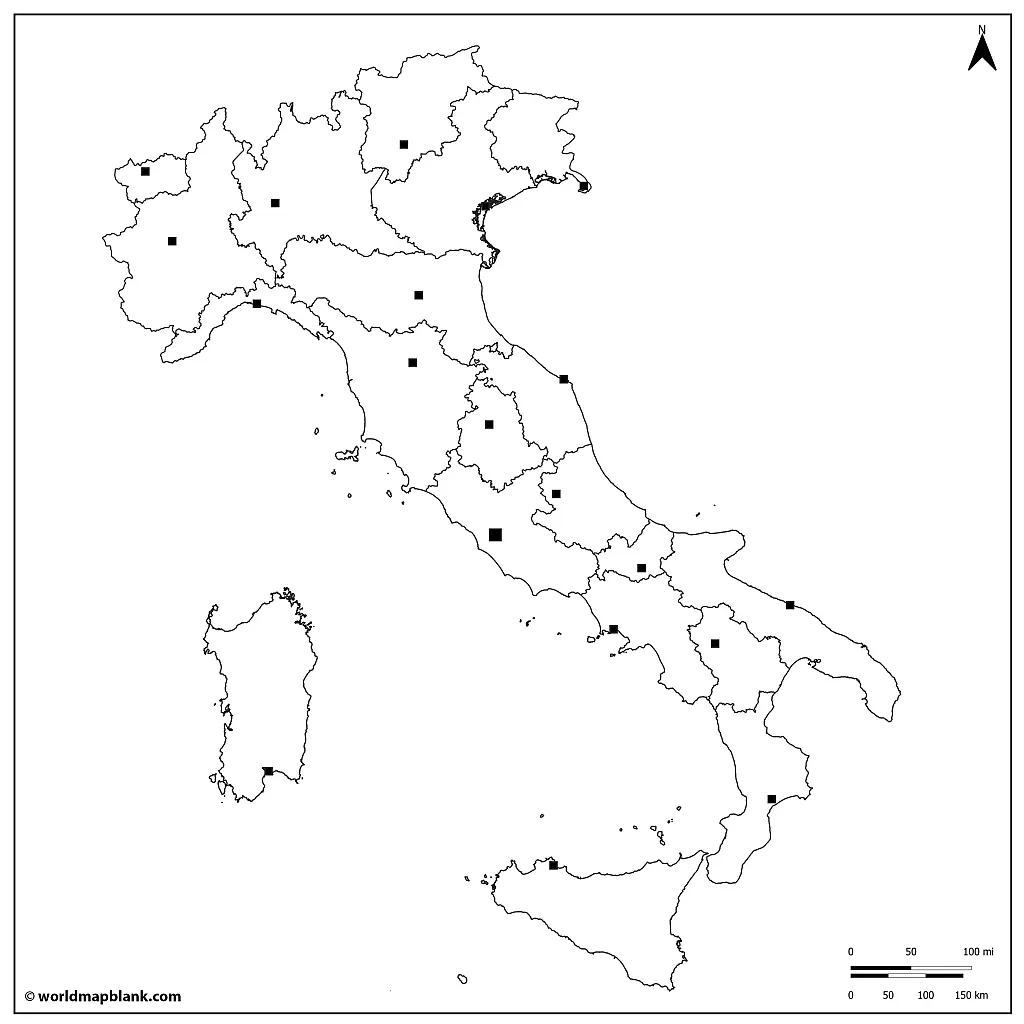 Download as PDF (A4)
Download as PDF (A5)
Please note that we have not included the city states of San Marino and Vatican City.
Italy Map Outline with Cities
This fifth map on our page includes not only the region capitals but also other main cities in Italy. Use this blank outline map of Italy to learn and memorize all the details of the geography of this country in southern Europe.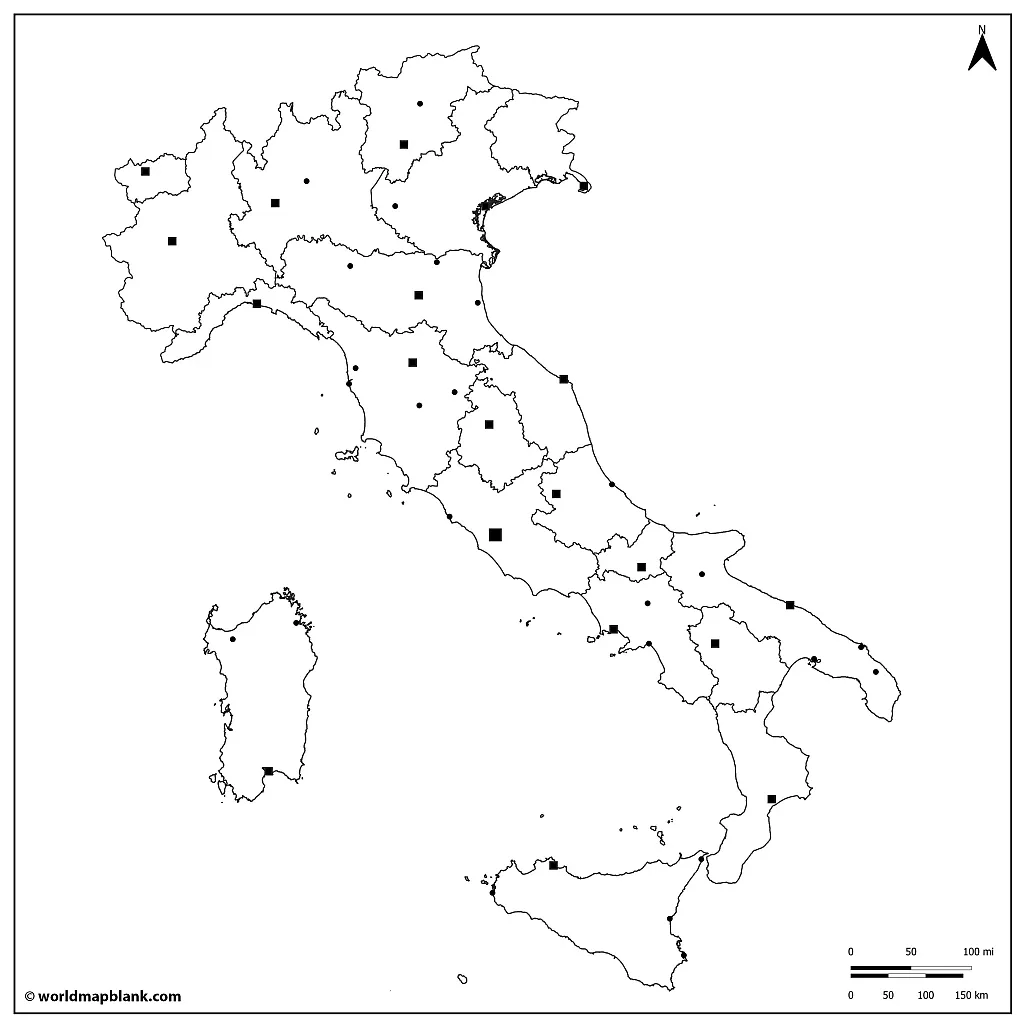 Download as PDF (A4)
Download as PDF (A5)
If none of these maps fulfill your need for an Italy blank map, please contact us. Tell us what exactly you are looking for, and we will try to create the desired map for you. In many cases we can even do this free of charge!
More Country Maps and Other Geography Resources
Here are some links to other maps of countries, the world and the continents. Alternatively, you can use the search feature on top of this page to find the free maps you need. All maps on our site are free. You can download them as PDF files and can print them out as often as needed.
Additionally, we now offer map worksheets that will save you a lot of time when preparing lessons. They are also great resources for homeschooling.
Country Maps
Continent Maps
World Maps