United States Map with States – Political USA Map [PDF]
Looking for a United States map with states? Then check out our collection of different versions of a political USA map! All of these maps are available for free and can be downloaded in PDF. We offer maps with full state names, a United States map with state abbreviations and a US map with cities.
Simply pick the US map that works best for you and click on a download link below the image. Our 50 states maps are available in two PDF file sizes. You can print them out directly and use them for almost any educational, personal or professional purpose. So get your USA map with states now!
We also offer a variety of other USA maps, including a blank map of the United States and a US Highway map. And if you want to teach or learn about the US states and capitals, our United States map worksheets might be just what you need. Check them out!
USA Map with States
Our first map is a United States of America map with state names. It only shows all the 50 US states colored with their full names. If you need a more detailed political US map including capitals and cities or a US map with abbreviations, please scroll further down and check out our alternative maps.
United States 50 States Map
Please be aware that the Great Lakes are not included. If you need a map showing them, please just take the following one. We offer both maps with and without the Great Lakes.
Download as PDF (A4)
Download as PDF (A5)
The original 13 states of the United States were New York, Pennsylvania, Massachusetts, Rhode Island, Connecticut, New Jersey, Delaware, Maryland, Virginia, North Carolina, South Carolina, Georgia and New Hampshire. These were the states that declared themselves independent from the British Crown on July 4, 1776.
After several failed attempts, the first enduring English settlement in North America had been the Colony of Virginia in Jamestown in 1607. But while the earliest British town was established in Virginia, it was not the first US state.
USA Map with the States Names
The following map is the same as the previous one, but it also includes the Great Lakes.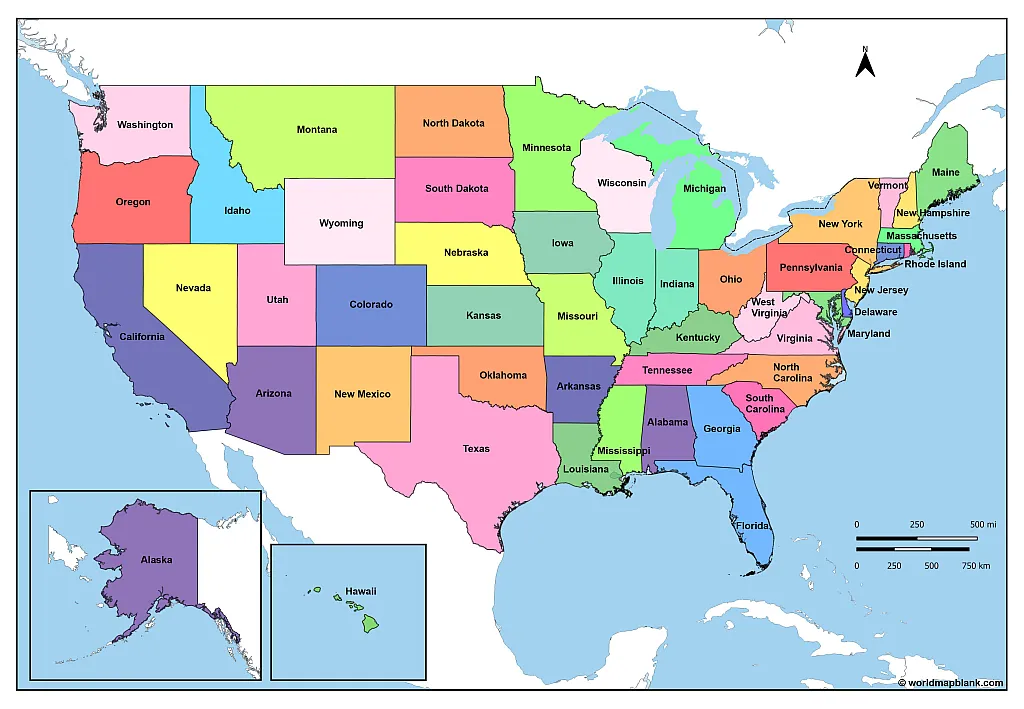 Download as PDF (A4)
Download as PDF (A5)
Further below with offer several other and more detailed versions of a United States map.
The First State of the United States
The First State of the USA was Delaware which signed and ratified the United States Constitution on December 7, 1787. Shortly thereafter followed Pennsylvania and New Jersey, before the remaining founding states followed in 1788.
Today, the USA consist of 50 states. These 50 states are Alabama, Alaska, Arizona, Arkansas, California, Colorado, Connecticut, Delaware, Florida, Georgia, Hawaii, Idaho, Illinois, Indiana, Iowa, Kansas, Kentucky, Louisiana, Maine, Maryland, Massachusetts, Michigan, Minnesota, Mississippi, Missouri, Montana, Nebraska, Nevada, New Hampshire, New Jersey, New Mexico, New York, North Carolina, North Dakota, Ohio, Oklahoma, Oregon, Pennsylvania, Rhode Island, South Carolina, South Dakota, Tennessee, Texas, Utah, Vermont, Virginia, Washington, West Virginia, Wisconsin and Wyoming.
United States Map with Abbreviations
The United States of America is a large and geographically diverse country. It is commonly divided into five main regions: the Northeast, Midwest, Southeast, Southwest and West. Each region has its own unique climate, landforms, vegetation, and wildlife.
The following map is a variation of our United States map with states names. Instead of the full names, it shows their abbreviations. This is the version without the Great Lakes.
Download as PDF (A4)
Download as PDF (A5)
The Northeast includes states such as Maine, New York, Massachusetts, Pennsylvania, New Jersey, Rhode Island, Delaware, and Connecticut. This region is characterized by rolling hills and coastal plains along with deciduous forests.
The Midwest encompasses states like Ohio, Indiana, Illinois, Michigan, Wisconsin and Minnesota. This area features flat open plains made up of prairies and savannas.
The Southeast comprises the states of Alabama, Georgia, Tennessee and Florida among others. This region is known for its many rivers, wetlands and rainforests.
The Southwest states of Arizona, New Mexico, Texas and Oklahoma, are characterized by deserts and canyons.
The West region includes states such as California, Oregon, Washington and Alaska. This area features lush forests, a rugged coastline and numerous mountain ranges like the Rocky Mountains and the Sierra Nevada.
USA Map with States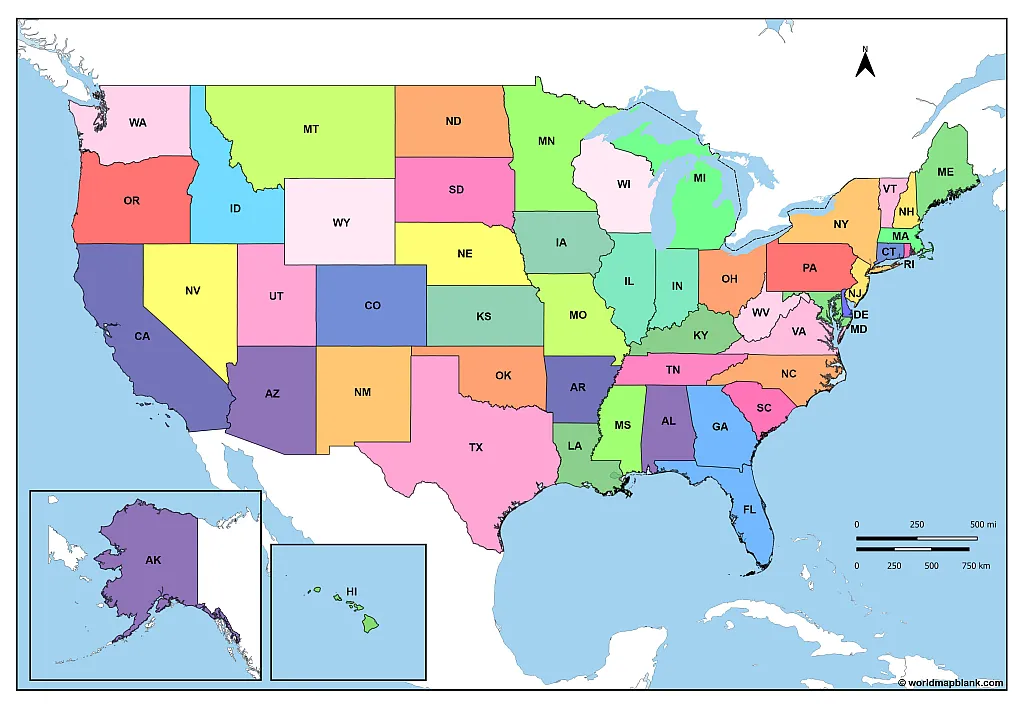 Download as PDF (A4)
Download as PDF (A5)
The state name abbreviations in above maps correspond to the two letters that have to be used for addressing mail. They are always used with capital letters and without periods. US state name abbreviations were originally introduced in 1963 to make room for ZIP codes in address fields of letters and parcels. The only modification since then has been that NB for Nebraska was changed to NE in 1969, so it would not be confused with the New Brunswick province of Canada.
United States Map Capitals
Among the major landmarks in the United States are the Grand Canyon, the Rocky Mountains, and the Appalachian Mountains. The Grand Canyon is a vast and spectacular gorge in northern Arizona that cuts through the desert landscape. The Rocky Mountains stretch from Alaska and Canada into the United States, while the Appalachian Mountains run from Maine to Alabama.
Another notable area is Death Valley in California, which is one of the lowest points on Earth and is surrounded by some of the oldest geological features in North America. The famous Yellowstone National Park is home to some of America's most majestic animals and geysers. The majestic Denali (formerly known as Mount McKinley) in Alaska is the highest peak in North America with an elevation of 20,194 feet (6,155 m). Apart from these landmarks, the country also has a diverse range of climate zones. These range from humid subtropical along the Gulf Coast to semi-arid deserts across California's Central Valley.
Political United States Map
Our next map is a United States map with states and capitals. As you can see below, it includes not only the full names of the US states but also those of the US state capitals. Again, we have two versions with and without the Great Lakes.
Download as PDF (A4)
Download as PDF (A5)
The Great Lakes are five freshwater lakes in North America at the border between the United States and Canada. They are interconnected bodies of water that hold significant importance due to their immense size as well as their ecological and historical significance.
The five Great Lakes are Lake Superior, Lake Michigan, Lake Huron, Lake Erie, and Lake Ontario. Collectively, they form the largest group of freshwater lakes on Earth, containing roughly 84% of North America's surface freshwater and about 21% of the world's surface freshwater. These majestic lakes are spread across an area of approximately 94,250 square miles (244,106 square kilometers) and boast a combined shoreline that spans over roughly 10,500 miles (16,900 kilometers).
USA Map
Here is the same map as above, this time including the Great Lakes.
Download as PDF (A4)
Download as PDF (A5)
Here is a US state capitals list:
Alabama – Montgomery
Alaska – Juneau
Arizona – Phoenix
Arkansas – Little Rock
California – Sacramento
Colorado – Denver
Connecticut – Hartford
Delaware – Dover
Florida – Tallahassee
Georgia – Atlanta
Hawaii – Honolulu
Idaho – Boise
Illinois – Springfield
Indiana – Indianapolis
Iowa – Des Moines
Kansas – Topeka
Kentucky – Frankfort
Louisiana – Baton Rouge
Maine – Augusta
Maryland – Annapolis
Massachusetts – Boston
Michigan – Lansing
Minnesota – Saint Paul
Mississippi – Jackson
Missouri – Jefferson City
Montana – Helena
Nebraska – Lincoln
Nevada – Carson City
New Hampshire – Concord
New Jersey – Trenton
New Mexico – Santa Fe
New York – Albany
North Carolina – Raleigh
North Dakota – Bismarck
Ohio – Columbus
Oklahoma – Oklahoma City
Oregon – Salem
Pennsylvania – Harrisburg
Rhode Island – Providence
South Carolina – Columbia
South Dakota – Pierre
Tennessee – Nashville
Texas – Austin
Utah – Salt Lake City
Vermont – Montpelier
Virginia – Richmond
Washington – Olympia
West Virginia – Charleston
Wisconsin – Madison
Wyoming – Cheyenne
USA Map with Abbreviations and Capitals
The United States is bordered by the Pacific ocean in the west and the Atlantic ocean in the east. It shares land borders with Canada to the north and Mexico to the south. In addition, Alaska is located in the northwest of North America, separated from the contiguous United States by the Canadian province of British Columbia. The border between the USA and Canada is the longest land border in the world.
Our following map is similar to the previous one but shows state name abbreviations instead of the full names. This is the version without the Great Lakes.
Download as PDF (A4)
Download as PDF (A5)
If you would like to use any of our different versions of a USA labeled map for teaching purposes, also check out our blank map of the United States. In combination with each other, both map types are great for learning and memorizing the names and locations of the 50 US states and their capitals.
United States Labeled Map
Download as PDF (A4)
Download as PDF (A5)
Above map again shows the state name abbreviations and the names of the US state capitals – and also includes the Great Lakes.
United States Map with States and Cities
The longest rivers in the United States are the Missouri River (2,341 miles or 3,768 km), the Mississippi River (2,340 miles or 3,766 km), and the Yukon River (1,979 miles or 3,190 km). Other major rivers include the Rio Grande, Colorado River, Columbia River and Arkansas River.
The largest lake in the country is Lake Superior with an area of 31,700 square miles (82,103 square kilometers). Together with Lake Erie, Lake Huron, Lake Michigan and Lake Ontario it forms the group of the Great Lakes of North America. These Great Lakes account for over 20% of the world's fresh water and approximately 90% of the fresh water in the USA. Lake Michigan is the only one of the five Great Lakes that lies completely in the United States; the other four are shared with Canada.
United States Map with Cities
Our last two 50 states maps are a USA map with cities. Apart from all the features shown in the maps above, they also include the locations of many of the major cities in the United States.
Download as PDF (A4)
Download as PDF (A5)
In above and below map, we use abbreviations for the US state names again, so the labels in the map do not get too cluttered. Our following map is a USA map with states and cities, but without the Great Lakes.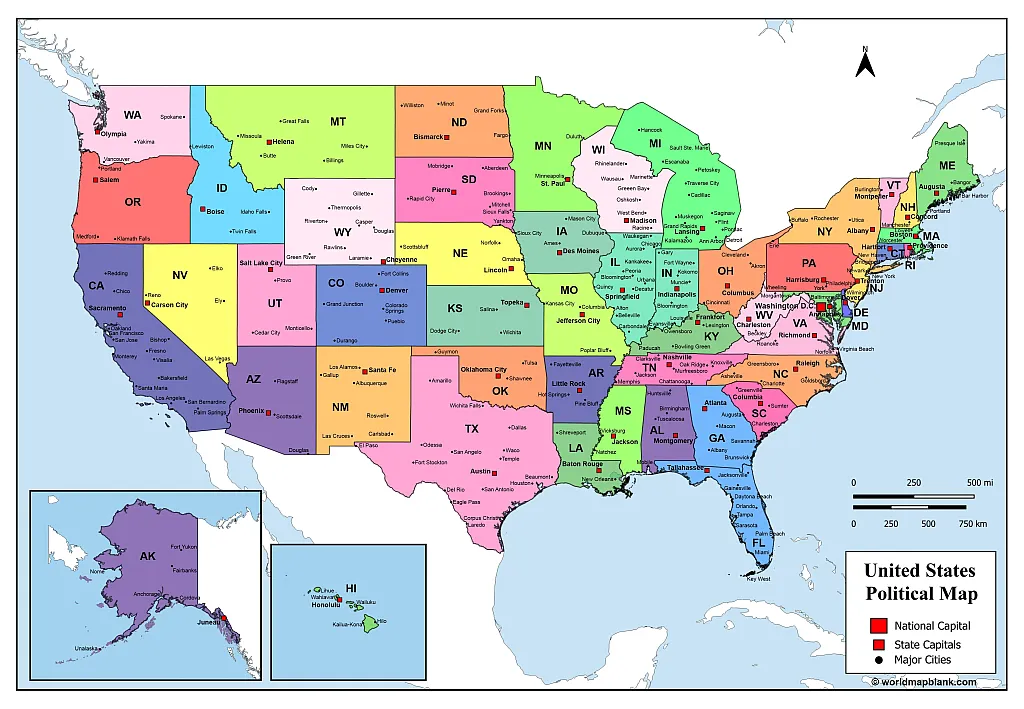 Download as PDF (A4)
Download as PDF (A5)
Here is a list of the 5 largest cities in the United States by population (as of 2022):
New York (NY) – 8.6 million
Los Angeles (CA) – 4.1 million
Chicago (IL) – 2.7 million
Houston (TX) – 2.4 million
Phoenix (AZ) – 1.7 million
More Maps of the United States and the World
Please find below a collection of other topics that we offer printable maps for. All of our maps can be downloaded as PDF files for free. If the map you need is not listed here, just use our search function at the top of this page. In case you need a particular map that you cannot find at all on our site, please leave us a comment below and describe what you need. We might be able to create the map for you free of charge.
USA Maps
Continent Maps
Country Maps