Blank Map of Thailand – Outline Map of Thailand – Transparent PNG
Get your blank map of Thailand or an outline map of Thailand as an image or PDF file for free from this page. Download any map and print as many copies as you need.
Blank maps are great learning tool for practicing and testing knowledge of geographic features. A blank map of Thailand can be used to mark and draw into the map features such as province borders, capitals, rivers and mountains as well as other important landmarks.
When using blank maps for learning, it is important to have a reference map on hand to compare with the blank map. This will help ensure that the correct information is being learned. Finally, it is also beneficial to use different colors when shading in geographic features on the map. This will not only make the final map more visually appealing and easier to read, but it also helps with memorizing.
Blank Map of Thailand Outline
Thailand is a country located in Southeast Asia. It is bordered by Myanmar (Burma) to the northwest, Laos to the northeast, Cambodia to the southeast and Malaysia to the south. With an area of 198,120 square miles (513,115 square kilometers), Thailand is the world's 51st-largest country and about the same size as Spain. It has a population of approximately 70 million.
Our first Thailand blank map shows a simply outline of the country's outer borders.
Download Outline Map of Thailand PDF
Thailand has diverse geography, with mountains, plains, and rivers. The highest elevation in Thailand is the mountain Doi Inthanon, at 2,565 meters (8,415 feet). The Chao Phraya River flows through central Thailand and empties into the Gulf of Thailand. The Mekong River is the third longest river in Asia and forms the border between Thailand and Laos. Thailand also has many islands, including the popular tourist destinations of Phuket and Koh Samui. The Malay Peninsula, which Thailand shares with Malaysia, provides access to the Indian Ocean.
Blank Map of Thailand with Provinces
Thailand consists of 76 provinces (จังหวัด , changwat) which are named after their respective capital. The national capital is Bangkok with a population of almost 10 million people.
The provinces of Thailand are further divided into 877 districts (อำเภอ , amphoe) and then 7,255 sub districts (ตำบล , tambon).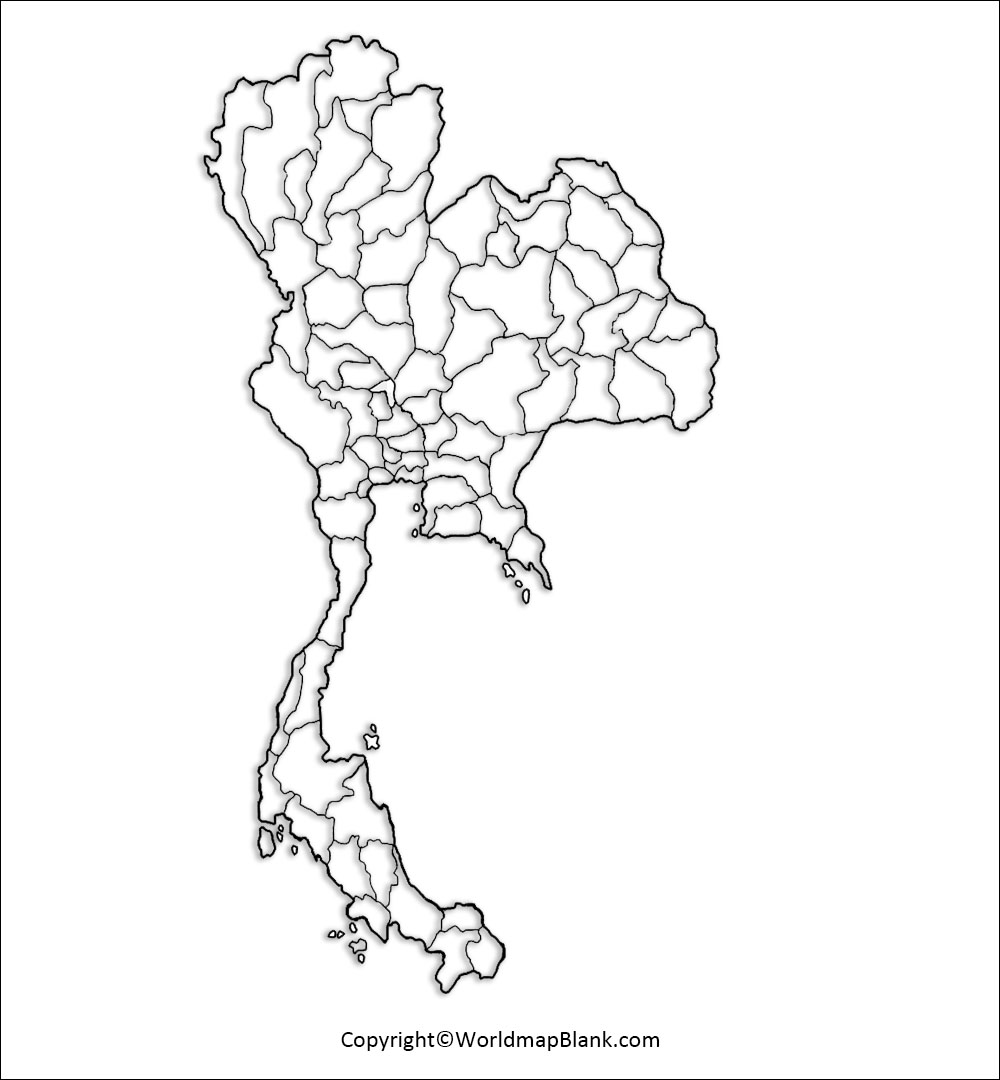 Download Map of Thailand with Provinces PDF
Above map shows Thailand with all the provinces and their boundaries.
Solid Map of Thailand
Here is a solid map of Thailand which is particularly useful to illustrate the country's shape.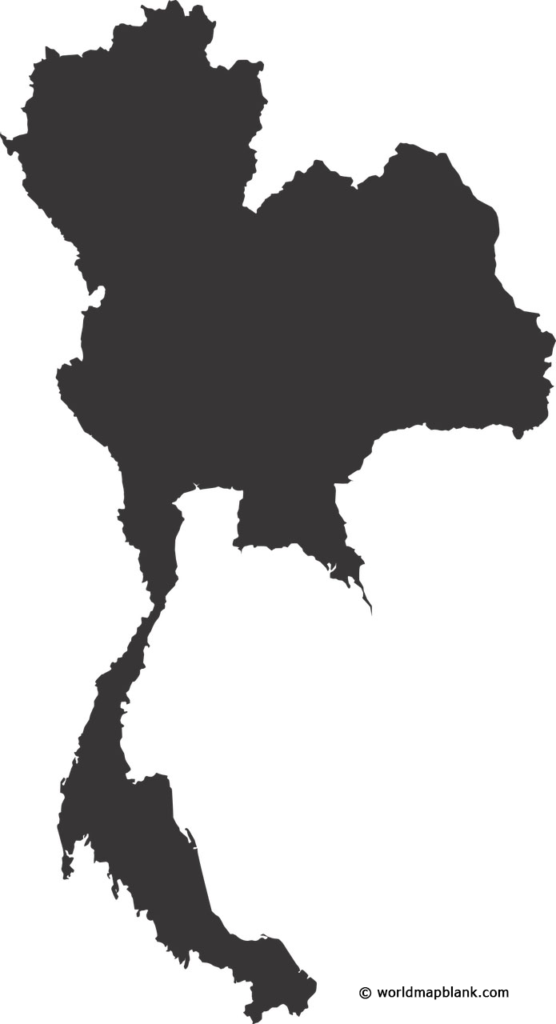 Download Solid Map of Thailand PDF
Thailand Blank Map for Worksheets
A blank map of Thailand can be a useful tool for teaching geography in the classroom. By providing students with a map that is not filled in with any labels, they can learn to identify and locate different features on the map. These include provinces, borders, the national capital as well as major cities and rivers.
With our Blank Thailand Map for Worksheets you can easily create your own learning materials. Just add a few questions and/or coloring and marking tasks.
Dowload Thailand Blank Map for Worksheets PDF
Transparent PNG Thailand Map
Our last map can be downloaded as a transparent image file in PNG format or as a PDF file.
Download Transparent PNG Thailand Map PDF
More Blank Maps and Labeled Maps for Download
Blank Maps
Printable Blank Map of South America
Labeled Maps
World Map with Longitudes and Latitudes
Map of Australia with Provinces and Territories