Blank Map of Germany – Germany Map Outline [PDF]
On this page we offer different versions of a printable blank map of Germany and outline map of Germany. You can download and use any map free of charge as image or PDF file.
A blank map can be used for practicing and testing geographical knowledge. Students or your kids can mark locations on the map, draw border lines, color specific regions or sketch in prominent landmarks.
In order to enhance your learning experience, combine any Germany outline map from this page with a political map of Germany with cities. We have several maps that fully complement the ones you can find here.
Blank Map of Germany
Germany is a country located in Central Europe (or Western Europe) and officially called the Federal Republic of Germany. It has international borders with the countries of Denmark, Poland, the Czech Republic, Austria, Switzerland, France, Luxembourg, Belgium and the Netherlands. Germany also has coastline along the North Sea and Baltic Sea. The national capital of Germany is Berlin, and the total land area covered is 137,847 square miles (357,022 square kilometers).
With a population of over 83 million, Germany is the most populous country in the European Union.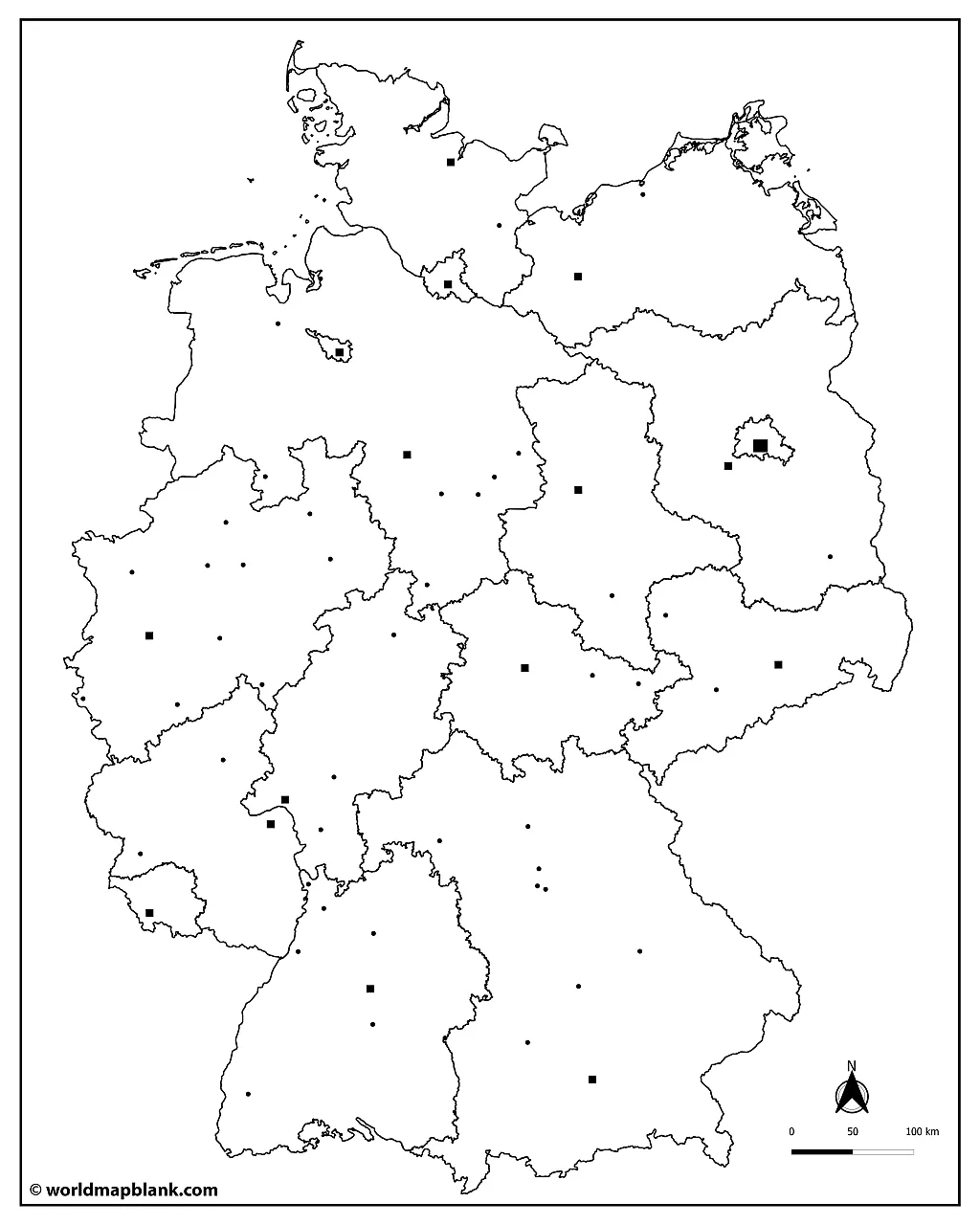 Download as PDF (A4)
Download as PDF (A5)
Above blank map of Germany already has markers for the largest German cities. This makes it easier to label them in an exercise, because students already see their location. On our political map of Germany page, we offer several labeled maps that include exactly the same cities. Combine a labeled and a blank map of Germany to ensure the best possible learning success.
Germany Map Outline
Our next two maps only show the outline of Germany, meaning the outer borders of the country.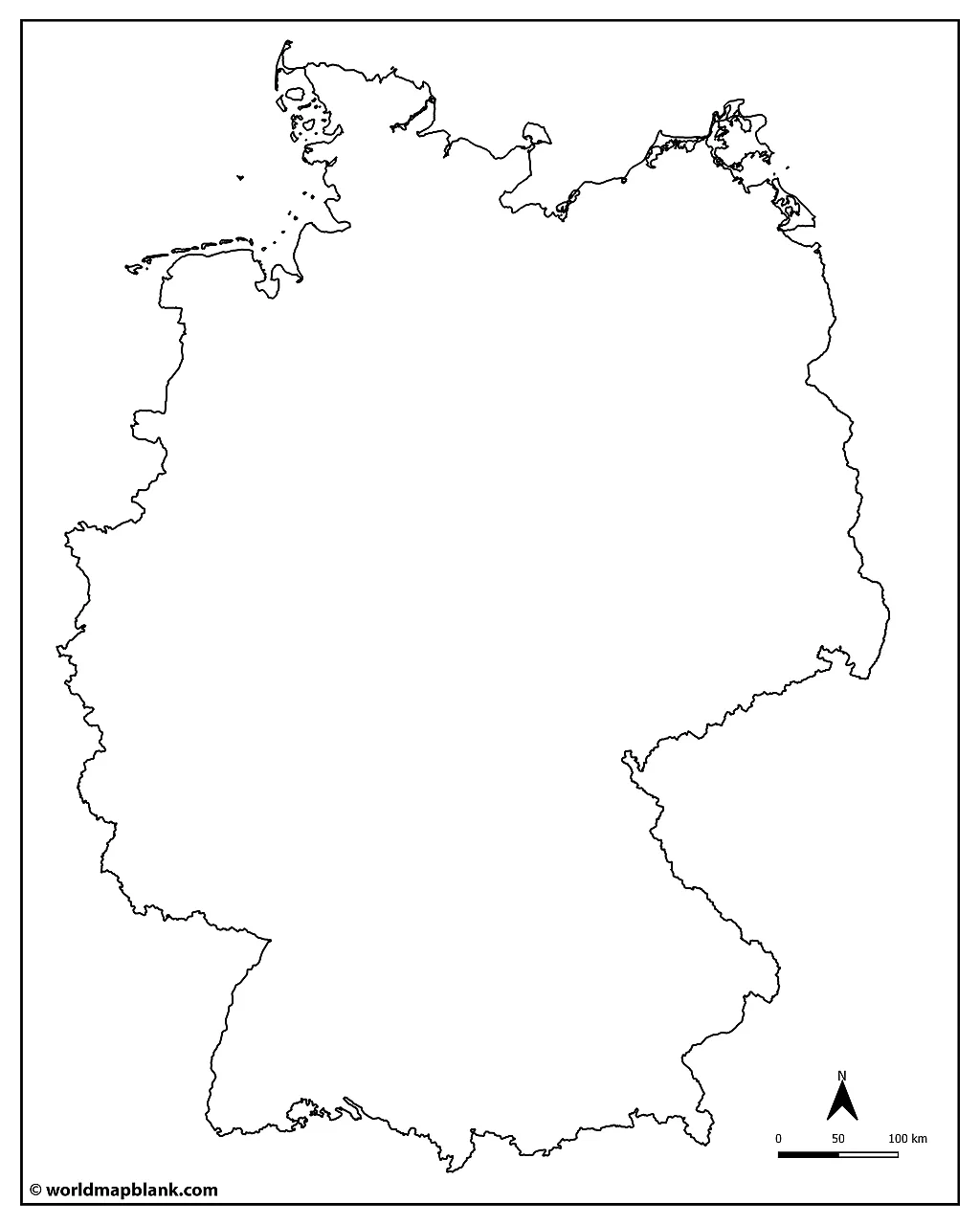 Download as PDF (A4)
Download as PDF (A5)
An outline map of Germany is a very simple blank map that only shows the outer boundaries of the country. Teachers or parents can print out unlimited copies of any individual map and use them to test their students or children. Tasks like labeling or coloring as well as drawing various geographical features or symbols into the map are useful options for this.
You could also organize the learning activities in a step-by-step process. Start with states and state borders, continue with state capitals and finish with rivers or mountain ranges. Another task could be to mark the major highways and railways. Use a labeled map of Germany to accompany and facilitate the process.
Blank Germany Map
The mountain range of the German Alps is located in the south of the country and contains some of the highest mountains in Europe, including the Zugspitze (2,962 m), the Watzmann (2,713 m) and the Nebelhorn (2,224 m).
Our next map is a blank Germany map including all the inner and outer borders of Germany as well as the North Sea and Baltic Sea. The international borders of the neighboring countries of Germany are drawn into the map as well.
Download as PDF (A4)
Download as PDF (A5)
In the north of Germany there is a lowland region known as the North German Plain. This flat area stretches from Holland through northern Germany all the way to Poland. Lastly, Germany's central region is known for its hilly countryside and forests.
The following Germany map outline only shows the German states without any other countries.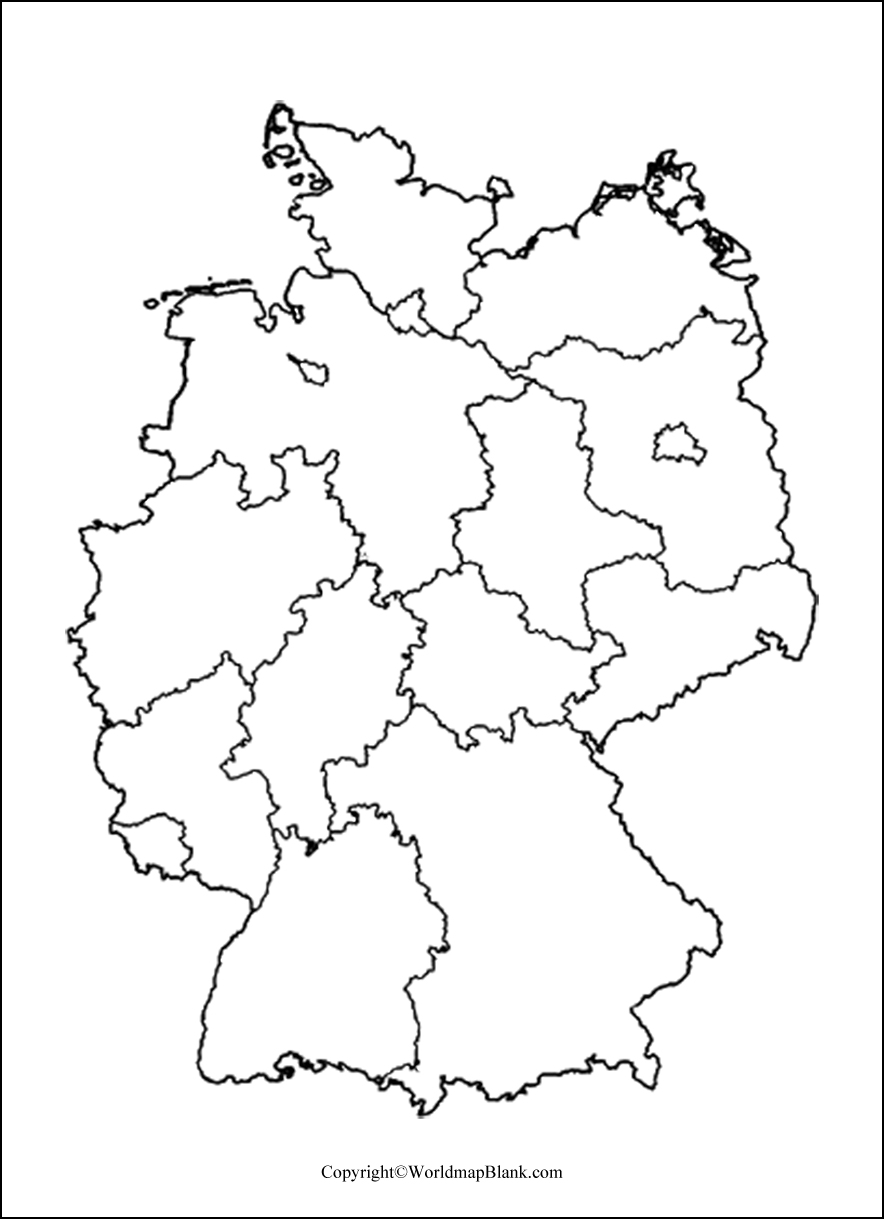 This blank map of Germany depicts the country's states and the internal borders. Here is a list of the 16 German states (Länder) and their capitals:
Baden-Württemberg (Stuttgart)
Bavaria (Munich)
Berlin (Berlin)
Brandenburg (Potsdam)
Bremen (Bremen)
Hamburg (Hamburg)
Hesse (Wiesbaden)
Mecklenburg-Western Pomerania (Schwerin)
Lower Saxony (Hanover)
North Rhine-Westphalia (Dusseldorf)
Rhineland-Palatinate (Mainz)
Saarland (Saarbrücken)
Saxony (Dresden)
Saxony-Anhalt (Magdeburg)
Schleswig-Holstein (Kiel)
Thuringia (Erfurt)
What Are the Longest Rivers in Germany?
Some of Germany's major rivers include the Rhine River (1,236 km total length), the Danube River (2,857 km) and the Elbe River (1,091 km). The longest river only running thorough Germany is the Weser River (744 km).
The Rhine is one of the busiest waterways in the world and provides an important shipping route through Europe. It orginates in the Swiss canton of Graubünden, before running through Switzerland, Liechtenstein, Austria, Germany, France and the Netherlands. It empties out into the North Sea close to Rotterdam.
The Danube flows through ten countries and is the second longest river in Europe after the Volga. The headstreams of the Danube River (Brigach and Bred) originate in the Black Forest, the river's delta is at the Black Sea.
Another major river is the Elbe River which begins in the Czech Republic and flows north through the German cities of Dresden and Hamburg to the North Sea.
Blank Germany Map with Neighboring Countries
Here is an alternative outline of Germany map which also includes the names of the surrounding countries.
Download as PDF (A4)
Download as PDF (A5)
Download your printable map of Germany for teaching, learning and other purposes. You can print as many copies as you like free of charge. Additionally, we also offer labeled maps of Germany with states and major cities.
Empty Germany Outline Map
Our following map is similar to the one before, but does not show the country names. Use it for example, when you want your students to mark the neighboring countries in the map as well.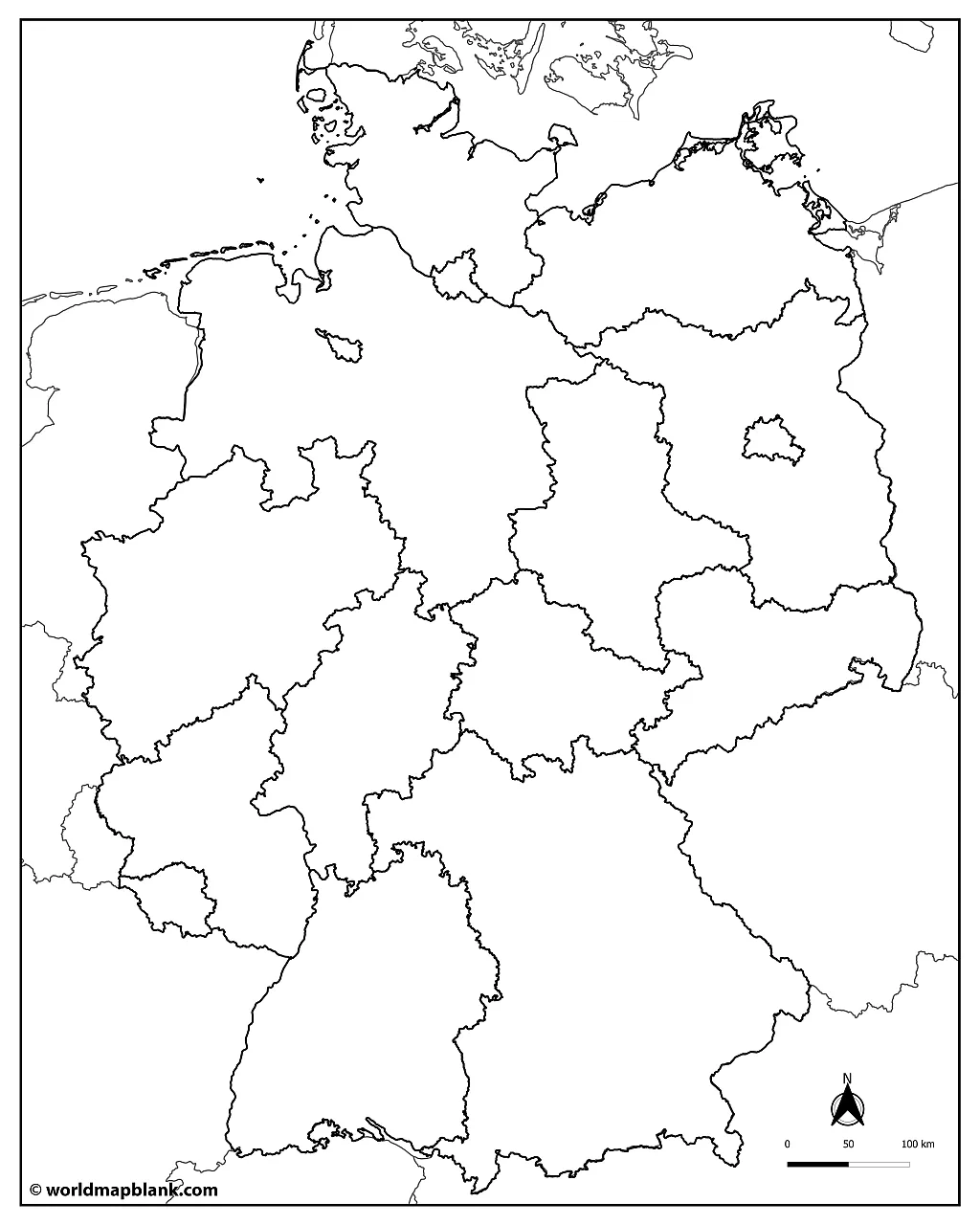 Download as PDF (A4)
Download as PDF (A5)
Transparent PNG Germany Map
A transparent PNG Germany can be used for web design work, PowerPoint presentations and graphic art work. Simply download the image of the transparent map of Germany in PNG format. Alternatively, you can get this printable map as a PDF file as well.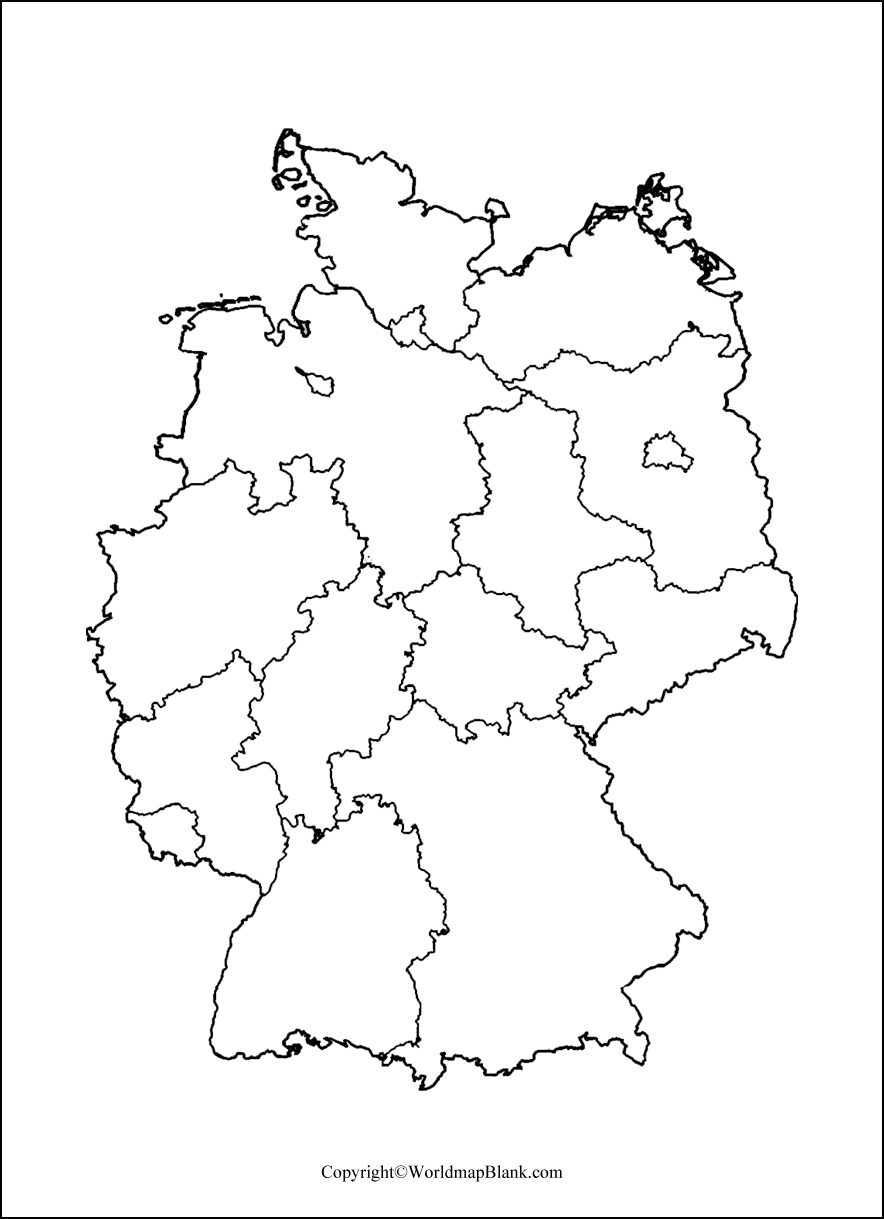 Worksheets with blank maps are great for homework or practice assignments. They can also be used to text your students' knowledge in exams.
Germany Blank Map for Practice Worksheet
If you want to make your own worksheets for your students or kids, you can use the following blank map of Germany. We offer two different versions to choose from in different formats.
Download as PDF (A4)
Download as PDF (A5)
A practice worksheet is helpful for classroom activities and homework assignments. You could also utilize a worksheet to test geographical knowledge in an exam.
Germany Map Black and White
More Blank Maps and Labeled Maps
Check out the links below to more geography sources such as maps of European countries, continent maps, or maps of the world. If your desired map is not available, please leave a comment and we will do our best to create it for you. Also remember to use the search function on top of this page to find more useful maps!
Country Maps
Blank Map of the United States
Continent Maps
Map of South America with Countries
World Maps
World Map with Latitude and Longitude