Political Germany Map – Map of Germany with Cities [PDF]
Are you looking for a Germany map, a map of Germany with cities, or a Germany map with states? Then you've come to the right place! Download any political map of Germany on this page for free and print as many copies as you need. You may also use the maps for your own worksheets and other learning, teaching, or professional materials.
To complete your set of Germany maps, also check out our different versions of a blank map of Germany. These will greatly enhance your learning experience by helping you memorize the names and locations of Germany's states, cities, and neighboring countries.
Additionally, we also offer fun and interactive Germany map worksheets and several versions of a Germany map with ZIP codes!
Political Map of Germany
The Federal Republic of Germany is located in central and western Europe. It is the most populous member state of the European Union, and was also part of its predecessors. For more about Germany's role in the evolution of the European Union, please see our Map of the EU page.
Germany has 16 states, and its capital and largest city is Berlin. Other major cities include Hamburg, Munich, Cologne, and Frankfurt. Flensburg in Schleswig-Holstein is the most northern city of Germany, while Sonthofen in Bavaria is the most southern. The equivalents in the east and west are Görlitz (Saxony) and Aachen (North Rhine-Westphalia).
Our first map is a Germany political map showing all the German states with their capitals and the surrounding countries. The largest cities are included as well.
Download as PDF (Portrait)
Download as PDF (Landscape)
Germany covers an area of 137,847 square miles (357,000 square kilometers) and has a population of over 83 million people. The majority of the population (over 77%) lives in urban areas.
Map of Germany and Surrounding Countries
Our following map shows the German states and capitals as well as the major cities in Germany and the countries that border Germany. In total, Germany has 9 neighboring countries.
What are the Neighboring Countries of Germany?
Germany is bordered by Denmark to the north, Poland and the Czech Republic to the east, Austria and Switzerland to the south, France to the southwest, and Luxembourg, Belgium, and the Netherlands to the west. The northern part of Germany lies between the North Sea and the Baltic Sea.
Download as PDF (A4)
Download as PDF (A5)
The above map shows the locations of many cities in Germany. The capital cities of the German states and the national capital, Berlin, are marked as well.
What are the Main Cities in Germany?
Here is a list of German cities by population (source):
Berlin – 3.7 million
Hamburg – 1.9 million
Munich – 1.5 million
Cologne – 1.1 million
Frankfurt am Main – 760,000
Stuttgart – 626,000
Dusseldorf – 620,000
Leipzig – 602,000
Dortmund – 587,000
Essen – 580,000
Germany Map Labeled
The geography of Germany is varied, with lowlands in the north and west, mountains in the south and southeast, and hills and plateaus throughout. The highest point in Germany is the Zugspitze mountain at 2,962 meters (9,718 feet), while the lowest point is in Neuendorf in Schleswig-Holstein at 3.54 meters below sea level. Other well-known geographical landmarks of Germany are the Alps, the Black Forest, Lake Constance, the Wadden Sea, and the Lüneburg Heath.
When you learn or teach about Germany's geographical features, you can use a blank map of Germany to practice and test your knowledge.
Germany has a temperate climate, with cool winters and mild summers. The country experiences various weather conditions depending on the region, but the climate is moderate overall.
Map of Germany
Our following map is a map of German states with their capitals as well as the international borders of Germany. It does not include any cities other than the German Bundesländer's capitals. However, both the names of the neighboring nations and the seas around Germany are shown.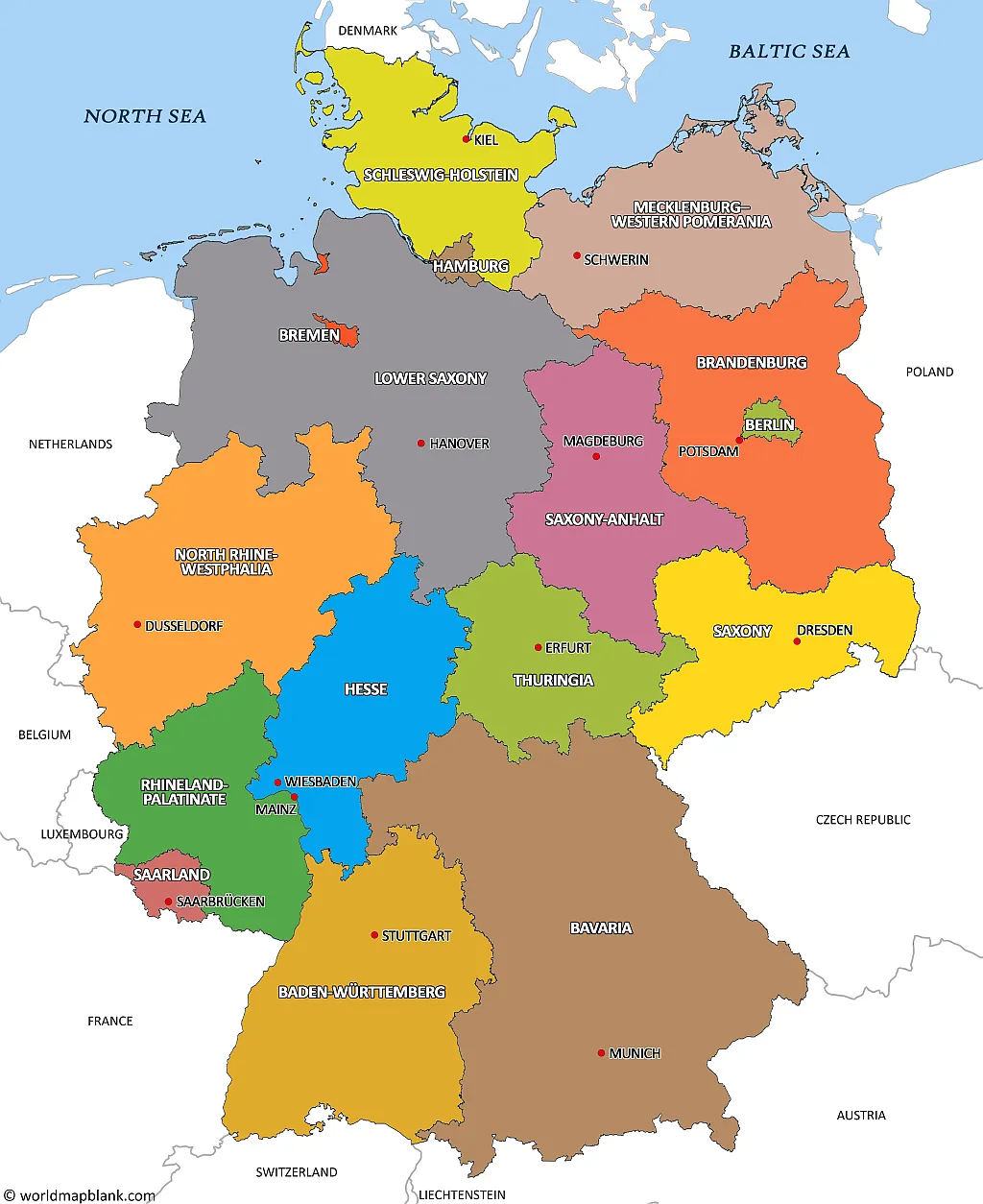 Download as PDF (A4)
Download as PDF (A5)
The 16 states of Germany with capitals are:
Baden-Württemberg – Stuttgart
Bavaria – Munich
Berlin – Berlin
Brandenburg – Potsdam
Bremen – Bremen
Hamburg – Hamburg
Hesse – Wiesbaden
Mecklenburg-Vorpommern – Schwerin
Lower Saxony – Hannover
North Rhine-Westphalia – Düsseldorf
Rhineland-Palatinate – Mainz
Saarland – Saarbrücken
Saxony – Dresden
Saxony-Anhalt – Magdeburg
Schleswig-Holstein – Kiel
Thuringia – Erfurt
The largest and most populous of the German states is North Rhine-Westphalia, while the smallest and least populated is Bremen. Berlin, Hamburg, and Bremen are city-states, but count as regular Bundesländer as well.
Map of Germany with Cities
The following map is an alternative cities of Germany map where the single states are not colored. It also includes the country's national capital.
Download as PDF (A4)
Download as PDF (A5)
What is the Capital of Germany?
Berlin is the capital city of Germany. It is located in the northeastern part of the country and has a population of approximately 3.7 million. The Berlin-Brandenburg metropolitan region has about 6 million inhabitants. Berlin is the largest city in Germany and the most populous city in the European Union.
Berlin is a world city of culture, politics, media, and science. Its economy is based on high-tech firms and the service sector, encompassing diverse creative industries, research facilities, media conglomerates, and convention venues. Berlin is home to world-renowned universities, orchestras, museums, and entertainment venues. It hosts many sporting events annually.
Berlin is a city of great importance in the history of Germany. It was the capital of Prussia, the German Empire, the Weimar Republic, and Nazi Germany. After the Second World War, Berlin was divided into East and West Berlin. The eastern part of the city became the capital of the German Democratic Republic, while Bonn was the capital of West Germany. In 1961, the East German authorities built a wall between East and West Berlin to prevent citizens from fleeing to the West. The wall was destroyed in 1989, and Berlin was reunited as a single city.
Today, Berlin is once again the national capital of a unified Germany. The city has undergone tremendous change since the fall of the Berlin Wall, and it is now one of the most vibrant and exciting cities in Europe.
Germany States Map
Here is another alternative Germany map showing mainly the German states and capitals. No other German cities are included. However, this map also depicts what countries border Germany.
Download as PDF (A4)
Download as PDF (A5)
The largest federal state in Germany is Bavaria, with an area of roughly 27,239 square miles (70,543 square kilometers). The smallest German state is Bremen, with only 162 square miles (419 square kilometers).
The most populated Bundesland in Germany is North Rhine-Westphalia, with almost 18 million people. The state with the smallest population of 677,000 is Bremen.
Big Cities in Germany
The second largest city in Germany after Berlin is the city-state of Hamburg, with approximately 1.8 million inhabitants. It is located in the north of the country on the Elbe River. Hamburg is known for its port, the third largest in Europe, and its many canals.
Munich is the third largest city in Germany, with a population of around 1.5 million. It is located in the south of the country and is the capital of Bavaria. Munich is known for its annual Oktoberfest celebration and for being the home of many famous German beer brands.
Other major cities in Germany include Cologne, Frankfurt, Stuttgart, Dusseldorf, and Leipzig. Germany has more than 80 cities with a population of over 100,000 people.
Other Features of Germany
Germany is home to a diverse range of flora and fauna. There are over 48,000 species of animals and more than 9,600 species of plants found in the country, including some rare and endangered species. Forests cover approximately one-third of Germany's land area, and the country is also home to several protected areas, such as national parks.
Germany has a long history and culture that dates back centuries. It is known for its music, literature, art, food, architecture, and philosophy. German is also one of the most widely spoken languages in the world, with over 100 million native speakers and approximately 90 million with German as their second language.
Germany Map with Cities, Highways, and Railroads
Germany is a developed country with a strong economy. It is the largest economy in Europe and the fourth largest globally. The country is highly industrialized, with a strong focus on manufacturing, agriculture, and services. Germany is also a leading exporter of goods and services.
Download as PDF (A4)
Download as PDF (A5)
Germany is a member of several international organizations, including the European Union, the United Nations, and NATO. The country is also home to many world-famous brands and companies, such as BMW, Mercedes-Benz, Siemens, Porsche, and Adidas.
More Maps for Free Download
We have many more exciting and valuable maps on our website. Below is a selection of labeled, blank, and other maps that you can download, print, and use free of charge. All maps are available as PDF files. In the header menu of this page, you can  use our search feature to find even more maps. If your desired map is not available, please get in touch with us. We'll do our best to create or procure it for you.
Apart from free maps, we also offer ready-made and customizable geography worksheets based on our maps. Check them out! They are great tools for teaching and learning and contain fun activities. We also have map worksheets about Germany!
Labeled Maps
World Maps
Blank Maps of Countries
Mountain and River Maps