Labeled Map of Andorra with States, Capital & Cities
Andorra Labeled Map shows that it is the sixteenth smallest country located in eastern Pyrenees. This country is bordered by Spain in the south and west, and by France in the north and east. It is approximately situated halfway between Toulouse and Barcelona. Andorra's geographical landscape shows that it comprises narrow valleys and gorges bounded by mountains. But there are many areas of rich pastureland in the valleys even though much of the landscape is occupied by forests.
As of Saturday, July 11, 2020, the present population in Andorra is 77,269. This is based on the latest estimates of United Nations. Out of the total global population, it is equivalent to 0.00099%. This includes citizens and residents. The country measures an area of 468 km². The major rivers that flow through this country are Gran Valira and River Ariege.
Labeled Map of Andorra
Gran Valira is the longest river and has three tributaries, namely Madriu, Valira d'Orient, and Valira del Nord. In Andorra, there is no state religion, but there is special relationship that is present with the Church of Roman Catholics. Some of the privileges are received by Roman Catholics, which are not available to other religious groups.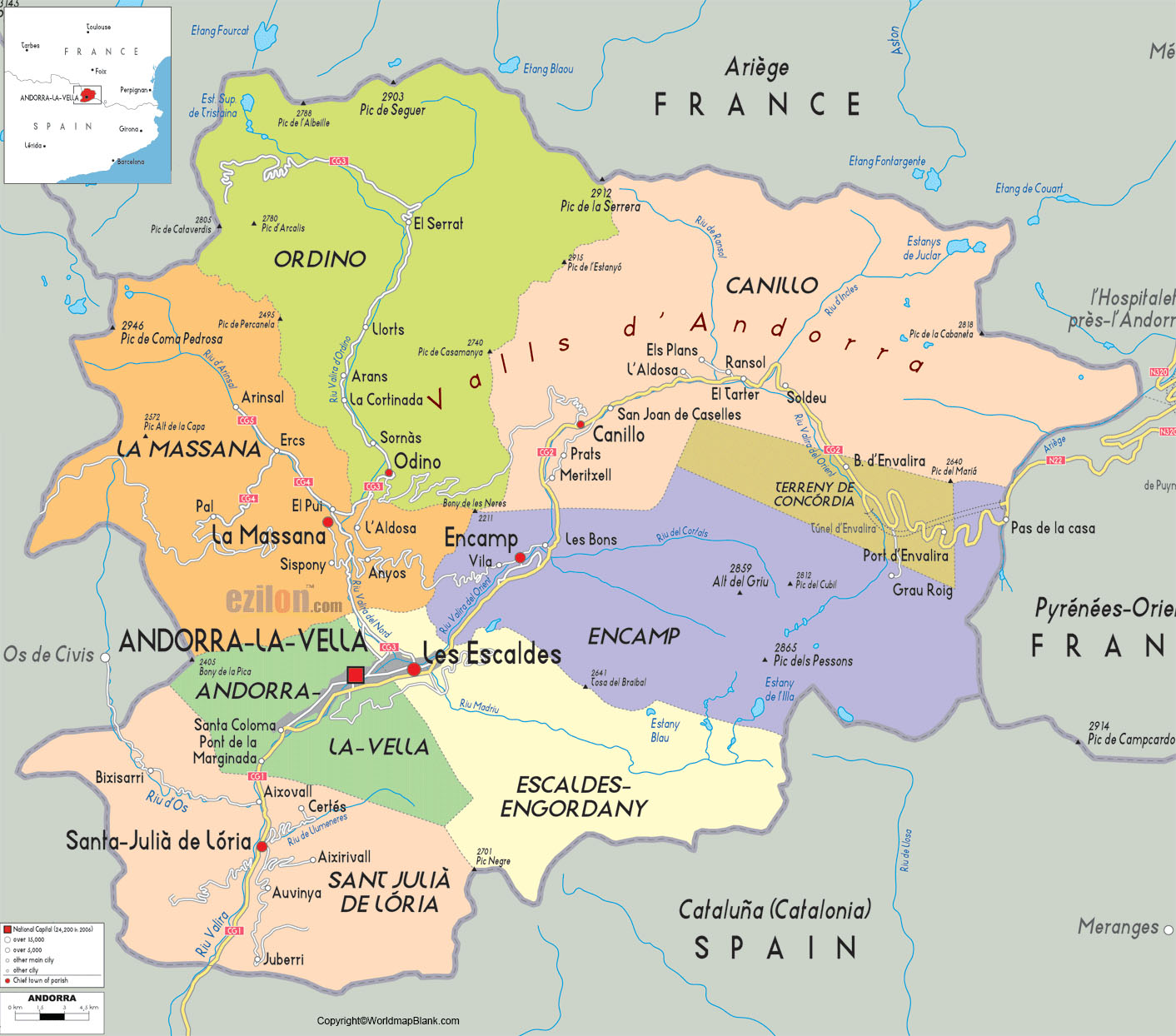 Labeled Map of Andorra with States
Andorra country comprise seven provinces or states. They include, Escaldes-Engordany, Andorra la Vella, Canillo, Encamp, La Massana, Ordino and Sant Julia de Loria.
Labeled Map of Andorra with Cities
While going through Labeled Map of Andorra with Cities, it is possible to find that there are five most populated cities in Andorra. However, based on the rank and population, the names of ten cities are: Andorra la Vella, Escaldes-Engordany, Encamp, Sant Julià de Lòria, La Massana, Santa Coloma, Ordino, El Pas de la Casa, Canillo, and Arinsal.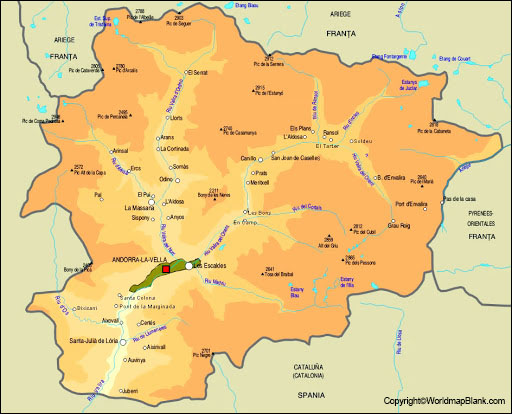 Labeled Andorra with Capital
Based on labeled Andorra with Capital, it can be seen that Andorra la Vella is the most populated city in Andorra. It is considered as the capital city of the country. The entire metro area of the city is more than 40,000 residents. Roughly forty-three percent of this population are of Spanish origin, and the remaining thirty-three percent of people belong to ethnic Catalan. The official spoken language here is Catalan.
However, languages like Portuguese, Spanish and French are the other languages spoken. This is owing to the presence of immigrants significantly. The largest minority groups, like French and Portuguese, can be seen in the city. The city witnesses high levels of snowfall every year, as it is situated at a height of 3,356 feet, above the mean sea level.
The major economic activity in the city is tourism, which contributes up to eighty-percent of the country's gross domestic product. Every year, approximately about ten million tourists visit this place for enjoying the local ski resort.  Production of furniture and brandy are the other common industries that are found in this city. Besides, this city is well-known for its tax benefits hence, it has attracted many business organizations and banks to flourish here.