Africa Map with Countries – Labeled Map of Africa [PDF]
A labeled map of Africa is a great tool to learn about the geography of the African continent. Pick your preferred Africa map with the countries from our collection below and download it in PDF format! All of our maps are free to use. You can print them out as many times as needed for your educational, professional, or personal purposes.
Also, check out our blank map of Africa to complete your collection and our Africa map worksheets for teaching and learning about the countries and capitals of Africa!
Labeled Map of Africa
Our first map is a map of Africa with countries. In order to download and print it, just click on the link below the image.
How Many African Countries Are There?
There are 54 nations in Africa that are members of the United Nations and the African Union. These countries are fully recognized sovereign states. However, there are also two countries with limited international recognition: Somaliland and Western Sahara.
What Is the Largest African Country?
The largest country in Africa is Algeria with an area of 919,595 square miles (approx. 2.38 million square kilometers). Following closely behind is the Democratic Republic of Congo, measuring 905,355 square miles (2.34 million square kilometers). Third place goes to Sudan with an area of 718,723 square miles (1.86 million square kilometers).
What is the smallest country in Africa?
The smallest country in Africa is the Seychelles with an area of only 174 square miles (451 square kilometers). The archipelago of 115 islands also has the smallest population of all African countries with only 107,000 people (estimate of 2021).
What Is the Most Populated Country in Africa?
The most populated country in Africa is Nigeria with a population of over 213 million people (estimate of 2021). Quite a bit behind is Ethiopia with the second largest population of 120 million. In third position is Egypt with 109 million inhabitants.
Africa Map with Countries
The African continent is bounded by the Mediterranean Sea to the north, the Red Sea to the northeast, the Indian Ocean to the southeast, and the Atlantic Ocean to the west. It is the second-largest continent in the world with a total area of 11.7 million square miles (30.2 million square kilometers).
Here is a map of African countries that shows all the nations of Africa but not their capitals: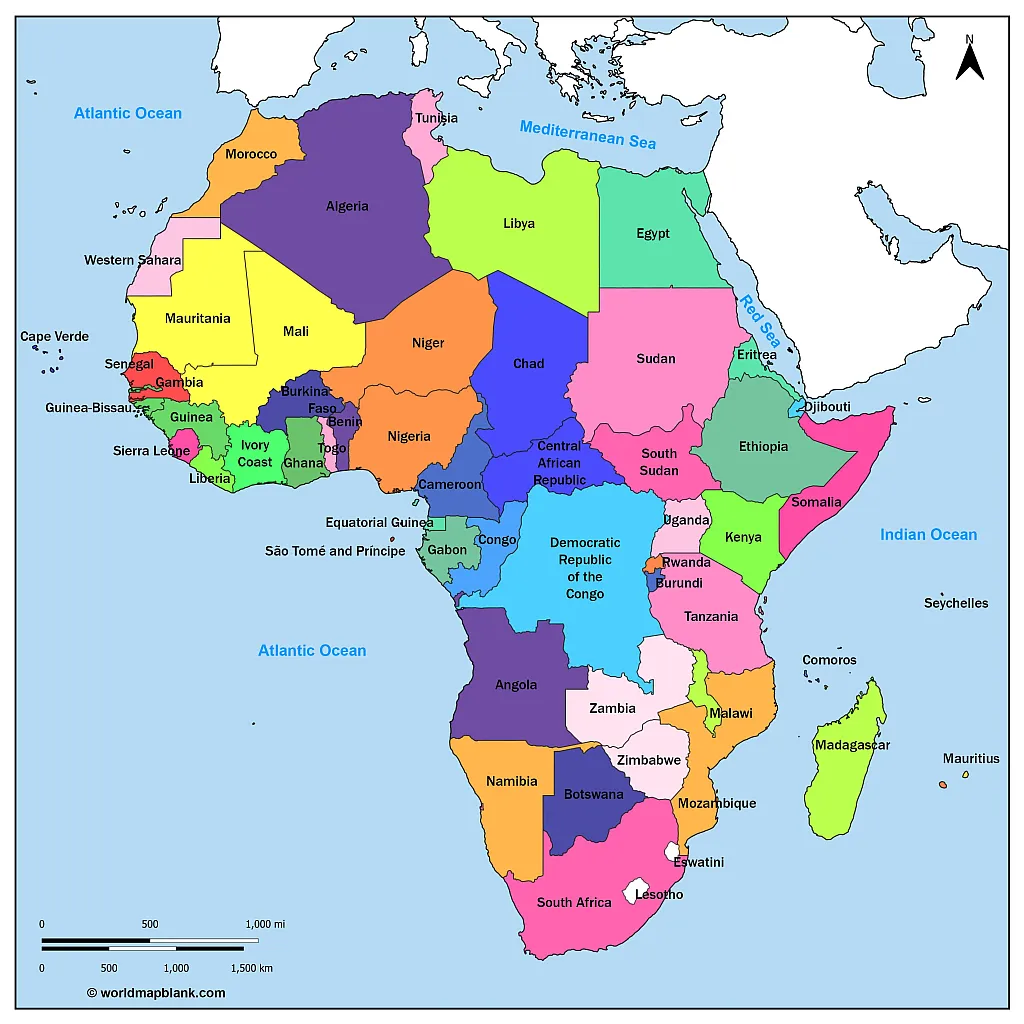 Africa's population is estimated at 1.4 billion people (2021), making it the second most populous continent after Asia. Approximately 17% of the world's population lives in Africa, almost twice as much as in Europe.
According to the UN statistics, roughly 44% of the African population lives in urban areas. The population growth rate is about 2.5%, and the median age is 19.7 years.
Africa Map With Capitals
Our next image shows a map of Africa with the countries and capitals. It also indicates the distances in miles and kilometers. We also have a corresponding blank map of Africa which can be combined with this one for learning activities.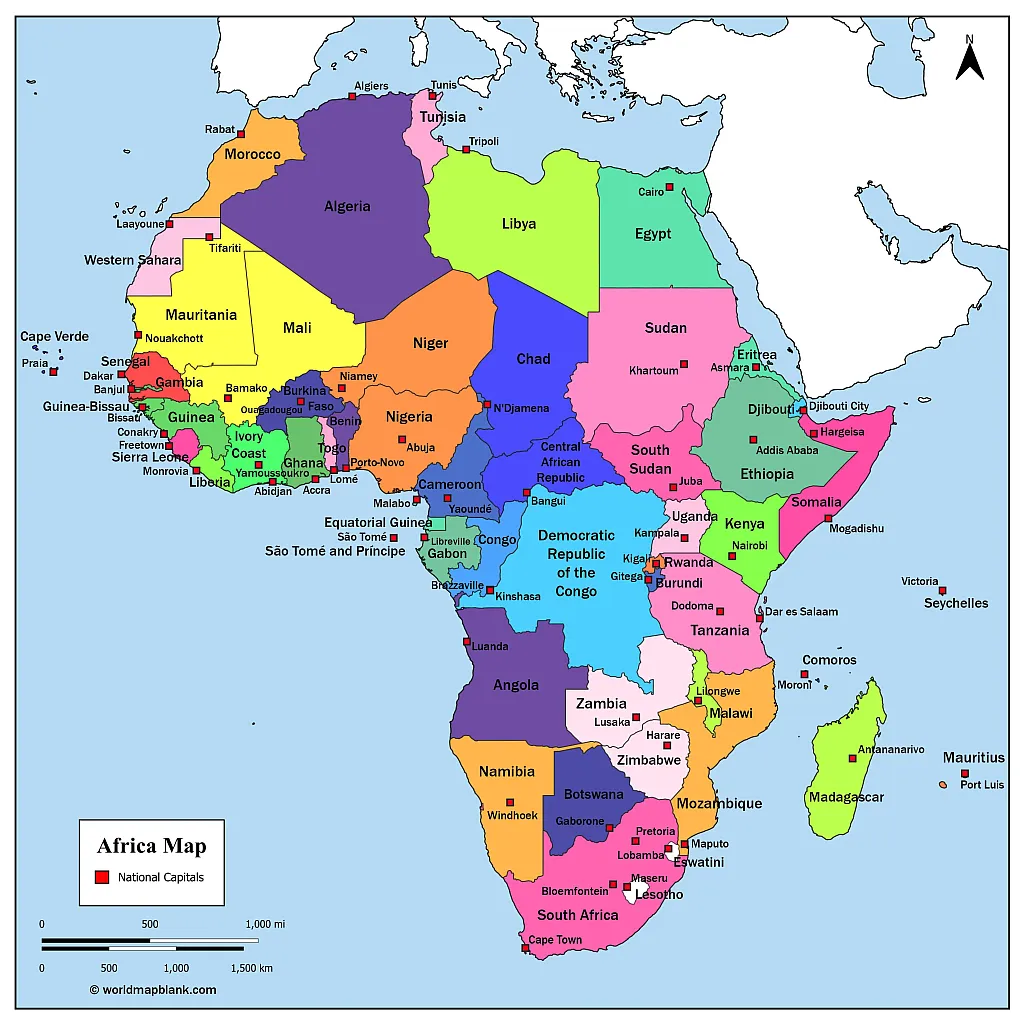 Note that some countries have two or even three capitals for different reasons. On the one hand, there are countries with disputed territories, such as Western Sahara and Somalia. While Western Sahara is partially occupied by Morocco and partially independent, the north of Somalia is de facto a sovereign country called Somaliland.
On the other hand, some countries have several capitals for different parts of their political map administration. South Africa has three capitals: Pretoria (executive), Cape Town (legislative), and Bloemfontein (judicial).
Other nations have recently changed their capital, but some government functions still remain in the former capital (e.g. Ivory Coast).
Africa Map with Country Names
The African continent is subdivided into the five regions Northern Africa, Eastern Africa, Middle Africa (or Central Africa), Southern Africa, and Western Africa. The last four of these are combined into Sub-Saharan Africa, meaning all areas south of the Sahara desert.
The following map is another Africa map with countries and capitals.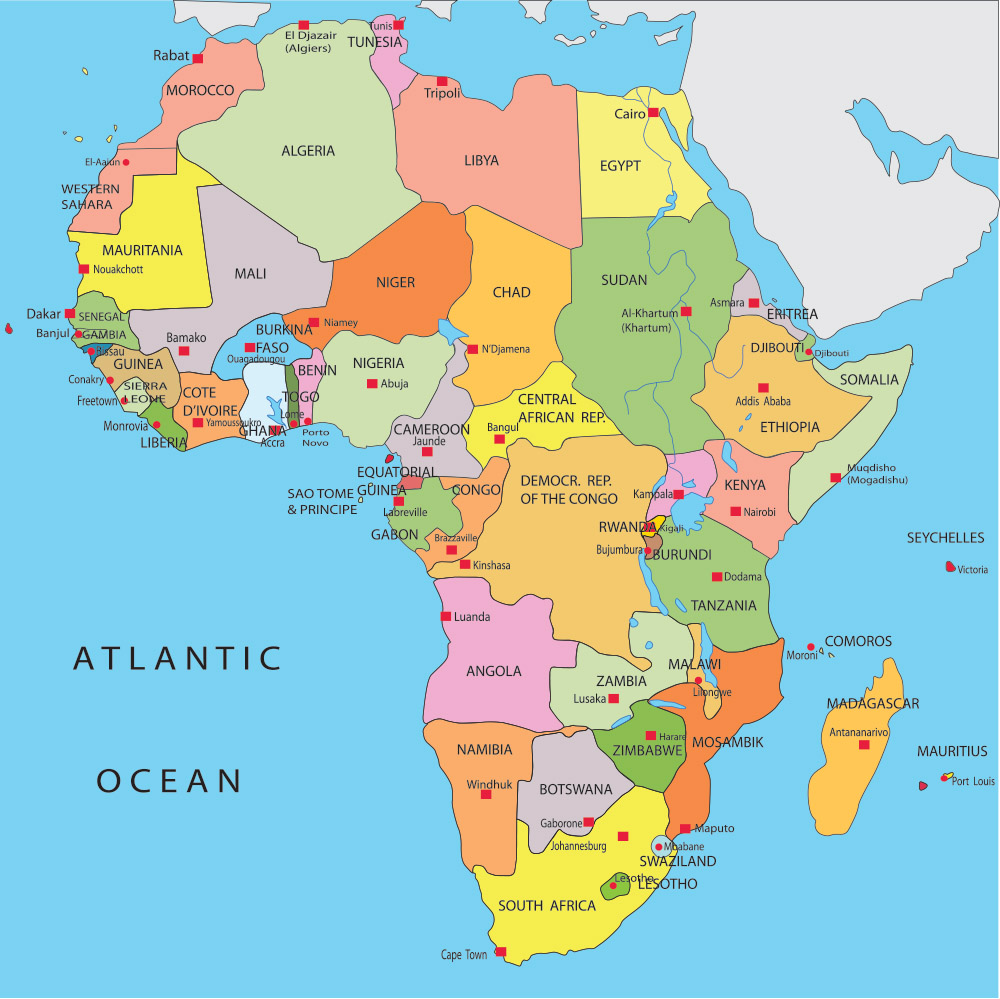 Please note that the above Africa map with names of countries is older and does not include South Sudan or other newly independent territories.
What Are the African Countries?
Here is an overview listing all African countries with their capitals and population (as of 2021):
Algeria – Algiers (4.6 million)
Angola – Luanda (2.6 million)
Benin – Porto-Novo (250,000)
Botswana – Gaborone (230,000)
Burkina Faso – Ouagadougou (2.9 million)
Burundi – Gitega (150,000)
Cameroon – Yaoundé (1.5 million)
Cape Verde – Praia (180,000)
Central African Republic – Bangui (910,000)
Chad – N'Djamena (1.5 million)
Comoros – Moroni (55,000)
Congo – Brazzaville (2.5 million)
Democratic Republic of the Congo – Kinshasa (15 million)
Djibouti – Djibouti City (1 million)
Egypt – Cairo (10 million; metropolitan area 20 million)
Equatorial Guinea – Malabo (170,000)
Eritrea – Asmara (1 million)
Eswatini – Lobamba (6,000)
Ethiopia – Addis Ababa (5 million)
Gabon – Libreville (850,000)
Gambia – Banjul (400,000)
Ghana – Accra (2.6 million)
Guinea – Conakry (2 million)
Guinea-Bissau – Bissau (2 million)
Ivory Coast – Yamoussoukro (430,000), Abidjan (6.3 million)
Kenya – Nairobi (4.5 million)
Lesotho – Maseru (270,000)
Liberia – Monrovia (1.6 million)
Libya – Tripoli (1.3 million)
Madagascar – Antananarivo (1.4 million)
Malawi – Lilongwe (1.1 million)
Mali – Bamako (2.7 million)
Mauritania – Nouakchott (1.3 million)
Mauritius – Port Luis (160,000)
Morocco – Rabat (700,000)
Mozambique – Maputo (1.2 million)
Namibia – Windhoek (450,000)
Niger – Niamey (1.4 million)
Nigeria – Abuja (1.7 million)
Rwanda – Kigali (1.3 million)
São Tomé and Príncipe – São Tomé (80,000)
Senegal – Dakar (1.5 million)
Seychelles – Victoria (30,000)
Sierra Leone – Freetown (1.2 million)
Somalia – Mogadishu (3.4 million)
South Africa – Bloemfontein (600,000), Cape Town (4.7 million), Pretoria (800,000)
South Sudan – Juba (600,000)
Sudan – Khartoum (650,000)
Tanzania – Dodoma (2.3 million), Dar es Salaam (6.5 million)
Togo – Lomé (1 million)
Tunisia – Tunis (600,000)
Uganda – Kampala (1.8 million)
Zambia – Lusaka (2.7 million)
Zimbabwe – Harare (2.5 million)
Africa Map With Rivers
Our following map shows the locations of the largest rivers in Africa. These include the Nile River which is not only the longest river in Africa, but also in the world (while some research suggests that the Amazon River is slightly longer). We also offer more Africa rivers maps.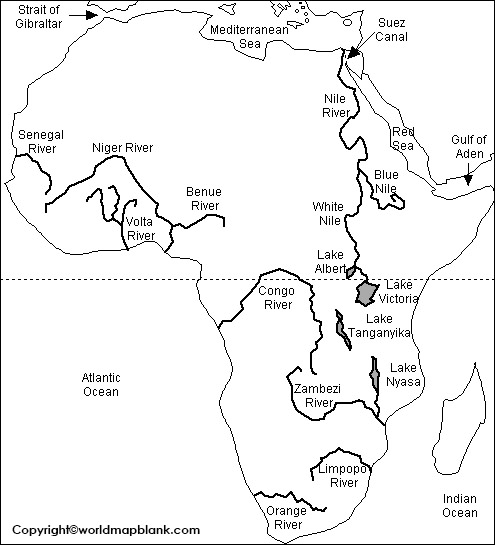 The five longest rivers in Africa are:
Nile River – 4,132 miles (6,650 kilometers)
Congo River – 2,922 miles (4,700 kilometers)
Niger River – 2,611 miles (4,200 kilometers)
Zambezi River – 1,673 miles (2,693 kilometers)
Ubangi River – 1,410 miles (2,270 kilometers)
Africa Map with Countries
The following map shows a simplified political map of Africa in several variations.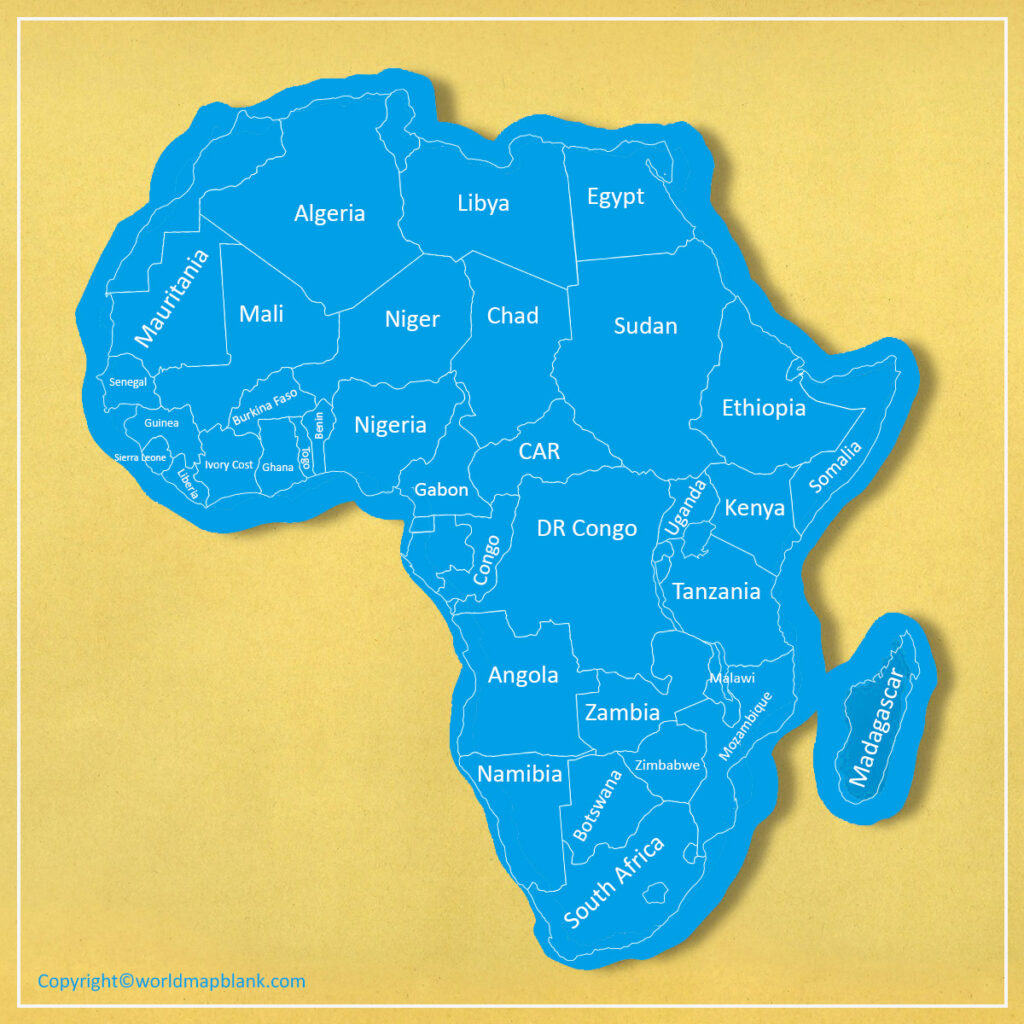 Africa Map with all the Countries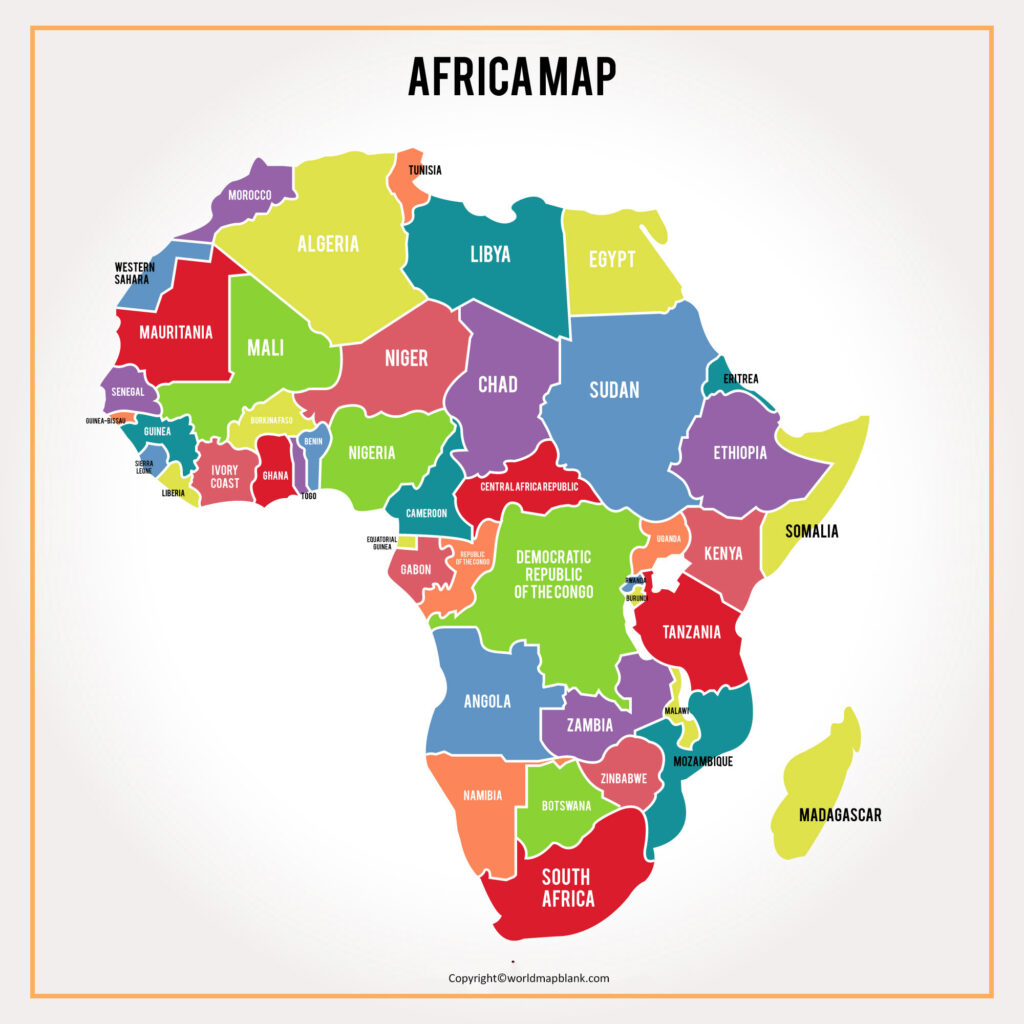 Labeled Africa Map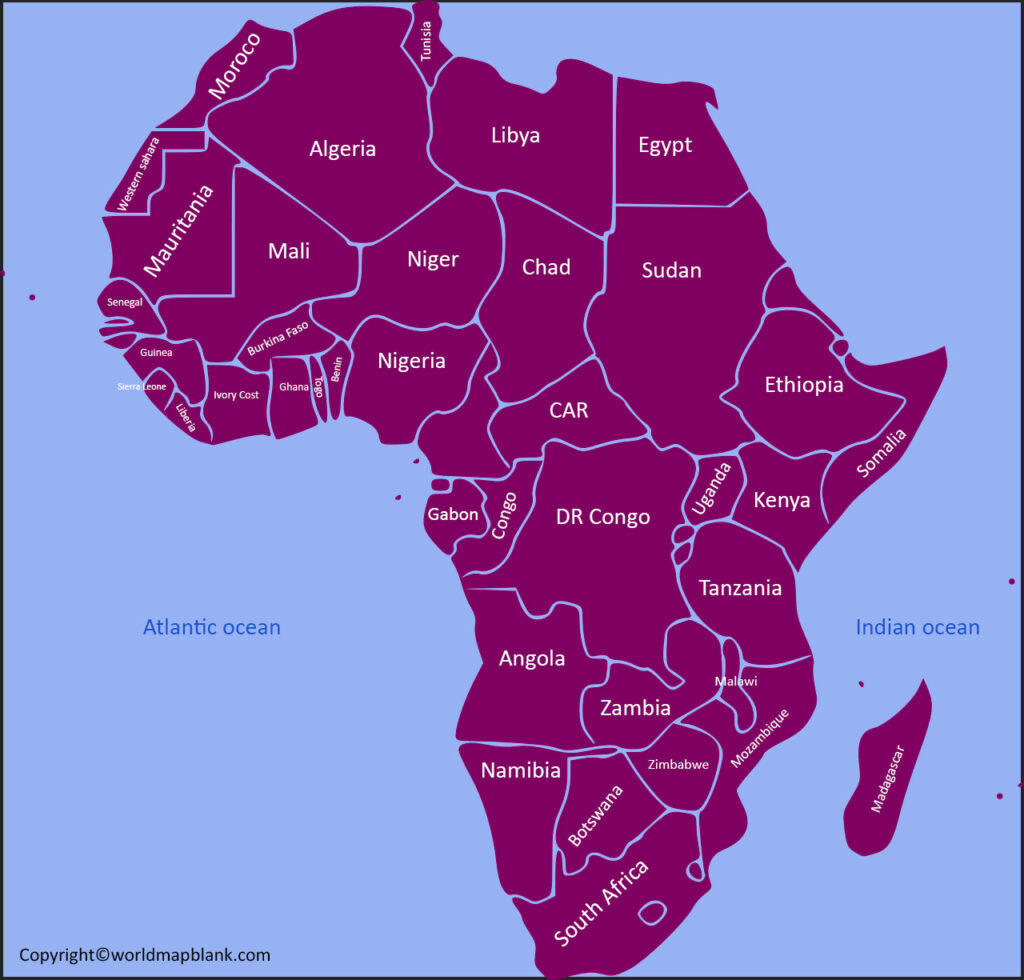 More Free Maps for Download
Below you will find some useful links to other printable world maps, continent maps, and country maps for download as PDF files. We offer a whole lot of free maps, so explore our site and check them out!
World Maps
Continent Maps
Country Maps