Political World Map – Printable Map of the World [PDF]
A political world map shows the political boundaries of countries, states, and regions. It usually also includes the capitals of those political entities, as well as major cities. Political maps can be found for every country in the world, and they are a valuable tool for understanding the political landscape of our planet. Download here your printable map of the world for free.
Additionally, we offer many more world maps about different topics, such a a blank world map or a world map with oceans and seas as well as a world map for kids and a world map with continents.
If you want to teach your students or kids about the geography of the world, you should also check out our ready-made and fully customizable world map worksheets!
Political Map of the World
On this page we offer a number of free printable maps of the world illustrating the political features of planet Earth. A printable world map or a political map of the world can be used for all kinds of teaching and learning activities. Get your map here so your students can get familiar with the sovereign nations of our planet.
In order to download any printable world map from this page, simply click on the download links below the images. You will then be able to save any political world map printable as a PDF file.
Political Map of the World Blank
This type of a printable blank world map can be used for confirming and testing what has been learned. For instance, students can label the empty spaces on the world map with country names. Alternatively, coloring continents or major countries could be a good learning activity. Filling in the details on the printed map helps to improve and remember the locations of all the continents, countries and borders.
Please also see our blank map of the world post for more variations of a blank political world map.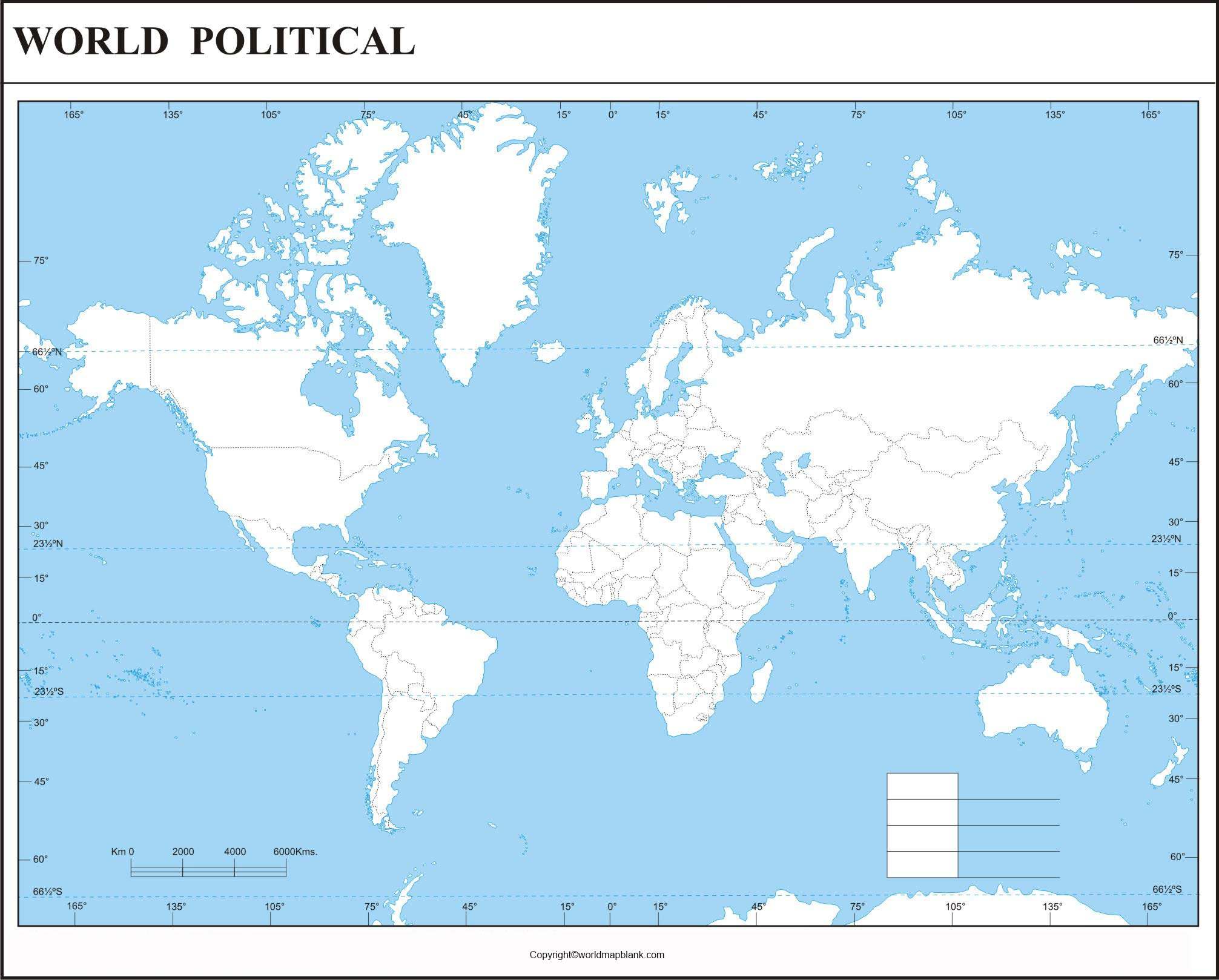 Above map depicts the world countries as well as all national borders. It can also be used to mark the names of the oceans and seas.
We provide many more blank maps with continents and country borders for you to download and print free of charge. You will find some useful links at the bottom of this page, but you can also use our search feature.
Printable Map of the World Free
Here is another world political map with countries that you can download in two different sizes in PDF format.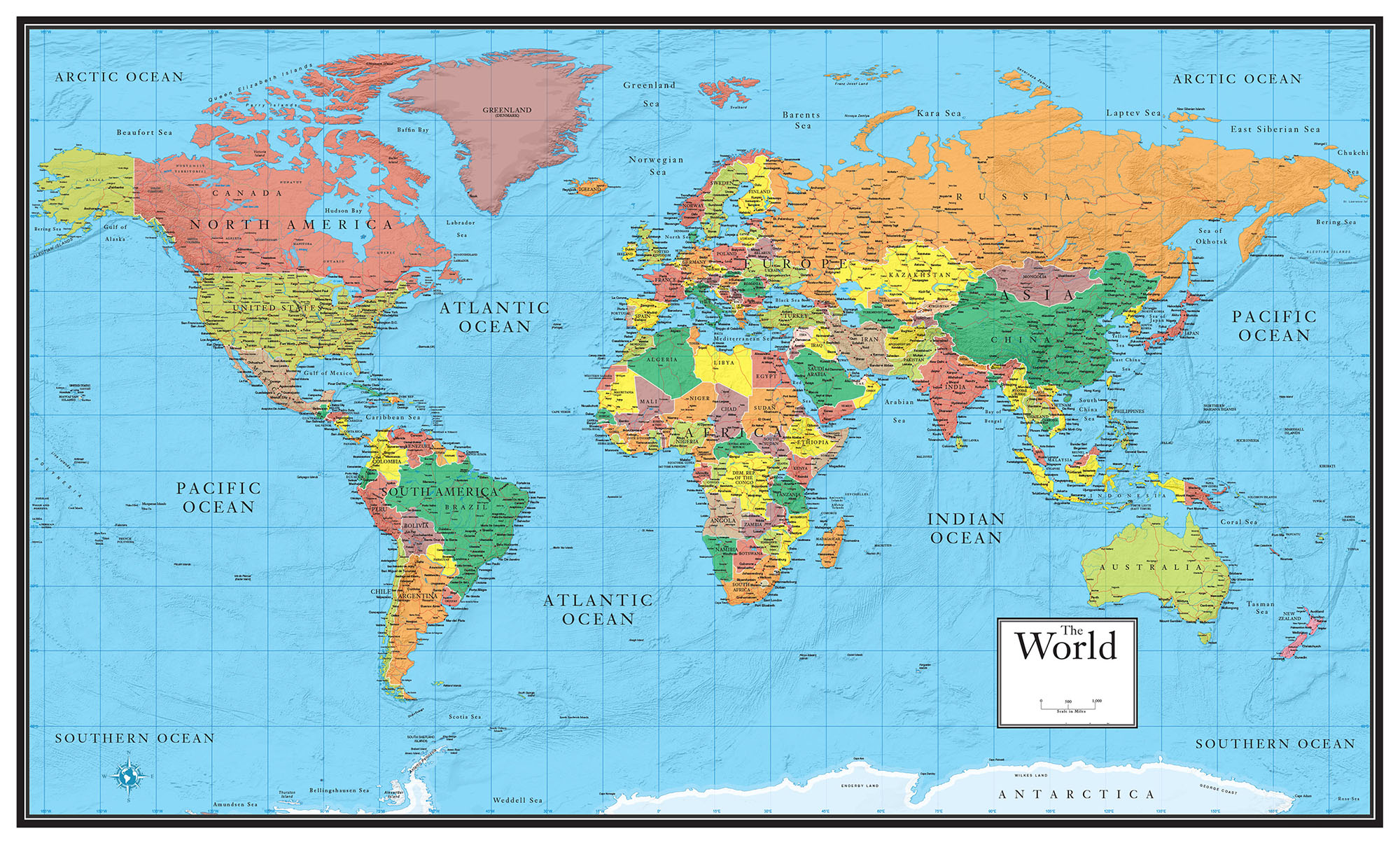 Download as PDF A4
Download as PDF A5
Printable World Map with Countries
The map of the world below has all countries colored, but only includes labels for those with the largest territories. Use it for example to have your students add the missing names to the other countries.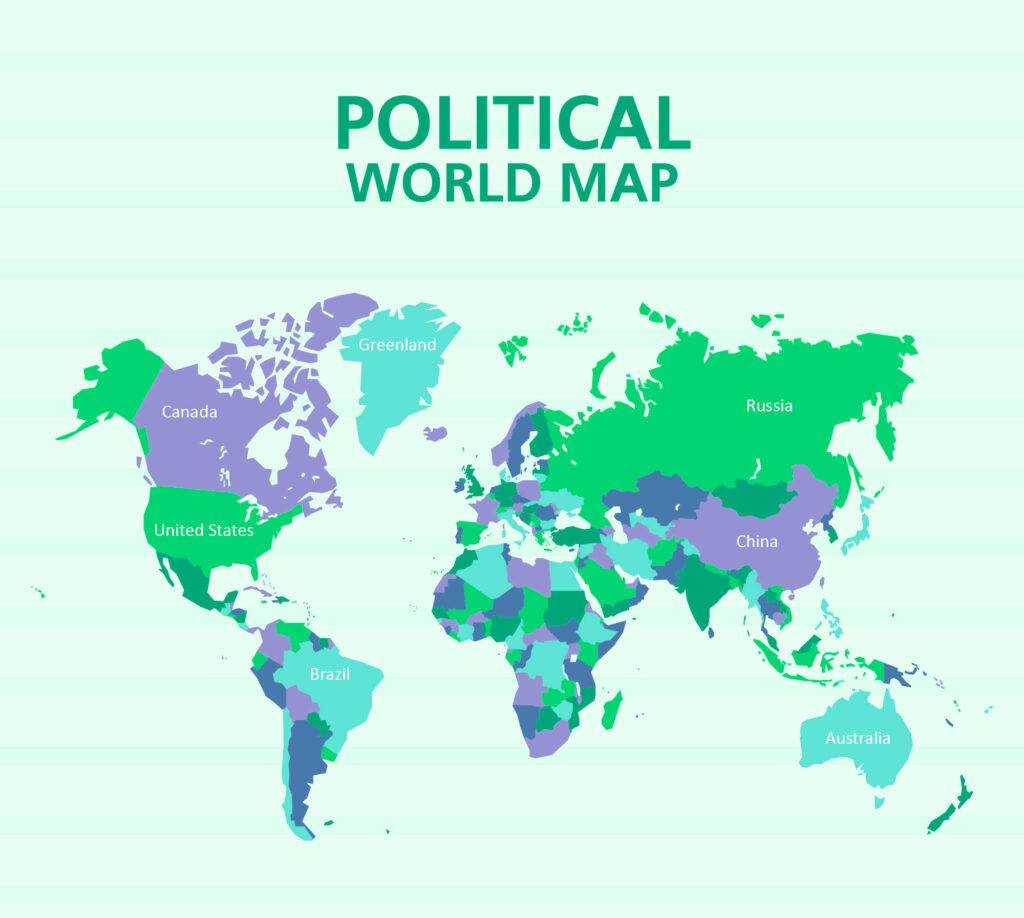 World Map Printable with Countries
The next map is a free printable world map with labeled countries. It provides a lot of detailed information about all regions, oceans and nations of the world.
This political world map with countries shows numerous details of all the countries and regions. You can print as many copies as you want and use them for informational purposes, teaching and studying.
World Political Map
In case you need a simple map with less details, the one below might be the right choice. This political world map with continents still shows all the countries, but in a less cluttered way.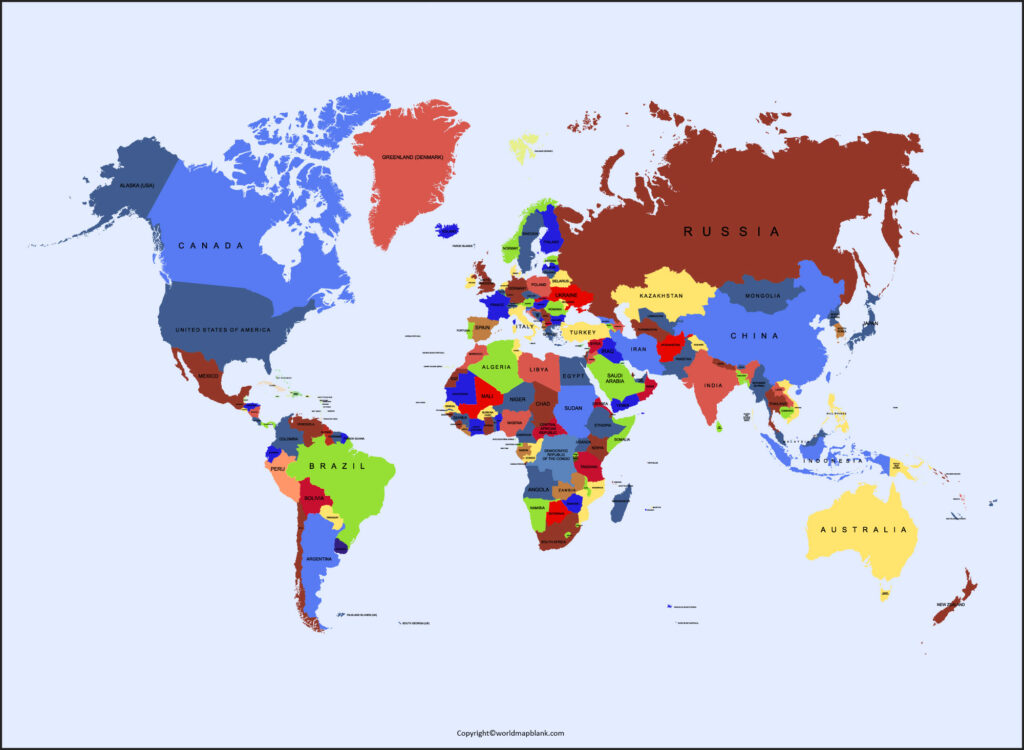 Free Printable Political World Map PDF
The following world map labeled with countries is similar to the previous one, but comes in a rather sober design. While the vast majority of countries are labeled, some names are left out.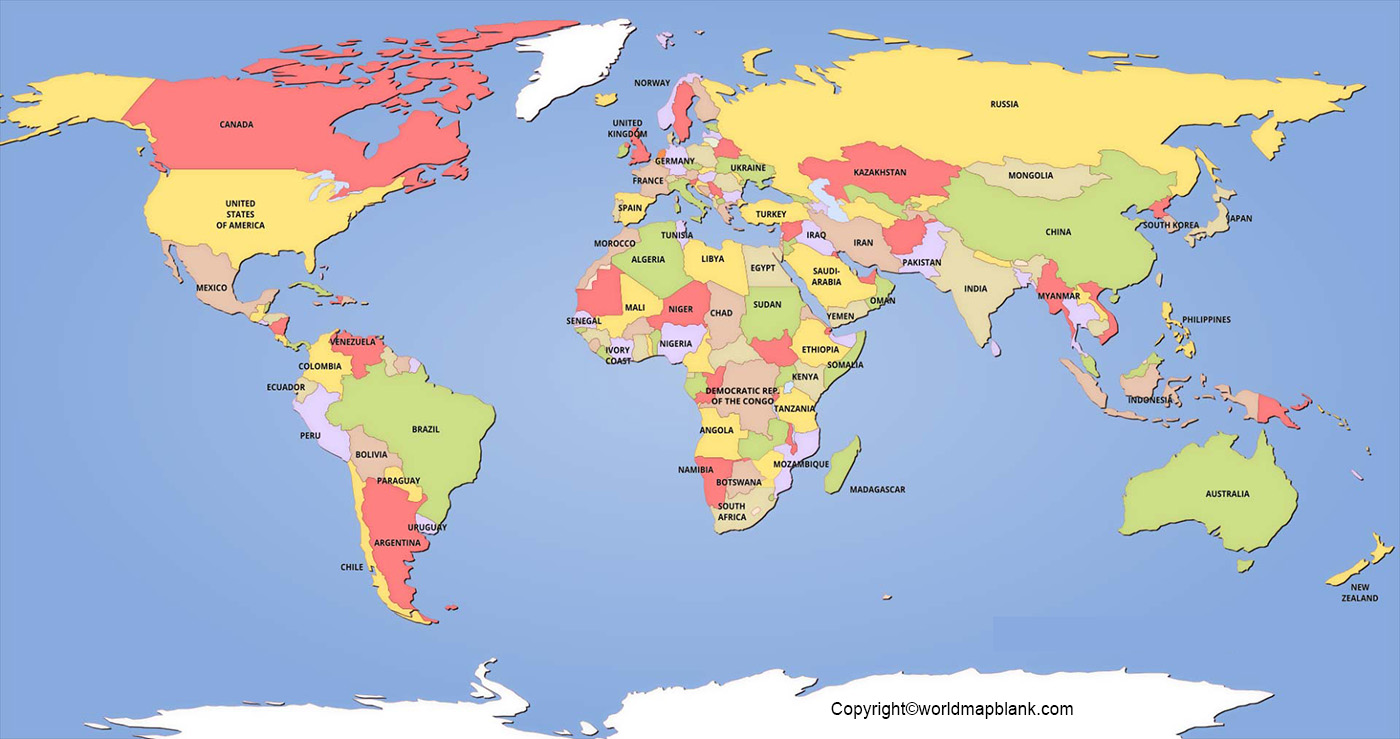 Any free political map of the world on this page is available free of charge. Additionally, you can find more printable maps in several categories on this website. We have political maps of the world but also of North and South America, Europe, Asia, Africa, Australia, and Antarctica. Some of the maps show geographical features, others are simple country maps. Any of them is a great resource to teach students about geography and achieve different kinds of learning objectives.
Political Map of the World PDF
Below world map with countries and continents has the country names of the largest states written on the map. The names of smaller countries are indicated by numbers. A list at the bottom shows which number corresponds to which country.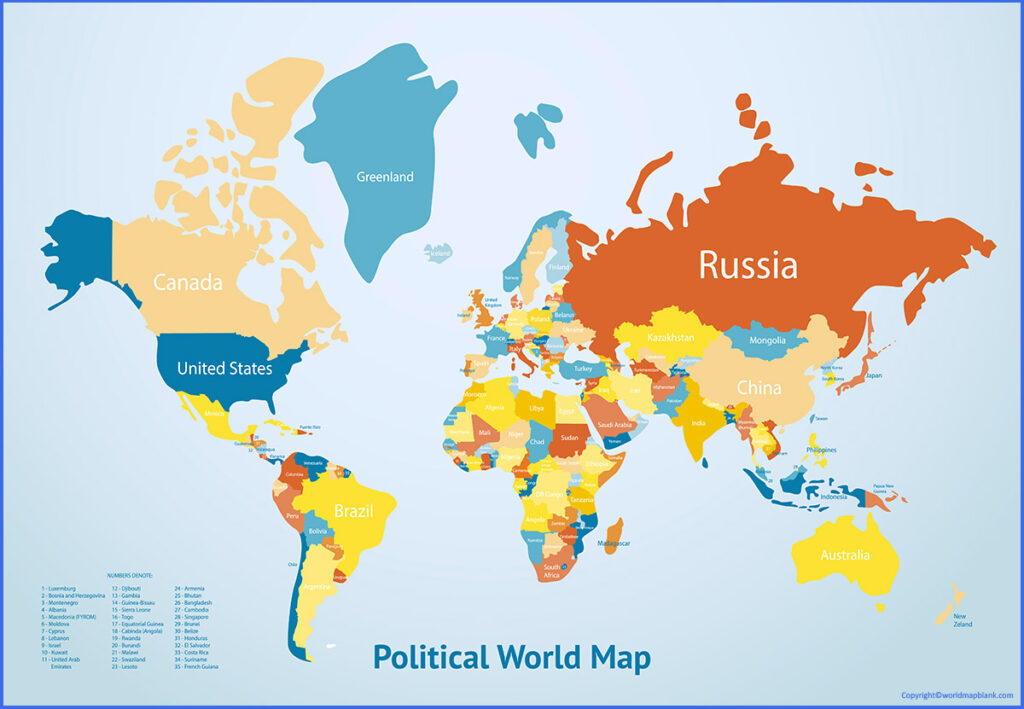 World Map Political Blank
Most of the political world maps here on this page are labeled maps. However, a printable blank world map in black and white can also be a great tool for teaching and learning.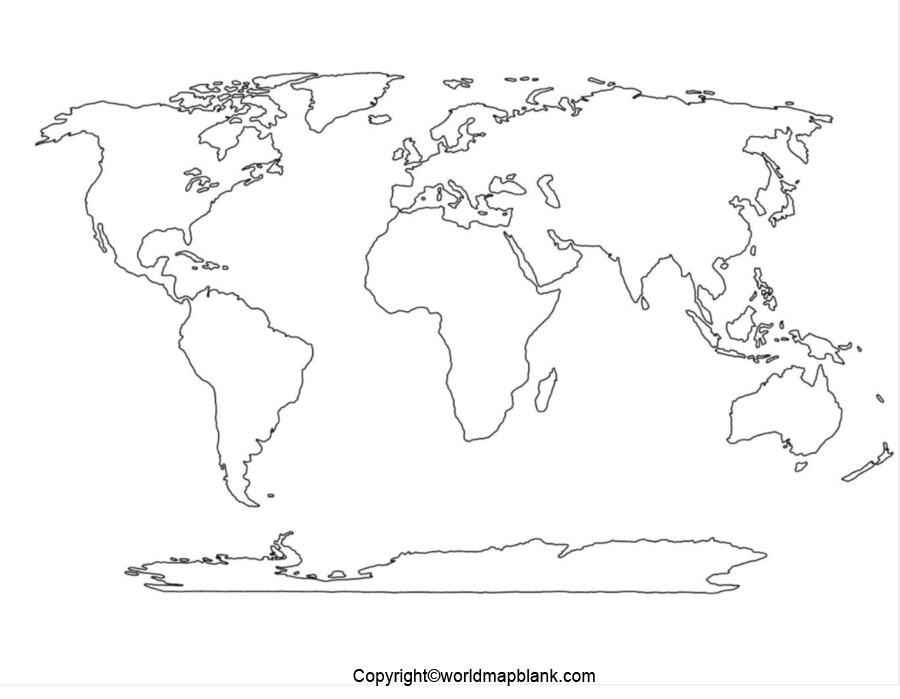 The above black and white political map of the world in PDF is especially designed for coloring and labeling. This map reflects only the outline of the land masses of the world, so the students have to add all features themselves. Such a white map is great for remembering the shapes of the continents without any distracting labels. Make sure you print it out in a large format, so there is enough space for labeling.
The next printable map of the world only has labels for the largest countries and territories.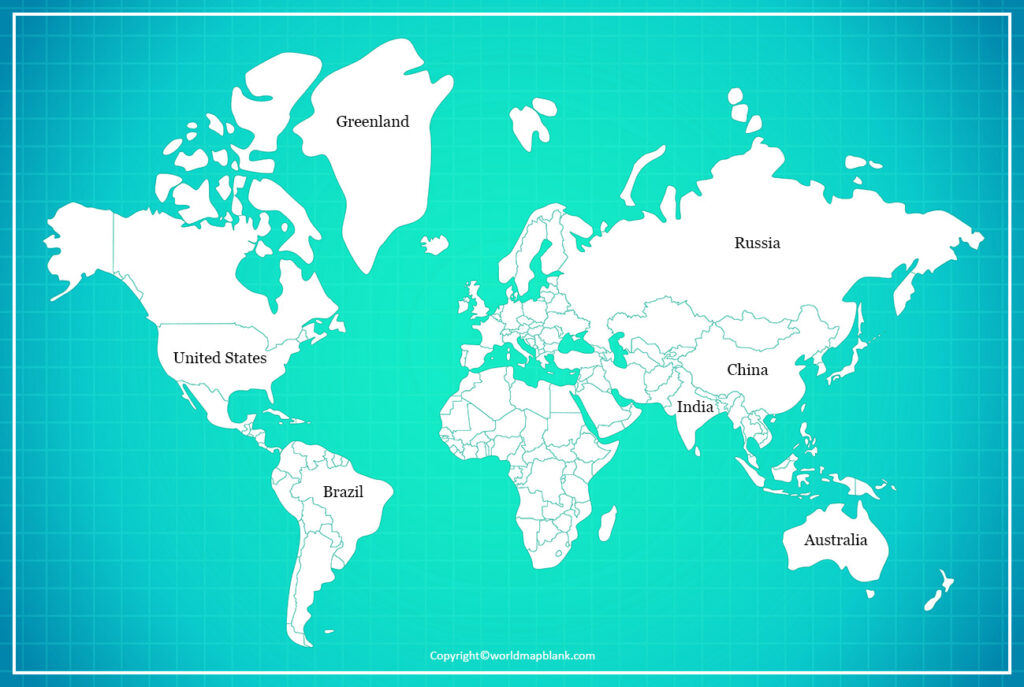 Political World Map Outline
Here is another blank world map political with outlines. This one additionally contains the boundaries of continents and countries, so it is better suited for coloring single territories. It can also be used to mark the locations of cities or rivers. This kind of map can be employed in an exam or test or simply for practice.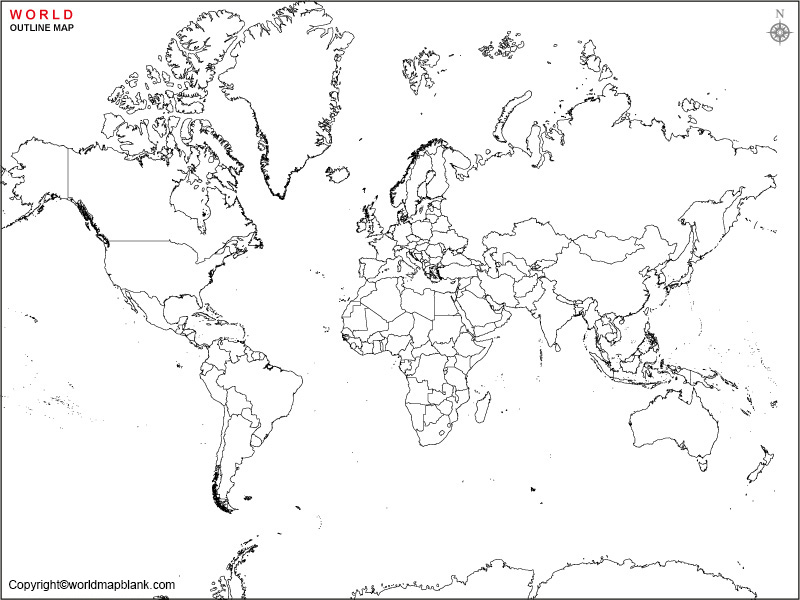 More Free Maps of the World to Download and Print
In case you need a different printable world map or other maps in PDF, please find below a selection of useful links. We offer numerous free maps of all the continents and the world's countries.
Another option is to find a map via our search feature at the top of this page. If you are looking for a particular map that is not available on our site, please get in tough via our contact form. We will try to provide the desired map as soon as possible.
World Maps
Political Continent Maps
Other Continent Maps
Blank Country Maps
Mountain Maps
Other Printable Maps