Printable Blank Map of Asia – Map of Asia Blank [PDF]
A printable blank map of Asia or Asia blank map can greatly assist in learning and practicing the details of the geography of the Asian continent. Pick your desired outline map of Asia without names and download it for free now!
Any empty map of Asia is handy for verifying and testing what has been covered and learned with a corresponding labeled map. As a result, the learner will be able to understand and gain a broader knowledge of the Asian continent and its geographical features. You can also use an Asia outline map to plan your travels or for coloring exercises with your kids.
A free political map of Asia from our site will further enhance your Asia maps collection. Finally, get our Asia map worksheets with fun and interactive learning activities!
Blank Map of Asia
Asia is the world's largest and most populous continent, mainly in the eastern and northern hemispheres. With a land area of 17.2 million square miles (44.6 million square kilometers), Asia covers 8.7% of the Earth's total surface area and comprises 30% of its landmass. With approximately 4.7 billion people, it hosts 60% of the world's population.
Our first map is an Asia blank map printable with the borders of all the countries in the continent.
Other continent maps are available to you for download, too. We also offer geography resources for single Asian countries, such as a blank map of India, a labeled map of China, or a blank map of Thailand.
Asia Blank Map
The Pacific Ocean bounds the continent of Asia to the east, Europe to the west, and the Arctic Ocean to the north. To the southwest, it is linked with Africa by the Isthmus of Suez. Europe is connected to Asia via the narrow straits of the Bosporus and the Dardanelles, the Caspian Sea, and the Black Sea.
The most widely accepted boundaries place Asia within the Ural Mountains in the west, the Arctic Ocean to the north, the Pacific Ocean to the east, the Indian Ocean to the south, and Australia to the southeast.
Our second map is also an Asia map without names, including the country borders. Additionally, it depicts the European part of Russia in the west with a separate border.
Download as PDF (A4)
Download as PDF (A5)
Asia Map Blank
Asia is generally divided into five subregions: Western Asia, Central Asia, Eastern Asia, Southern Asia, and Southeastern Asia. Each region has its own distinct history, culture, and economic development.
The following map is similar to the previous one, but this blank political map of Asia also shows the locations of the capitals of the Asian countries. Borders of neighboring continents are also included.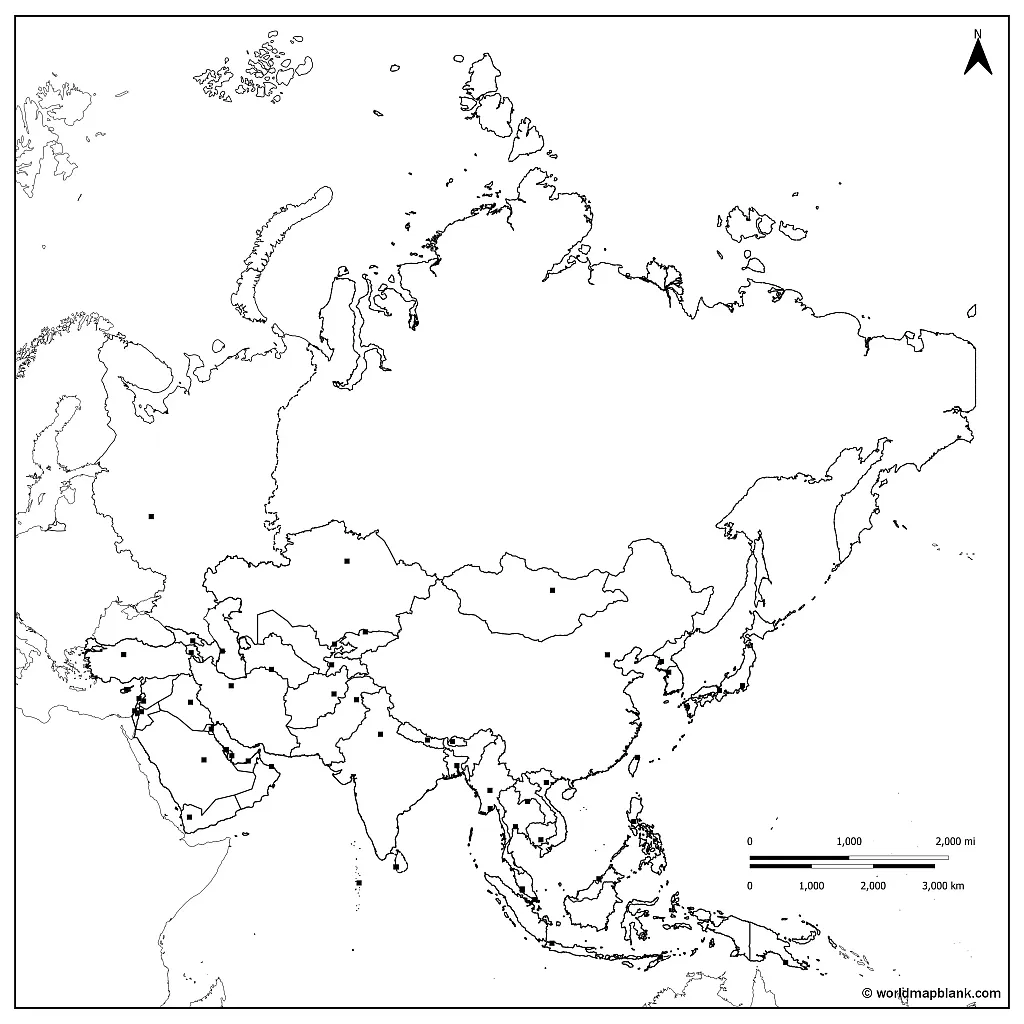 Download as PDF (A4)
Download as PDF (A5)
The above map of Asia without labels is handy for learning and practicing the country and the capital names. Additionally, it could be used to draw rivers and mountain ranges onto the map. It is also a good map for testing purposes where students need to add all the capital cities of the Asian countries. Please take a look at our country maps section for more helpful resources about this topic.
Blank Asia Map
A printable map of Asia will help to visualize all the geographical details of the Asian continent. All blank maps on this page can be downloaded for free as images and PDF files. Many of them are available both in A4 and A5 sizes.
Here is an outline map of Asia, only showing the outer borders of the continent.
Download as PDF (A4)
Download as PDF (A5)
This map also shows the western part of Russia separated to the left, which geographically belongs to Europe.
The topography of Asia is highly varied, with high mountains, extensive deserts, and fertile plains all found within its borders. The continent's highest point is Mount Everest in the Himalayas, which towers 29,032 feet (8,849 meters) above sea level. The world's lowest point, meanwhile, is the Dead Sea in Western Asia, which sits 1,412 feet (430.5 meters) below sea level.
Asia is home to some of the world's most populous countries, including China, India, Indonesia, Pakistan, and Bangladesh. It also contains some of the planet's most densely populated cities, such as Shanghai, Beijing, Mumbai (formerly Bombay), and Karachi.
Map of Asia Blank
The continent's economy is equally diverse, with countries like Japan and South Korea enjoying a high standard of living while others, such as Afghanistan and North Korea, struggle with poverty and poor economic conditions.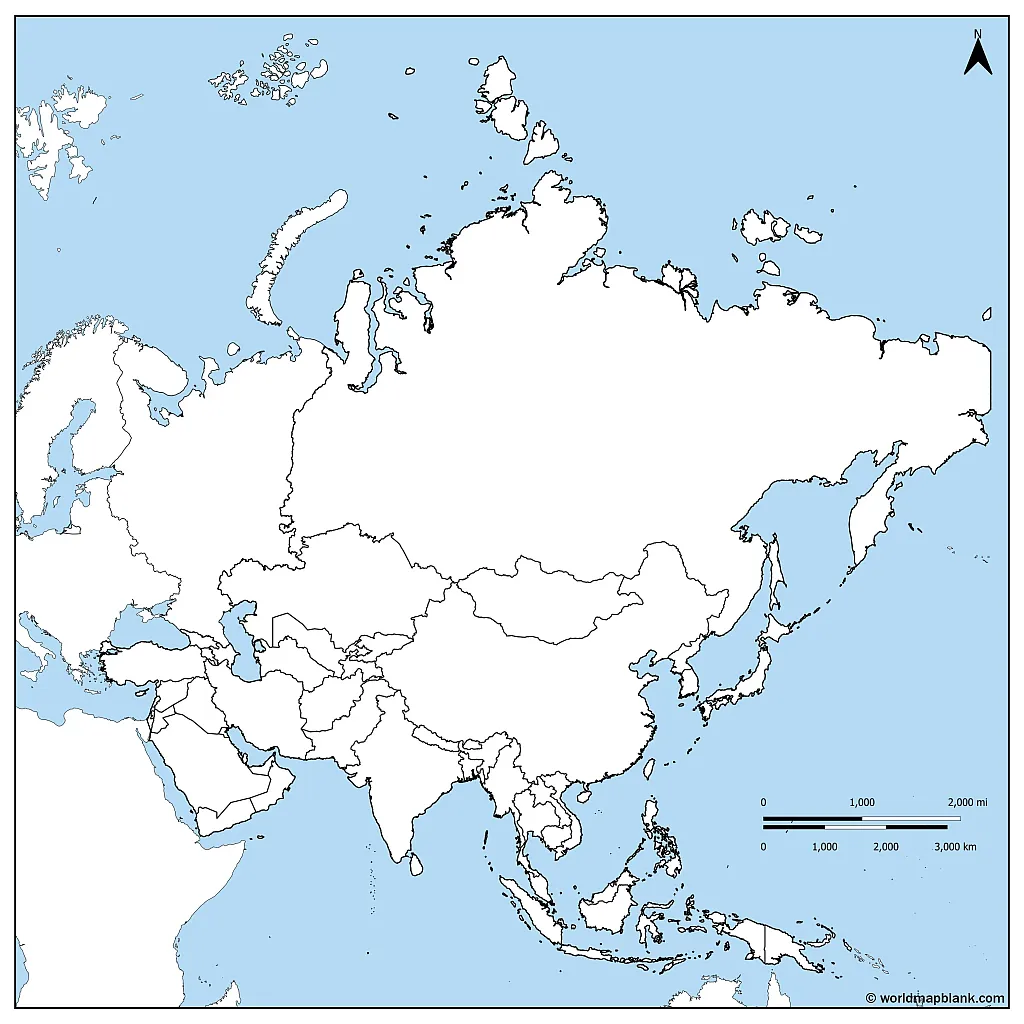 Download as PDF (A4)
Download as PDF (A5)
Asia is a culturally rich continent, home to many different religions, languages, and ethnic groups. The most widespread religions are Islam, Hinduism, Buddhism, and Confucianism. Mandarin Chinese is the most widely spoken language on the continent (with 920 million native speakers worldwide), followed by Hindi (344 million native speakers) and Bengali (234 million native speakers).
Unlabeled Map of Asia
The Asian continent's long history has seen the rise and fall of many great civilizations, from the ancient empires of China and India to the more recent colonial powers of Europe. Today, Asia is a dynamic and fast-changing region playing an increasingly important role on the global stage.
Download your printable blank map of Asia for free! Use it for teaching the geography of the Asian continent to your students or kids or for personal practice. You can also create your practice map worksheet of Asia, especially for this purpose.
More Free Printable Maps
Here is a list of more blank maps, world maps, and country maps for you to check out. Also, you can use our site search to find any other map you might need. Increase your knowledge of the world now and teach geography successfully with a printed world map or other great tools from our website!
If you are still looking for your desired map on our site, please contact us! In your message or comment, describe in detail what kind of map you need. We can probably produce it for you free of charge. We have done so before for several of our users, e.g. making a Germany postal codes map.
Blank Maps
Continent Maps
Country Maps
World Maps and Other Maps