Map of Antarctica – Printable Antarctica Map [PDF]
A labeled map of Antarctica shows that it is the Earth's southernmost continent. It is in the region of the Arctic of the Southern part of the Hemisphere and contains the geographic pole. Antarctica is located almost entirely south of the Antarctic Circle and is surrounded by the Southern Ocean.
Labeled Map of Antarctica
The Antarctica labeled map, shows a land area of fourteen million square kilometers. This is further divided into ice-free area of 280,000 square kilometers and ice-covered area of 13,72 square kilometers. The size of this continent is almost equivalent to twice the size of Australia.  With respect to its area, it is considered as the fifth-largest continent after South America, North America, Africa and Asia. Argentina, Chile, New Zealand, Australia, and South Africa are the countries nearby to Antarctica.
Labeled Antarctica Map with Countries
With respect to the labeled Antarctica with countries, it can be said that there are no separate countries that exist in Antarctica. However, there are several outside countries across the world that have formed base camps in the South Pole. They include Norway, Australia, Italy, France, Chile, Russia, Argentina and the US.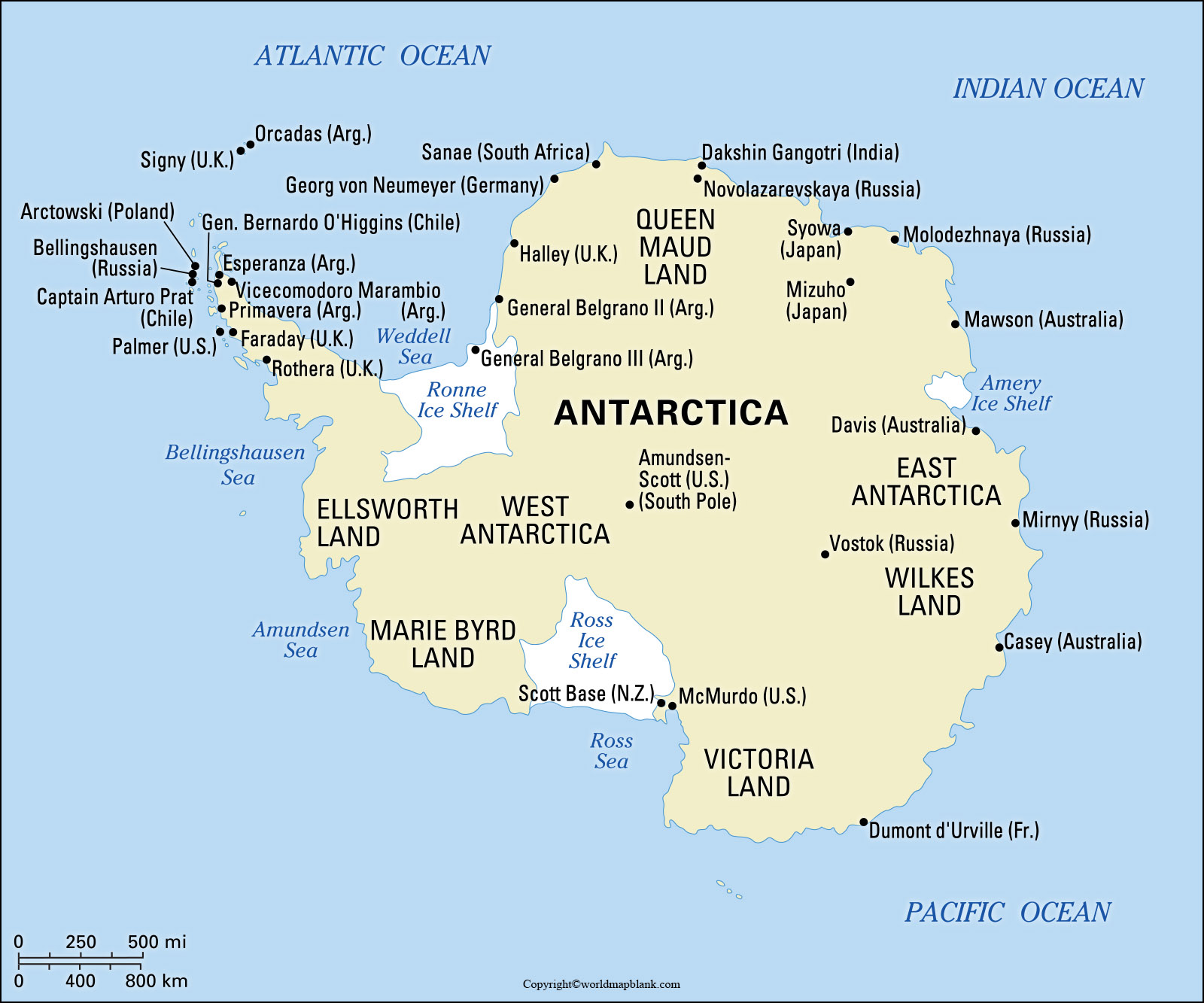 The research station belonging to the Norwegian country is constructed on a snow-free slope in a place known as, Queen Maud Land, similar to other countries. Each camp of a country has its own airstrip, built either on ice or gravel. Here, specialized aircraft operates along the aerial routes across the continent of Antarctica. The labeled map of Antarctica, shows the exact locations of scientific research stations operated by various countries in Antarctica.
Labeled Antarctica Map with Capitals
Through the labeled Antarctica map with capitals, officially claimed by seven sovereign countries, this icy continent has no ruler flag and definitely has no recognized capital city. In its own right, the entire continent of Antarctica is considered as a no man's land. While looking at places in Antarctica, only two civilian settlements exist here with a low population comprising a few scientists and their families. Villa Las Estrellas is a place located on Antarctica, which belongs to Chile.
It is a small settlement in a province known as, Antártica Chilena. This place has got a summer population of about 140 people, and this number drops down to eighty during the winter season. Villa Las Estrellas is recognized as remote and an old-fashioned little town, situated on the King George Island. This is a portion of the South Shetland Islands where the climate reflects the hospitality to people living there. This part of Antarctica has an average annual temperature of −2.3 °C and is enjoyable for people who live there. Esperanza is another Argentinian centre for research, located on the Trinity Peninsula, and only fifty-five people stay in this place during winter.
Antarctica Map with Cities Labeled
As a part of the Antarctica map with cities labeled, it can be seen that in Antarctica there are no recognized cities or villages that can be labeled. The entire continent is covered by ice up to ninety-eight percent of its area.
More Free and Printable Maps for Download
Below you'll find a collection of links to other interesting maps of different parts of the world. We offer world maps, country and continent maps as well as physical and other maps. All our maps are available for free download as PDF files.
World Maps
World Map with Oceans and Seas
Printable World Map with Continents
Continent Maps
Map of Australia with States and Cities
Country Maps
Blank Map of the United States
River Maps