Labeled Map of Antigua and Barbuda with States, Capital & Cities
The Antigua and Barbuda Labeled Map shows that it is a portion of the Leeward Islands. This comprises two main islands that are known as Antigua and Barbuda. A number of smaller islands and small abandoned island, known as Redonda island, are present. This is situated at a distance of approximately fifty kilometers in the direction of west and southwest of Antigua. This Antigua and Barbuda island nation have maritime borders with Saint Barthélemy of France, Montserrat, Saint Kitts and Nevis, and Anguilla of the United Kingdom. Antigua and Barbuda are islands being recognized as a sovereign state.
Antigua and Barbuda islands are separated by thirty-nine miles. The existing and the latest population figures of Antigua and Barbuda are 97,929 people, updated as on Wednesday, July 15, 2020. As regards rivers in Antigua and Barbuda, it does not have any permanent rivers flowing on the island.
Labeled Map of Antigua and Barbuda
The area of this island is 108 square miles or 280 square kilometers. Most part of this island is undulating and low. However, in the western region of the island, there are volcanic rocks that rise up to a level of 1,330 feet or 405 meters, at Mount Obama, formerly named as Boggy Peak. Based on the most accurate figures available, it is seen that seventy-four percent of the population of Antigua and Barbuda follow the Christian religion. Other small religions followed, include non-Christians, Muslims, Hindus and Jews.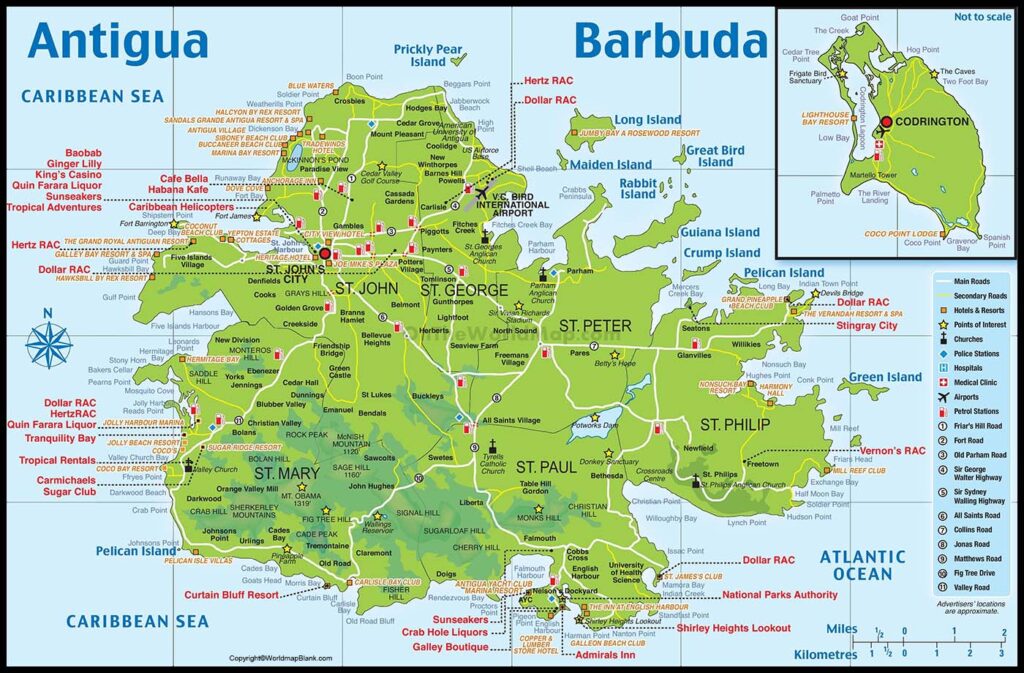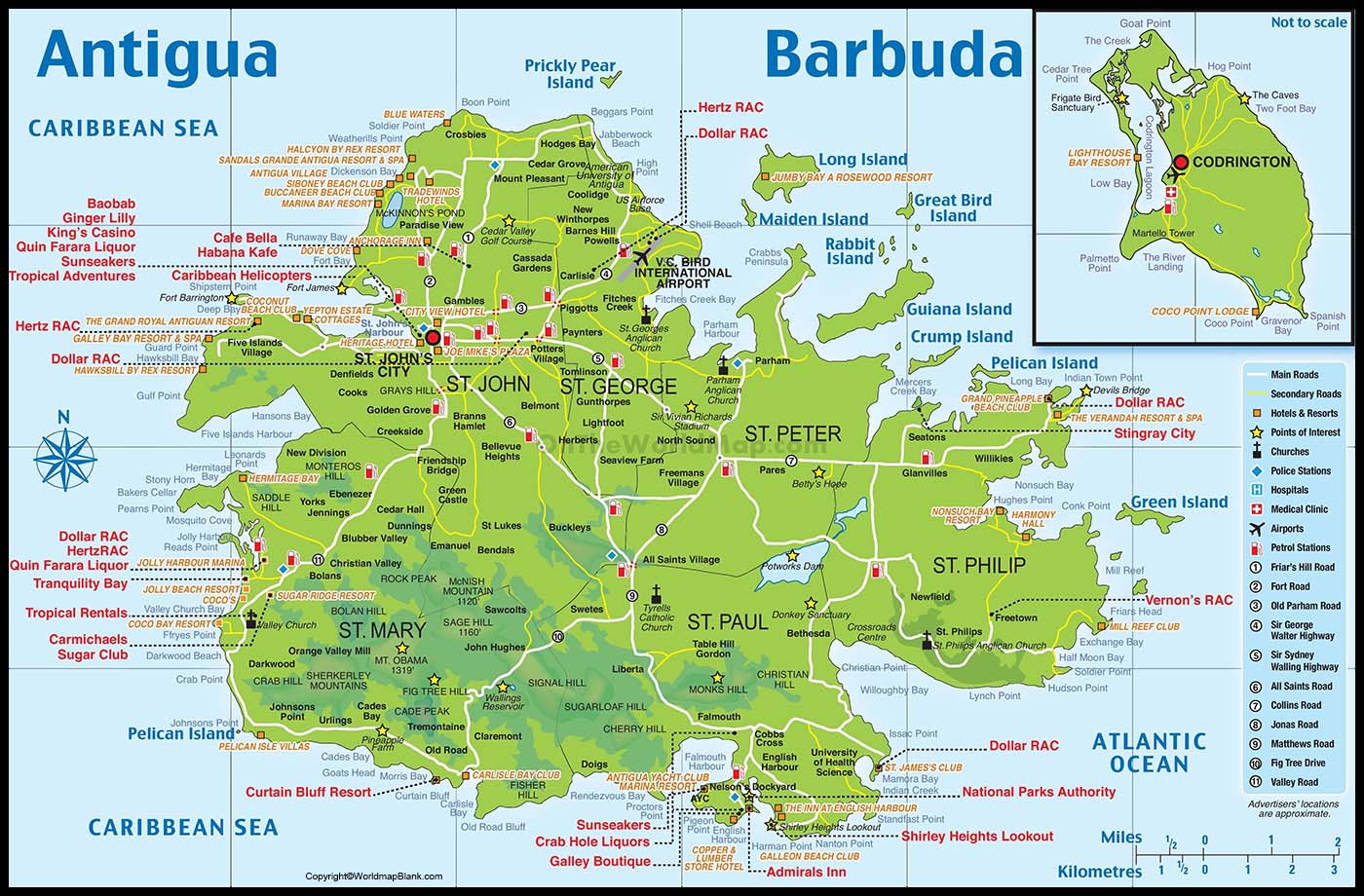 Labeled Map of Antigua and Barbuda with States
As a part of labeled map of Antigua and Barbuda with states, the islands constitute an independent state in the region of Lesser Antilles. This is located in the eastern region of Caribbean Sea. These states of Antigua and Barbuda are located at the end of Leeward Islands Chain.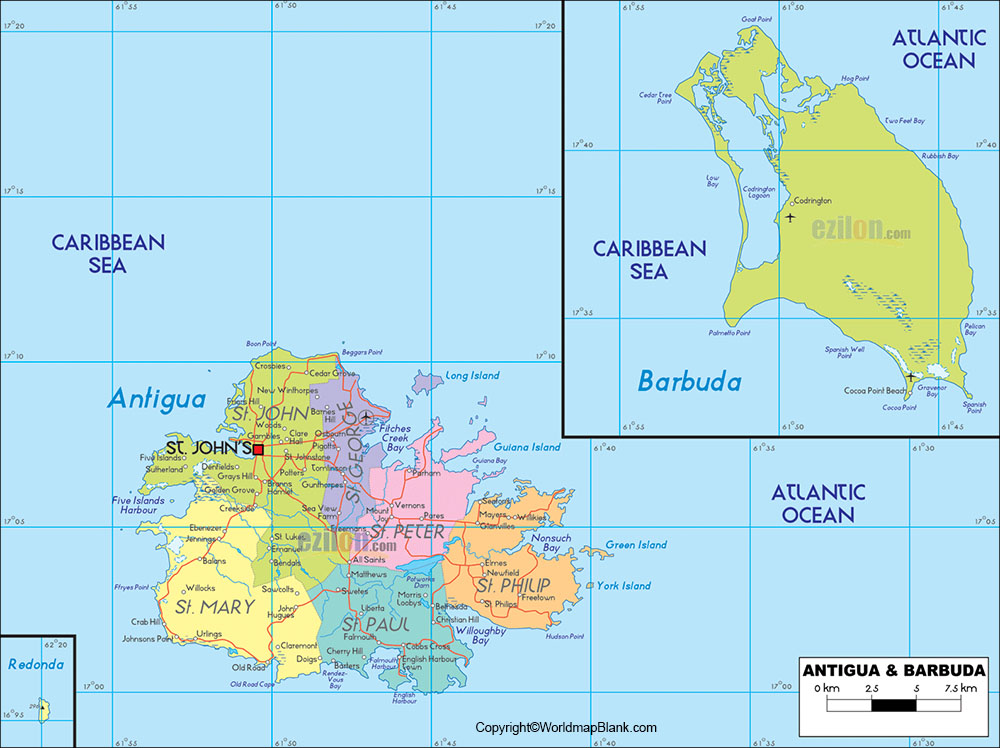 It can be seen that there is one dependency, which is a small island of Redonda. The capital of Antigua is named, St.John's.
Labeled Map of Antigua and Barbuda with Cities
The ten largest cities of Antigua and Barbuda, include Saint John's, All Saint's, Liberta, Potter's Village, Bolans, Swetes, Seaview Farm, Pigotts, Codrington at Barbuda and Parham.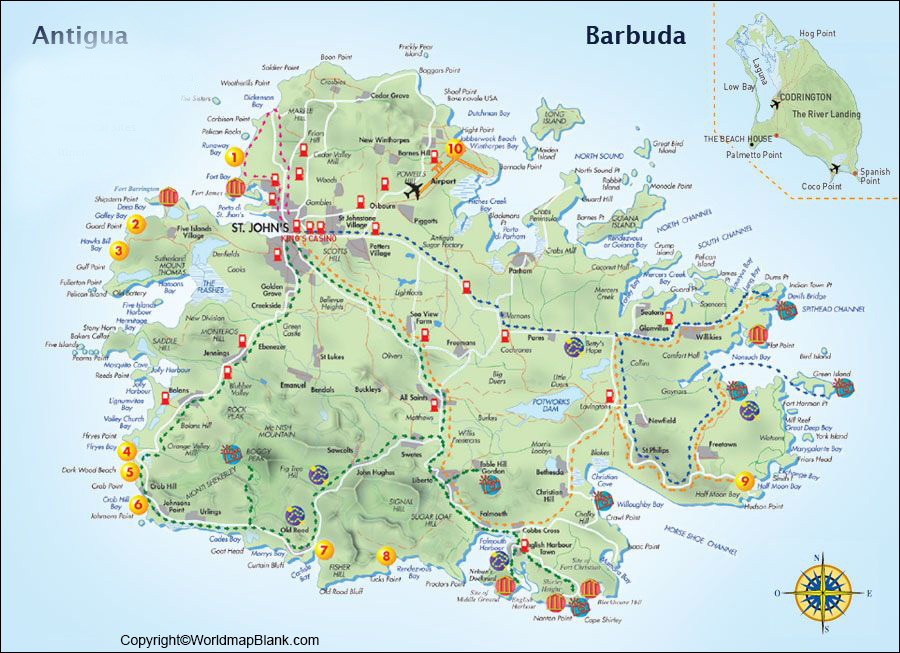 Labeled Antigua and Barbuda Map with Capital
The capital city of Antigua and Barbuda is known as Saint John's. This is situated on the northwest coast of Antigua. It is a resort and has a main port. Here, handling of essential commodities, like lumber, machinery, food stuffs, cotton and sugar are done. The harbor of the port is a sheltered one with the capacity to accommodate ships of thirty-five feet or 10.5 meters. The island's V.C. Bird international airport is located at six miles or ten kilometers in the northeast.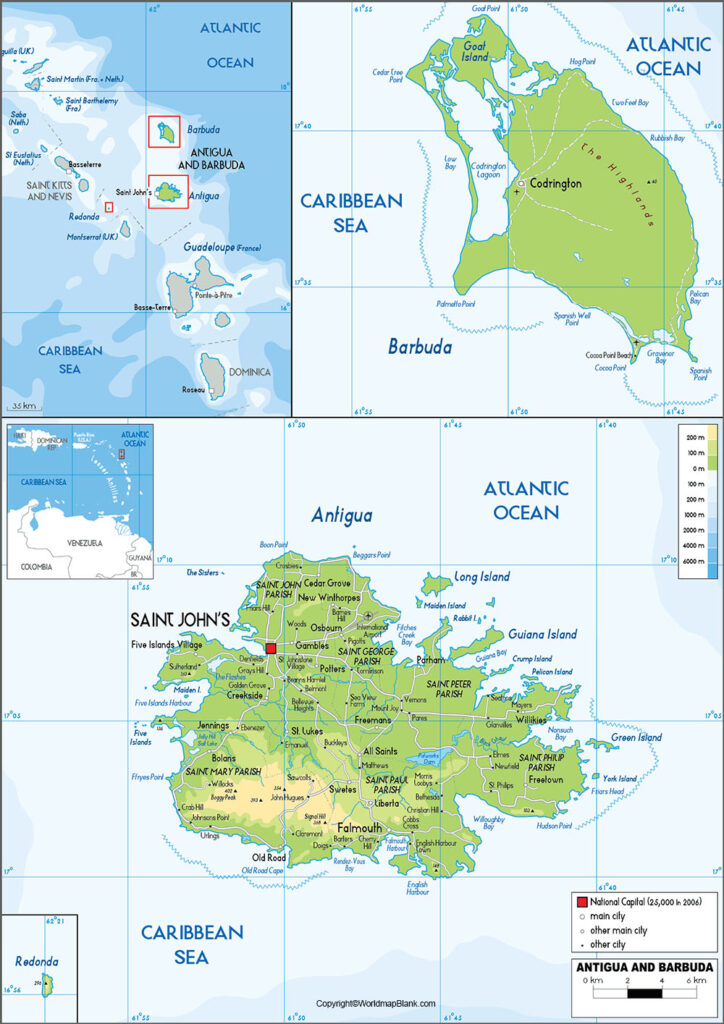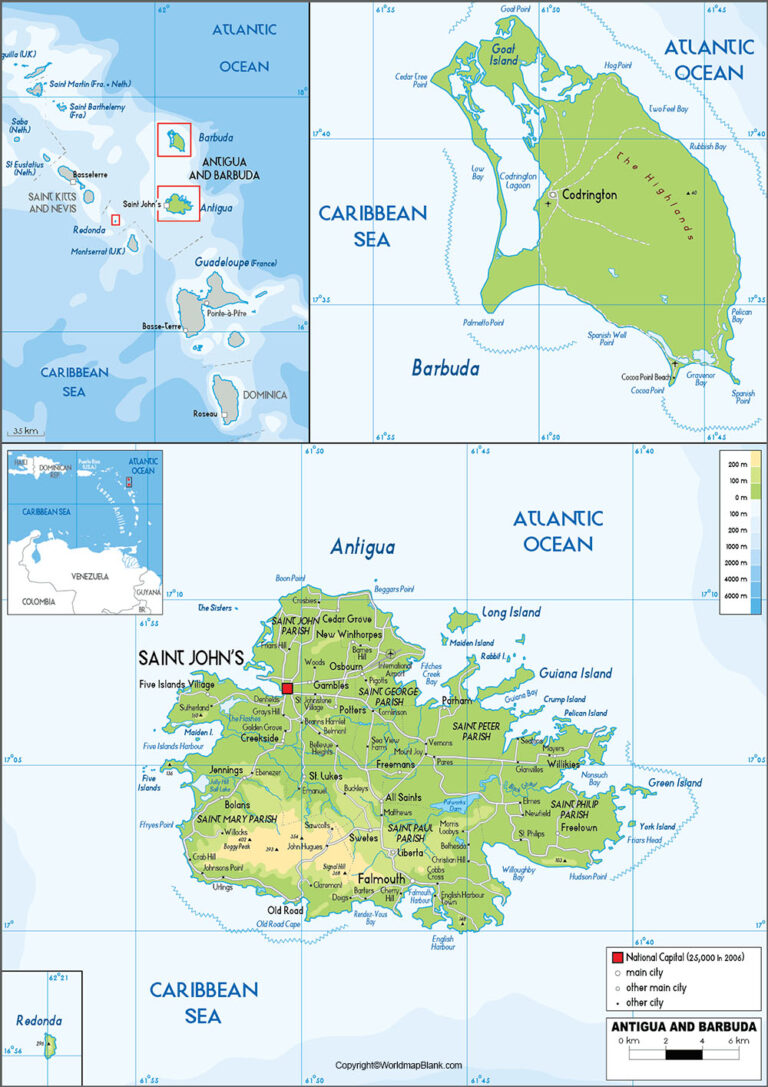 The major attractions of the city, include a place, like Goat Hill and Fort James, a botanical station, Government House, and Anglican Cathedral. The city is designed with a good network of roads of about 1,170 kilometers with thirty-three percent of pavements. An airstrip is also developed at Codrington city, in Barbuda, which is designed to land light aircrafts.