Labeled Map of Kyrgyzstan with States, Capital & Cities
The labeled Map of Kyrgyzstan reveals that it is a country located in the region of Central Asia. The country is bordered by Tajikistan in the south, and Kazakhstan in the north. Similarly, Kyrgyzstan is bordered by Uzbekistan in the west, and China in the east. Kyrgyzstan is recognized as the Republic of Kyrgyz.
It is also known as, Kirghizia. It is a landlocked mountainous country. As of Friday, August 14, 2020, Kyrgyzstan has registered a total population of 6,536,539 people. The total land area of the country is equivalent to 198,900 square kilometers. About 7,100 square kilometers is water. Out of all the five Central Asian states, Kyrgyzstan is the second smallest country.
Labeled Map of Kyrgyzstan
The rivers in Kyrgyzstan stretch to distance of 150,000 kilometers or 93,205 miles. This distance is made of more than 40,000 rivers, and streams, draining 47 cubic kilometers or 11 cubic miles of water in a year. For the rivers of Kyrgyzstan, the primary source of water comes through melting water from numerous snowfields and glaciers.
The longest river in Kyrgyzstan is the Naryn River and has a length of 807 kilometer or 501 miles. Other important rivers, include Talas, Chui and Kara Darya. The main religion observed is Sunni, followed by Christianity. Christians can be Russians who are considered as Orthodox. The remaining people, include Lutherans, plus some Catholics. Other religions observed, include Jewish or Buddhists.
Labeled Map of Kyrgyzstan with States
As a part of the labeled map of Kyrgyzstan with States, this country is divided into seven provinces or regions. The names of these provinces or states include Bishkek, Jalal Abad, Naryn, Osh, Talas, and Ysyk Kol. Administratively independent cities are Osh and Bishkek. They are the second-largest cities in Kyrgyzstan.
Labeled Kyrgyzstan Map with Cities
As a part of the labeled map of Kyrgyzstan with cities, two cities have a population ranging between 100,000 and 1 million people. Similarly, there are twenty-nine cities with a population ranging between 10,000 and 100,000 people.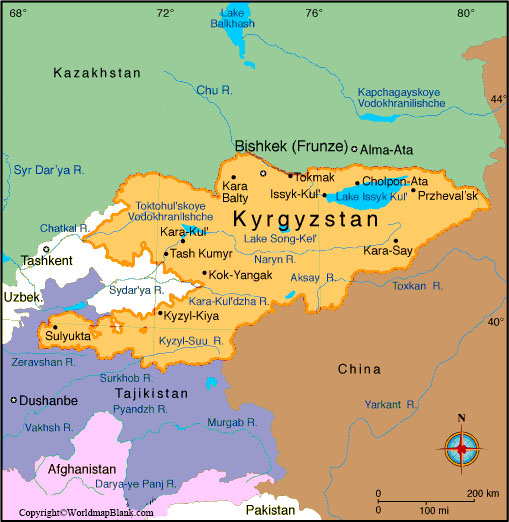 The names of some of the important cities of the country include, Tup, Torugart, Tokmok, Tash-Komur, Talas, Suluktu, Sokuluk, Sary-Tash, Ozgon, Osh, Naryn, Ming-Kush, Kyzyl-Kyya, Kyzkl-oy, Kochkor, Kirov, Khaydardan, Kara-Suu, Kara-Say, Kara-Koo, Kara-Kol, Karakol, Kara Balta, Jalal-Abad, Guicho, Grigorevka, Daroot-Korgon, Cholpon-Ata, Bokonbaev, Bishkek, Bazar-Kurgan, Balykchy and At-Bashy.
Labeled Kyrgyzstan Map with Capital
Through the labeled map of Kyrgyzstan with Capital, the map indicates that Bishkek is the largest and the national capital of Kyrgyzstan. In the central northern region of the republic, this city is situated. It is at the nations border with Kazakhstan.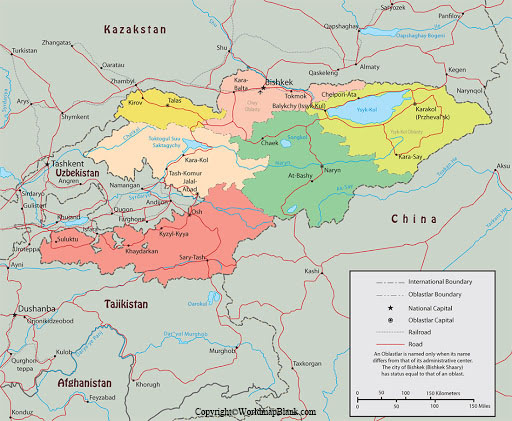 The city is located near the northern fringe of the Ala-Too mountain range and is at an elevation of 800 meters.  The city has a population of about nine million inhabitants. Russian and Kyrgyz are spoken languages. The city has modern expressways, main roads and streets. It has a modernly constructed airport known as, Manas International Airport. This airport is situated at a distance of about twenty-five kilometers or sixteen miles from the city.