World Map for Kids – Map of the World for Kids [PDF]
Do you want to help your kids to learn the world's geography? Then get a printable world map for kids and support your children in exploring the geographical features of our planet! Download from this page a printable map of the world for kids for free! We offer world maps for children with all the continents, countries, typical animals and famous landmarks.
We also provide several other world maps focusing on different topics, such a a blank world map or a world map with oceans and seas as well as a political world map and a world map with continents.
If you want to teach your students or kids about the geography of the world, you should also check out our ready-made and fully customizable world map worksheets!
Printable World Map for Kids
A map especially made for children is the most useful tool for kids to learn the geography of the world. It's a good idea to start teaching children about their county and the rest of the world at a very early age. A special world map for kids can be a fun way to get them interested in the world's geography.
Kids World Map
Here is our first world map for kids with animals. Please find more similar maps further below.
Free Printable World Map for Kids
We provide various formats or types of world maps for children of different ages. A special world map for kids is designed to make the learning experience more fun. It suits children better than any other type of world map. Simply print out the desired kids world map after download and hang it up on the wall in your child's room or use it to playfully explain the geography of the world. You can even cut it up to create your own puzzle game!
A world map for kids is particularly designed to catch children's interest in the geography of the world. Kidscan refer to the map from a very tender age to become familiar with the different continents. They will also learn the location of the region they live in as well as of neighboring and other countries.
World Map for Kids With Animals
Of course, a world map for kids can also be used in school for learning about the geographical characteristics of planet Earth. For instance, kids can search for particular animals or plants on a map and thus learn where they live or grow.
The following map is our newest creation and available in a particularly high resolution. That's why opening the PDF file might take a little longer than usual.
World Map for Kids With Countries
A kids world map is designed in a child-friendly way. It makes it easy for kids to understand the geography of the world by themselves. Further assistance by parents or teachers might not even be needed. Get a world map for kids now and help your child to learn the world's geography. Just click on the link below the desired map to download it for free in PDF format.
All our visitors can here exclusively get a printable world map templates for their school-going kids. We offer an attractive collection of world maps for kids as well as other maps. All world map templates on this page are specifically designed for kids and tailored to their learning capacity.
World Map With Animals
Children generally like animals and find them fascinating. So here is another world map with the wildlife of our planet that also shows the continents.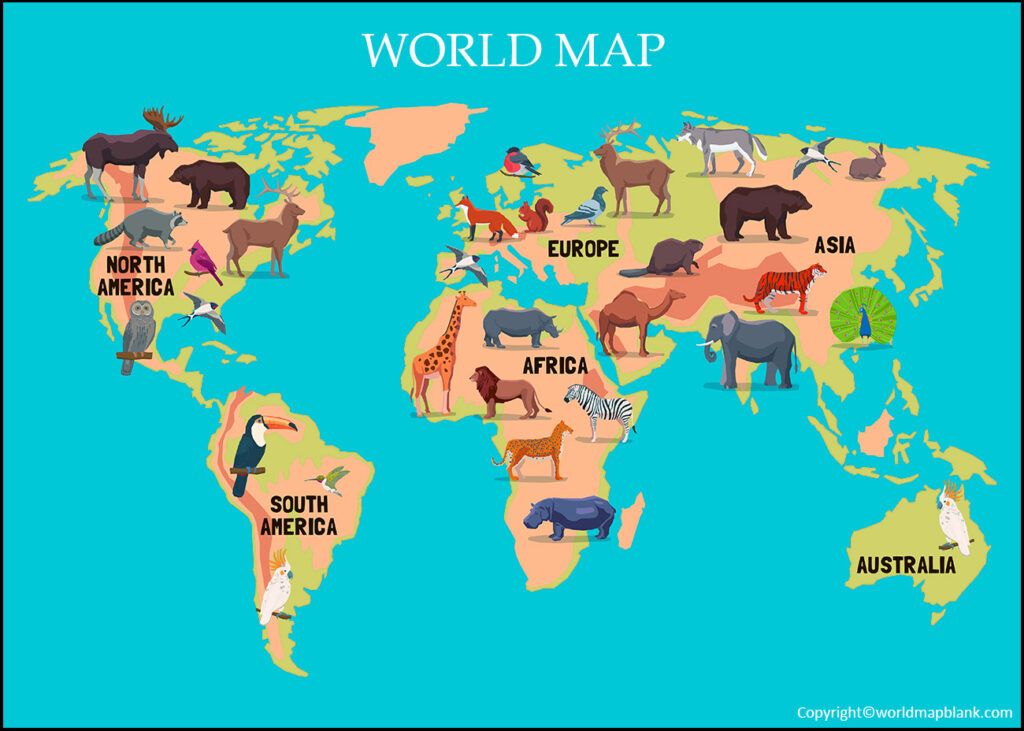 Just browse through our world map printable templates here and then print the desired one. Any world map for kids available here is a great tool for learning about continents like North and South America, Europe, Australia, Africa and Asia. Students will also find information about oceans, cities and typical animals.
World Map for Kids Printable
Teach your kids all the features of the world map at home or in school. Use any map for interactive and fun learning with your family. Exploring a map of the world for kids together can be a great experience for all ages. Save your map from this website in a digital format and print the PDF file or implement it in a Word or other document.
Our next map of world for kids not only includes the continents, but also shows important and typical landmarks, animals, people and features of our world.
Facilitate your kids' learning of the geography of the planet with a world map from this website. They can also use the templates on their modern digital devices such as smartphones, tablets or laptops. If you find our world map for kids useful, feel free to share it with other parents or teachers as well.
More Free Printable Maps to Download
Below are some links to other maps you might consider useful or interesting. You can also find another world map or a particular country map by using our search function. In case you cannot find the map you are looking for, simply comment below and we will try to make it available free of charge.
World Maps
Continent Maps
Blank Maps of Countries
Mountain Maps
Other Printable Maps