Labeled Map of Mauritius with States, Capital & Cities
From the Labeled Map of Mauritius, anyone can visualize that it is an island situated in the Indian Ocean. This country is recognized as The Republic of Mauritius. It is located to the east of Madagascar and to the south-east of the African coast. It is positioned about nine-hundred kilometers or five hundred and sixty miles northeast of the French Réunion.
Labeled Map of Mauritius
Several islands of volcanic region form as a part of this country. Apart from the mainland of Mauritius, it is possible to find an island known as, Rodrigues, which is six hundred kilometers away to the east. According to the data published through the UN, the estimated 2020 population of Mauritius is equivalent to 1,271,768 people. This population data of Mauritius is equivalent to 0.02% of the total global population. The land area occupied by the Island of Mauritius including other islands like Rodrigues is equivalent to 2,040 square kilometers.
There are twenty-five major rivers and twenty-one smaller rivers that flow on the island. The longest river is called the Grand River South East, having a length of thirty-four kilometers. This river has the largest catchment area. The other main rivers, include the Black River, Post River, Grand River North East, and Rempert River. Religions followed, including Hinduism, Christianity, Islam, and Buddhism.
Labeled Map of Mauritius with States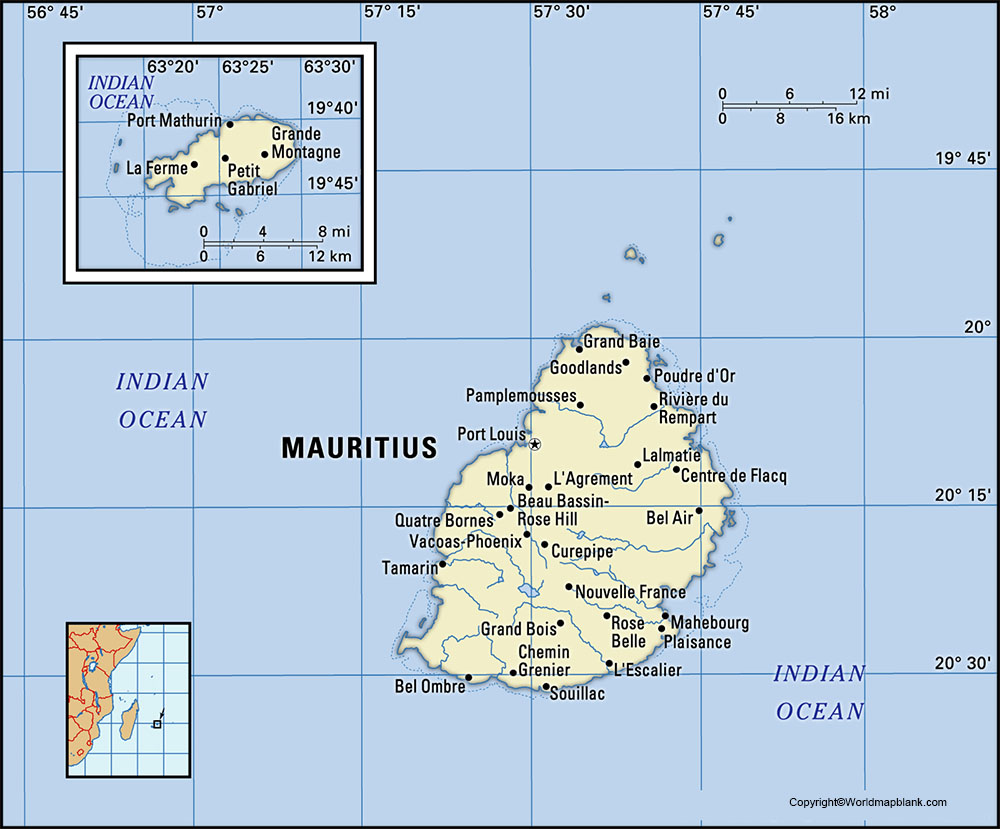 As part of the labeled map of Mauritius with states, Mauritius is divided into nine districts. These districts consist of one city, four towns, and one hundred and thirty villages. Mauritius's capital city is, Port Louis. The Plaines Wilhems District comprises mainly of four towns such as Vacoas-Phoenix, Quatre Bornes, Curepipe, and Beau-Bassin Rose-Hill. However, other districts consist of different villages. They are further categorized into suburbs.
Labeled Map of Mauritius with Cities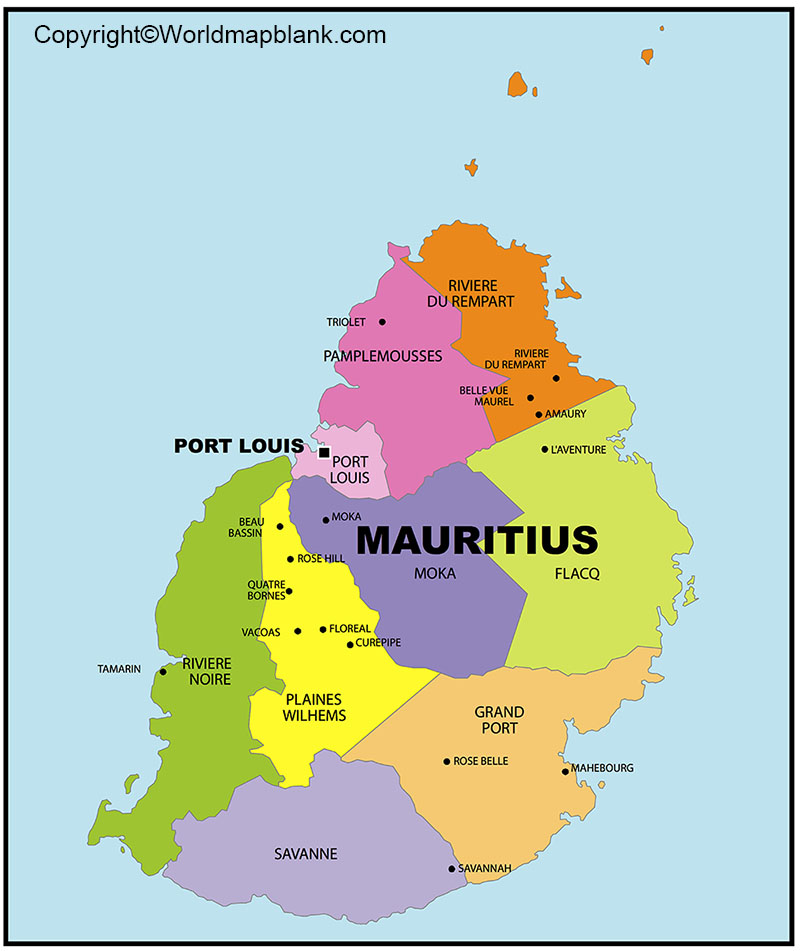 As a part of the labeled map of Mauritius with cities, it is possible to identify the cities which are located in the respective districts. They include Falcq, Grand Port, Moka, Pamplemousses, Plaines Wilhems, Port Louis, Rivière du Rempart, Rivière Noire and Savanne. Other names of the cities, include Beau Bassin-Rose Hill, Curepipe, Quatre Bornes    and Vacoas-Phoenix. They are recognized as the district capital cities of the country.
Labeled Mauritius Map with Capital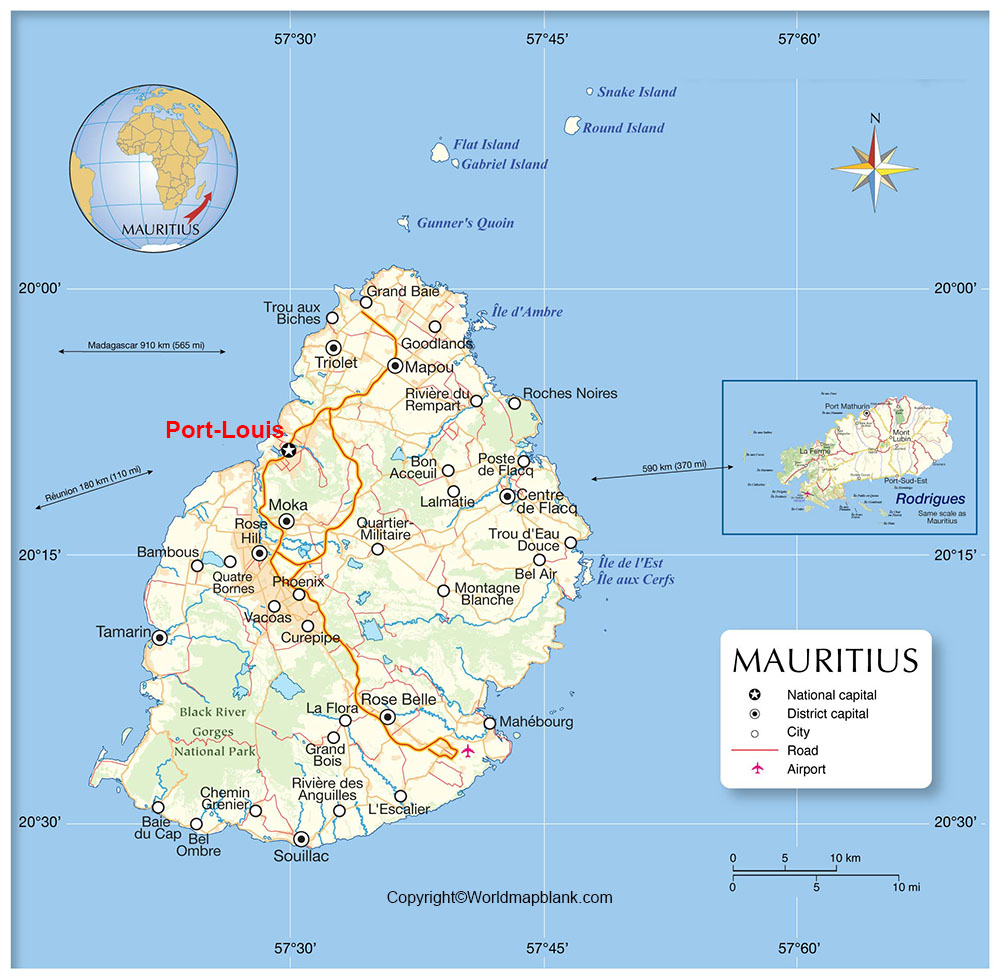 From labeled Mauritius Map with capital, it is possible to ascertain that Port Louis is the capital city of Mauritius. It is located on the western side of Mauritius Island. This is where a number of natural harbors emerge into the landmass. This important capital city of Mauritius has a wonderful backdrop having mountain peaks known as, Pieter Both and Le Ponce. The city is established in the Central Plateau between these mountains has a low-lying urban hub.
This important city is a well-organized city consisting of streets laid out in a grid-like fashion. It is possible to find large motorways, which run around the perimeter of the island and intersect directly across from Port Louis city, on the west. These motorways lead to numerous other smaller towns touching the east coast.