Blank Map of Ukraine – Outline Map of Ukraine [PDF]
If you need a blank map of Ukraine for educational, professional, or personal use, you've come to the right place. Here, we offer several versions of an outline map of Ukraine, which can be used in various contexts.
Our free maps can be downloaded as PDF files in A4 and A5 sizes. Apart from these blank Ukraine maps, we also have a map of Ukraine page with several labeled maps of the country.
Outline Map of Ukraine
Ukraine is an Eastern European country with a rich history and diverse geography. With a population of over 42 million people, Ukraine is the second-largest country in Europe after Russia. It borders several other nations, including Poland, Slovakia, Hungary, Romania, Moldova, Belarus and Russia.
Our first map is an outline map of Ukraine, only showing the outer boundaries of the Ukrainian territory. As in all of our maps, the parts of Ukraine currently (at the time of writing) occupied by Russian forces are included as integral parts of the country.
Download as PDF (A4)
Download as PDF (A5)
This first map above can be used for many different purposes. For instance, you could draw geographical features like rivers and mountain ranges and the location of certain cities and towns on the map. You can also use it to illustrate the development of the front lines in the war between Ukraine and Russia or similar tasks.
Some landmarks you might want to draw into the map are the major rivers of Ukraine (Dnieper River, Southern Bug, Dniester, Siverskyi Donets, and others), the Carpathian Mountains, or the Crimean Mountains. You could also shade different zones of the Ukrainian geography, e.g., the parts belonging to the Great European Plain, forest and lowlands areas, or the steppe areas close to the Black Sea. And finally, mark where there are deposits of natural resources in Ukraine, such as iron ore, natural gas, manganese, uranium, or titanium.
Blank Map of Ukraine
Ukraine is divided into 24 oblasts (provinces) and one autonomous republic – the Crimea peninsula. The country also consists of several regions: Central Ukraine, Southern Ukraine, Western Ukraine, Eastern Ukraine, and the Crimean Peninsula. These regions differ in terms of their landscapes as well as cultures.
Our next country map shows all the borders between the Ukrainian oblasts, the neighboring countries of Ukraine, the northern part of the Black Sea, and the Sea of Azov.
Download as PDF (A4)
Download as PDF (A5)
Use this map to mark all the names of the different land areas and seas, or color the map according to your criteria.
Where is Ukraine on a World Map?
Ukraine is located in Eastern Europe, bordering Russia, Belarus, Poland, Slovakia, Hungary, Romania and Moldova. It covers an area of 233,100 square miles (603,628 km²) and has a strategic location between Europe and Asia, which gives it an important role as a transit country.
Download as PDF (A4)
Download as PDF (A5)
The map above indicates the location of Ukraine on the world map. Just like our following map, it was created with a tool called MapChart.
The following version is quite similar but shows Ukraine on a map of Europe. The country's role on the European continent might become much more critical in the future because (as of 2023) Ukraine is one of the candidate countries for EU membership.
.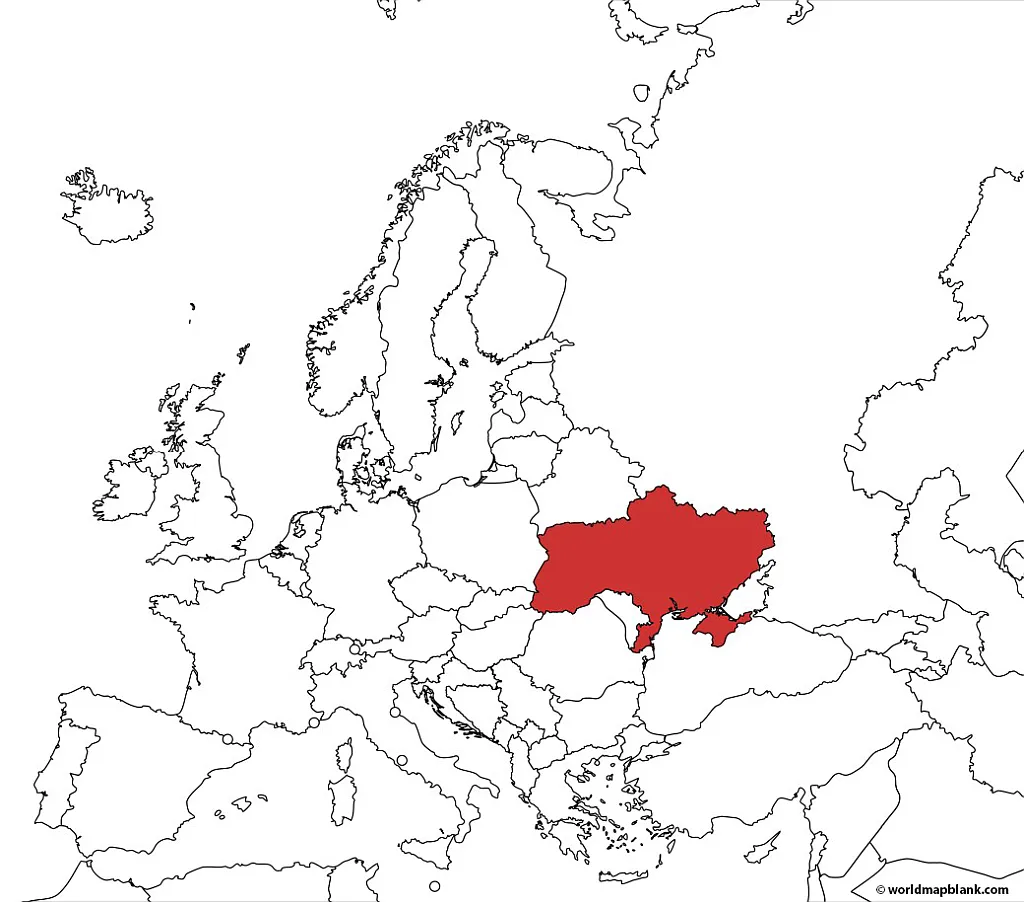 Download as PDF (A4)
Download as PDF (A5)
You can download our maps by clicking on the relevant links below the images. If you prefer, you can also print them out directly from your browser.
Apart from our free maps, we also offer an increasing number of ready-made and customizable map worksheets. Check them out!
Ukraine Map Blank with Regions
Ukraine has 27 first-level administrative divisions: 24 regions (oblasts), 2 cities with special status (Kyiv and Sevastopol), and the autonomous republic Crimea. Odesa Oblast is the largest oblast by area, while Donetsk Oblast has the largest population.
Explore the oblasts of Ukraine by taking a look at our following map of regions of Ukraine.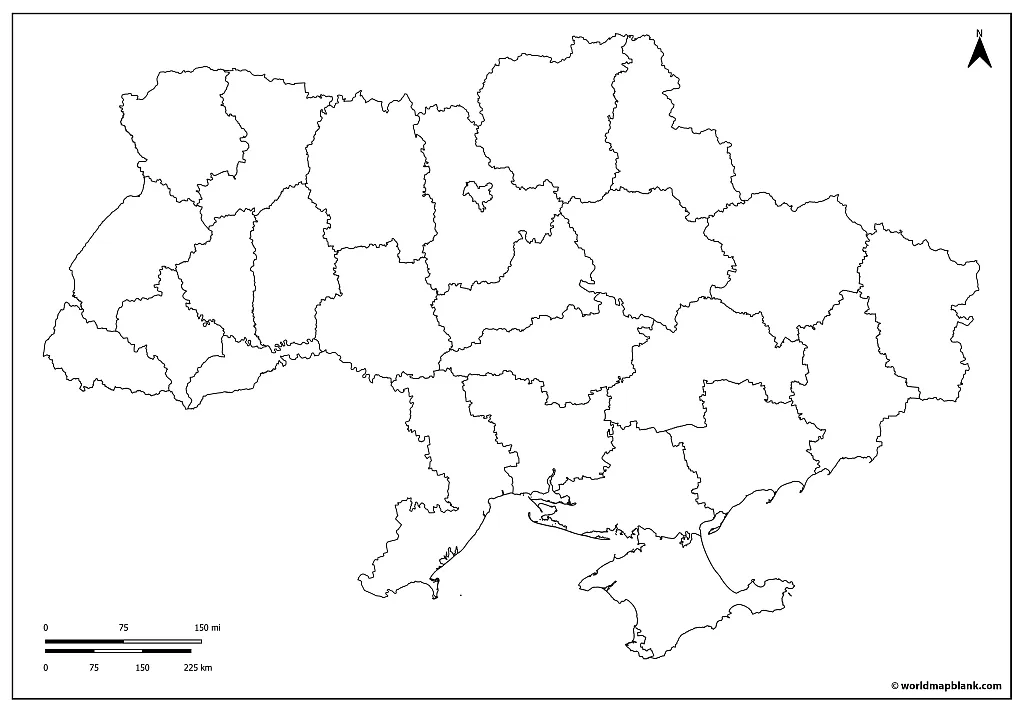 Download as PDF (A4)
Download as PDF (A5)
Parts of the oblasts Donetsk and Luhansk, as well as the Crimea peninsula have been occupied by Russian forces and separatist groups. As of mid-2023, the Ukrainian military is running a campaign to liberate those territories and recover the entire Ukrainian territory. Can you find these areas on the Ukraine regions map?
Blank Ukraine Map with Ukrainian Capital
The city of Kyiv is the capital of Ukraine. It is located in the center-north of the country and is known for its stunning architecture, rich history, and vibrant culture. Kyiv is also the largest city in Ukraine, with approximately 3 million inhabitants (as of 2022), and one of the oldest cities in Eastern Europe (officially founded in 482).
As the capital of Ukraine, Kyiv plays a vital cultural and political role. The city has many significant landmarks, such as Saint Sophia's Cathedral, Independence Square, and the Golden Gate. Visitors can also explore museums such as the National Museum of Ukrainian History or stroll through Kyiv's many parks, like Mariinskyi Park or Feofaniya Park.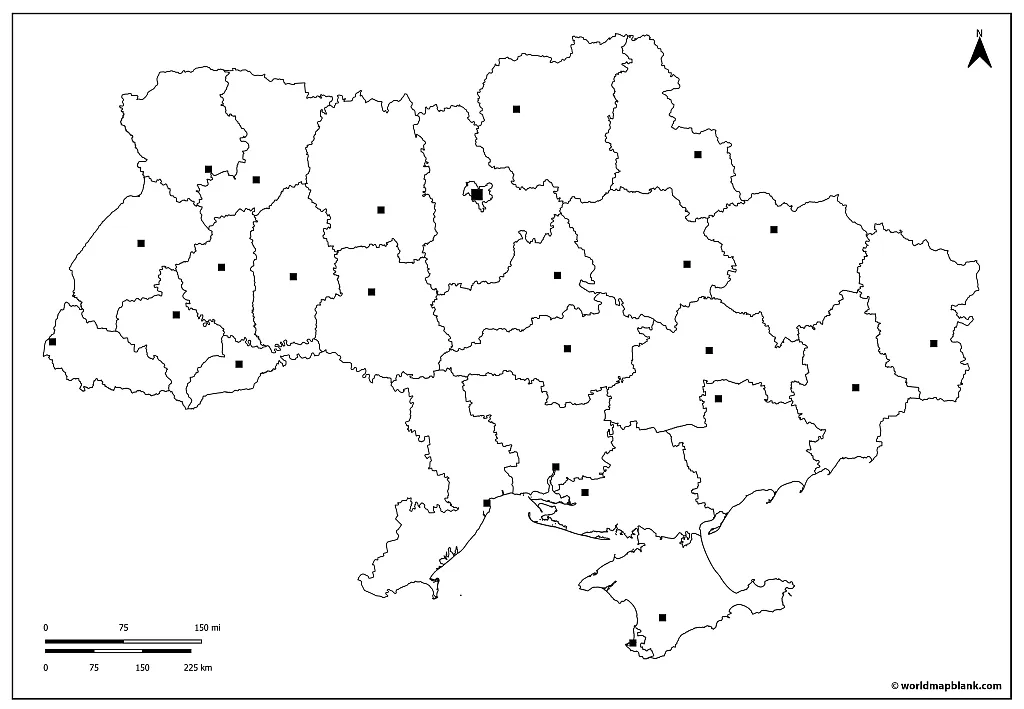 Download as PDF (A4)
Download as PDF (A5)
The map above includes all the oblasts with their borders and capitals, as well as a marker for the Ukrainian capital city Kyiv. An excellent exercise could be to name all the regions and major Ukrainian cities.
Ukraine Outline Map with Major Cities
While the Ukrainian capital Kyiv is also the country's largest city, there are several other big cities in Ukraine. Here is a list of the 10 largest cities in Ukraine by approximate population (as of 2022):
Kyiv (2.9 million)
Kharkiv (1.4 million)
Odessa (1 million)*
Dnipro (1 million)*
Donetsk (1 million)*
Lviv (720,000)
Zaporizhzhya (710,000)**
Kryvyi Rih (620,000)
Mykolayiv (480,000)**
Sevastopol (460,000)
* The cities of Odessa, Dnipro, and Donetsk are very similar in size. They all have roughly the same population of 1 million people.
** Note that some cities have been heavily affected by the Russian attacks and the fighting during the war. Therefore, the current population numbers might differ from those in this list.
Download as PDF (A4)
Download as PDF (A5)
In addition to the oblast capitals, the above major cities in Ukraine map also shows some other Ukrainian towns. If you would like a reference map for this Ukraine map outline, please take a look at our labeled map of Ukraine page, where you will find a Ukraine oblast map with names as well as a Ukraine map with cities in PDF.
More Free Maps for Download
But of course, we also offer free maps of other countries, the world and its continents. You can use our search feature in the header menu or take a look at the list below. If you are teaching geography, our map worksheets might also be useful for you. Check them out!
European Country Maps
Other Country Maps
Continent Maps
World Maps