Blank Map of Africa – Outline Map of Africa [PDF]
Get your blank map of Africa or an outline map of Africa to learn or teach about this amazing continent! As usual, all of our printable maps are free to use and can be downloaded as PDF files. Additionally, we offer a labeled map of Africa to complement your resources.
Outline Map of Africa
Africa is the second largest continent in size, covering approx. 11.73 million square miles (30.3 million square kilometers) with an impressive 54 countries. Also, the African continent is the world's second most populous one and home to over 1.4 billion people, comprising of a remarkably diverse range of cultures, languages and religions.
Download as PDF (A4)
Download as PDF (A5)
We offer several outline maps of Africa which only show the continent's outer boundaries but no country borders. Further below you will find more detailed blank maps of the African continent.
Map of Africa Outline
Here is another simple variation of an Africa outline map.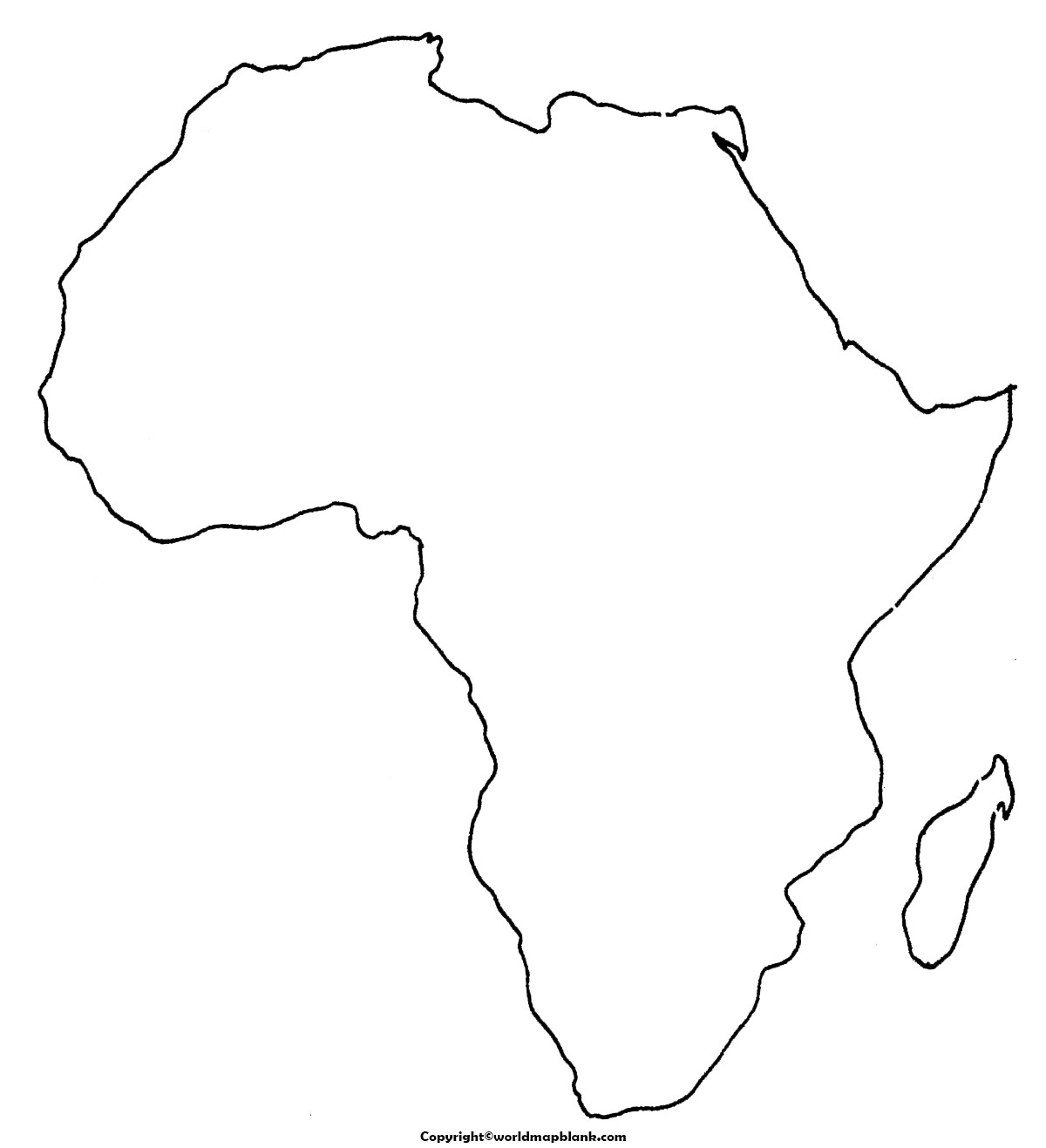 The next blank Africa map printable is rather a simple sketch of the shape of the continent. It does not offer any further details.
Africa Blank Map PDF
You might actually need a more detailed blank map of Africa PDF. So why not our next one? It includes all the inner borders of the African continent, but no oceans or seas.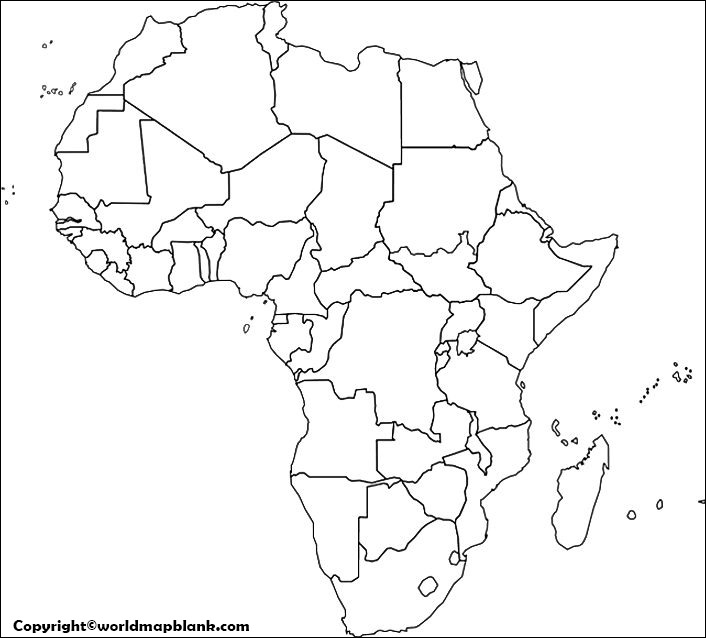 The largest country in Africa is Algeria, followed by the Democratic Republic of Congo and Sudan. The smallest African countries are all island states such as the Seychelles, São Tomé and Príncipe, Mauritius, Comoros and Cape Verde.
Blank Map of Africa
The African continent is bordered by the Mediterranean Sea to the north, the Red Sea to the northeast, and the Indian Ocean to the east and southeast. The Atlantic Ocean lies off the western coast of Africa, at its southwestern tip is Cape Agulhas. This is considered to be the continental boundary between the Atlantic and Indian Oceans. The African coastline also includes many smaller seas such as Gulf of Guinea near Gabon and Liberia.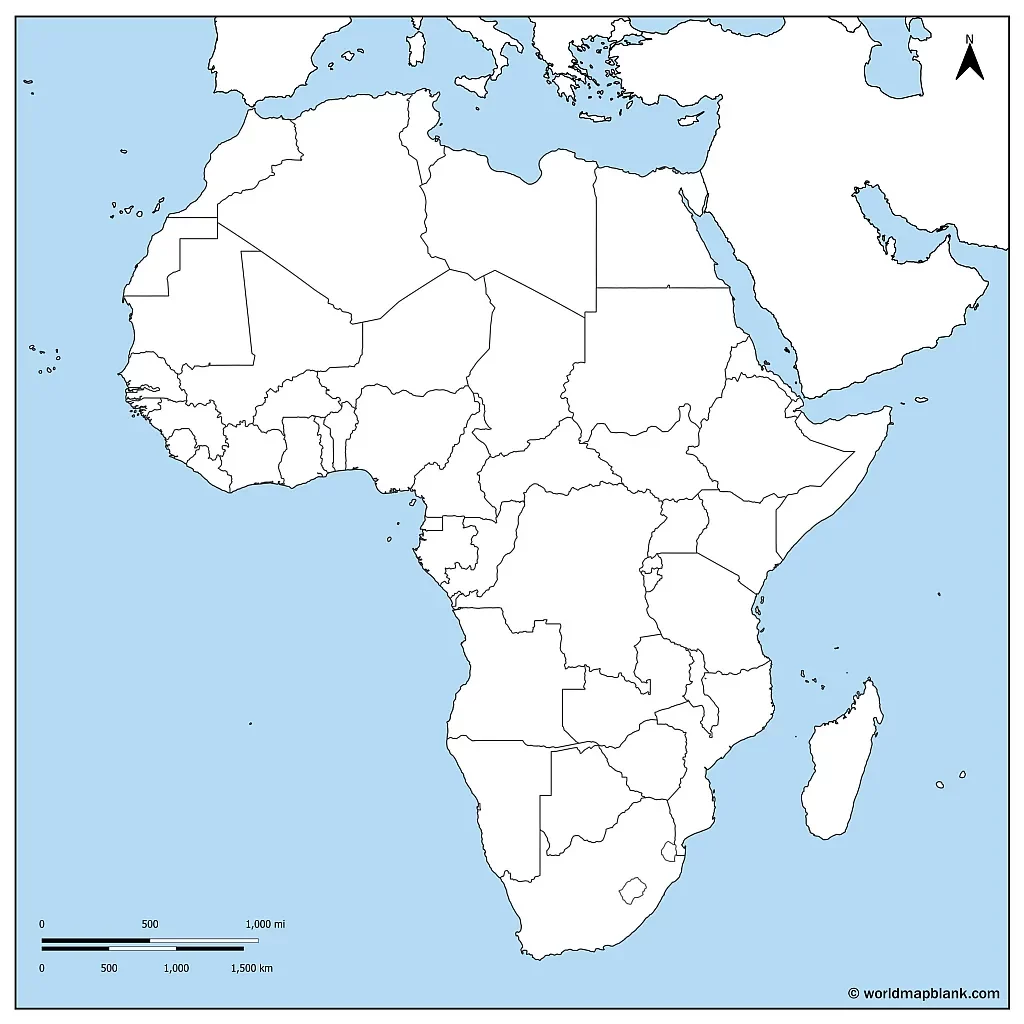 Download as PDF (A4)
Download as PDF (A5)
Above map does not only include the African countries with their borders, but also the oceans and seas around Africa. Therefore, this map is a great learning tool to mark these water bodies and memorize their locations. The map even shows parts of Europe and Asia.
Blank Map of Africa with Countries
Africa has a total of 54 sovereign countries as well as 12 dependent territories such as the Azores and Madeira belonging to Portugal or the Canary Islands, Ceuta and Melilla as autonomous regions of Spain.
Our next map shows the African countries with their international borders. Can you add all their names to the map?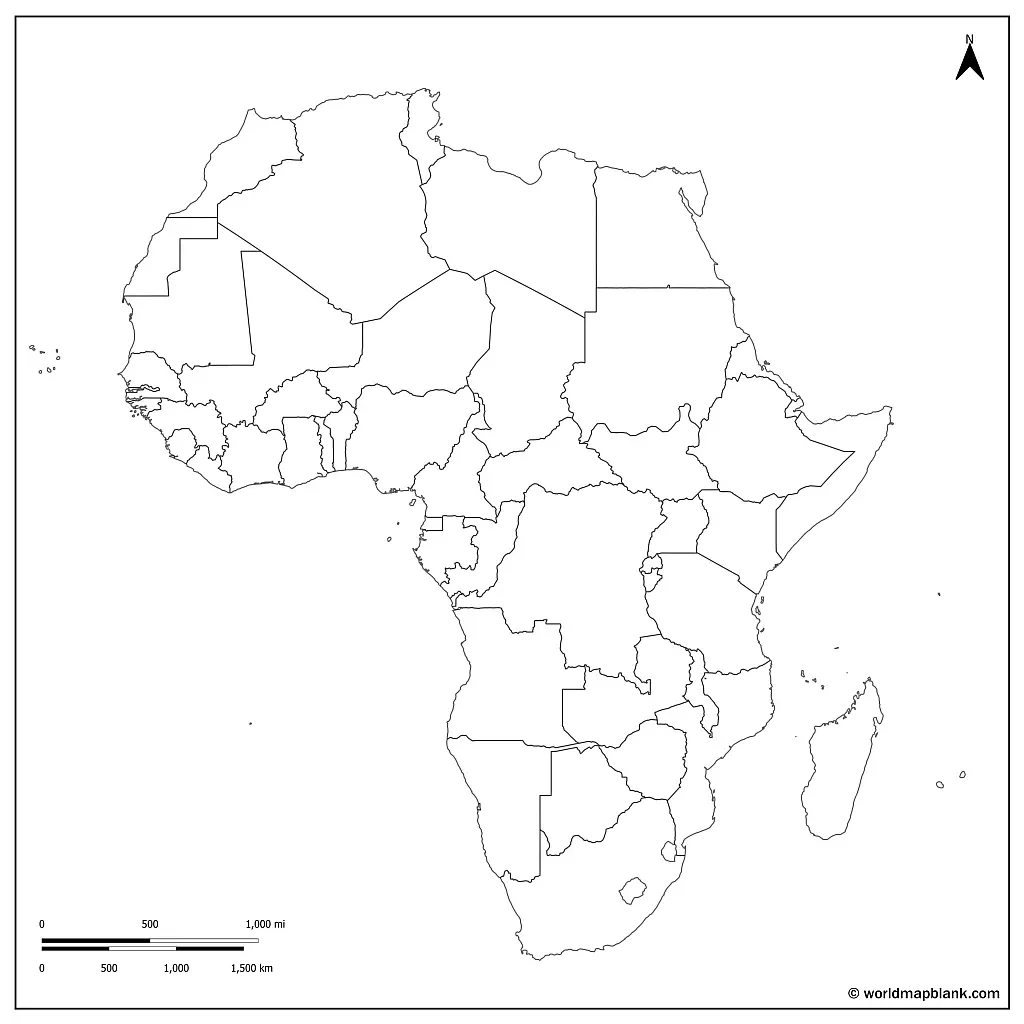 Download as PDF (A4)
Download as PDF (A5)
Above map is particularly useful for coloring or similar exercises. Just like most of our newer maps, we provide it in two different sizes A4 and A5. The next map below adds even more details.
Blank Africa Map with Capitals
The two most populated cities in Africa are Kinshasa (the capital of the Democratic Republic of the Congo) and Lagos in Nigeria. Both are home to more than 15 million people. Other African capitals with very large populations are Cairo (Egypt, approx. 10 million) and Luanda (Angola, roughly 9 million). The Sudanese capital Khartoum has a population of more than 6 million people.
Our next map of Africa blank shows the locations of all the capitals of the African countries.
Download as PDF (A4)
Download as PDF (A5)
If you would like to have a reference map, check out our labeled Africa map with capitals.
Blank Map of Africa for Practice Worksheet
Our last blank map of Africa with countries is helpful to create a map of Africa practice worksheet. This can be used for homework assignments, in homeschooling or for exams.
Please be aware that South Sudan is missing in above blank Africa map PDF. If you need a more up-to-date version, just download one of our other Africa maps.

More Free Maps for Download
Below are some useful links to other printable world maps, continent maps and country maps for download in PDF. Also, try out the search feature on the top of this page to find particular maps. Or check out all of our Africa maps.
World Maps
Map of the World with Latitudes and Longitudes
World Map with Oceans and Seas
Continent Maps
South America Map with Countries
Country Maps
Blank Map of the United States