Blank Map of Texas – Printable Outline Map of Texas [PDF]
Get your free blank map of Texas with counties or an outline map of Texas with cities in PDF. Download and print any printable Texas map blank as your perfect resource for planning trips, teaching kids about the geography of the Lone Star State or for any other educational, professional or personal needs.
We also offer blank maps of other US states as well as various labeled and blank maps of the United States. All of them are great and useful tools for teaching geography in the classroom.
Outline Map of Texas
Texas is the second-largest U.S. state and largest in the contiguous United States, covering 268,820 square miles (696,200 km2). It is the most populous U.S. state, with an estimated population of 30 million in 2022. Texas has land borders with the US states of Louisiana to the east, Oklahoma to the north, Arkansas to the northeast, New Mexico to the west, and the Mexican states of Chihuahua, Coahuila, Nuevo Leon, and Tamaulipas.
Our first free PDF map is a simple outline map of Texas showing only the outer boundaries of the state. This map is useful for teachers, students, and anyone who wants to quickly identify the outline of Texas. In particular, it can be used to draw geographic, physical or demographic features into the map. This is our least detailed blank map of Texas.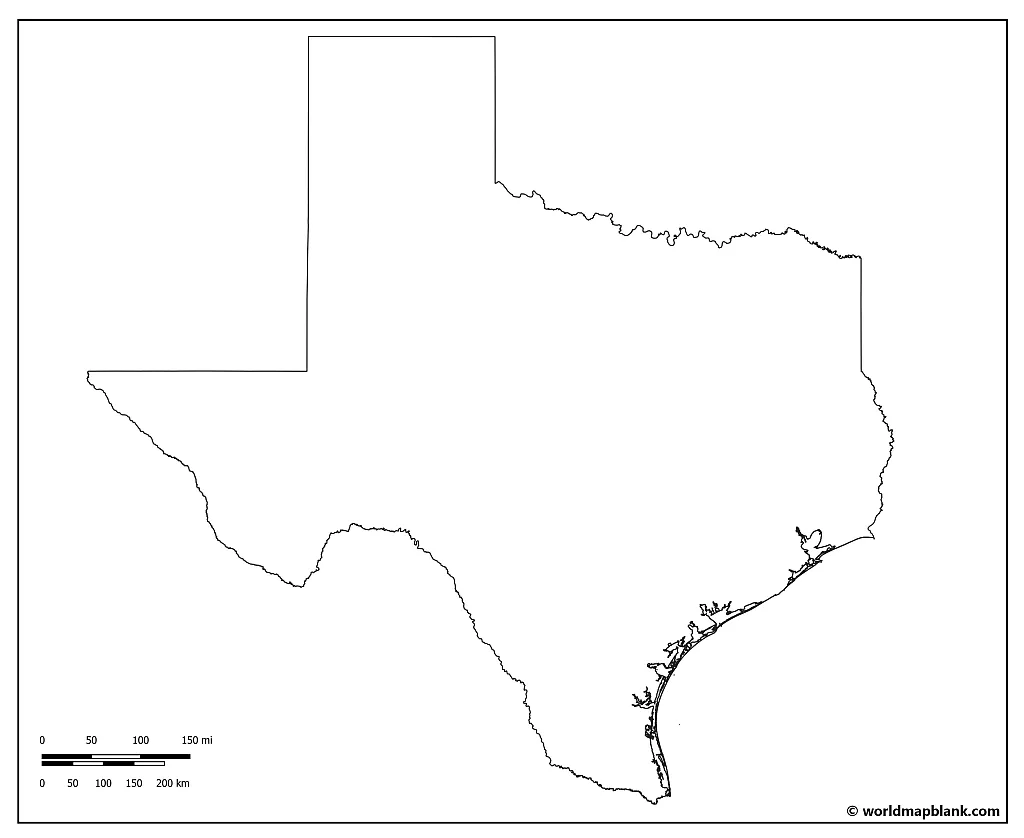 Download as PDF (A4)
Download as PDF (A5)
In 2020, Texas's population was estimated to be 42.5% non-Hispanic white, 11.8% Black or African American, 5.4% Asian, 0.3% American Indian and Alaska Native, 0.1% Native Hawaiian and other Pacific Islander, 13.6% some other race, 17.6% two or more races, and 39.3% Hispanic and Latino American of any race.239
The most common accent spoken by natives throughout Texas is Texan English. Creole language is also spoken in some parts of East Texas. At the 2020 American Community Survey's estimate, 64.9% of the Texan population spoke only English and 35.1% spoke a language other than English.
The majority of Texas' population is predominantly Christian (75.5%) with the largest Christian denomination being the Catholic Church (23% in 2014). Protestants altogether make up 50%, and other religions like Judaism, Hinduism and Islam account for roughly 4-5%.
Blank Map of Texas With Counties
Texas has 254 counties which is more than any other state in the United States. The county with the largest population is Harris County with over 4.7 million residents, the fewest people live in Loving County at only approximate 60. With such a small population, Loving County is also the least populated county in the entire USA.
Our next map shows all the counties of the state of Texas including their boundaries.
Download as PDF (A4)
Download as PDF (A5)
If you need more information in just one blank map of Texas, check out the ones below which include the capital city, county seats and more.
Blank Map of Texas With County Seats
Texas has 6 counties with a population of more than 1 million. Here is a list of the 10 largest counties by numbers of residents (in 2022) with their county seats in parentheses:
Harris County (Houston) – 4.7 million
Dallas County (Dallas) – 2.6 million
Tarrant County (Fort Worth) – 2.1 million
Bexar County (San Antonio) – 2 million
Travis County (Austin) – 1.3 million
Collin County (McKinney) – 1.1 million
Denton County (Denton) – 940,000
Hidalgo County (Edinburg) – 880,000
El Paso County (El Paso) – 870,000
Fort Bend County (Richmond) – 860,000
Download as PDF (A4)
Download as PDF (A5)
Above map shows all the counties of Texas with the locations of their county seats as well as the Texas state capital of Austin.
Blank Map of Texas With Neighboring States
In 1528, Spanish explorers were the first Europeans to arrive in what is now Texas. Over the years, adventurers from France and Spain began to colonize the area, leading to the establishment of Fort Saint Louis at Matagorda Bay and several missions among the Caddo people. In 1803, with the United States' purchase of Louisiana from France, American authorities claimed the agreement included Texas.
However, in 1821, Mexico declared independence, and Texas was assigned to other states and territories of Mexico, such as Coahuila y Tejas and Tamaulipas. Hoping that more settlers would reduce Comanche raids, Mexican Texas liberalized its immigration policies to permit immigrants from outside Mexico and Spain. This led Stephen F. Austin to bring 300 Anglo-American families into the state.
Illegal immigration from the United States caused disapproval among native Mexicans (Tejanos). The Anahuac Disturbances in 1832 were an open revolt against Mexican rule. Texians expressed their demand for independence at two conventions in 1832 and 1833.
Please find below an alternative blank map of Texas also showing neighboring US states and parts of Mexico.
Download as PDF (A4)
Download as PDF (A5)
Tensions between federalists and centralists in Mexico culminated in the armed conflict known as the Texas Revolution. Texians elected delegates to create a provisional government, but upon its collapse, they declared independence, forming the Republic of Texas in 1836. Mexican President Antonio López de Santa Anna led an army to crush the revolt but was defeated by Sam Houston at San Jacinto. As a result, the Treaties of Velasco were signed, ending the war and resulting in Texas' independence.
However, the Republic of Texas faced internal political battles between rival factions, while also being opposed by Comanche Indians and Mexico. Despite these challenges, the republic ultimately survived and applied for annexation to the United States in 1836. The economy of Texas suffered from a cotton price crash in the 1840s, which affected its ability to form alliances or trade relationships. Nevertheless, Texas was annexed by the United States in 1845, becoming the 28th state.
Blank Map of Texas With Cities
The Republic of Texas attempted to negotiate annexation with the United States as early as 1837, but strong opposition stalled admission until James K. Polk was elected in 1844. Upon statehood, Texas was comprised of two distinct populations: English-speaking American settlers and Spanish-speaking Tejanos. Cattle roaming the state provided economic opportunity, giving rise to the cowboy culture for which Texas is known today.
Mexico's refusal to recognize Texan sovereignty sparked the Mexican-American War in 1846, and subsequent victories allowed the United States to assume undisputed control over Texas. The Compromise of 1850 set Texas's boundaries, and a rapid influx of settlers prompted the population of African Americans enslaved by these newcomers to triple from 1850 to 1860. Despite these challenges, Texas flourished, with the state's population and economy growing rapidly in the years following statehood.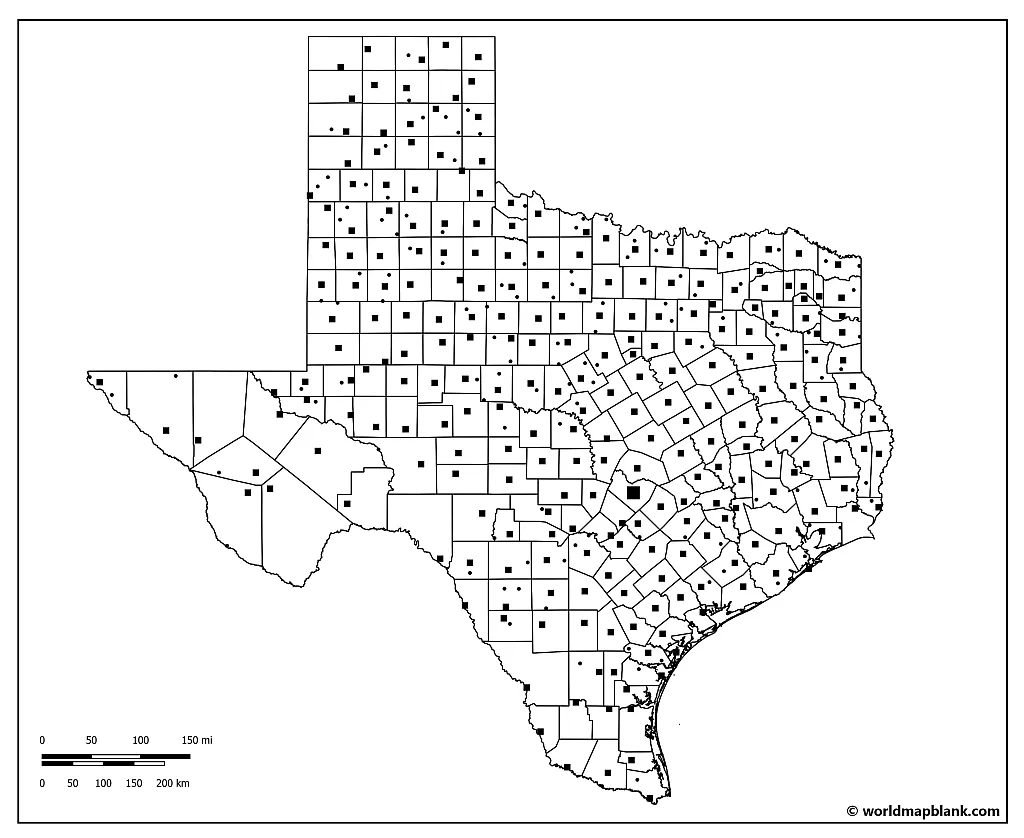 Download as PDF (A4)
Download as PDF (A5)
Above blank map of Texas includes not only the county seats but also many of the major cities and towns in the state.
Today the 10 largest cities in Texas by population (2021) are:
Houston – 2.3 million
San Antonio – 1.4 million
Dallas – 1.3 million
Austin – 964,000
Fort Worth – 936,000
El Paso – 678,000
Arlington – 393,000
Corpus Christi – 318,000
Plano – 288,000
Lubbock – 261,000
Texas on a Map of the USA
Our next map shows where Texas is located on a map of the United States.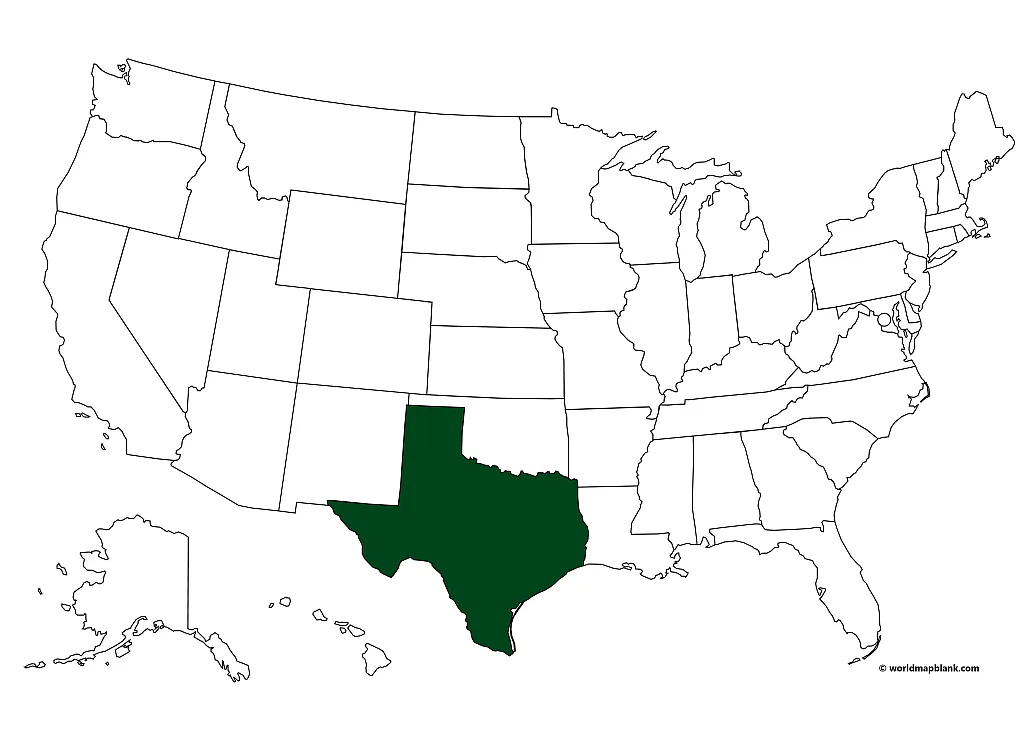 Download as PDF (A4)
Download as PDF (A5)
Above map was created with Map Chart.
More Free Maps for Download
Check out our other maps of the United States as well as the world, its continents and many countries! We offer both labeled and blank maps for free download as PDF files. All of our maps can be printed and are great resources to create worksheets and other learning materials. Below are are few links to pages where you will find more maps that might be interesting to you.
USA Maps
Blank Map of the United States
World Maps
World Map with Latitudes and Longitudes
Continent Maps
Political Map of South America
Country Maps