Printable Map of Italy – Regions of Italy Map [PDF]
Here is our collection of several versions of a general map of Italy as well as an Italy regions map and a map of Italy with cities. Download any of the maps for free as PDF files! We also offer a map of Italy and surrounding countries as well as a blank map of Italy.
In order to get your free maps, simply click on the download links below the images. You can then save the desired map on your device or print it out directly from your browser. So get your Italy map now!
Map of Italy Regions
Our first map shows only the regions of Italy without any cities. The neighboring countries of Italy are also included in this map. This helps to understand where Italy is located on a map of Europe.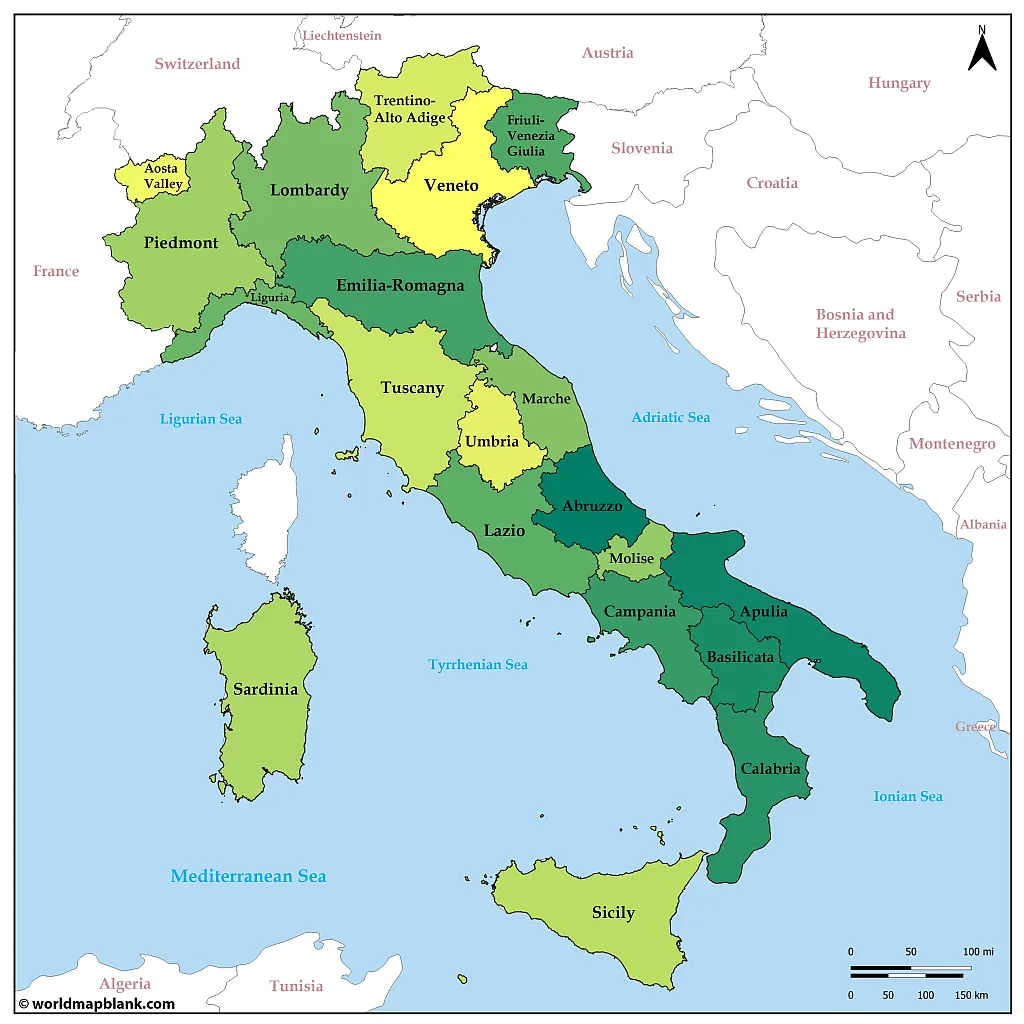 Download as PDF (A4)
Download as PDF (A5)
Italy is both part of Southern Europe and Western Europe. It has international land borders with France in the northwest, Switzerland and Austria in the north ans Slovenia in the northeast. There are also two city states as enclaves within the Italian territory: San Marino and Vatican City.
Via the Tyrrhenian Sea, Ionian Sea and Adriatic Sea – all parts of the Mediterranean Sea – Italy also has maritime borders with 10 other countries: Albania, Bosnia and Herzegovina, Croatia, Greece, Malta, Montenegro, Tunisia, Algeria, Libya and Spain.
What are the regions of Italy?
Italy is composed of 20 regions which are the first-level administrative divisions of the country. These regions (regioni) are then divided into provinces (province) and further subdivided into municipalities (comuni).
The regions of Italy and their capitals are:
Abruzzo – L'Aquila
Aosta Valley (Valle d'Aosta) – Aosta
Apulia (Puglia) – Bari
Basilicata – Potenza
Calabria – Catanzaro
Campania – Naples
Emilia-Romagna – Bologna
Friuli Venezia Giulia – Trieste
Lazio – Rome
Liguria – Genoa
Lombardy (Lombardia) – Milan
Marche – Ancona
Molise – Campobasso
Piedmont (Piemonte) – Turin
Sardinia (Sardegna) – Cagliari
Sicily (Sicilia) – Palermo
Trentino-Alto Adige/Südtirol – Trento
Tuscany (Toscana) – Florence
Umbria – Perugia
Veneto – Venice
Political Map of Italy with Cities
Our next political map of Italy additionally shows all the region capitals in Italy. It also has a scale indicating the distances in miles an kilometers. Finally, the seas around Italy are labeled as well.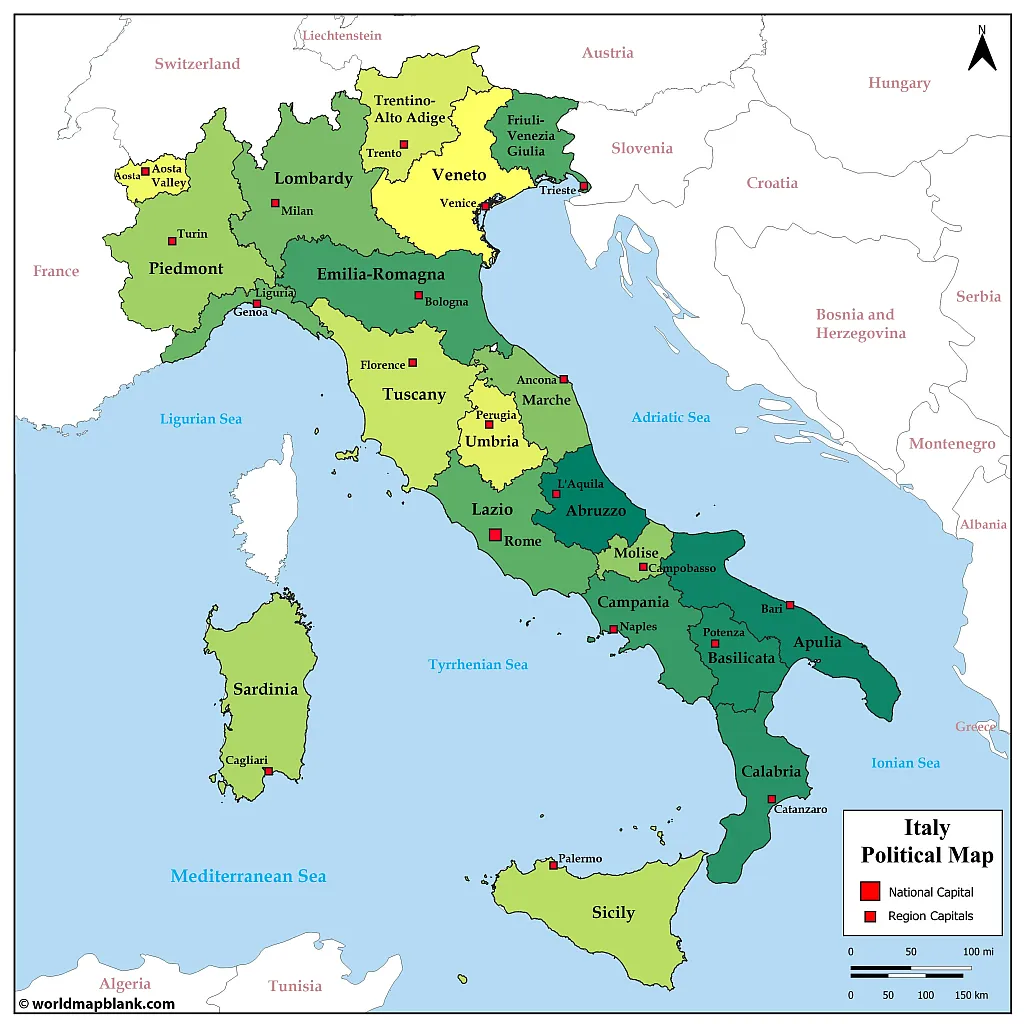 Download as PDF (A4)
Download as PDF (A5)
The geography of Italy is very diverse, featuring the majestic Alps in the north, the rolling hills of Tuscany and coastal areas along both the Tyrrhenian Sea to the west and the Adriatic Sea to its east. The Apennine Mountains extend in various stretches through the entire Italian peninsula.
The country is home to many large rivers such as the Po, Adige and Tiber. In northern Italy there are many large lakes such as the famous Lake Como, Lake Maggiore and Lake Garda. These beautiful lakes are surrounded by mountains, quaint villages, and stunning views of nature.
Italy is also known for its countless islands scattered throughout its waters, with Sardinia and Sicily being among most popular tourist destinations. Finally, Italy has a number of active volcanoes such as the Mount Etna, Stromboli and Mount Vesuvius.
Italy Map with Cities and Regions
The map below is again a little more detailed. This map of Italy with cities and regions also includes other major cities in Italy apart from the region capitals.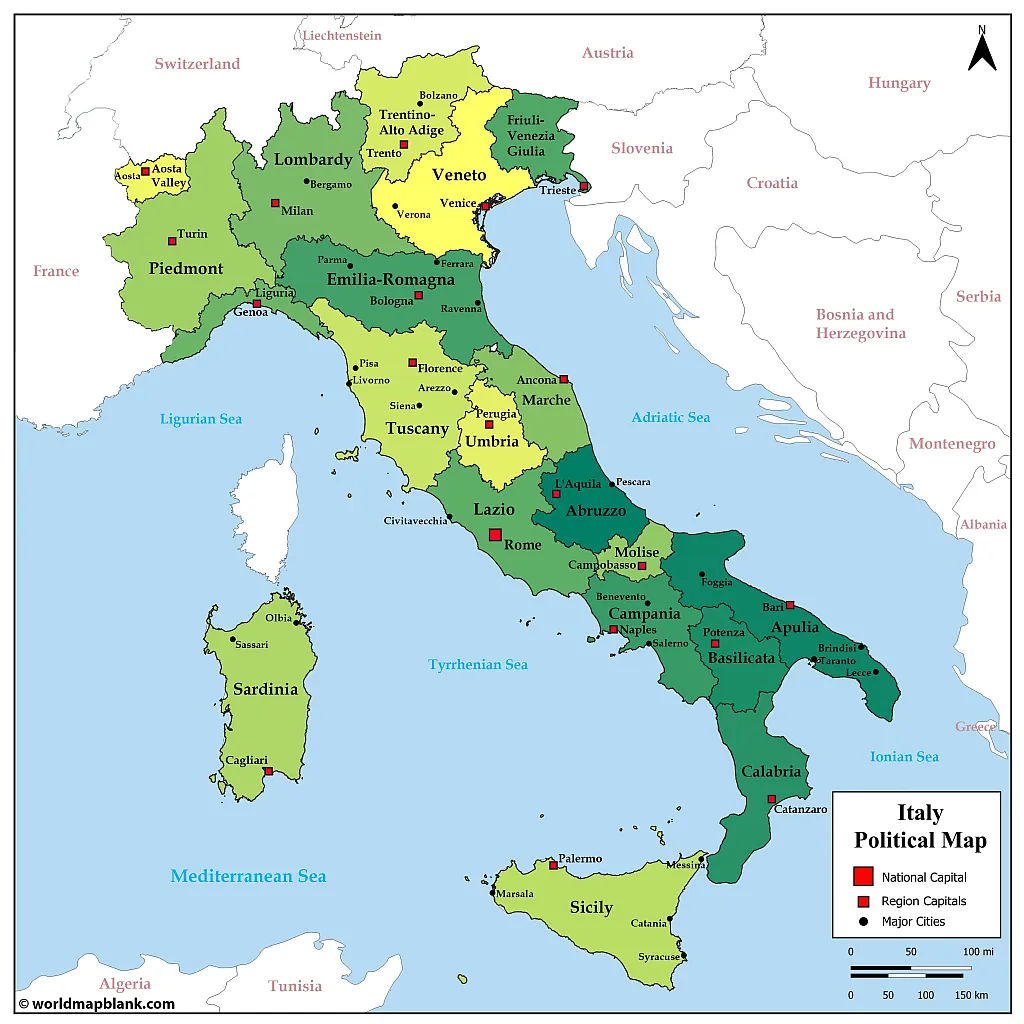 Download as PDF (A4)
Download as PDF (A5)
In order to memorize the location of the main cities in Italy, you can combine this map of Italy with major cities with a similar blank map of Italy with cities that includes markers for exactly the same Italian cities and towns.
What are the largest cities in Italy?
The capital Rome is by far the biggest city in Italy. Here is a list of the largest cities in Italy by population (in 2022):
Rome (2.8 million)
Milan (1.4 million)
Naples (910,000)
Turin (844,000)
Palermo (626,000)
Genoa (559,000)
Bologna (392,000)
Florence (367,000)
Bari (316,000)
Catania (296,000)
Map of Italy with Regions and Provinces
The second-level administrative divisions of Italy are its 107 provinces and 14 metropolitan cities. These are shown in our following map together with the region names. The neighboring countries are included as well, but not the names of the seas surrounding Italy.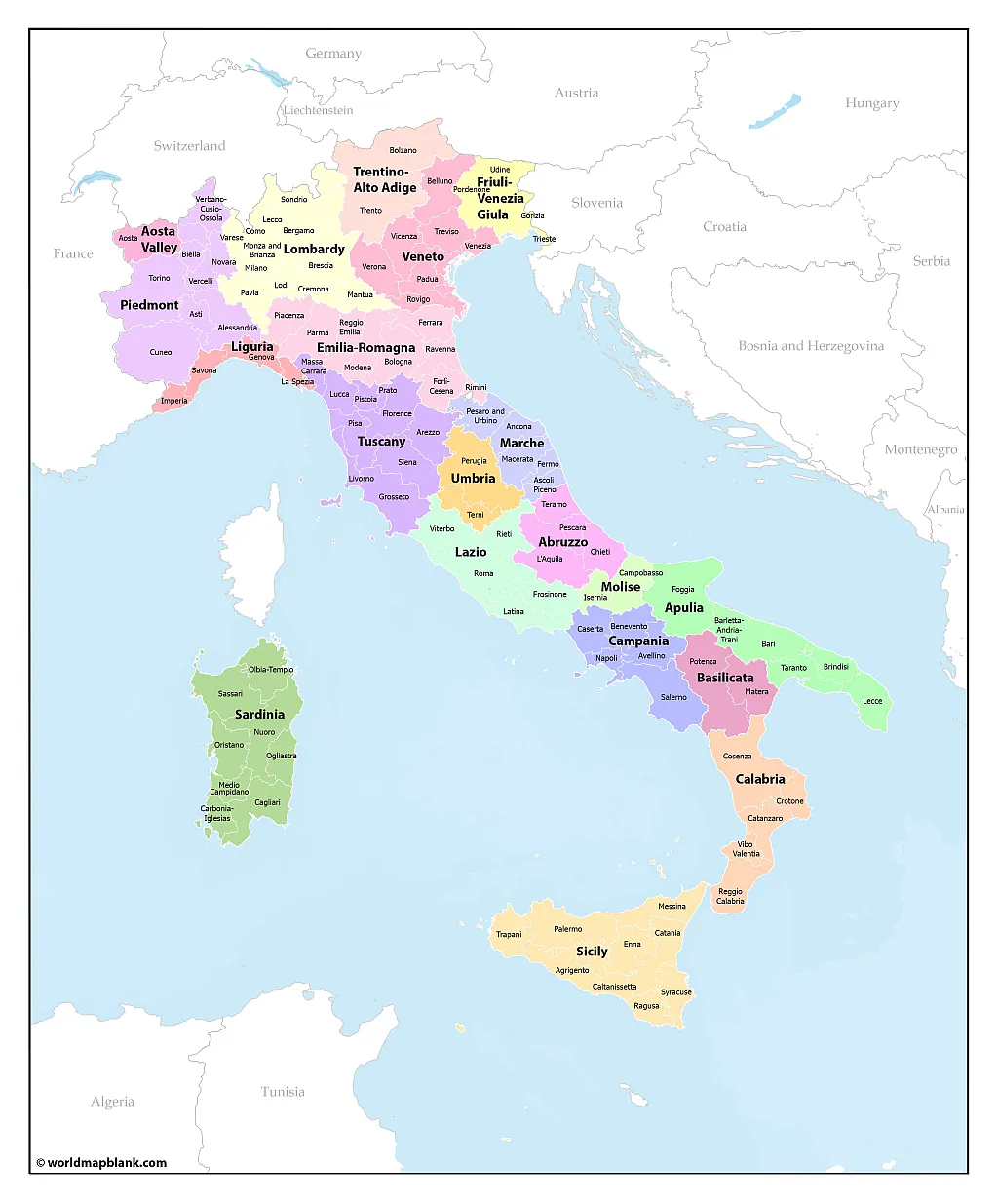 Download as PDF (A4)
Download as PDF (A5)
This provinces map of Italy is the most detailed Italy map political that we offer. If you want to learn and memorize all the Italian regions, city and province names, check out our various versions of a blank map of Italy.
Map of Italy with Provinces
Here is an alternative version of our previous Italy map. This one also shows the provinces, but not the Italian region names.
Download as PDF (A4)
Download as PDF (A5)
If you would like a different version of a printable map of Italy, please leave a comment below or fill out our contact form. We might already have your desired map available or we can create it from scratch.
More Free Maps for Download
Please find below some links to more maps of countries, the world and its continents. In case the map you need is not listed, please use the search feature on top of this page or send us a message. Any geography resource on our site is free to download as a PDF file. You can print it without limits for your personal, educational or professional needs.
Country Maps
Continent Maps
World Maps