Blank Map of Florida – Outline Map of Florida [PDF]
Download here your free blank map of Florida with counties and cities or an outline map of Florida! All our blank Florida maps are available in PDF and two different sizes, A4 and A5. Any Florida map blank from this page is a perfect resource for teaching about the geography of the Sunshine State or for any other educational, professional, or personal purpose. Get your Florida blank map now!
Additionally, we offer blank maps of other US states and many labeled and blank maps of the USA and other countries of the world. All of them are great and useful tools for teaching geography in school or at home, planning or tracking trips, and learning about different regions of the world.
Also, check out our ready-made and customizable USA states and capitals worksheets!
Outline Map of Florida
The state of Florida is located in the southeastern United States. It is bordered by the states of Alabama and Georgia, the Gulf of Mexico, the Bahamas, the Atlantic Ocean, and the Straits of Florida. With an area of 65,757 square miles (170,312 square kilometers), Florida is the 22nd largest state in the USA.
As of 2022, Florida's estimated population was slightly over 22 million people. This makes Florida the 3rd most populous US state after California and Texas. According to the US Census Bureau, the racial and ethnic makeup of Florida's population was 52.7% White, 26.8% Hispanic or Latino, 17% Black or African American, 3% Asian, 0.5% Native American or Alaska Native, and 0.1% Native Hawaiian or other Pacific Islander (the remaining population belonging to two or more races).
Various indigenous peoples initially inhabited Florida for at least 14,000 years. After the arrival of Spanish explorer Juan Ponce de León in 1513, Spain established settlements and forts throughout the state during the 16th and 17th centuries. In the aftermath of the Seven Years' War, Florida was ceded to Great Britain in 1763 as part of the Treaty of Paris.
After the Revolutionary War, Spain regained control over the territory of Florida and sold it to the United States in 1819. As a result, Florida officially became a US territory in 1821. It was admitted as the 27th state in 1845.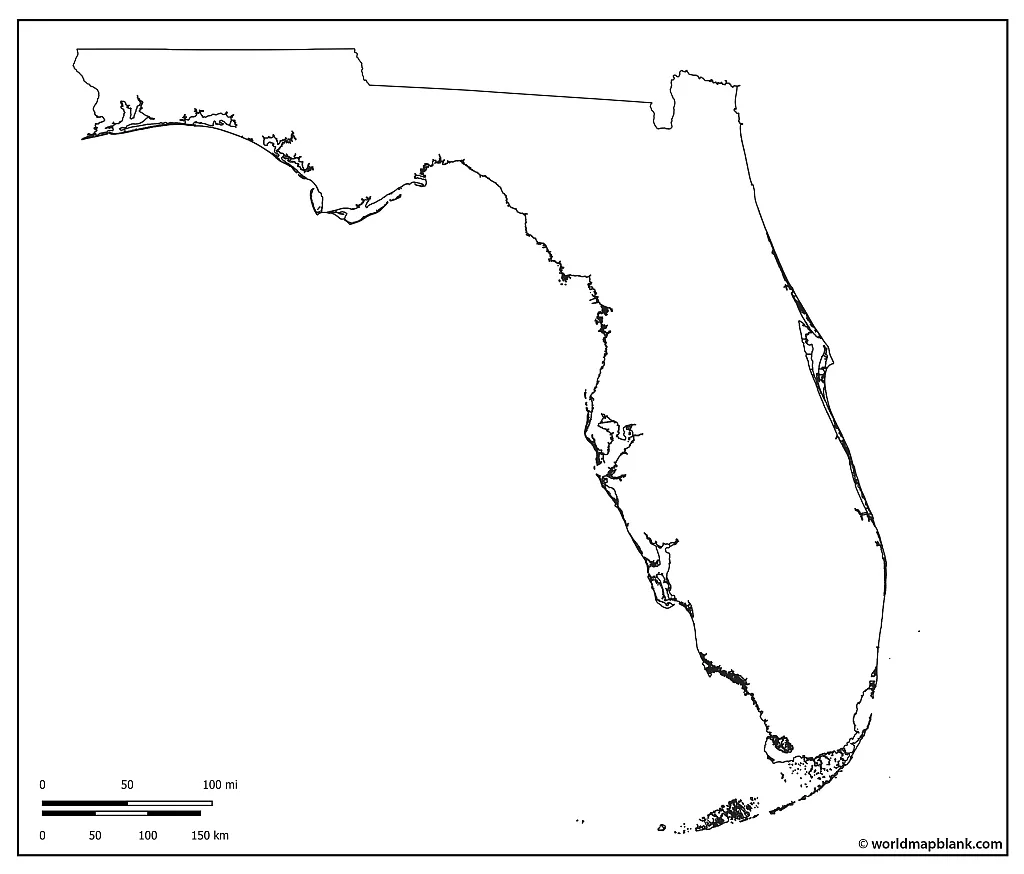 Download as PDF (A4)
Download as PDF (A5)
Our outline maps, like the one above, only show the outer boundaries or shape of the given country or state. If you need a more detailed blank map of Florida, please take a look at our maps below.
Blank County Map Florida
The US state of Florida has 67 counties. Miami-Dade is the most populous county, with 2.7 million inhabitants, while Liberty County is the least populated with 8,000 people. Palm Beach is the largest county in Florida by total area at 2,383 sq mi (6,170 km2), and Union is the smallest at 250 sq mi (650 km2).
Download as PDF (A4)
Download as PDF (A5)
The map above includes all the county borders within the state of Florida. Further below, we also offer a map with the capital city of each of these counties and another one, including the major cities and towns of Florida.
Blank Map of Florida with County Seats
Here is a list of the 10 largest Florida counties by population (as of 2022) and their county seats:
Miami-Dade (Miami) – 2.66 million
Broward (Fort Lauderdale) – 1.93 million
Palm Beach (West Palm Beach) – 1.5 million
Hillsborough (Tampa) – 1.48 million
Orange (Orlando) – 1.42 million
Duval (Jacksonville) – 1 million
Pinellas (Clearwater) – 956,000
Lee (Fort Myers) – 788,000
Polk (Bartow) – 753,000
Brevard (Titusville) – 617,000
Download as PDF (A4)
Download as PDF (A5)
The above map shows all the counties of Florida with the locations of their county seats.
Blank Map of Florida with Cities
The capital of Florida is Tallahassee, but the largest cities in the state are Jacksonville, Miami, Tampa, and Orlando. Other major cities include St. Petersburg, Hialeah, Port St. Lucie, Cape Coral, and Fort Lauderdale.
Our following map includes markers for many of the Florida cities and towns. Students can try to add their names directly to the map by using a labeled map of Florida for reference or to verify afterward.
Download as PDF (A4)
Download as PDF (A5)
Do you need similar maps of other states of the USA? Then check out our blank and labeled USA maps!
Florida Map Blank with Georgia and Alabama
Our final map with the outline of Florida also shows parts of the neighboring states Alabama and Georgia, as well as the surrounding water of the Gulf of Mexico.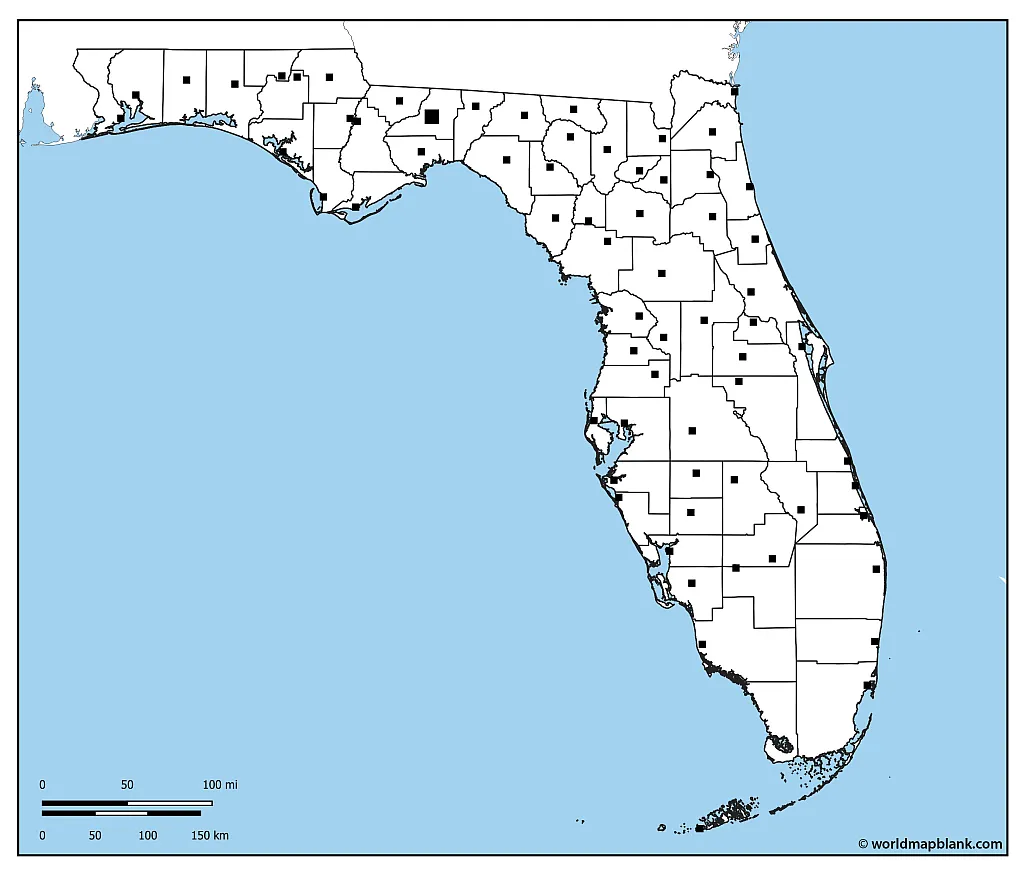 Download as PDF (A4)
Download as PDF (A5)
Additionally, we offer several versions of a labeled map of Florida.
More Free Maps for Download
Do you need more blank and labeled maps of the United States? Then take a look at the link collection below! We also offer different types of world maps, continent maps, and many country maps.
You can download all our maps as PDF files and print them out for free. Use them as informational resources or for your worksheets and other learning materials. You can also use the search feature in the header menu to find other useful and interesting maps.
USA Maps
World Maps
Continent Maps
Country Maps