Printable Blank Map of Benin – Outline Map of Benin [PDF]
Nowadays, it is possible for any student or researcher to access a Blank Map of Benin from the web to enable him or her to study the geographical details of the country. This blank map of Benin can be printed and used as a guide to drawing the outer boundary lines of Benin. Thereafter, other details, such as rivers, mountains, and cities, can be marked and labeled using different color configurations as a part of the homework assignment.
Blank Map of Benin – Outline
Besides, school teachers can access Benin blank map outline and take out a number of prints and distribute to students attending class room sessions of geography lessons. While looking into the geographic profile of the country, Benin, it can be seen that the Republic of Benin extends from north to south and is a long-stretched country located in the region of West Africa. Benin is also situated towards the east of Togo and West of Nigeria.
Benin has borders with Burkina Faso and Niger in the north. The coastline of this country runs approximately, 121 kilometers or 75 miles. The land area occupied by this country is equivalent to 112, 622 square kilometers.
This area is considered to be slightly larger than that of Bulgaria or slightly smaller than that of the US state, Pennsylvania.  As on Monday, May 10, 2021, the current population count of Benin is 12, 392,243, which is based on the latest UN data. Further, the population of Benin is equivalent to 0.16% of the total global population.
Printable Map of Benin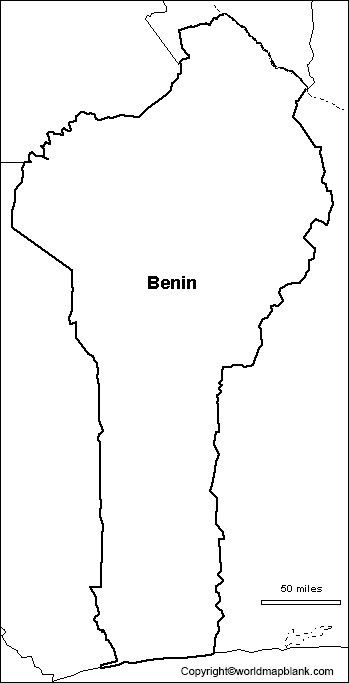 Without drawing a full fledge map of Benin, users nowadays want to have a quick and accurate view of the geography of Benin. Under such a situation, they can access a fully printable map of Benin from the web and get its print.
These are nothing but fully printable map of Benin, which assists the users to learn and explore all the aspects of Benin. In this regard, this printable map of Benin aims to reduce the efforts of users and offer them with the readily usable map of the country.
Blank Map of Benin for Practice Worksheet
A map of Benin for practice worksheet is a wonderful document as it includes every geographical detail of the country. This worksheet is downloadable and consists of twenty in-depth pages which can be printed easily.
This worksheet of Benin is a ready to use document designed for teaching students about the country. They can answer all the questions given in the worksheet as a part of practice exercise that helps them to prepare for examination.
Benin map of transparent PNG format, is considered as one such map wherein the user will be able to observe the complete geographical details of Benin. The user can also view a particular object or region of importance and study its characteristic or topographical features from this map. The transparent PNG Benin map is found be very useful to carry research-based projects and assignments, associated with the geography of the country.
More Free Maps to Download
Please find below a few links to other maps of different countries, the world and all the continents. In case the map you need is not listed, you can find it via the search feature on top of this page. All maps on our site are free to download as a PDF file and can be printed out in unlimited numbers for your educational, professional or personal purposes.
Country Maps
Blank Map of the United States
Continent Maps
Map of South America with Countries
World Maps
World Map with Latitude and Longitude