Blank Map of Argentina – Outline Map of Argentina [PDF]
With a blank map of Argentina or an outline map of Argentina you can learn or teach the about the political divisions of this South American country. Download here a blank Argentina map including the inner province borders of the country or an Argentina outline map only showing its outer boundaries.
Just like all of our other maps, any blank map of Argentina from this page is free to download and print in PDF. If you intend to use it in school or any other learning environment, consider combining your blank map with a labeled map of Argentina with provinces and capitals.
Argentina Map Outline
Argentina is a country located in South America. It is the eighth largest country in the world by land area and the second largest in South America (after Brazil).
Argentina is bordered by Chile to the west, Bolivia and Paraguay to the north, Brazil to the northeast, Uruguay and the Atlantic Ocean to the east, and the Drake Passage to the south.
Our first printable map is an outline map of Argentina showing only the country's outer boundaries.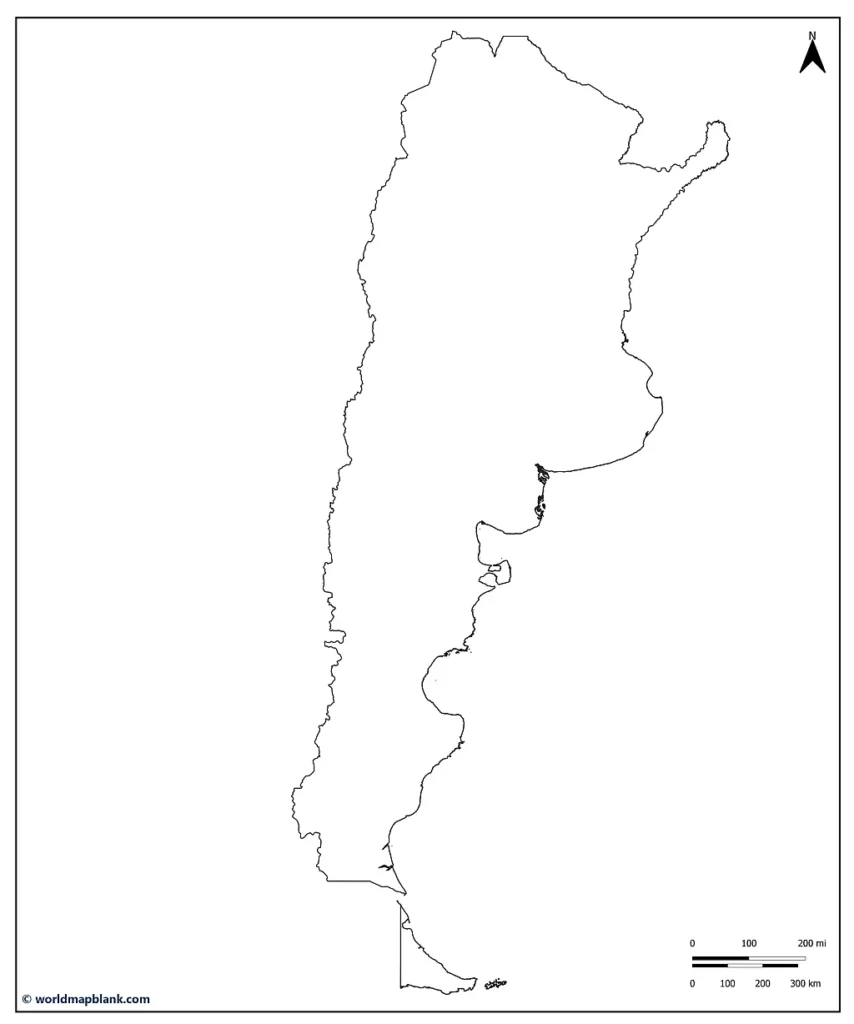 Download as PDF (A4)
Download as PDF (A5)
Argentina is a federal democratic republic with a presidential representative system. This means that the power is divided between the national government and the provincial governments. The provinces of Argentina have a high degree of autonomy and are responsible for many areas of public policy, including education, healthcare, and public safety.
Blank Argentina Provinces Map
Argentina is divided into 23 provinces, which are further sub-divided into departments (similar to counties). Here is a list of the 23 provinces of Argentina and their capital cities:
Buenos Aires – La Plata
Catamarca – San Fernando del Valle de Catamarca
Chaco – Resistencia
Chubut – Rawson
Ciudad de Buenos Aires – Ciudad de Buenos Aires
Cordoba – Cordoba
Corrientes – Corrientes
Entre Rios – Paraná
Formosa – Formosa
Jujuy – San Salvador de Jujuy
La Pampa – Santa Rosa
La Rioja – La Rioja
Mendoza – Mendoza
Misiones – Posadas
Neuquén – Neuquén
Rio Negro – Viedma
Salta – Salta
San Juán – San Juán
San Luis – San Luis
Santa Cruz – Rio Gallegos
Santa Fé – Santa Fé
Santiago del Estero – Santiago del Estero
Tierra del Fuego – Ushuaia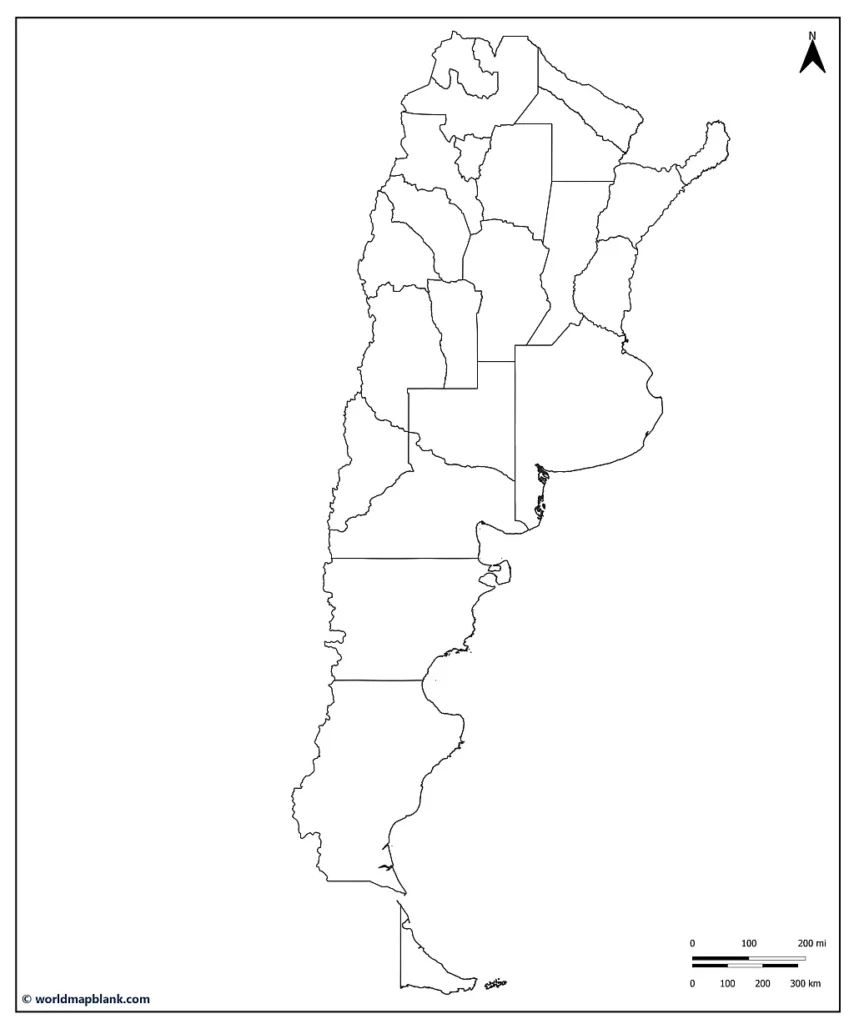 Download as PDF (A4)
Download as PDF (A5)
Above blank outline map of Argentina includes all the provincial borders within the Argentine Republic. Just like our other blank maps, it is a valuable learning resource for the geography of the country.
Blank Argentina Map with Capitals
The capital of Argentina is Buenos Aires. With a population of more than 3 million people in the city proper, it is by far the largest agglomeration in the country. The metropolitan area of Buenos Aires even has an estimated population of 15.5 million (early 2023).
The history of Buenos Aires can be traced back to the early 16th century, when the area was first settled by Spanish conquistadors. The city was founded in 1536 by Pedro de Mendoza, who named it "Ciudad de Nuestra Señora Santa María del Buen Ayre" (City of Our Lady Saint Mary of the Fair Winds).
In the following centuries, Buenos Aires developed into an important port and commercial center, and it became the capital of Argentina in 1880. The city underwent rapid industrialization and urbanization in the late 19th and early 20th centuries, and it became a major cultural and economic hub.
During this time, Buenos Aires was also home to a thriving intellectual and artistic scene, and it became a center for literature, music, and theater. Many notable writers, musicians, and artists lived and worked in Buenos Aires, and the city's cultural influence spread throughout Argentina and beyond.
In the latter half of the 20th century, Buenos Aires – just like the entire country – faced a number of challenges, including economic instability and political unrest. Nonetheless, the city remains the key center of Argentine culture, politics and society.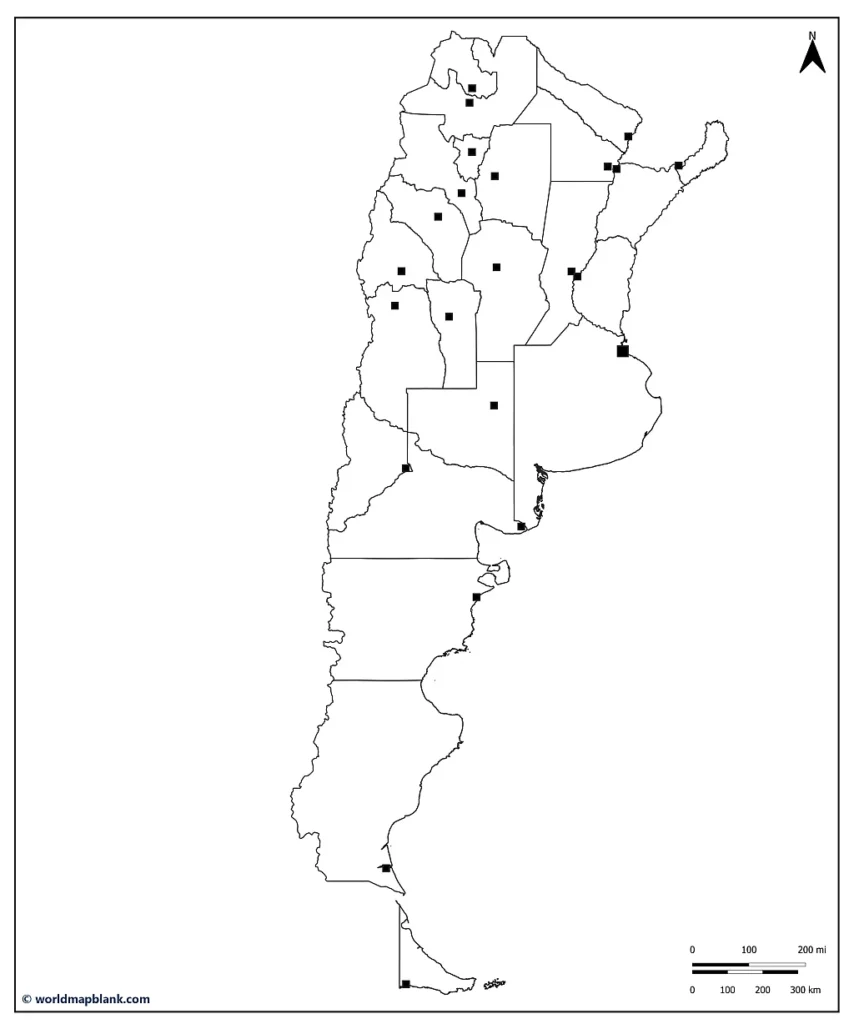 Download as PDF (A4)
Download as PDF (A5)
Above map shows the location of Buenos Aires and of all the provincial capitals in Argentina.
Blank Map of Argentina
Bordered by the Andes mountain range to the west and the South Atlantic Ocean to the east, Argentina extends from the Tropic of Capricorn in the north to Tierra del Fuego in the south. The country is approximately 2,780 miles long and 1,430 miles wide. Argentina shares land borders with Bolivia (942 km), Brazil (1,263 km), Chile (6,691 km), Paraguay (2,531 km), and Uruguay (541 km).
The Andes mountain range in the west of Argentina forms the country's natural border with Chile. The Uruguay River and the Rio de la Plata, which is the estuary of the Uruguay and Paraná rivers, constitute the border with Uruguay.
Argentina has a coastline of 4,989 km along the Atlantic Ocean. Its highest elevation is the Cerro Aconcagua (6,962 m) in the province of Mendoza, which is also the highest peak in South America. The country's lowest point is the Laguna del Carbon in the province of Santa Cruz (-105 m).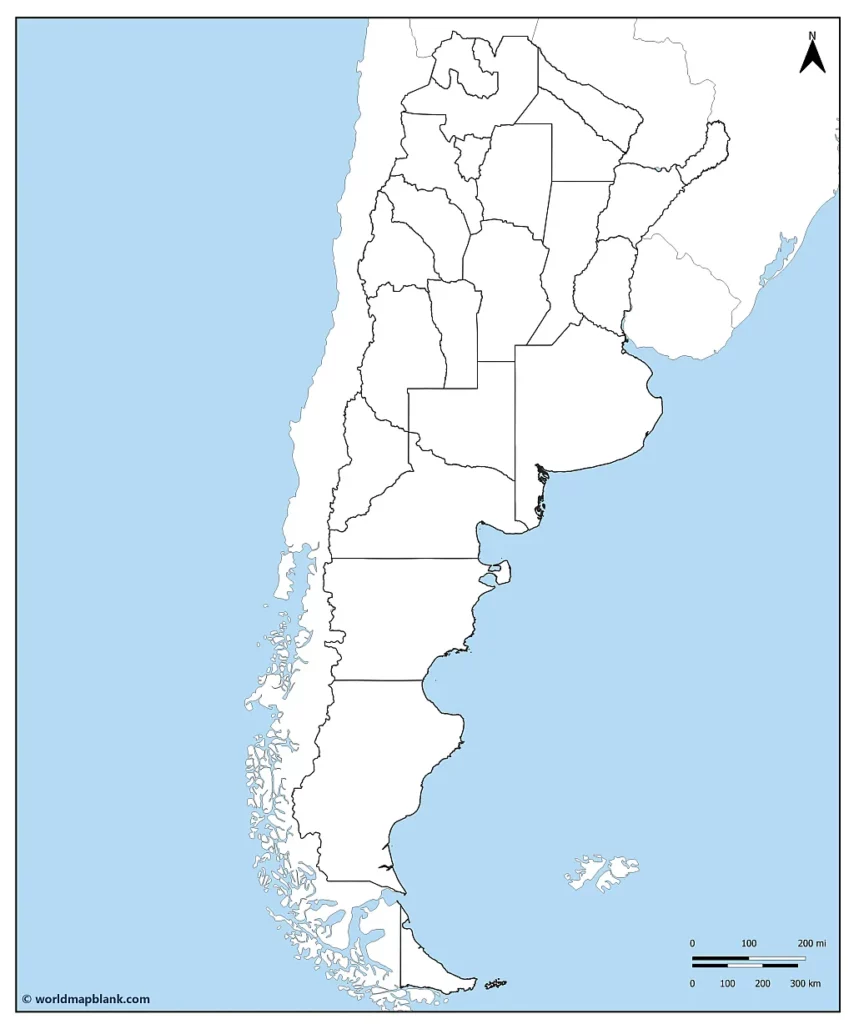 Download as PDF (A4)
Download as PDF (A5)
Above blank map of Argentina also shows its neighboring countries and international borders. The Falkland Islands (Islas Malvinas) are included as well.
These islands were the scene of the Falklands War of 1982 between Argentina and the United Kingdom. On April 2nd of that year, Argentine forces invaded and occupied the British-controlled islands, provoking the deployment of a task force to retake them. The war lasted until June 14th, when Argentina officially surrendered. Hundreds of lives were lost, with 255 British servicemen killed and some 750 Argentine soldiers killed or missing in action.
While the United Kingdom remains in control of the Falkland Islands, they are still claimed by Argentina today. The same applies to South Georgia and the South Sandwich Islands which are governed by the UK also.
Argentina Blank Map with Cities
The last of our blank Argentina maps shows both the province borders and capitals as well as a number of other larger towns. Use it to further teach or explore the mayor cities of this exciting country on the American continent!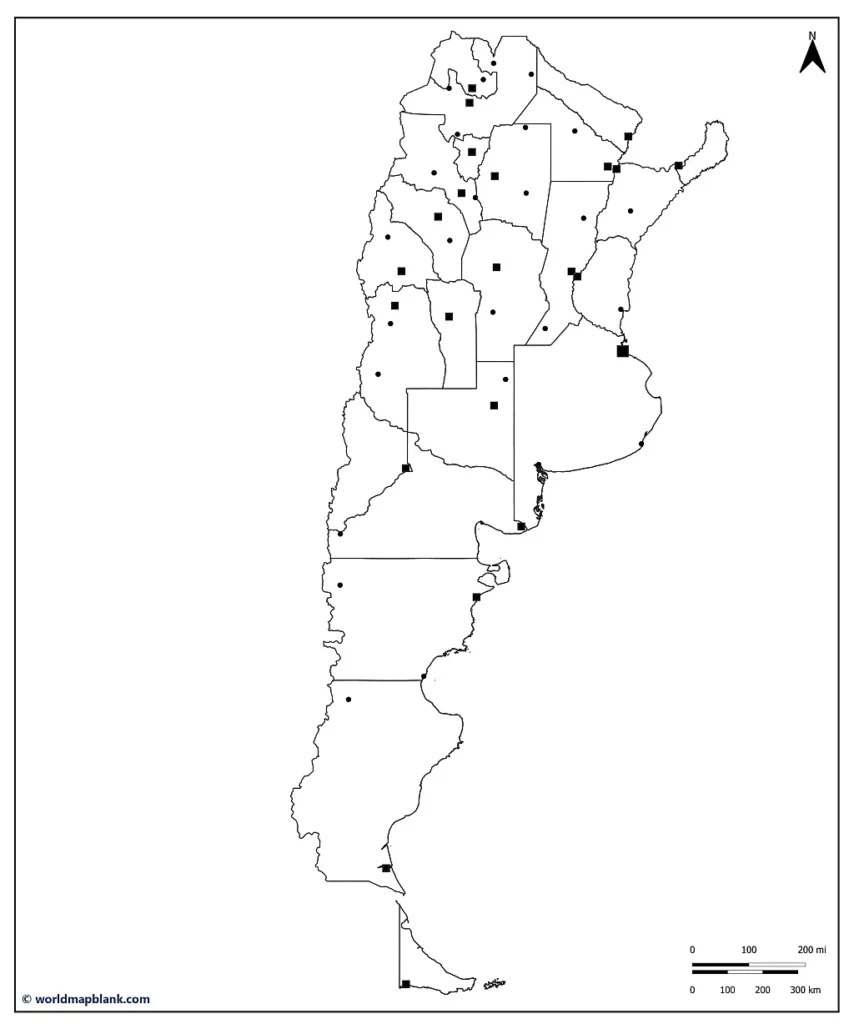 Download as PDF (A4)
Download as PDF (A5)
In combination with our labeled maps of Argentina, any map of Argentina black and white from this page will be a great resource for your learning activities.
Additionally, we offer blank maps of South America and other continents and countries.
More Free Maps for Download
Here are just a few links to other map topics you might be interested in. All of our maps are available for free as PDF files. If you don't find your desired map in the list below, please use the search feature on top of this page.
Also, if you need a particular map with special features, please drop us a line. Maybe we can create it for you free of charge.
South America Maps
Europe Maps
Africa Maps
North America Maps
World Maps