Printable Blank Map of Spain – Outline Map of Spain [PDF]
Are you looking for an easy-to-use tool to help your students or kids learn about Spain? Or maybe you're traveling and want to track your progress on a blank map of Spain? Either way, having access to a free outline map of Spain can be very useful.
Under each image of a Spain blank map you can click on the links to view, download, or print the PDF file. So get one of our many blank maps of Spain from this page!
We offer several different versions, from a blank outline map of the country to ones with features like provinces, cities, or neighboring countries included. If you want to extend your collection, also check out our labeled map of Spain!
Outline Map of Spain
Spain is a country located on the Iberian Peninsula in southwestern Europe. It is the fourth largest country in Europe, covering an area of 195,363 square miles (505,990 km²). Spain has a population of 47 million people, primarily composed of ethnic Spaniards. 15% of the country's population is made up of immigrants from other European countries, Africa, and Latin America.
Our first outline map of Spain shows only the country's international borders. This printable blank map of Spain is perfect for students who are just beginning to learn about this European country. Or, it might be used for advanced drawing or marking all kinds of geographical features like rivers, mountains, and dialect areas.
Download as PDF (A4)
Download as PDF (A5)
Also, draw in features like migrations throughout different periods of history. You can make this Spain blank map your own historical version, and explain the identity of the Iberian peninsula.
Blank Map of Spain with Autonomous Communities
Our second map is a blank map of Spain with autonomous communities, showing the country's internal borders. This map can be used to learn the geography and administrative divisions of Spain. Incorporate it into your class as part of an activity sheet or quiz!
There are three levels of administrative territories in Spain – the autonomous communities, the provinces, and then the municipalities.
Spain is divided into 17 autonomous communities, and two autonomous cities, Ceuta and Melilla. Each "comunidad autónoma" has its own government, flag, and some even have their own language. However, some regions, like Catalonia, the Basque Country, and Navarre, possess more power than others, including the ability to collect their own taxes. These regions have their own distinct cultures and languages, and sometimes express a desire for greater independence or self-government.
Download as PDF (A4)
Download as PDF (A5)
The autonomous communities are listed below in order of largest to smallest population size. The information was sourced from the Spanish National Institute of Statistics in 2021, and is rounded to the nearest thousand.
Andalucia – 8,432,000
Catalonia – 7,804,000
Community of Madrid – 6,766,000
Valencia – 5,804,000
Galicia – 2,701,000
Castilla y León – 2,407,000
Canary Islands – 2,207,000
Basque Country – 2,181,000
Castilla-La Mancha – 2,012,000
Region of Murcia – 1,509,000
Aragón – 1,312,000
Balearic Islands – 1,193,000
Extremadura – 1,058,000
Asturias – 1,006,000
Navarre – 654,000
Cantabria – 582,000
La Rioja – 316,000
Where is Spain on a Map?
See where Spain is located within the context of the European and African continents. The following Spain outline map shows the country in its geographic context, as well as its neighboring countries and the Mediterranean Sea. It was created with MapChart.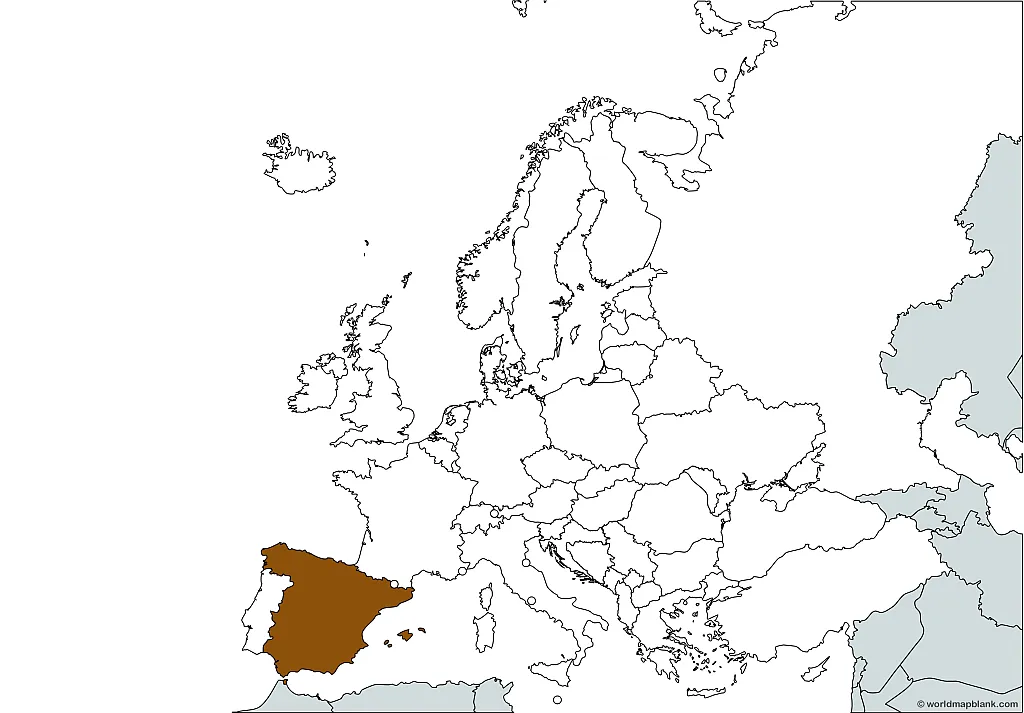 Download as PDF (A4)
Download as PDF (A5)
Spain is found in the Central European time zone (UTC+1). Located in the south of continental Europe, in the Northern hemisphere. The coordinates of Madrid, the capital of Spain, on a map is at 40° N and 3° " W.
The following Spain map highlights neighboring countries as well as seas and oceans around the country.
Spain Map Outline with Neighboring Countries
If you want to study the geography of the region, our blank map of Spain with neighboring countries is a great resource. It shows Spain's borders and the surrounding countries, as well as the Balearic Islands and the Canary Islands. These two groups of islands are also part of Spain.
Spain belongs to the Iberian Peninsula, along with its neighboring countries. The Iberian peninsula borders the Atlantic Ocean as well as the Mediterranean Sea.
Download as PDF (A4)
Download as PDF (A5)
Spain is bordered by France, Portugal, Andorra, Gibraltar, and Morocco (via the Spanish enclaves of Ceuta and Melilla).
The Iberian Peninsula is a vibrant region that has been shaped by centuries of cultural, historical and linguistic influences. France, Spain, Andorra and Portugal share many similarities. They share a root in the romance languages, as well as in their history of colonizing and exploring the "New World", leaving their traces of culture around the globe.
The following Spain outline maps include symbols for capitals as well as cities.
Blank Spain Map with Capitals
Our blank map of Spain with capitals is a great tool to study political geography; you can draw in where historical events have happened! This Spain map makes reference to the location of each of the autonomous community capitals, as well as the country capital, Madrid.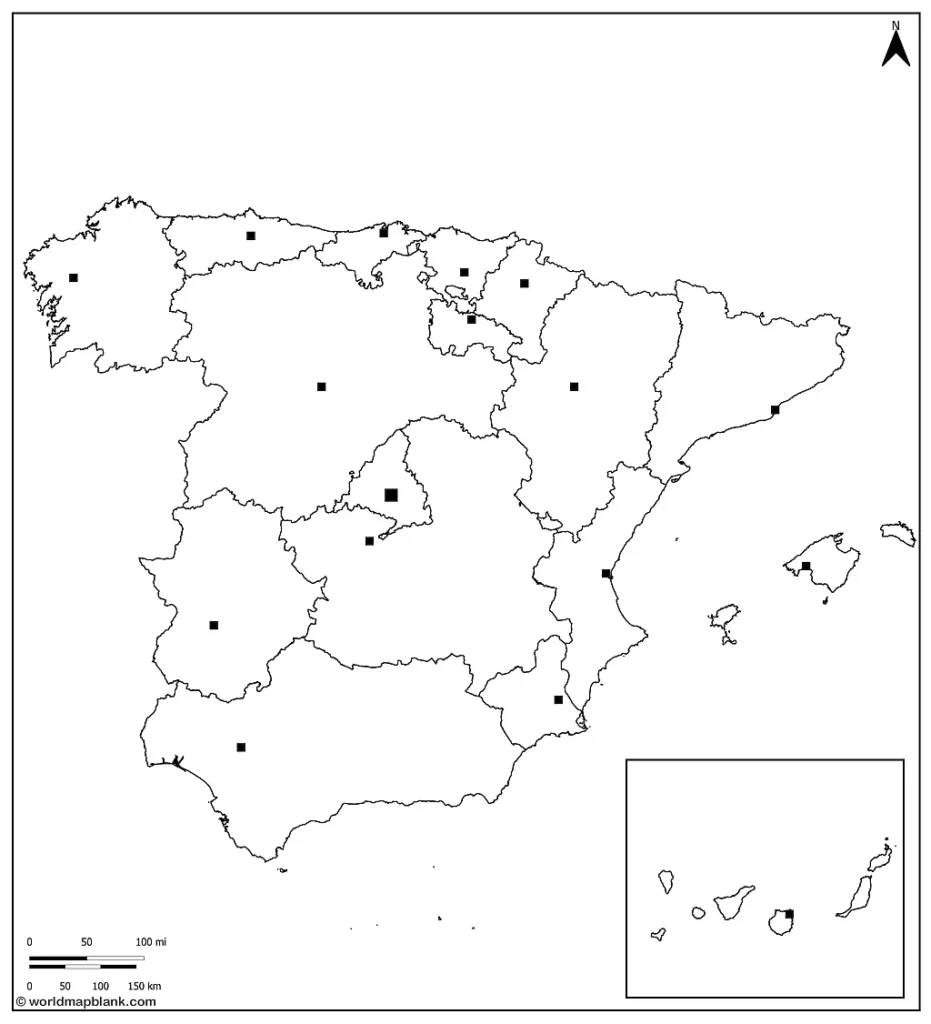 Download as PDF (A4)
Download as PDF (A5)
Here are the names of the capitals of the 17 autonomous communities of Spain, the communities are in brackets:
Seville (autonomous community: Andalusia)
Zaragoza (Aragón)
Oviedo (Asturias)
Palma (Balearic Islands)
Vitoria-Gasteiz (Basque Country)
Santa Cruz de Tenerife (and Las Palmas de Gran Canaria) (Canary Islands)
Santander (Cantabria)
Valladolid (Castile and León)
Toledo (Castilla-La Mancha)
Barcelona (Catalonia)
Mérida (Extremadura)
Santiago de Compostela (Galicia)
Logroño (La Rioja)
Madrid (Madrid)
Murcia (Murcia)
Pamplona (Navarre)
Valencia (Valencia)
How about you accompany your Spain blank map with a labeled cities of Spain map? All of the maps on this page, and our site, are available for free in two sizes in PDF format either to print or download.
Blank Spain Map with Cities
The following is a blank Spain map with cities. Below the map you'll find a brief description of the most famous cities.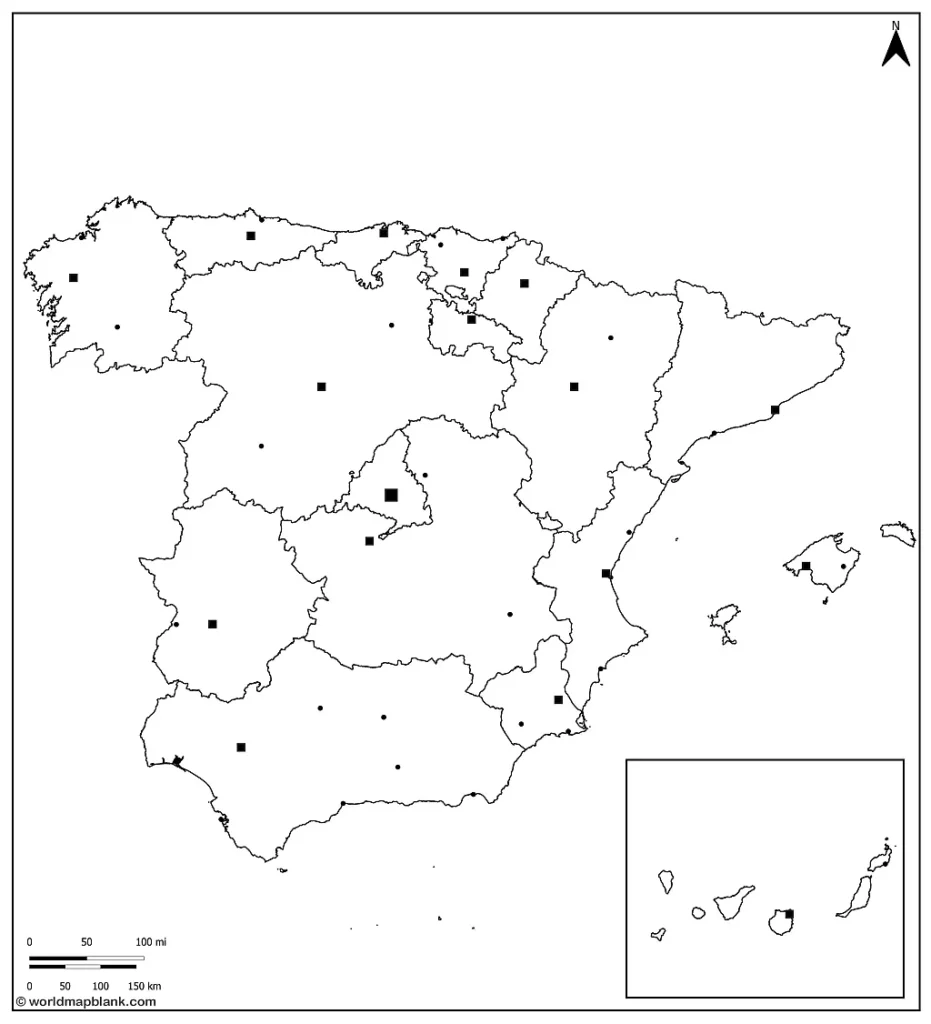 Download as PDF (A4)
Download as PDF (A5)
Madrid is the capital city of Spain and it is the political, economic, and cultural center of the country. Here is the Royal Palace, and the Prado Museum.
Barcelona is the country's second-largest city, located in the Catalonia region. The city has two official languages: Catalan and Spanish. It is an international, world city.
Valencia is the third largest city, and a major port on the Mediterranean sea and northwest coast. It is known as an innovative city with its city of Arts and Science complex.
Seville is located in the southern region of Andalusia, and is one of Spain's most historic cities, it truly represents the authentic character of the country as it has preserved its culture.
Bilbao is located in the Basque Country of northern Spain. It has a distinctive identity from other Spanish cities expressed through its language and development. Once an industrial stronghold, it has transformed into a modern culture focused city.
More Maps for Free Download
There are more maps available on our website. Are you curious about a particular region or country? Take a few minutes to further explore our site and see if we have the maps you want! Blank map, outline map, color detailed map, country map, world map, you name it, we have probably created it! And the best part, they are all in PDF format and free to be printed. Start exploring with the list below!
And by the way, we also offer a continuously increasing number of ready-made geography worksheets.
Spanish Speaking Countries
European Countries
World Maps
Continent Maps
Other Country Maps