Blank Map of Brazil – Outline Map of Brazil [PDF]
Are you interested in a blank map of Brazil? Suppose you are a teacher, student, parent, or anyone needing a blank Brazil map for educational, professional, or personal purposes. In that case, you have finally found the best website to get it from!
We provide free PDF files of printable blank maps of various regions, countries, and continents – and Brazil is no exception. So browse this page, select all the maps you want, and get your outline map of Brazil right now!
As usual, all maps on this page are available in A4 and A5 sizes.
Outline Map of Brazil
Brazil is a country in South America with a population of 217 million (in 2023). This makes it the most populated country on the continent, followed by Colombia, with over 52 million. Having the largest population, it is also the largest in land mass, with 3.3 million square miles (or 8.5 million km²). It is the 5th largest country in the world for population and land mass. Over one century of mass immigration from all corners of the planet has made Brazil one of the most ethnically diverse nations in existence today.
Our simple Brazil map outline only shows the country's international borders, without any internal state boundaries or major cities. It is a useful map for basic geography exercises or coloring activities. You can also give your students or kids the task of drawing various landmarks or geographical features onto the map, such as the Amazon basin, the longest rivers, the most important cities, and much more.
Download as PDF (A4)
Download as PDF (A5)
To download and print a blank map of Brazil from this page, click on one of the links below the images. All maps are available in two different sizes: A4 and A5. Your map will open in a new tab, where you can print it directly or save it as a PDF file.
Where is Brazil on a World Map?
Where is Brazil located on the map? It is in the southern hemisphere and the western hemisphere. The country is situated in the southeastern part of the South American continent. The GPS map coordinates of Brazil are 14.2350° S and 51.9253° W.
The northernmost point of Brazil is at a latitude of 5°15 N; it has a natural geographic landmark with Mount Caburai, at 4,806 feet (1,465 meters). The southernmost point of Brazil is at the latitude of 33°45 S; the border with Uruguay marks this boundary.
There are 4 standard time zones throughout Brazil. They are, from west to east: Acre Time (ACT or UTC-5), Amazon Time (AMT or UTC-4), Brasilia Time (BRT or UTC-3), and Fernando de Noronha (FNT or UTC-2).
The map below shows Brazil on a map of South America; it was created with a tool called MapChart.
Download as PDF (A4)
Download as PDF (A5)
Activity Idea: Can you mark the different time zones on the map? Separate them with straight lines. Alternatively, draw them into the Brazil outline map further above and shade them in different colors.
Extra Challenge: Identify other important map coordinates, like Brazil's capital, and mark them on the map (include the coordinates).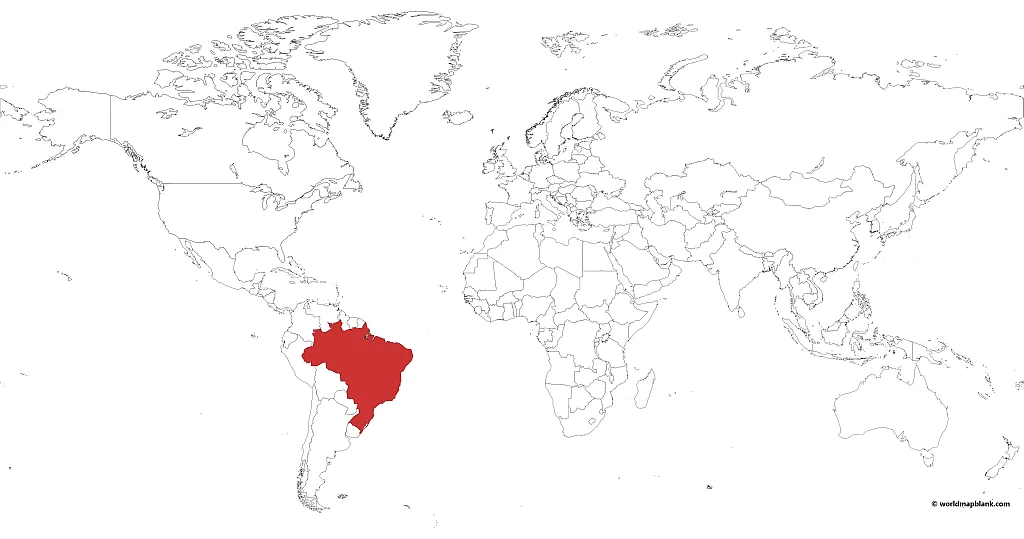 Download as PDF (A4)
Download as PDF (A5)
The above map was also created with MapChart. It shows where Brazil is on a world map. If you are interested in other world maps featuring Brazil, you can find them in our world map section.
Blank Map of Brazil
How many countries border Brazil? Brazil is so enormous that it borders all but 2 of the countries on the South American continent: Ecuador and Chile. Otherwise, Brazil has a land border with ten countries: Argentina, Bolivia, Colombia, French Guiana (overseas department of France), Guyana, Paraguay, Perú, Suriname, Uruguay, and Venezuela.
The coastline of Brazil is approximately 4,655 miles (7,491 km) long, bordering the Atlantic Ocean. Rio de Janeiro, Santos, and Salvador are its most important ports.
Rich in natural resources and production, Brazil is considered the world's largest producer of many commodities. It holds the title for coffee, sugarcane, soy, and orange production, after which it shares a top position within the world context for everything else it grows or produces. Even though it is an industrial powerhouse and wealthy in resources, it is still considered highly unstable due to its political corruption. There is great inequality in the population, with both extreme poverty and extreme affluence.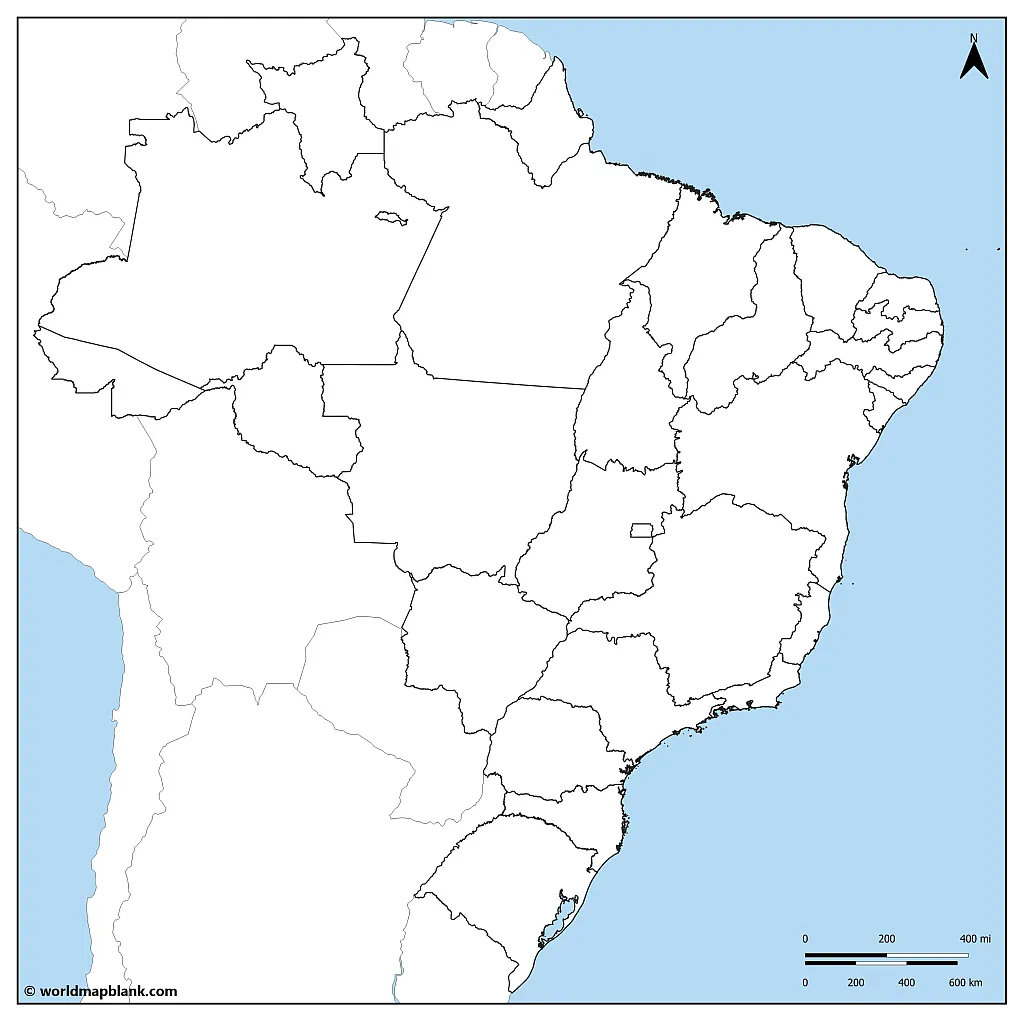 Download as PDF (A4)
Download as PDF (A5)
The above image shows where Brazil is in South America. This map delineates the country's international boundary and includes bodies of water. You can use this map to teach about Brazil in the grand context of its region.
Interesting Fact: Brazil belongs to the Mercosur (Mercado Común del Sur; "Common Market of the South"), an economic and political bloc comprised of Argentina, Brazil, Paraguay, and Uruguay. Essentially, the Mercosur agrees on open borders between the member countries. It defines itself as "a union of countries, working as one, to secure the well-being of their peoples."
Activity Idea: Color in the Mercosur countries on the map. Can you research more on the topic? When borders are open between countries, what becomes easier?
Blank Map of Brazil with States
Brazil is a federation of states with one federal district. How many states does Brazil have? There are 26 states. They are traditionally separated into regions; however, these are geographical and not political regions. There are 5 regions: Northern, Northeast, Central-West, Southeast, and Southern. These regions are defined by law but are explicitly used for statistical purposes and the distribution of funds from the government. The governing itself of each state is an individual matter. While Brazilian states are autonomous, they do not hold the same power as the United States of America, for example. Ultimate decisions are made through a federal congress.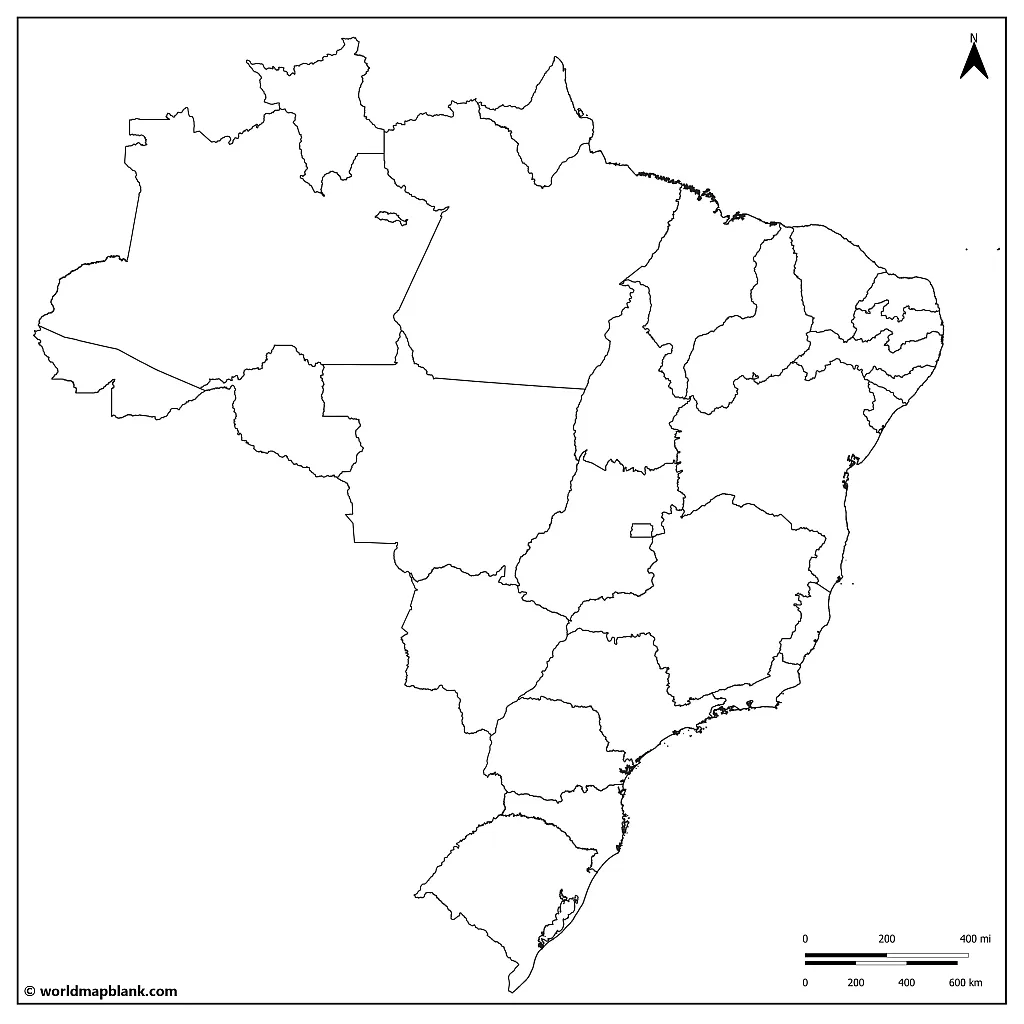 Download as PDF (A4)
Download as PDF (A5)
Here are some interesting facts about each of the regions of Brazil.
The North Region has vast natural resources and a diverse ecosystem, including the Amazon Rainforest. The primary industries are agriculture, forestry, mining, and fishing.
The Northeast Region is one of the poorest regions in the country, but it is rich in culture and history. The primary industries are agriculture, textile manufacturing, mining, and tourism.
The Central-West Region is home to the country's capital, Brasília, and a government and administrative services hub. This region is known for its agricultural production, particularly soybeans and livestock.
The Southeast Region is the country's most populated and economically developed region. Its main industries are agriculture, manufacturing, finance, and tourism.
The South Region is known for its mountain ranges and European cultural influence. The main industries are agriculture, manufacturing, and tourism.
Activity Idea: Can you identify and color the five distinct regions on this map outline of Brazil? Could you draw a symbol describing each region's leading industry or characteristic?
Extra Challenge: Make a table of the similarities and differences between the regions to accompany your Brazil outline map.
Brazil Blank Map with State Capitals
According to a study by the Brazilian Institute of Geography and Statistics, 48.4% of the population self-identify as White, 43.8% as Pardo (Brown), 6.8% as Black, 1.1% as East Asian, and 0.4% as Indigenous. Similar to other South American countries, Brazil's immigration and genealogical diversification began in the 1500s with the beginning of colonization.
The Portuguese were the first Europeans to arrive and the most significant influence on the country's shape afterward. Today, Portuguese is the official language of Brazil. It is the only Portuguese-speaking country on the South American continent and in the Americas. As a direct result, its language plays an essential part in the identity and culture of Brazil.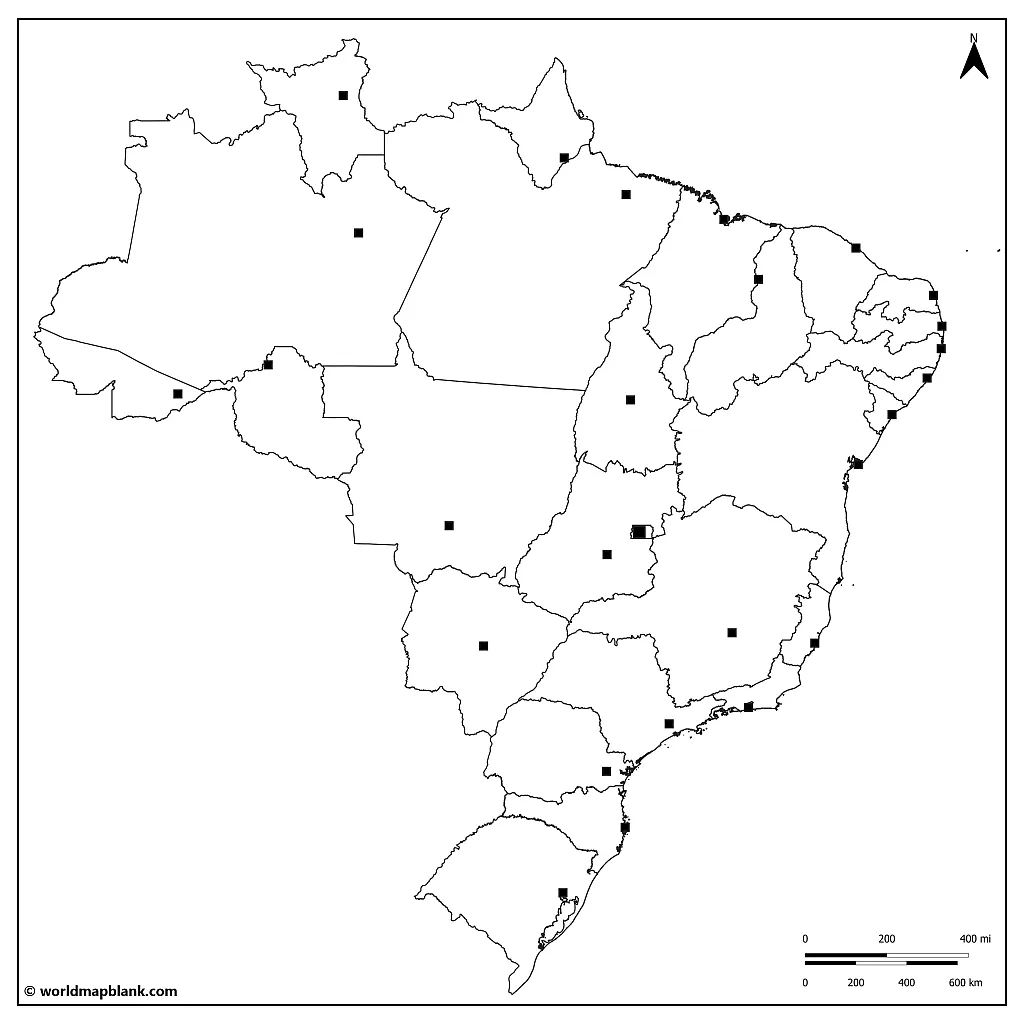 Download as PDF (A4)
Download as PDF (A5)
Here is a list of the state capitals, followed by their states, in alphabetical order (included is Brasilia, which is the capital of the Federal District):
Aracaju – Sergipe
Belém – Pará
Belo Horizonte – Minas Gerais
Boa Vista – Roraima
Brasília – Distrito Federal
Campo Grande – Mato Grosso do Sul
Cuiabá – Mato Grosso
Curitiba – Paraná
Florianópolis – Santa Catarina
Fortaleza – Ceará
Goiânia – Goiás
João Pessoa – Paraíba
Macapá – Amapá
Maceió – Alagoas
Manaus – Amazonas
Natal – Rio Grande do Norte
Palmas – Tocantins
Porto Alegre – Rio Grande do Sul
Porto Velho – Rondônia
Recife – Pernambuco
Rio Branco – Acre
Rio de Janeiro – Rio de Janeiro
Salvador – Bahia
São Luís – Maranhão
São Paulo – São Paulo
Teresina – Piauí
Vitória – Espírito Santo
Activity Idea: Can you identify each state and its capital and label them?
If you would like to accompany this unlabeled version of the capitals of Brazil map with a labeled map of Brazil, take a look at what we have in our library!
Blank Brazil Map with Cities
Brazil has 6 main climate zones, determined by its geography. As it is such a massive and diverse country geographically, it makes sense that it also has very distinct climates in relation to those regions. The climate zones are the following:
Equatorial: near the equator with hot and humid weather throughout the year
Tropical: characterized by hot and humid weather, with distinct wet and dry seasons
Semi-Arid: in the northeast region of Brazil, known for its arid climate
Subtropical: the southern region of Brazil experiencing mild temperatures, with cool winters and warm summers
Highland: Brazil's mountainous areas with cooler temperatures due to the high altitude, abundant rainfall, and distinct wet and dry seasons
Coastal: hot and humid weather, with rainfall distributed throughout the year; ocean currents and winds also affect the climate
Download as PDF (A4)
Download as PDF (A5)
Listed below are the ten most populated cities in Brazil, in alphabetical order, and their approximate population rounded to the nearest thousand (as of 2021):
Belo Horizonte – 2,501,000
Brasília – 3,096,000
Fortaleza – 2,693,000
Goiânia – 1,536,000
Manaus – 2,219,000
Recife – 1,651,000
Rio de Janeiro – 6,718,000
Salvador – 2,892,000
São Paulo – 12,333,000
Belém – 1,492,000
Interesting fact: These ten most populated cities have a considerable geographic similarity.
Activity Idea: Identify on the map where the cities are located. Can you determine what similarity there is? Why do you think this is? Use this map of the Brazilian cities to teach about the country's urbanization.
Other Free Maps to Download
We offer many valuable maps of countries, continents, and the world. Check out the links below for other great maps for your geography resources! If your desired map is not listed, please use the search feature at the top of this page.
Can you still not find the map you need? Drop us a line via our contact form and tell us what exactly you need! We might be able to create your map free of charge.
Finally, we also offer ready-made geography worksheets to save time preparing lessons and enhance learning activities.
Maps of Latin American Countries
Continent Maps
World Maps
More Country Maps