Blank Map of India – Printable Outline Map of India [PDF]
Do you need a printable blank map of India? We offer a variety of them on this page! Each outline map of India focuses on a different type of geographical or administrative division. All our blank maps of India are all available in PDF in both A4 and A5 size. You can either download them or print them directly from your browser.
With these blank maps you can learn more about the geography of India, and use them for educational purposes like worksheets or class projects. Also, you can use any blank map of India to teach your students or kids about many characteristics of this country. So take a look, and get your blank India map today!
(Please note that the maps on this page have been updated from earlier versions and now also include the POK – Pakistan-occupied Kashmir – as integral part of India. If you are not familiar with what this is, Wikipedia offers some information about the Kashmir conflict.)
Outline Map of India
India is a country in South Asia, bordered by Afghanistan, Bangladesh, Bhutan, China, Myanmar, Nepal, and Pakistan. The country covers an area of 1.269 million square miles (3.28 million square kilometers). India is the 7th largest country in the world in terms of combined land and water mass. The population is over 1,4 billion people! As of February 2023, India surpassed China in the category of population size. It is now officially considered the country with the largest population in the world.
Below is the printable outline map of India.
Download as PDF (A4)
Download as PDF (A5)
Our outline map of India shows the outer boundaries of the country without any inner borders or labels. This map can be used to illustrate where in India you find certain geographic features like mountains, rivers, deserts, or even famous landmarks.
Interesting facts: The highest mountain in India is the Kanchenjunga peak at 29,032 feet (8,849 meters). The largest river in India, the Ganges, flows from the Himalayan mountains through the northern region, eventually emptying out into the Bay of Bengal.
Activity Idea: Can you draw the Kanchenjunga and the Ganges into your blank outline map of India?
India on a Map
Where is India located in Asia? It is in South Asia, at the bottom of the continent, surrounded by the Indian Ocean on the south, the Arabian Sea on the southwest, and the Bay of Bengal on the southeast. India is in the northern hemisphere, just a few degrees shy of the equator.
The coordinates of India on the map are 8°4′ north to 37°6′ north latitude and 68°7′ east to 97°25′ east longitude. Though a giant stretching country, it adheres to one time zone throughout. In 1947, India decided to have one single time zone: India Standard Time (IST), also known as UTC+5:30.
Download as PDF (A4)
Download as PDF (A5)
The above map that shows where is India situated was made with MapChart. It displays India on a map of Asia, but we also offer other versions with India on a world map.
You can use this outline map of India with neighbouring countries to learn about the country in the greater context of its location in the world.
Blank Map of India
India's climate is strongly shaped by two significant geographical features: the Himalayas and the Thar Desert. The barrier effect of the mountain range stops cold winds coming in from Central Asia. The physical barrier of the Himalayas keep much of India warmer than other countries at similar latitudes.
Meanwhile, moisture-laden south-west monsoon winds are drawn to towards arid regions such as the Thar throughout summer months (June–October), providing essential rainfall for many areas across this vast nation. There are four main climatic groupings that can typically be found in different parts of India; tropical wet, tropical dry, subtropical humid and montane.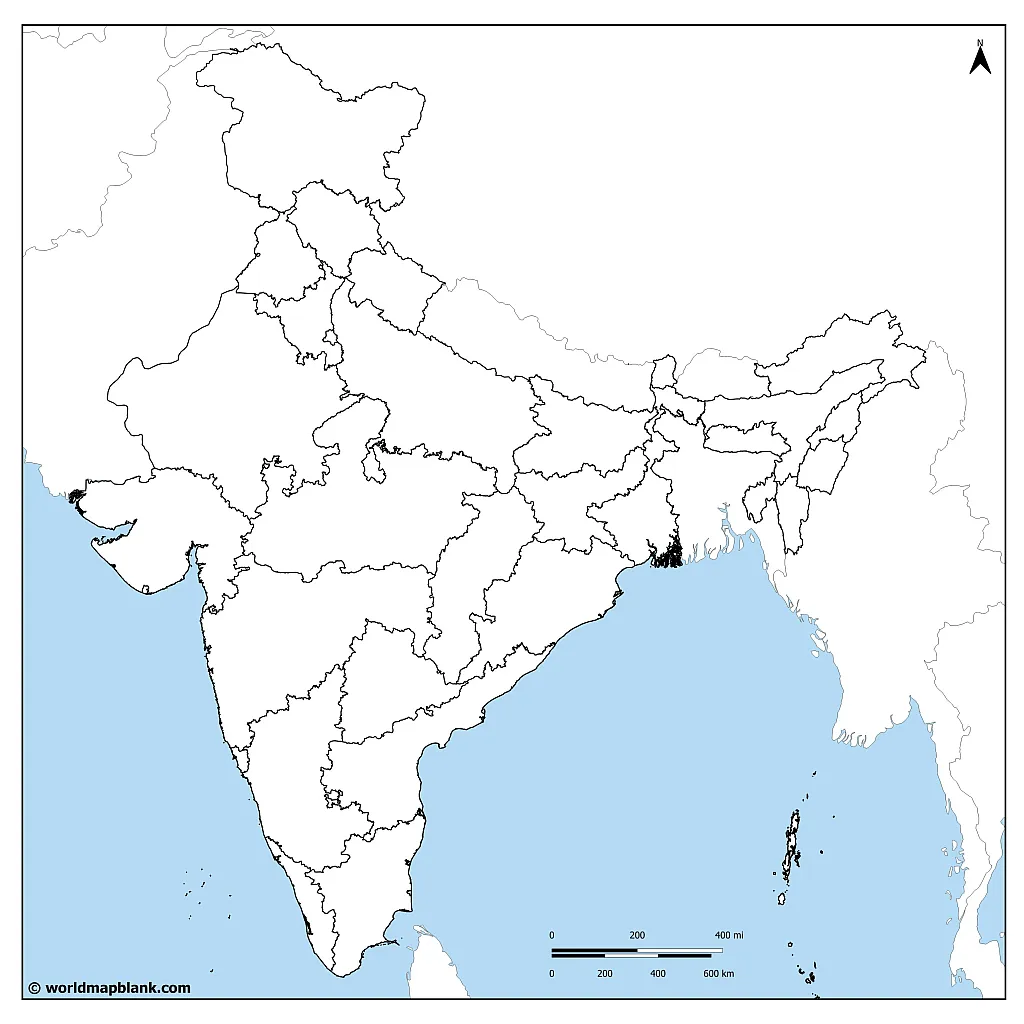 Download as PDF (A4)
Download as PDF (A5)
Activity Idea: On the outline map of India you can draw in the climate zones. Include the above mentioned Himalaya mountains, and the Thar desert to teach about how the geography affects the climate.
India Outline Map with States
India is a unique nation – it holds the distinction of being both federal and constitutionally sovereign. Since 1950, when the constitution came into effect. At its core, this country combines parliamentary governance with a commitment to abide by their supreme constitution. India is a federal union comprising 28 states and 8 union territories. In 1956 the states were reorganised on the basis of linguistic and cultural uniformity.
The below image is of a blank map of India with states marking the political boundaries, or administrative divisions of the country. You can use this map to learn about the particular demographics and the geographic positions of each region.
Download as PDF (A4)
Download as PDF (A5)
Activity idea: On an outline map of india show the following – make visual the linguistic diversity of the country. Identify the predominant language of each state and territory, shade or color each different colors.
The next map is the outline map of India with states and union territories. It shows us the boundaries of each state and union territory of India. This map not only shows the states and territories, but also the capital of each.
Political Outline Map of India with Capitals
Each state and territory have unique geographic features, and populations that have played their role in how the area has developed and continues to do so.
Maharashtra is the richest state in India and the financial capital of the country. Mumbai, a union territory, is one of the world's leading financial centers. Tamil Nadu, a state in the south is known for its automobile and manufacturing industries. Karnataka, another southern state is known for its software and technology industry.
Gujarat is one of India's most industrialized states and has a thriving textile industry. Uttar Pradesh is India's most populous state and has a significant political influence. West Bengal is known for its rich cultural heritage.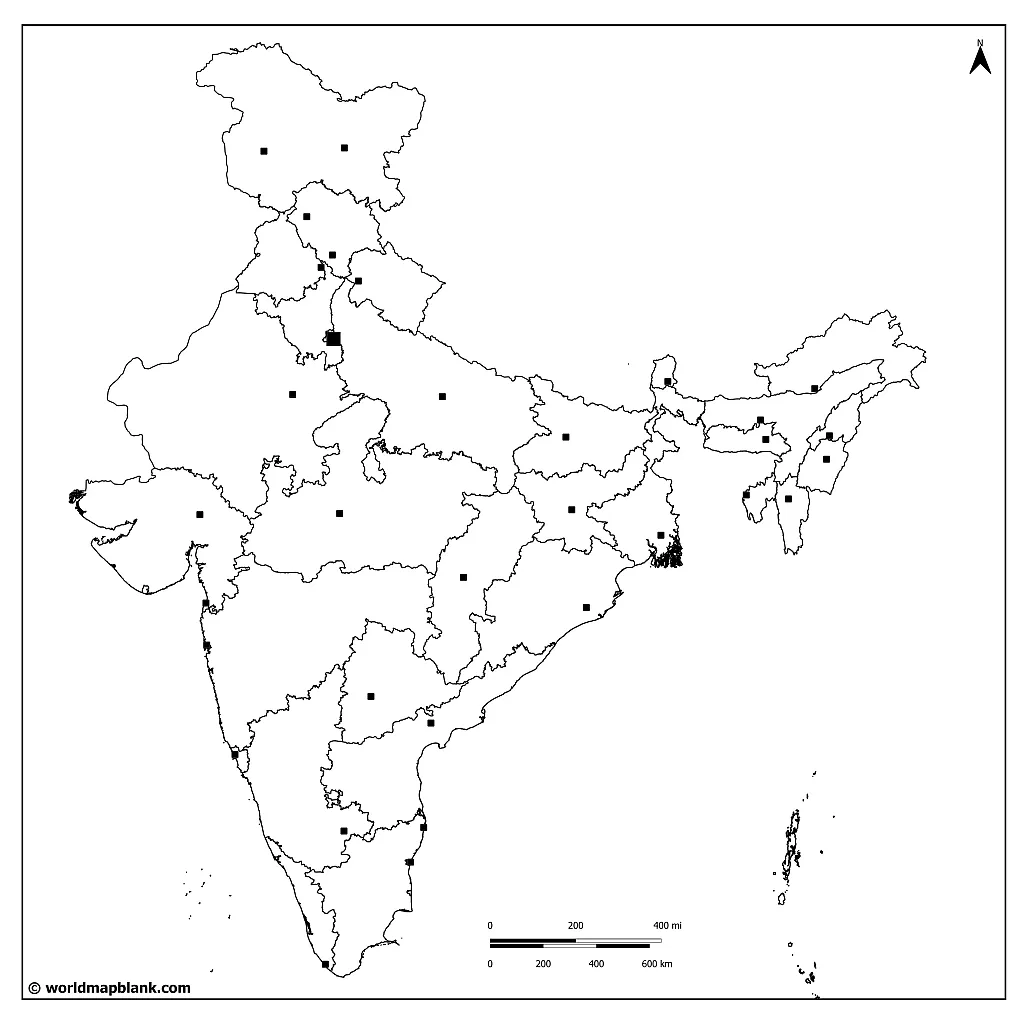 Download as PDF (A4)
Download as PDF (A5)
The above map is an India outline map with states and capitals.
Use the following list to label your India map with cities and states. The states and territories with their capitals are in alphabetical order.
States of India:
Agartala (Tripura)
Aizawl (Mizoram)
Amaravati (Andhra Pradesh)
Bengaluru (Karnataka)
Bhopal (Madhya Pradesh)
Bhubaneswar (Odisha)
Chandigarh (Haryana and Punjab)
Chennai (Tamil Nadu)
Dehradun (Uttarakhand)
Dispur (Assam)
Gandhinagar (Gujarat)
Hyderabad (Telangana)
Imphal (Manipur)
Itanagar (Arunachal Pradesh)
Jaipur (Rajasthan)
Kohima (Nagaland)
Kolkata (West Bengal)
Lucknow (Uttar Pradesh)
Mumbai (Maharashtra)
Panaji (Goa)
Patna (Bihar)
Raipur (Chhattisgarh)
Ranchi (Jharkhand)
Shillong (Meghalaya)
Shimla (Himachal Pradesh)
Srinagar (Jammu and Kashmir)
Thiruvananthapuram (Kerala)
Vijayawada (Andhra Pradesh)
Union territories of India:
Chandigarh (Chandigarh)
Dadra and Nagar Haveli (Silvassa)
Daman and Diu (Daman)
Jammu and Kashmir (Srinagar – Summer Capital and Jammu – Winter Capital)
Lakshadweep (Kavaratti)
New Delhi (National Capital Territory of Delhi) (New Delhi)
Puducherry (Pondicherry or Puducherry)
Andaman and Nicobar Islands (Port Blair)
Download the map of India with capital cities or print it out directly from your browser!
Blank India Cities Map
There is no city that has only one language spoken. Each city has two main languages, but most certainly there are speakers of all of the languages of India found in every city. The most widely spoken languages are the following, in descending order.
Hindi – 41% of the population
Bengali – 8.1%
Telugu – 7.2%
Marathi – 6.9%
Tamil – 5.9%
Gujarati – 4.5%
Urdu – 4.0%
Kannada – 3.6%
Odia – 3.3%
Punjabi – 2.8%
Keep in mind, the above list is just of the 10 most widely spoken languages. India has an impressive linguistic diversity with more than 19,500 languages or dialects spoken across the country.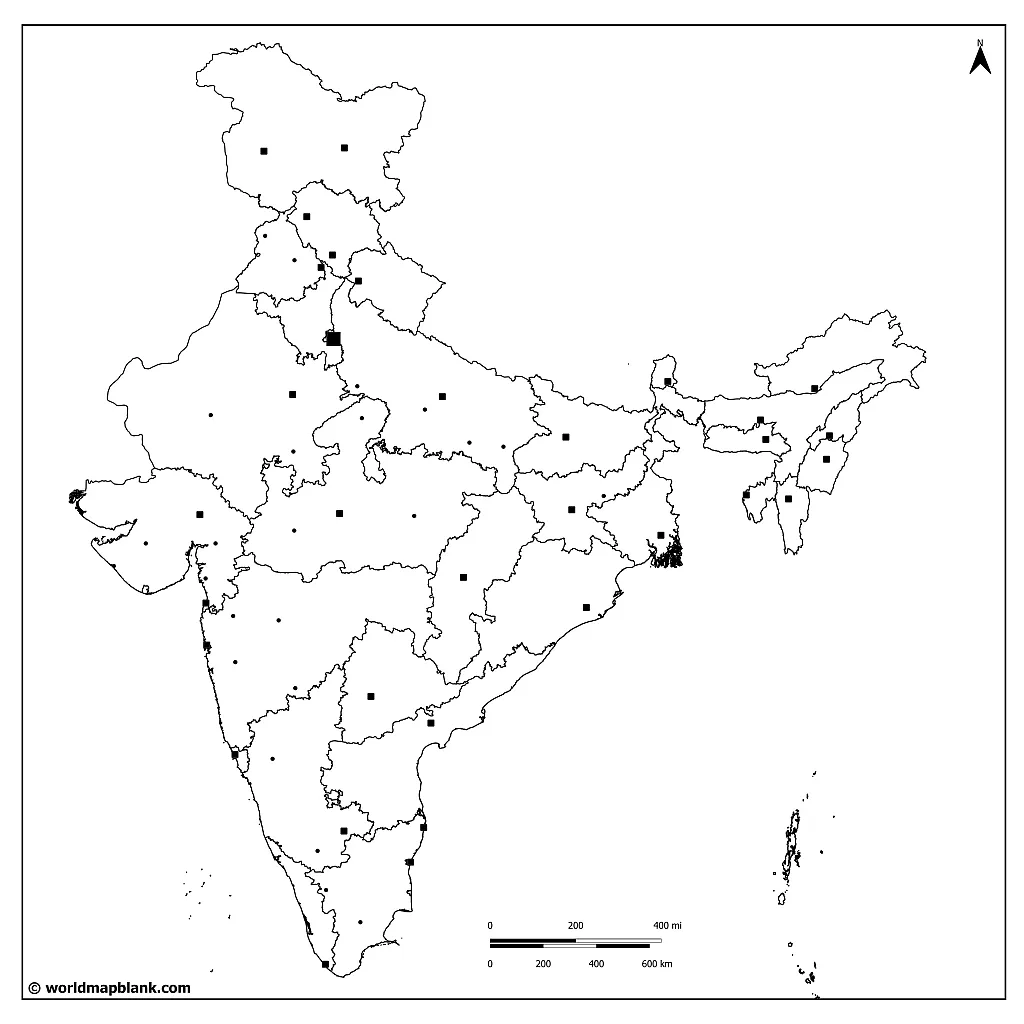 Download as PDF (A4)
Download as PDF (A5)
The above image is a map of India with all cities marked, ready to be labeled.
Here is a list of the top ten biggest cities of India, rounded to the nearest thousand, according to 2021 statistics:
Mumbai (Maharashtra) – 20,704,000
Delhi (National Capital Territory of Delhi) – 16,689,000
Bangalore (Karnataka) – 12,476,000
Hyderabad (Telangana) – 10,046,000
Ahmedabad (Gujarat) – 8,059,000
Chennai (Tamil Nadu) – 7,522,000
Kolkata (West Bengal) – 14,850,000
Surat (Gujarat) – 6,745,000
Pune (Maharashtra) – 6,655,000
Jaipur (Rajasthan) – 3,918,000
More Free Printable Maps
We hope you found what you were looking for! There are many more pages to explore, with blank maps, labeled maps, and specific genre maps. All of them are available as PDF files and free to download and print. Take a few more minutes and see what we have of use for you!
Country Maps
Continent Maps
World Maps
World Map with Oceans and Continents