Blank Map of France – France Outline Map [PDF]
Download your blank map of France or your France outline map for free in PDF. We offer several different versions for you to choose from, including an outline map of France with regions, a France outline map with cities, and a blank France map with neighboring countries.
Pick your preferred unlabeled map of France and download or print it directly from your browser for any personal, educational, or professional need. We also offer various versions of a France map with regions to complete your France maps collection or enhance the learning experience.
Finally, check out our France map worksheets with fun and interactive learning activities!
France Map Outline
Our first map is a simple outline France map, only showing the outer borders of the country. It is perfectly suited to get familiar with the exterior shape of France. Additionally, it could serve as the most advanced worksheet map where students must draw everything into the map: region borders, capitals, major cities, mountain ranges, rivers, etc. This makes this outline map of France the most versatile of its kind.
Download as PDF (A4)
Download as PDF (A5)
Examples could be the Mediterranean Sea and the French Riviera in southern France or the Massif Central and the Alps. Your students could also try to mark the Seine, Rhône, Loire, and Garonne rivers or even the neighboring countries Germany, Spain, Belgium, Luxembourg, Switzerland, and Italy. Maybe you can even add the locations of Andorra and Monaco!
Our following versions of a blank France map include additional geographical markers. Consequently, they can be used for more specific learning tasks.
France Map Blank with Regions
The first level of administrative divisions of France is its 18 regions. While metropolitan France is divided into 13 regions, the other 5 are French overseas regions. The lower levels of administration of the French Republic are the departments and communes.
Our following map is not a simple contour map but a France blank map with regions including all the domestic borders. It also shows the overseas regions, with the Caribbean islands of Guadeloupe and Martinique beside each other.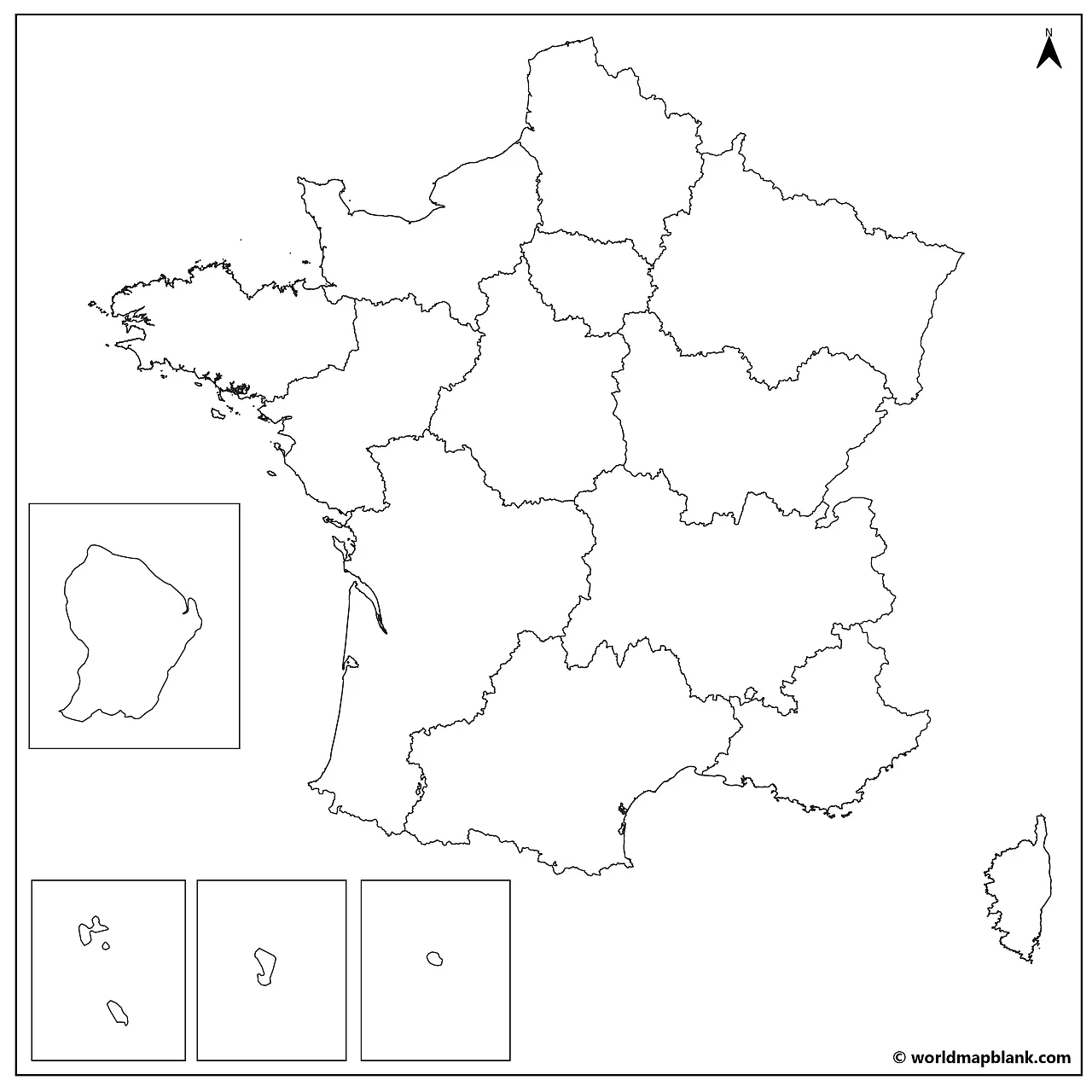 Download as PDF (A4)
Download as PDF (A5)
The outline map of France with regions is an excellent tool for memorizing the names of the French regions with coloring or labeling exercises.
If you want to learn more about the regions and cities of France, check out our labeled map of France page.
Blank Map of France with Regions
Here is another blank map of France with regions additionally, including neighboring countries and water bodies. As a result, it offers even further possibilities for education about the geography of France.
To learn about France in the context of Europe, our maps of the EU could be a valuable addition to your map collection!
Download as PDF (A4)
Download as PDF (A5)
Blank Map of France with Capitals
The following map is similar to the previous ones and includes the region capitals. In continental France, these are Lille (Hauts-de-France), Paris (Île-de-France), Rouen (Normandie), Strasbourg (Grand Est), Rennes (Bretagne), Nantes (Pays de la Loire), Orléans (Centre-Val de Loire), Dijon (Bourgogne-Franche-Comté), Lyon (Auvergne-Rhône-Alpes), Bordeaux (Nouvelle-Aquitaine), Toulouse (Occitanie) and Marseille (Provence-Alpes-Côte d'Azur). The capital of the island of Corsica is Ajaccio, and the overseas region capitals are Basse-Terre (Guadeloupe), Fort-de-France (Martinique), Cayenne (Guyane), Saint-Denis (La Réunion) and Dzaoudzi (Mayotte).
Download as PDF (A4)
Download as PDF (A5)
With this advanced outline map of France, you can take it a step further and learn or teach both the region names and the location and names of their capital cities.
France Map Outline with Cities
Our fifth map is a blank map of France with cities. Apart from the French regions and their capitals, it also includes the major cities in the country.
France's largest city is Paris, but also Lyon in the west, Marseille in the southeast, Toulouse in the south, and Lille in the north have more than a million inhabitants. If you need help finding the names of all the cities, take a look at our labeled map of France with cities.
Download as PDF (A4)
Download as PDF (A5)
Alternatively, please take a look below at the list of all the cities marked on the map. Now, you only need to assign the correct names to all the markers!
The cities in the map are Agen, Ajaccio, Auxerre, Basse-Terre, Bastia, Béziers, Bordeaux, Bourges, Brest, Brive, Cayenne, Calais, Cherbourg, Dieppe, Dijon, Dzaoudzi, Fort-de-France, Grenoble, La Rochelle, Le Havre, Le Mans, Lille, Lorient, Lyon, Marseille, Mulhouse, Nantes, Nevers, Nice, Nîmes, Orléans, Paris, Rennes, Rouen, Saint-Denis, Saint-Étienne, Strasbourg, Toulon, Toulouse, Tours, Troyes, Versailles and Vichy.
More Maps of France and the World
Here is a collection of other valuable resources about France, the world, and all the continents. If your desired map is not listed, you can use the search feature at the top of this page. As usual, you can download any map on our site as a PDF file and print it out as often as you need.
If you are interested in geography learning material, take a look at our map worksheets collection!
Country Maps
Continent Maps
World Maps