Australia Blank Map – Outline Map of Australia [PDF]
Download from this page your Australia blank map for free! We provide several versions of an outline map of Australia for studying and learning or teaching about the geography of Australia. Choose from various free and printable blank maps of Australia that you can download as PDF files in different sizes (A4 and A5). So, get your Australia blank map now!
And for even more great map resources about down under, check out our Australia map with states and cities! Last but not least, we offer ready-made and customizable Australia Map Worksheets.
Outline Map of Australia
The island nation of Australia is officially known as the Commonwealth of Australia and is located on the continent with the same name. The Australian continent also contains Tasmania and other smaller islands. The country's national capital is Canberra, and the population of Australia is about 26 million (in 2022).
Our first map is an outline Map of Australia showing only the outer boundaries of the country. It includes the main continent with Tasmania and some minor islands.
Download as PDF (A4)
Download as PDF (A5)
Australia is the world's largest island, surrounded by the Indian and Pacific Oceans. The world's sixth-largest country is known for its unique geographic features, including everything from rainforests and beaches to deserts and mountains.
Australia's most notable landmarks and sights include Uluru (formerly known as Ayers Rock), the Great Barrier Reef, and the Sydney Opera House. Uluru is a large sandstone rock formation in the southern part of the country, while the Great Barrier Reef is the world's most extensive coral reef system. The Sydney Opera House is one of Australia's most iconic buildings. It is located in the harbor of Sydney, the largest city in the country, with a population of roughly 5 million people.
Blank Map of Australia
A printable blank map of Australia is helpful for educators, students, and travelers. The map can be used for teaching about Australian geography, including the country's major cities, rivers, and mountain ranges. In particular, learners can draw these geographical features into the blank map to practice and deepen their knowledge.
Our following blank map of Australia includes the ocean surrounding the country and neighboring countries to the north.
Download as PDF (A4)
Download as PDF (A5)
A printed blank map of Australia also serves as a coloring page for kids to learn about the different states and territories. It encourages the creativity of children and makes learning more fun. You can also use it to visualize climate zones or natural disaster areas. Finally, a blank map might be helpful to plan a trip or track one's progress during a journey.
Australia Blank Map Outline
Here is another simple outline map of Australia which only shows the outer boundary of the main part of the country. Tasmania and other islands are not included in this empty map.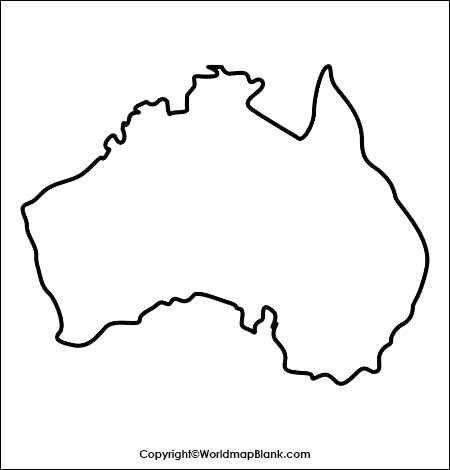 How to Download a Printable Blank Map of Australia
You can save the desired map's image or click on the download link under the image. This will open a PDF version of the relevant map in a new browser tab. You then have the option to save the PDF file on your device and print it out.
Free Printable Blank Map of Australia
The map below shows Australia and all its inner borders between states and territories. This printable blank map with state and territory borders is an excellent tool for coloring and memorizing the names and locations of the political subdivisions of Australia.
Additionally, any blank map can be used as a starting point for classroom activities and discussions about the country's culture, history, people, or economy. It can facilitate a complete geography learning experience and make the process more engaging and memorable.
Blank Map of Australia with States
Our following blank Australian map includes the borders between the states and territories. This map is great for memorizing all their names or testing what has (or should have) been learned previously.
Download as PDF (A4)
Download as PDF (A5)
Please note that the Jervis Bay Territory and minor islands are not shown in the above map.
What Are the States of Australia?
The six states of Australia are Western Australia, South Australia, Queensland, New South Wales, Victoria and Tasmania. The three territories comprise the Northern Territory, the Australian Capital Territory, and the Jervis Bay Territory.
Australia Outline Map Printable
Our following map is another outline map that now includes the island of Tasmania.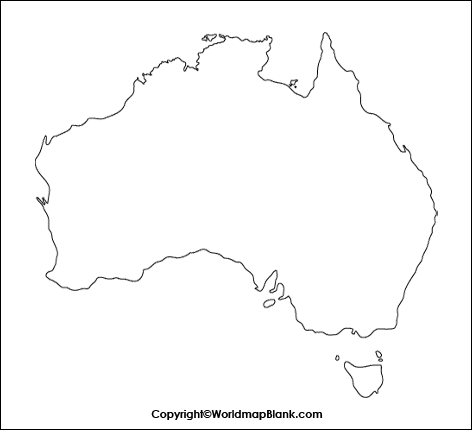 The island of Tasmania lies about 150 miles (240 kilometers) south of the Australian mainland. Apart from the main island, the state of Tasmania includes another 1,000 minor islands.
Simple Map of Australia Outline
The following map is a simple Australia map outline with the country's state borders.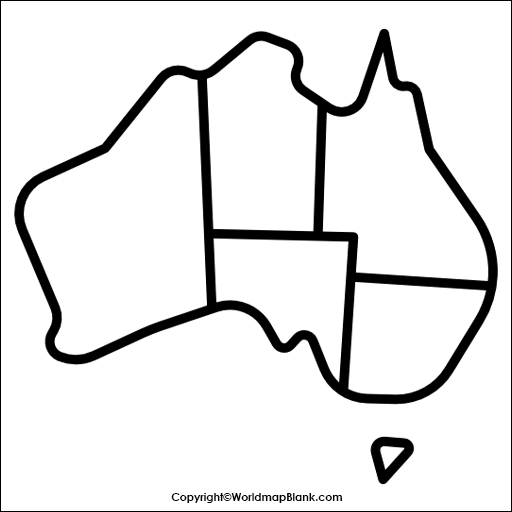 Our following maps will be more helpful in creating worksheets about Australia.
Australia Map Outline with States and Capitals
If you need an outline map of Australia with states and capitals, the next one should work for you. It shows the locations of Perth, Darwin, Brisbane, Adelaide, Melbourne, Sydney and Hobart.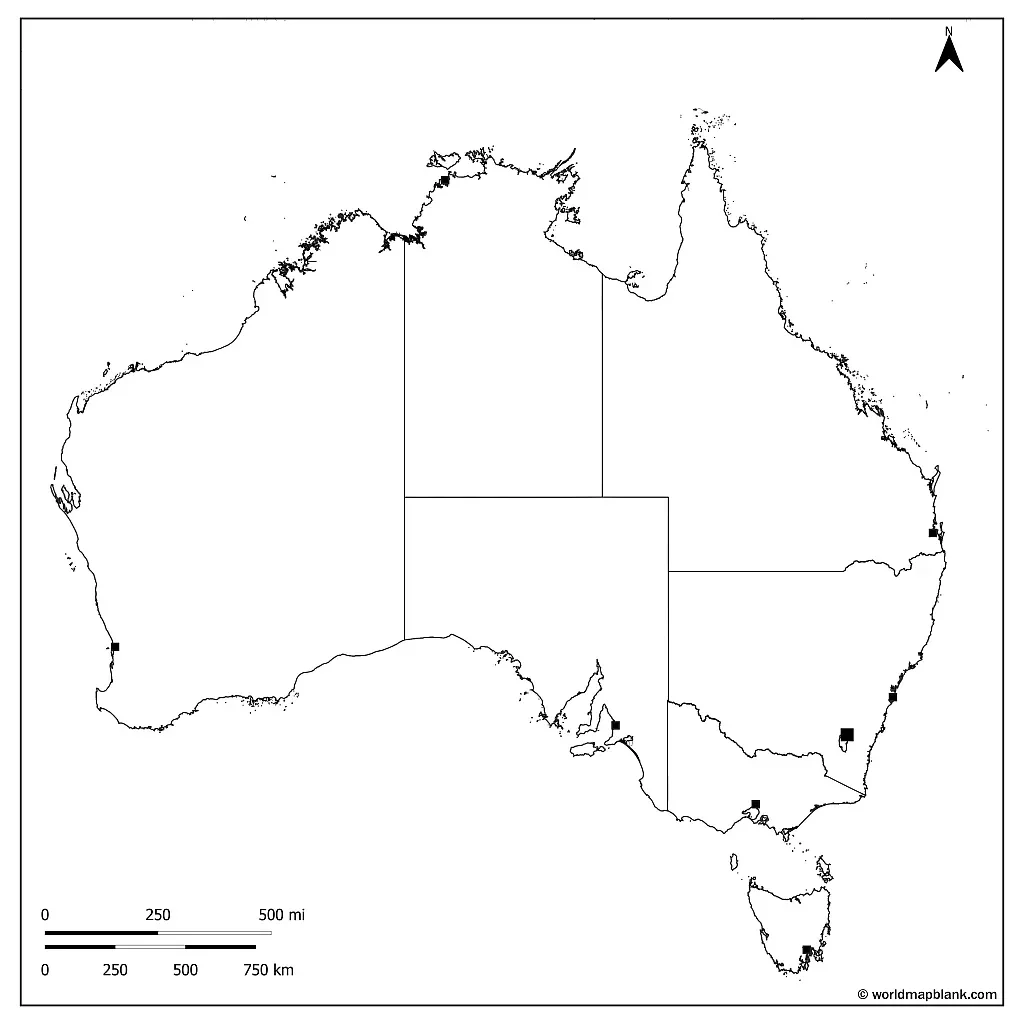 Download as PDF (A4)
Download as PDF (A5)
We'd like to suggest combining this and other maps from this page with a labeled map of Australia showing the same city locations.
Blank Australia Map with Cities
Our following blank map of Australia is our most detailed one, with additional markers for more Australian cities and towns.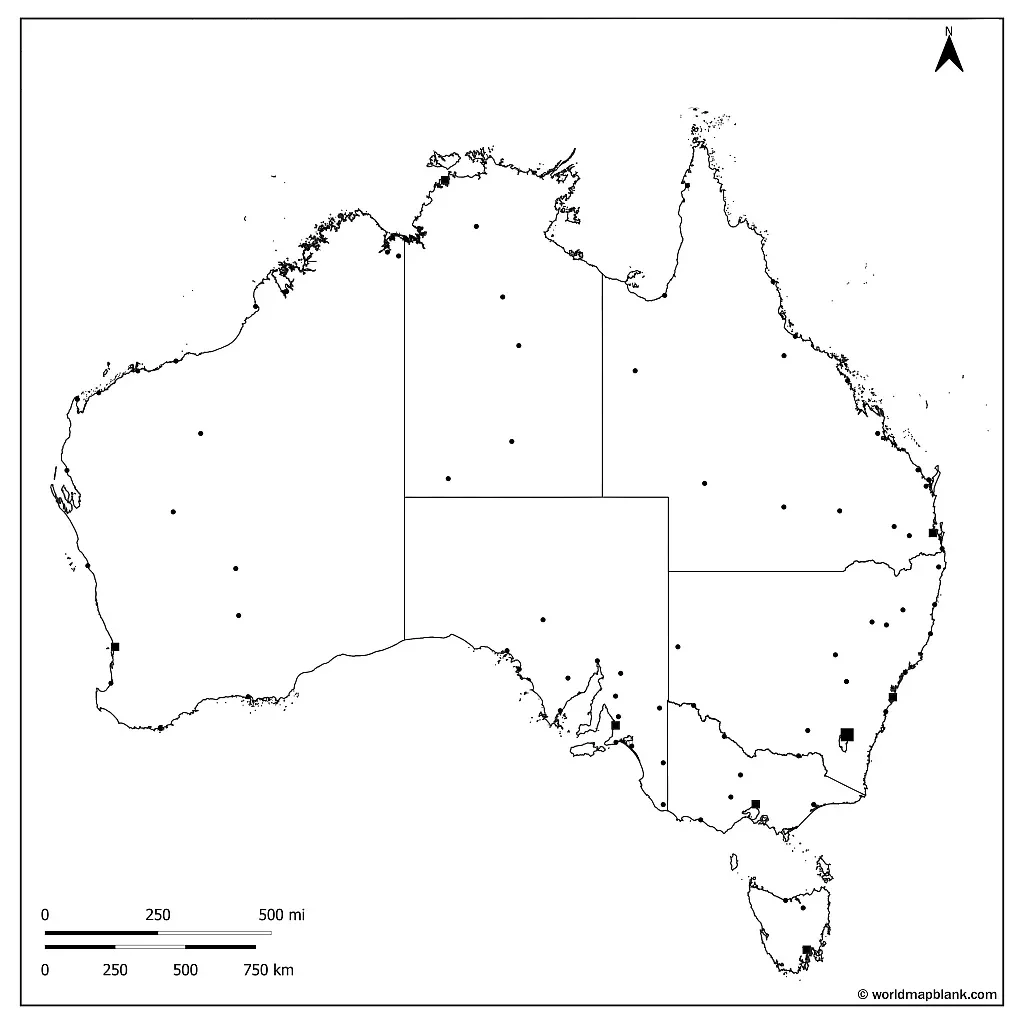 Download as PDF (A4)
Download as PDF (A5)
With the above map, you or your students can also practice the locations of cities like Gold Coast, Victoria, Canberra, Cairns, Alice Springs, and many more.
Additional Resources About Australia
Do you need more maps about Australia? Would you like to complement your teaching and learning experience with a labeled map? Then check out our other map resources about Australia in various categories:
There are many quality maps to choose from. So download your Australia maps now!
More Free Printable Maps to Download
We offer many more printable maps of the world, continents, and countries for download on this website. Here is a link collection to other maps in PDF format you might be interested in. You might also find your desired printable map via our search feature in the top menu of this page.
World Maps
Continent Maps
Country Maps