Blank Map of Norway – Printable Outline Map of Norway [PDF]
Do you need a blank map of Norway? If so, you have come to the right place! On this page, we provide several versions of a printable black-and-white Norway map for free download. Any PDF outline map of Norway is helpful for educational, professional, and personal purposes.
Our outline maps of Norway are perfect for teachers, students, parents, and anyone else who needs a blank map of Norway. So scroll down and get your free Norway outline map now!
Norway Outline Map
Norway is located in Northern Europe, known for its stunning natural beauty and high standard of living. It has a population of around 5.4 million people and covers an area of 385,207 square kilometers. Norway is bordered by Sweden, Finland, and Russia, and it has a long coastline that borders the North Sea, the Norwegian Sea, and the Arctic Ocean. You can find all these water bodies on our world map with seas.
We offer six different blank maps of Norway on our website, each with its own distinguishing features. The first is a simple outline map only showing the country's international borders. This map is great for students just learning about Norway or anyone needing a basic reference map. It might also be used for drawing or marking geographical features such as rivers or mountain ranges.
Download as PDF (A4)
Download as PDF (A5)
To download and print any of our blank maps of Norway, simply select the map you want and click on one of the download links under its image. You can then print the map directly from your browser or download a PDF file to your device.
If you need a more detailed black-and-white map of this Nordic country, please check out our other maps on this page. We offer maps both with the Norwegian counties and with the large cities in Norway.
Norway Blank Map with Counties
Norway is divided into eleven administrative regions, known as counties, which are further divided into 356 municipalities. The island territories of Svalbard and Jan Mayen are governed directly at the national level. The capital city, Oslo, is unique as it is both a county and a municipality.
In 2017, Norway decided to reduce the number of counties from 19 to 11, which took effect on January 1, 2020. However, the decision was met with widespread opposition, which led to the Storting (Norwegian parliament) voting on June 14th, 2022, to undo the reform partially. As a result, 15 counties will take effect from January 1st, 2024. Three of the merged counties are being dissolved, and some minor border changes will be made compared to when they were abolished.
Download as PDF (A4)
Download as PDF (A5)
Our second empty map of Norway above shows Norway's inner county borders (as of 2023) and its international borders. This map is more detailed than the simple outline map. It can be helpful in classroom activities or homework assignments that require additional information about the country.
What Countries Border Norway?
Norway shares land borders with three other countries: Sweden, Finland, and Russia. Apart from that, Norway has coastlines along the North Atlantic Ocean (North Sea), the Norwegian Sea, and the Barents Sea.
Our following map shows all these borders and coastlines, so it is excellent for teaching students about Norway's maritime boundaries and neighboring countries.
Download as PDF (A4)
Download as PDF (A5)
The following two maps also include the county capitals and other major towns in Norway.
Norway Map Outline with County Capitals
Here is a list of the 11 counties of Norway with their capital cities in brackets:
Agder (Kristiansand)
Innlandet (Lillehammer)
Møre og Romsdal (Molde)
Nordland (Bodø)
Oslo (Oslo)
Rogaland (Stavanger)
Troms og Finnmark (Tromsø)
Trøndelag (Trondheim)
Vestfold og Telemark (Tønsberg)
Vestland (Bergen)
Viken (Drammen)
Download as PDF (A4)
Download as PDF (A5)
The map above shows the counties and county capitals of Norway. This map is useful for students who are studying Norway's geography and need to know the location of the country's administrative centers.
Blank Norway Map with Cities and Towns
Our most detailed, black-and-white Norway map includes markers for additional larger towns.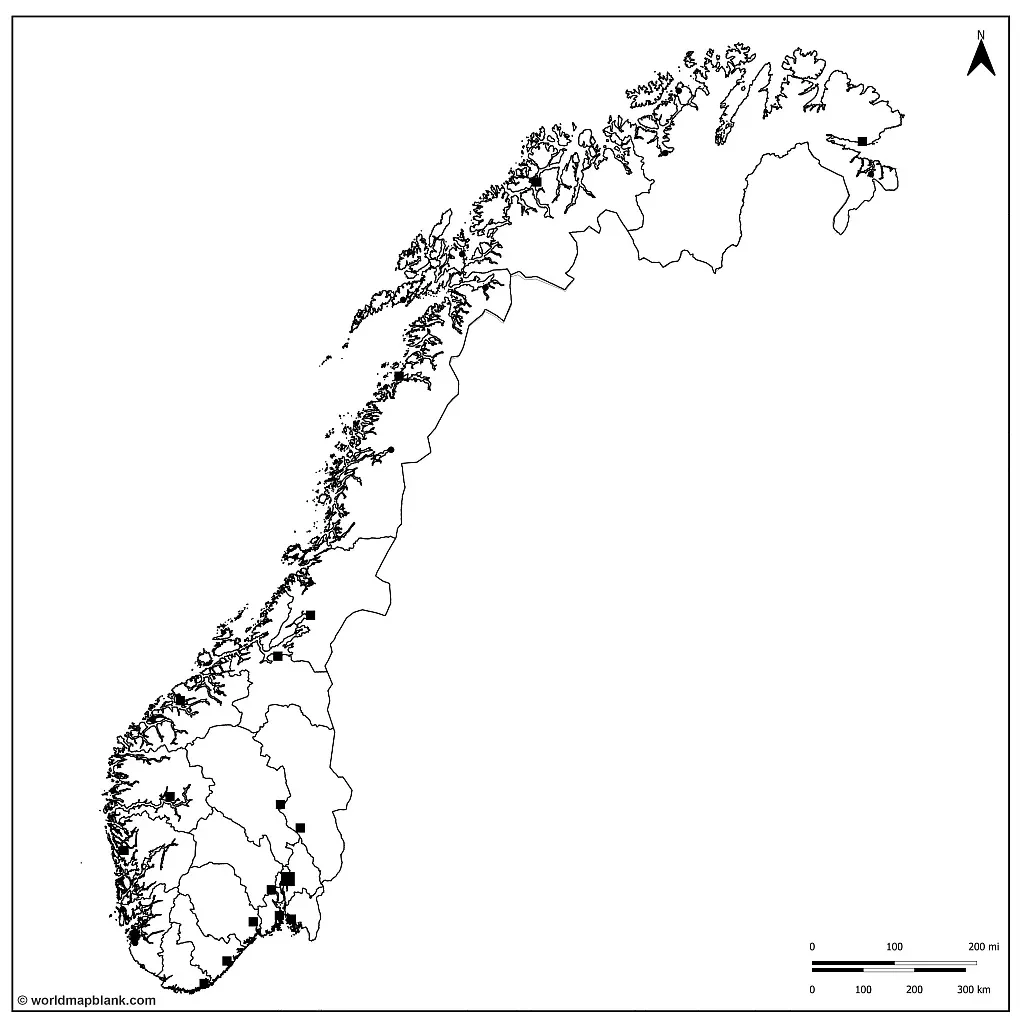 Download as PDF (A4)
Download as PDF (A5)
Please find below a list of the 10 major cities or urban areas (tettsteder) of Norway by population (2023):
Oslo (1.06 million)
Bergen (267,000)
Stavanger/Sandnes (232,000)
Trondheim (195,000)
Fredrikstad/Sarpsborg (119,000)
Drammen (111,000)
Porsgrunn/Skien (95,000)
Kristiansand (66,000)
Ålesund (55,000)
Tønsberg (54,600)
The numbers were provided by Norway's Statistisk sentralbyrå (SSB).
Where is Norway on a Map of Europe?
Here is a map that shows where Norway is located on a map of the European continent. This map was created with a tool called MapChart. Just to let you know, Norway is not a member state of the European Union, as can be seen from our map of the EU.
Download as PDF (A4)
Download as PDF (A5)
There are many ways to use a blank map of Norway, including for classroom activities, homework assignments, travel planning, or geography quizzes with kids at home. You can also use the map to explore the country's geography and natural features, such as its mountains, fjords, and glaciers.
Other Free PDF Maps for Download
A blank map of Norway is a valuable tool for anyone who wants to learn more about this beautiful country. Additionally, we offer labeled maps of Norway as well as a variety of other blank and labeled maps. They are all free to download and print, so explore our site and find the map that best suits your needs.
Here are a few links to some of our maps that might be interesting to you:
Maps of European Countries
Maps of Countries Worldwide
Continent Maps
World Maps
Maps for Specific Topics