Germany Postal Codes Map – Germany Map with ZIP Codes [PDF]
On this page we provide a Germany postal codes map and a Germany map with ZIP codes for free download as PDF files. These maps also include the states and many cities and towns in Germany.
If you need a different Germany map without postal code areas, please check out our Germany map with states. Additionally, we offer a blank map of Germany, which is particularly useful for practicing and memorizing knowledge about the Bundesländer (states), their capitals and the locations of other major cities in Germany. And of course, there are our Germany map worksheets with lots of fun and interactive exercises. Check them out!
Postal Codes of Germany Map
The first postal code system in Germany was created in July 1941 to improve the efficiency and accuracy of parcel and later general mail deliveries. This first system of ZIP codes in Germany only used 2 digits.
The main reason for introducing post codes was the massive amount of letters sent home by the German military forces. Also, many of the former post office clerks were now fighting in the war and had been replaced by inexperienced personnel. In addition to that, largely unknown or renamed towns in annexed territories had to be added.
Here is our first map with the zip codes of Germany which also shows the borders and names of the 16 German states. The national capital Berlin and the state capitals are marked with stars, while the map also includes a number of large cities.
Download as PDF (A4)
Download as PDF (A5)
In West Germany (Federal Republic of Germany), the old postal code system was replaced in 1962 by a four-digit system. This new system was meant to further improve the efficiency and accuracy of mail deliveries. The additional digits facilitated faster and better sorting and delivery of letters and packages. East Germany (German Democratic Republic) still used the old two-digit system until 1965, before it switched to a four-digit system also.
West Germany reserved certain number ranges for the East German postal system to be included in the event of reunification. The starting numbers 1 and 9 were not used for the new zip codes (apart from 1000 for West Berlin). East Germany however applied a system from 1 to 9 exclusively for its own territory.
Germany Map with ZIP Codes
Our next Germany ZIP codes map is a variation of the first one. The difference is that the one below does not include the names of the Germany.
Download as PDF (A4)
Download as PDF (A5)
After the reunification in 1990, two four-digit postal code systems existed with 5420 total codes – 3400 in the west and 2020 in the east. Instead of only changing the 802 duplicate codes, the Deutsche Bundespost (German federal post office) created a completely new postal code system for the entire country. Even if West Germany had set aside some numbers for the eastern part of the country, the 4-digit system was replaced with a new 5-digit system. This was based on the experience of other European postal administrations such as France and Sweden.
This new system provided more specific and granular codes that divided larger towns and cities into different areas. Additionally, it also allowed companies and institutions receiving a large amount of mail to have their own codes. As an example, the Humboldt University of Berlin has the post code 10099, while its street address is assigned 10117. The German parliament (Deutscher Bundestag) uses the zip code 11011.
ZIP Codes of Germany Map
Our next map shows the ZIP code areas of Germany as well as the German states with names and borders. In addition to the state capitals, many mayor cities and the neighboring countries of Germany are included as well.
Download as PDF (A4)
Download as PDF (A5)
Today, roughly 30,000 of 100,000 theoretically possible postcodes are used in Germany. Due to certain restrictions, the actual maximum would be 98,901 zip codes.
Postal Codes Germany Map
The first two digits of the German postal codes indicate the zone and region of the relevant address. That's why they are also called the routing region (Postleitregion). Between 20 to 200 numbers are assigned to any given routing region, starting with the main post office and then distributed partly by population size and alphabetically. Lowest numbers are assigned for PO boxes while highest ones go to delivery districts.
Today, Germany's military postal service uses its own number system based deployment areas.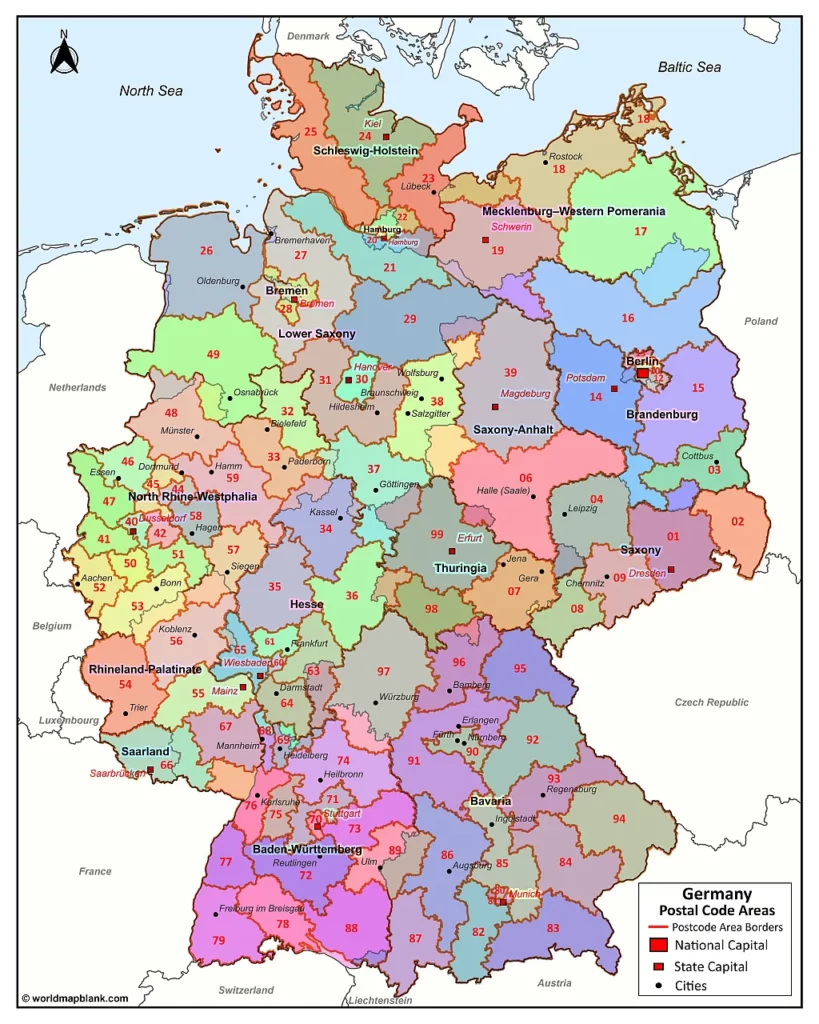 Download as PDF (A4)
Download as PDF (A5)
Our final Germany map with postal codes above is an alternative version of the previous one. This variation also includes the boundary lines of the 2-digit postal code areas. Note that these are different from the borders between the German states.
More Free Maps of Germany
Here are some links to other maps of or including Germany that we offer for free on our website:
Other PDF Maps for Download
If you are looking for more interesting maps of the world, continents or single countries, check out the collection below. You can also use the search feature on top of this page. All our maps can be downloaded for free as PDF files.
World Maps
Continent Maps
Country Maps