Colorado Outline Map – Blank Map of Colorado [PDF]
On this page, we offer different variations of a Colorado outline map or a blank map of Colorado. As usual, you can download all maps for free as PDF files. Use them to teach about the geography of Colorado county maps or to learn about this amazing US state.
Also, check out our section with other maps of the USA, where you can find a map of the United States with all the states labeled. We also offer a blank US map, a US Interstate Highway map, and many more maps of single states of the United States of America.
Additionally, you will find USA map worksheets in our shop. Check them out!
Colorado Outline Map
Nestled in the heart of the American West, Colorado stands as an emblem of the nation's rugged beauty and industrious spirit. Often referred to as the "Centennial State", due to its statehood being granted in the centennial year of the United States (1876), Colorado is a vibrant tapestry of stunning landscapes, thriving cities, and rich historical narratives. Our blank Colorado maps on this page help with learning the state's shape, county names, cities, and more.
Download as PDF (A4)
Download as PDF (A5)
Our first blank Colorado map above only shows the state outline in its almost perfect rectangular form. It is the most simple map we offer. Only including the silhouette of the state, it is great for drawing rivers or other features into the map.
Click on the links below the image to download, save, and print the map for using it royalty-free.
Colorado State Outline with Counties
The story of Colorado as a US state begins in the mid-19th century with the Pike's Peak Gold Rush of 1858, which brought an influx of settlers seeking fortune. Colorado was initially part of Kansas, Nebraska, Utah, and New Mexico Territories before becoming the Territory of Colorado in 1861.
In 1876, a hundred years after the United States declared its independence, Colorado was admitted as the 38th state. The state quickly gained a reputation for its valuable mineral resources, including gold and silver, which shaped much of its early economic development. The late 19th and early 20th centuries saw growth in agriculture, bolstered by the Homestead Act of 1862 which provided land grants to settlers.
The 20th century brought further development to Colorado, with the construction of military bases during the world wars, and the boom in outdoor tourism with the creation of several national parks and monuments. Today, Colorado's economy is diversified, including sectors such as technology, aerospace, and renewable energy, yet it retains a solid connection to its mining and agricultural past.
The following map includes the borders of all the counties of Colorado. It is a great option to learn about the county names of the state.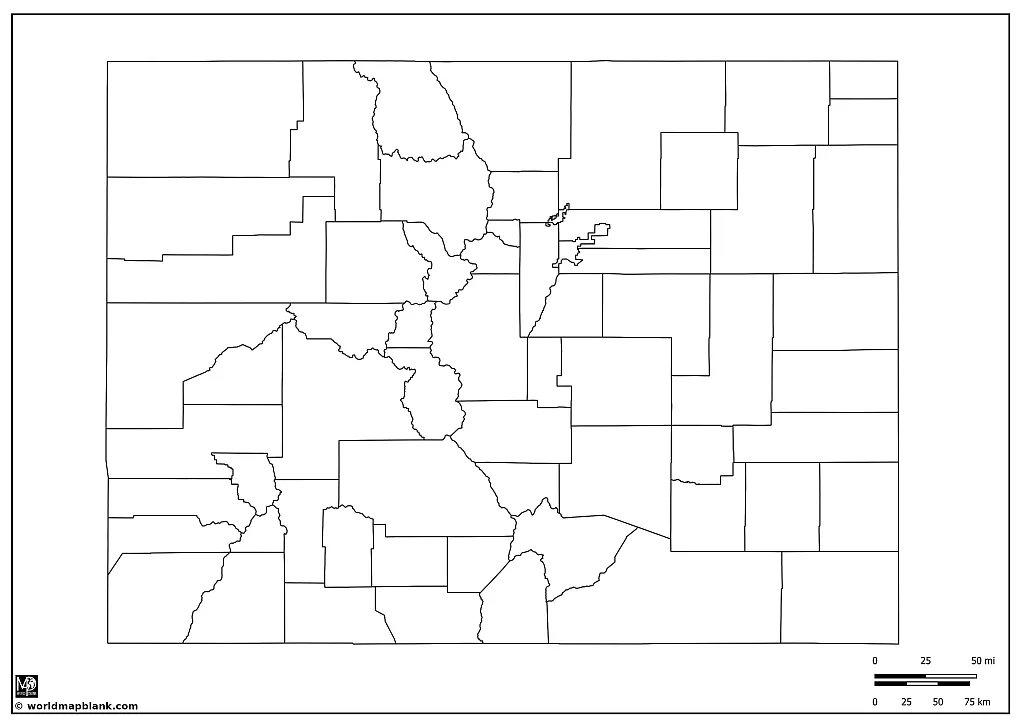 Download as PDF (A4)
Download as PDF (A5)
If you need more detailed Colorado county maps, scroll down further to find one with all the county seats and another one with additional cities.
Blank Colorado Map with Capital City and County Seats
Denver, the capital and most populous city of Colorado, is an urban gem located at the foot of the Rocky Mountains. Established in 1858 as a gold mining town, Denver has grown into a bustling metropolis, offering a unique blend of natural beauty and cosmopolitan amenities.
The city is renowned for its vibrant arts scene, outdoor recreational activities, and culinary delights. Landmarks such as the Denver Art Museum, the Denver Zoo, Red Rocks Park, and Amphitheatre showcase the city's cultural and natural riches. Denver also holds the distinction of being one of the few U.S. cities with four major professional sports teams: The Denver Broncos (NFL), the Colorado Rockies (MLB), the Denver Nuggets (NBA), and the Colorado Avalanche (NHL).
Download as PDF (A4)
Download as PDF (A5)
Colorado has a total number of 64 counties. Here is a list of all of them, including the county names and the names of the county seats:
Adams County – Brighton
Alamosa County – Alamosa
Arapahoe County – Littleton
Archuleta County – Pagosa Springs
Baca County – Springfield
Bent County – Las Animas
Boulder County – Boulder
Broomfield, City and County – Broomfield
Chaffee County – Salida
Cheyenne County – Cheyenne Wells
Clear Creek County – Georgetown
Conejos County – Conejos
Costilla County – San Luis
Crowley County – Ordway
Custer County – Westcliffe
Delta County – Delta
Denver, City and County – Denver
Dolores County – Dove Creek
Douglas County – Castle Rock
Eagle County – Eagle
Elbert County – Kiowa
El Paso County – Colorado Springs
Fremont County – Cañon City
Garfield County – Glenwood Springs
Gilpin County – Central City
Grand County – Hot Sulphur Springs
Gunnison County – Gunnison
Hinsdale County – Lake City
Huerfano County – Walsenburg
Jackson County – Walden
Jefferson County – Golden
Kiowa County – Eads
Kit Carson County – Burlington
Lake County – Leadville
La Plata County – Durango
Larimer County – Fort Collins
Las Animas County – Trinidad
Lincoln County – Hugo
Logan County – Sterling
Mesa County – Grand Junction
Mineral County – Creede
Moffat County – Craig
Montezuma County – Cortez
Montrose County – Montrose
Morgan County – Fort Morgan
Otero County – La Junta
Ouray County – Ouray
Park County – Fairplay
Phillips County – Holyoke
Pitkin County – Aspen
Prowers County – Lamar
Pueblo County – Pueblo
Rio Blanco County – Meeker
Rio Grande County – Del Norte
Routt County – Steamboat Springs
Saguache County – Saguache
San Juan County – Silverton
San Miguel County – Telluride
Sedgwick County – Julesburg
Summit County – Breckenridge
Teller County – Cripple Creek
Washington County – Akron
Weld County – Greeley
Yuma County – Wray
This list will be useful in learning exercises where the goal is to memorize all the Colorado county names.
Outline Colorado Map with Cities
Our following map is similar to the one above but includes some more cities. Here is a list of all the additional cities and towns shown on the map (with their counties in brackets):
Arvada (Jefferson)
Aurora (Arapahoe)
Bayfield (La Plata)
Calhan (El Paso)
Cedaredge (Delta)
Collbran (Garfield)
Crawford (Delta)
Dolores (Montezuma)
Flagler (Kit Carson)
Fleming (Logan)
Fort Lupton (Weld)
Fruita (Garfield)
Haxtun (Phillips)
Hayden (Routt)
Holly (Prowers)
Lakewood (Jefferson)
Kersey (Weld)
Kim (Las Animas)
La Jara (Conejos)
Limon (Lincoln)
Mancos (Montezuma)
Monte Vista (Rio Grande)
Monument (El Paso)
Nucla (Montrose)
Oak Creek (Routt)
Otis (Washington)
Paonia (Delta)
Penrose (Fremont)
Pierce (Weld)
Rico (Dolores)
Ridgway (Ouray)
Rifle (Garfield)
Security-Widefield (El Paso)
Seibert (Kit Carson)
Steamboat Springs (Routt)
Stratton (Kit Carson)
Walsh (Baca)
Woodland Park (Teller)
Yuma (Yuma)
Download as PDF (A4)
Download as PDF (A5)
The five largest cities in Colorado are the state capital Denver (715,000), Colorado Springs (490,000), Aurora (400,000), Fort Collins (168,000), and Lakewood (158,000).
Denver: Known as the "Mile High City" for its altitude of exactly one mile above sea level, Denver is the most populous city in Colorado and its capital. It's a major hub for commerce and transportation in the region, with a strong economy driven by sectors such as aerospace, telecommunications, and technology. Denver offers a vibrant arts scene and several renowned museums. It is also a gateway to the Rocky Mountains for outdoor enthusiasts.
Colorado Springs: Situated at the base of Pikes Peak, one of the most famous mountains in the U.S., Colorado Springs is the second-largest city in Colorado. It's home to the U.S. Air Force Academy and several military installations, contributing to its strong defense sector. The city is also recognized for its scenic beauty and outdoor recreational opportunities, such as hiking, biking, and rock climbing.
Aurora: As the third-largest city in Colorado, Aurora is part of the Denver metropolitan area. It boasts over 100 parks and several nature reserves, making it a great destination for outdoor activities. The city is also known for its cultural institutions, including the Aurora History Museum and the Aurora Fox Arts Center.
Fort Collins: Located at the base of the Rocky Mountain foothills, Fort Collins is famous for Colorado State University and its vibrant student life. The city offers a mix of college-town vibrancy and natural beauty. Fort Collins also has a burgeoning tech industry and is known for its thriving microbrewery scene.
Lakewood: Situated just west of Denver, Lakewood is Colorado's fifth-largest city. It provides easy access to the Rocky Mountains, and it's known for its vast open spaces, including Bear Creek Lake Park. Lakewood maintains a balance between urban development and the preservation of its natural surroundings.
Colorado Blank Map with Neighboring States
Our final blank map of Colorado is a variation showing not only the county borders and seats as well as the state capital, but also the borders of Colorado's neighboring states.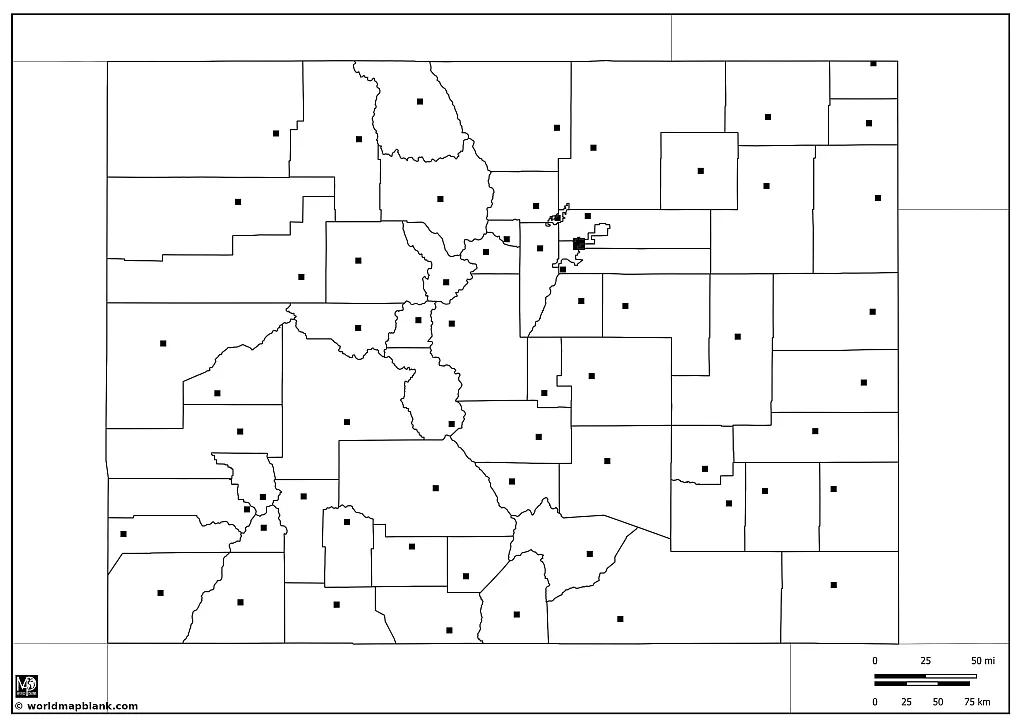 Download as PDF (A4)
Download as PDF (A5)
As a landlocked state, Colorado shares borders with seven other US states. Here is a brief overview of each of them:
Wyoming is located to the north of Colorado. It's known for its wide-open spaces, including the iconic Yellowstone National Park and Grand Teton National Park. The capital and largest city of Wyoming is Cheyenne.
Nebraska is situated to the northeast of Colorado. It is largely characterized by its agricultural economy, including beef, pork, corn, and soybeans. The largest city of Nebraska is Omaha, and the capital is Lincoln.
Kansas in the east of Colorado is primarily an agricultural state. It is known for its wheat, corn, and sorghum crops. The largest city of Kansas is Wichita, and the capital is Topeka.
Oklahoma lies to the southeast of Colorado and is a major producer of natural gas, oil, and agricultural products. Oklahoma City, its capital and largest city, is known for its cowboy culture and capitol complex.
New Mexico to the south is noted for its diverse landscape, featuring deserts, high plains, and mountains. The capital city of New Mexico is Santa Fe, known for its Pueblo-style architecture, while the largest city is Albuquerque.
Arizona shares only a small boundary with Colorado at the Four Corners Monument. This is the only point in the U.S. where four states meet (Arizona, New Mexico, Colorado, and Utah). Arizona is known for its warm climate and the Grand Canyon. The capital and largest city is Phoenix.
Utah is located to the west of Colorado and is known for its diverse landscapes, ranging from arid deserts to pine forests in mountain valleys. Salt Lake City, the capital and largest city of Utah, is famous as the headquarters of the Church of Jesus Christ of Latter-day Saints.
More USA Maps
If you are looking for more maps of U.S. states or a blank USA map, check out our section with US maps. Here are a few direct links to resources that might be interesting to you:
Other Free PDF Maps
We also offer a wide range of world maps, continent maps, and country maps. Here are links to some of our most popular ones (all available in PDF):
World Maps
Continent Maps
Country Maps