Arizona Outline Map – Blank Map of Arizona [PDF]
Do you need an Arizona outline map for educational, professional or private purposes? Then choose below from our five different versions of a blank map of Arizona! As usual, all our maps are available in PDF and in two different sizes A4 and A5.
Apart from blank Arizona state maps, we provide many more USA maps and free geography resources about the world, continents and countries.
We also offer a collection of map worksheets you can print and Arizona wall maps on our shop site.
So check out our maps below and get your free Arizona outline map now!
Arizona Outline Map
Arizona is home to a rich tapestry of history that spans thousands of years, dating back to prehistoric Indigenous populations. The area was home to various Native American tribes, such as the Apache, Hopi, Navajo, and Pima, long before European exploration. The Spanish first entered the region in the mid-1500s, in search of legendary cities of gold, but the harsh desert conditions thwarted these early expeditions.
Arizona became a Spanish territory following the 1539 expedition led by Marcos de Niza. After the Mexican War of Independence, it briefly became a part of Mexico until the United States acquired it as part of the Gadsden Purchase in 1854. The region remained a territory for several decades, before officially becoming the 48th state of the United States in 1912.
Our first map is a simple Arizona map that only shows the outer boundaries of the state.
Download as PDF (A4)
Download as PDF (A5)
Download your desired version(s) of any blank Arizona map from this page by clicking on the relevant download link(s) below the image(s). All our PDF maps are free of charge and can be used according to our licensing terms.
Blank Arizona Map with Counties
As of 2023, the state's estimated population is around 7.5 million people. Its population is diverse, with large communities of both Indigenous people and Latinos. English and Spanish are the two most widely spoken languages.
The population distribution of Arizona is uneven, with the majority residing in and around the Phoenix metropolitan area in Maricopa County. This area alone accounts for more than half of the state's total population. Other urban centers such as Tucson and Flagstaff also contribute significantly to the population count.
The racial and ethnic composition of Arizona is diverse and multifaceted. The state has a high proportion of Latinos, making up approximately 32% of the population, a reflection of its historical and geographical ties with Mexico. Non-Hispanic Whites constitute about 50% of the population, while African Americans make up around 5%. Native Americans comprise approximately 4% of the population, with the state being home to 22 federally recognized tribes. The largest of these are the Navajo Nation, the Tohono O'odham, and the Hopi Tribe. The state also has a small but significant Asian American and Pacific Islander population.
Arizona is also known for its substantial senior population, as the warm climate and numerous retirement communities make it an attractive destination for retirees. As per the latest data, nearly 18% of Arizona's population is 65 years or older, which is higher than the national average.
Download as PDF (A4)
Download as PDF (A5)
The map above is a blank Arizona map of counties. It is great for coloring and marking activities. For instance, you could give your class the task to shade the original territories of various Native American tribes into the map.
Arizona Outline Map with Neighboring States
Arizona shares borders with four U.S. states and one foreign country:
California: Located to the west of Arizona, California shares a border that is largely defined by the Colorado River.
Nevada: Io the northwest, Arizona borders the southern part of Nevada, again with the Colorado River playing a major role in defining the border.
Utah: Arizona shares its northern border with Utah, with the distinct Four Corners Monument marking the point where Arizona, Utah, Colorado, and New Mexico meet. It is the only such point in the United States.
New Mexico: In the east, Arizona is bordered by New Mexico.
Mexico: Io the south, Arizona shares a 372-mile international border with the Mexican states of Sonora and Baja California. This border features several border crossings and is a significant factor in the economic and cultural life of the state, particularly in cities like Tucson and Yuma.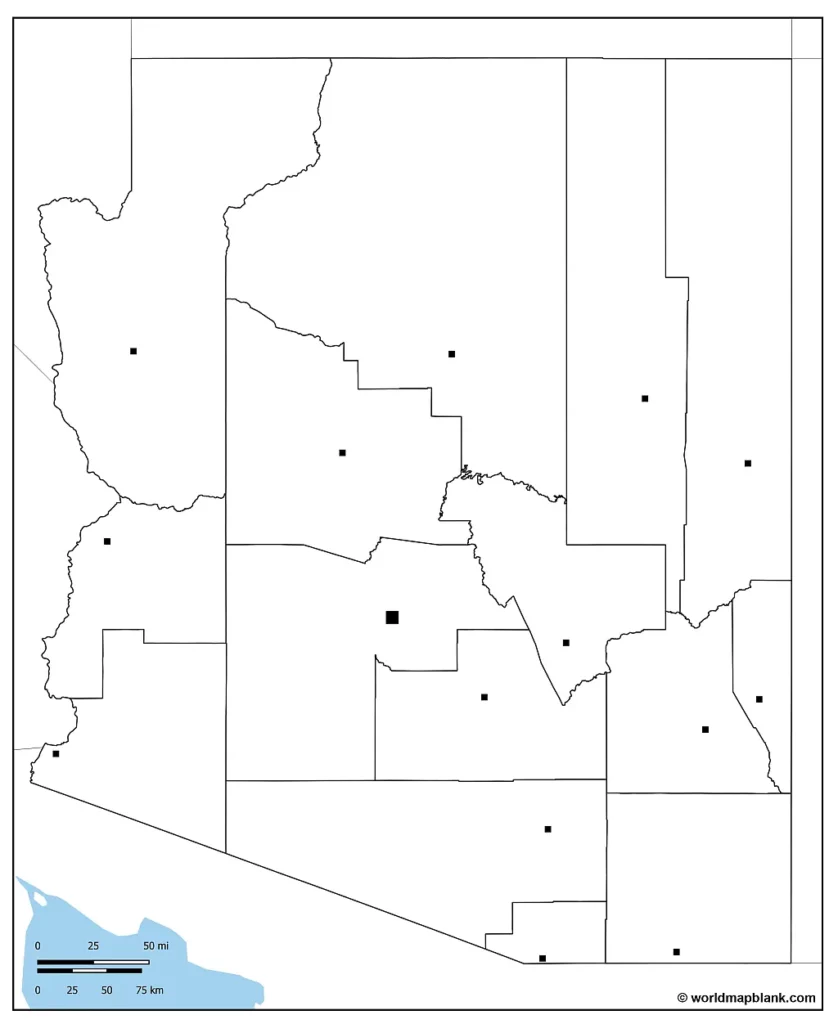 Download as PDF (A4)
Download as PDF (A5)
The map above shows all the county borders within Arizona as well as the neighboring US states, Mexico, a part of the Gulf of California as well as Mexican territory at the border to Arizona.
Blank Map of Arizona with County Seats
Arizona is divided into 15 counties, each with its own county seat. Here's a list of each county along with its county seat:
Apache County – St. Johns
Cochise County – Bisbee
Coconino County – Flagstaff
Gila County – Globe
Graham County – Safford
Greenlee County – Clifton
La Paz County – Parker
Maricopa County – Phoenix
Mohave County – Kingman
Navajo County – Holbrook
Pima County – Tucson
Pinal County – Florence
Santa Cruz County – Nogales
Yavapai County – Prescott
Yuma County – Yuma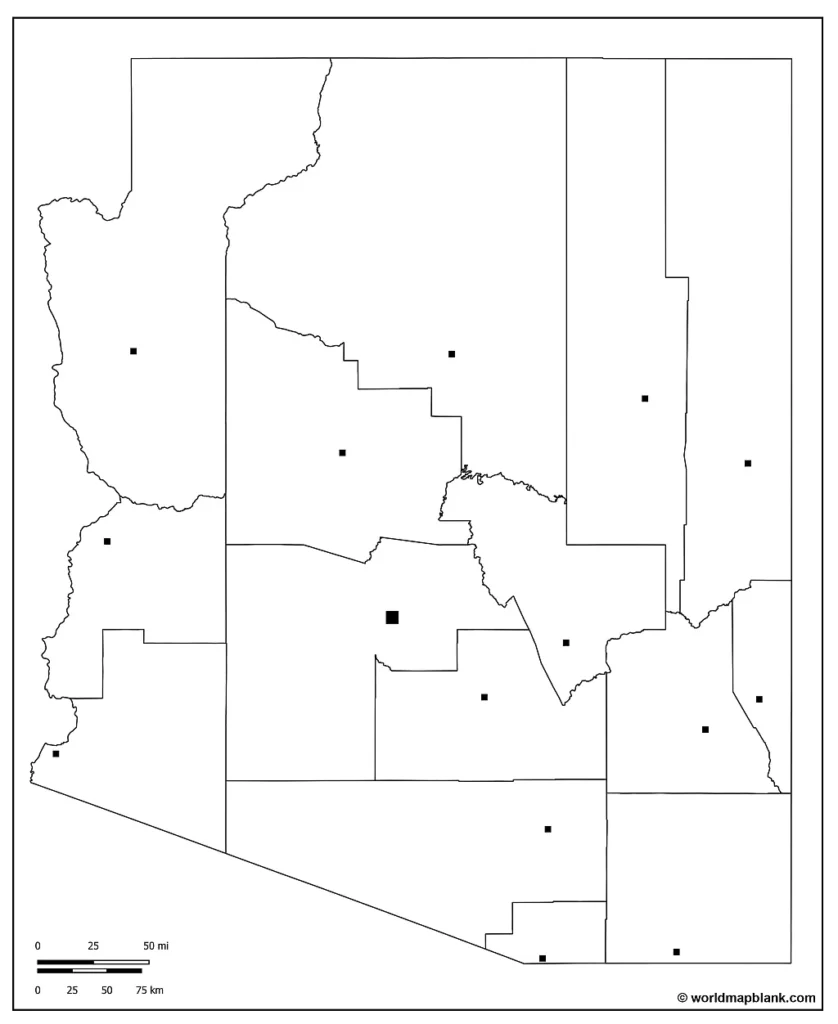 Download as PDF (A4)
Download as PDF (A5)
Click on the links below the image to download PDF files of a blank map of Arizona with county seats. You can save the files on your device and print as many copies as you need. Alternatively, just print your desired outline map of Arizona via your browser.
Highways in Arizona
The backbone of Arizona's highway system is its interstates, with Interstate 10 (I-10) serving as a vital east-west corridor. Spanning approximately 360 miles, I-10 enters Arizona from California in the west and stretches all the way to the New Mexico border in the east. It passes through major cities like Phoenix and Tucson, connecting various communities and serving as a critical route for both local commuters and long-distance travelers.
Another prominent interstate in Arizona is Interstate 17 (I-17), which runs predominantly north-south. This highway stretches about 145 miles from Phoenix to Flagstaff, traversing the scenic landscapes of the Sonoran Desert and ascending through the breathtaking landscapes of the Coconino National Forest. I-17 is not only a key transportation artery for travelers heading to northern Arizona and the Grand Canyon, but it also serves as an important commuter route for residents of the Phoenix metropolitan area.
In addition to the interstates, Arizona boasts an extensive system of state highways that provide access to various regions within the state. Highways like State Route 89 (SR-89) and State Route 93 (SR-93) offer scenic drives, taking motorists through picturesque landscapes such as the Verde Valley and the Joshua Tree forests of the Arizona Strip.
You can learn more about the highways in Arizona with our different versions of a US interstate map.
Arizona on a Map
Have you ever wondered where is Arizona? Our below map shows the location of Arizona on a map of the United States.
Download as PDF (A4)
Download as PDF (A5)
The map above was created with a tool called MapChart. Here is another version which also includes the state name abbreviations (created with the same tool):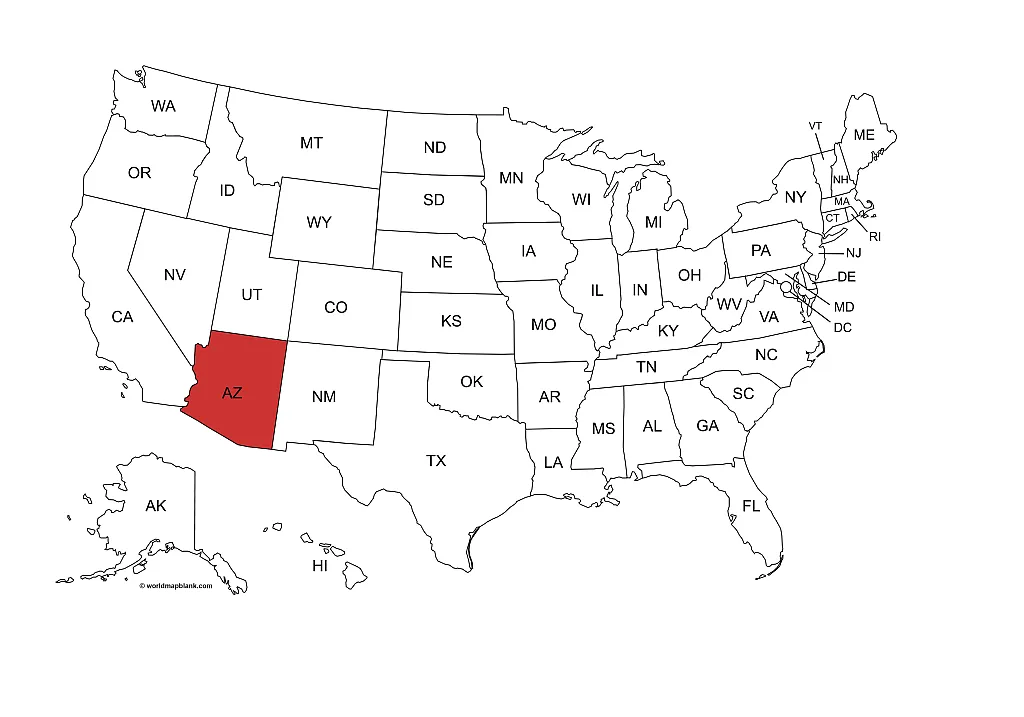 Download as PDF (A4)
Download as PDF (A5)
Arizona Map Outline with Cities and Towns
While the Arizona's capital city Phoenix is by far the biggest city in the state, Arizona has a number of other important agglomerations. Here is a list of the 10 largest cities in Arizona with their estimated populations in brackets as of 2023:
1. Phoenix (1,750,000)
2. Tucson (550,000)
3. Mesa (520,000)
4. Chandler (265,000)
5. Scottsdale (260,000)
6. Glendale (250,000)
7. Gilbert (245,000)
8. Tempe (190,000)
9. Peoria (175,000)
10. Surprise (140,000)
Our last blank Arizona map is our most detailed version. It includes not only the inner borders between the counties and markers for their county seats, but also indicates the locations of many more cities and towns.
Download as PDF (A4)
Download as PDF (A5)
For your reference and as an answer key to school activities, please find below alphabetical lists of the place names shown in the map, ordered by county:
Apache County: Eagar, St. Johns
Cochise County: Bisbee, Douglas, Sierra Vista, St. David, Willcox
Coconino County: Flagstaff, Grand Canyon Village, Tuba City, Williams
Gila County: Globe
Graham County: Pima, Safford
Greenlee County: Clifton, Duncan
La Paz County: Parker, Quartzsite
Maricopa County: Buckeye, Chandler, Gilbert, Glendale, Mesa, Peoria, Phoenix, Prescott, Scottsdale, Surprise
Mohave County: Bullhead City, Kingman, Willow Valley
Najavo County: Holbrook, Snowflake, Winslow
Pima County: Ajo, Green Valley, Oro Valley, Tucson
Pinal County: Casa Grande, Florence, Oracle
Santa Cruz County: Nogales, Patagonia
Yavapai County: Cottonwood-Verde Village, Prescott
Yuma County: Fortuna Foothills, Yuma
More Free Maps for Download
We hope you found a useful Arizona outline map on this page. If you want to complete your maps collection, check out our United States map with cities or other free USA maps as well as our maps of the world, our continent maps and single country maps.
Below we provide a curated list of maps that might be interesting to you. You can also use the search feature at the top of this page or contact us via our contact form to inquire about the creation of a customized map.
USA Maps
World Maps
Continent Maps
Country Maps