Switzerland Cantons Map – Labeled Map of Switzerland [PDF]
With a labeled map of Switzerland you or your students can easily understand the geography of this European country. So download here for free your Switzerland map with cantons as a printable PDF file in your preferred size. Additionally, complete your resources with a blank map of Switzerland.
Switzerland is a diverse and unique country in central Europe, surrounded by Austria, Germany, Liechtenstein, Italy and France. With a population of around 9 million people (roughly 26% being non-nationals), Switzerland has four official languages – German making up the majority at 65%, followed by French (22%), Italian (8%) and Romansh with 0.6%.
The largest foreign communities from outside Switzerland include Italians (328,000), Germans (310,000), Portuguese (255,000) and French (151,000).
Labeled Map of Switzerland
Switzerland has a long history of independence, going all the way back to 1291 when the Federal Charter was signed by the three cantons Uri, Schwyz and Unterwalden. Over the following centuries, more and more members were added to the Old Swiss Confederacy or Eidgenossenschaft. Today, Switzerland is comprised of 26 cantons.
Download as PDF (A4)
Download as PDF (A5)
Please find below an overview of today's Swiss cantons by population (as of 2021):
Zurich (1.6 million)
Berne (1 million)
Vaud (823,000)
Aargau (703,000)
St. Gallen (519,000)
Geneva (509,000)
Lucerne (420,000)
Ticino (352,000)
Valais (353,000)
Fribourg (330,000)
Basel-Landschaft (293,000)
Thurgau (286,000)
Solothurn (280,000)
Basel-Stadt (196,000)
Graubünden (201,000)
Neuchâtel (176,000)
Schwyz (164,000)
Zug (130,000)
Schaffhausen (84,000)
Jura (74,000)
Appenzell-Ausserrhoden (56,000)
Nidwalden (44,000)
Glarus (41,000)
Obwalden (38,000)
Uri (37,000)
Appenzell-Innerrhoden (16,000)
Political Switzerland Map
Here is another Political map of Switzerland showing not only the 26 cantons but also their capital cities. The neighboring countries of Switzerland as well as rivers and lakes are included as well.
Download as PDF (A4)
Download as PDF (A5)
Combine any map of Swiss cantons from this page with a blank map of Switzerland to complete your teaching materials or improving the learning experience.
Labeled Map of Switzerland with Cantons
Switzerland has a total area of 15,950 square miles (41,285 km²) and is divided into the three topographical ares of the Swiss Alps, the Swiss Plateau and the Jura mountains. The Alps account for 60% of the country's area, while the majority of Switzerland's population live on the Swiss Plateau.
Several major European rivers originate in Switzerland, such as the Rhine River, Inn, Ticino and Rhône. Among the more than 1,500 lakes in the country are the famous Lake Constance (called Bodensee in German), Lake Geneva (Lac Léman in French or Genfer See in German) and Lake Maggiore (shared with Italy).
As a country dominated by mountain ranges, Switzerland has numerous high peaks, 48 of which are higher than 13,000 ft (4,000 m). The highest mountains in Switzerland are:
Dufourspitze – 15,203 ft (4,634 m)
Dom – 14,911 ft (4,545 m)
Lyskamm – 14,872 ft (4,533 m)
Weisshorn – 14,783 ft (4,506 m)
Matterhorn – 14,692 ft (4,478 m)
Map of Switzerland with Cantons
Below you will find another Swiss cantons map, this time without any cities. However, the relief of elevations in and around Switzerland shows the differences in elevation.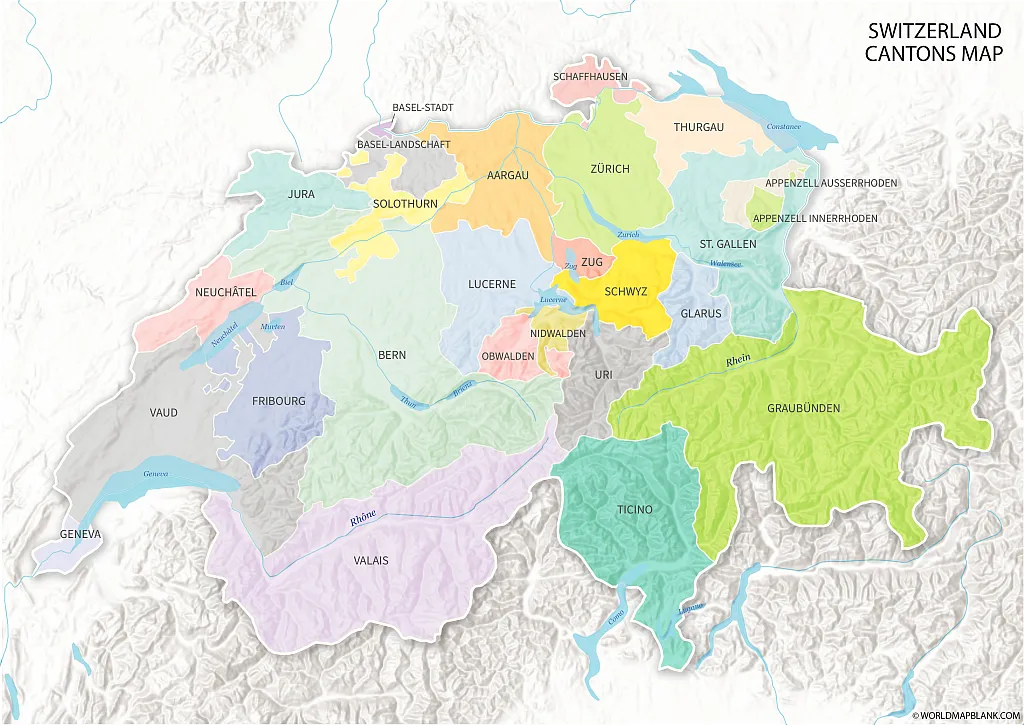 Download as PDF (A4)
Download as PDF (A5)
While Switzerland used to be very rural for centuries, it has developed into a more urban country in modern times.
Switzerland Map With Cities Labeled
Here is a map of Switzerland with major cities but without any canton borders.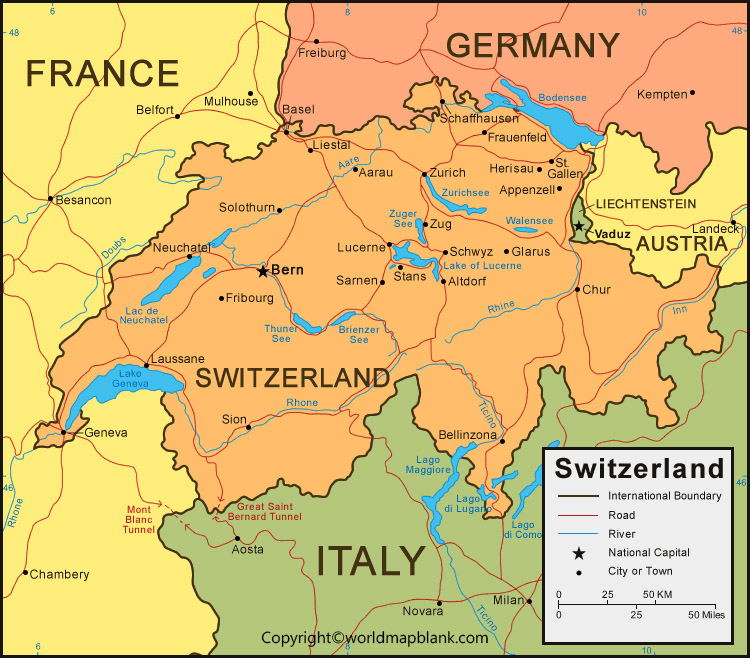 The largest cities and towns in Switzerland by population are (as of 2020):
Zürich (422,000)
Geneva (204,000)
Basel (178,000)
Lausanne (140,000)
Bern (135,000)
Winterthur (114,000)
Lucerne (83,000)
St. Gallen (76,000)
Lugano (62,000)
Biel (55,000)
Printable Map of Switzerland
Our next map is another cantons of Switzerland map, but this time without any relief or elevations. Both the national capital and the cantons capitals are labeled.
Download as PDF (A4)
Download as PDF (A5)
We also provide labeled maps of the neighboring countries of the Swiss Confederation, such as Germany, Italy, France, Austria and Liechtenstein.
Swiss Cantons Map
In the following section, you will find several alternative maps of the cantons of Switzerland.
How Many Swiss Cantons are There?
There are 26 Swiss cantons in total, 17 of which have German as their official language. Four cantons have French as their only official language, while three use both French and German. One canton (Ticino) only uses Italian officially, whereas Graubünden has three official languages (German, Italian and Romansh).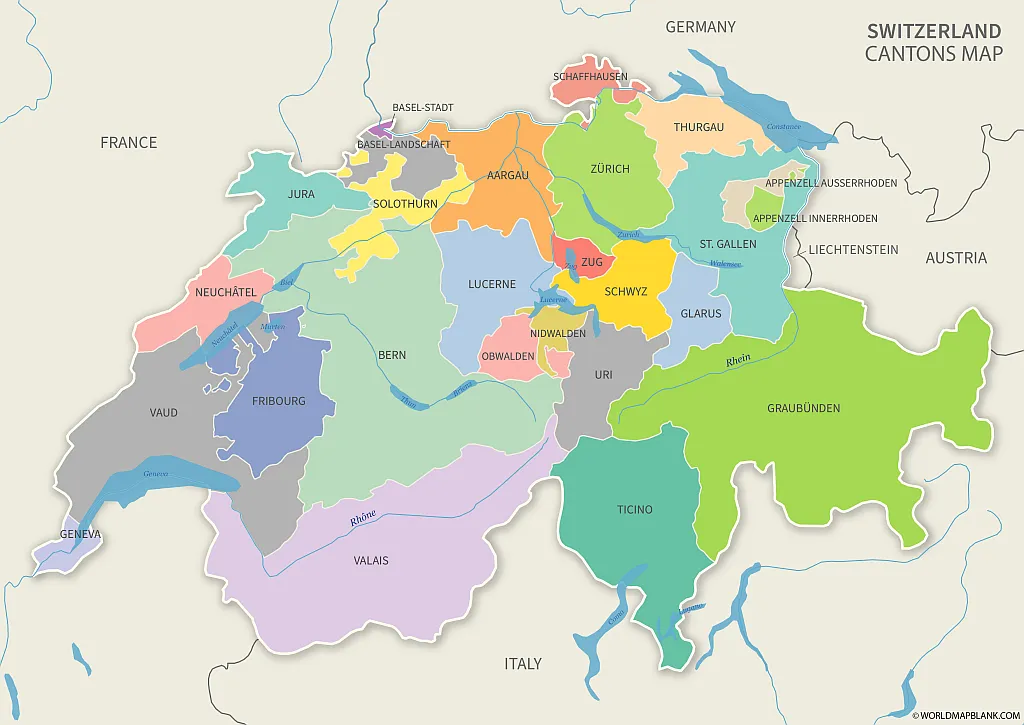 Download as PDF (A4)
Download as PDF (A5)
The cantons of Switzerland have a very high degree of sovereignty, while only certain areas are governed by the Confederation. These are, among others, the postal service, army, telecommunication and the currency. However, every Swiss canton has its own legislature, executive and constitution, including courts and police.
Switzerland Map with Cantons
The largest canton by area is Graubünden (7,105 km²), the smallest is Basel-Stadt (37 km²). The largest city of Switzerland is Zürich which was founded by the Romans and used to be an independent city state in the Middle Ages. It is also the de facto capital of the canton Zürich.
Download as PDF (A4)
Download as PDF (A5)
The capitals of the Swiss cantons are:
Zurich (Zurich)
Berne (Berne)
Lausanne (Vaud)
Aarau (Aargau)
St. Gallen (St. Gallen)
Geneva (Geneva)
Lucerne (Lucerne)
Bellinzona (Ticino)
Sion (Valais)
Fribourg (Fribourg)
Liestal (Basel-Landschaft)
Frauenfeld (Thurgau)
Solothurn (Solothurn)
Basel (Basel-Stadt)
Chur (Graubünden)
Neuchâtel (Neuchâtel)
Schwyz (Schwyz)
Zug (Zug)
Schaffhausen (Schaffhausen)
Delémont (Jura)
Herisau (Appenzell-Ausserrhoden)
Stans (Nidwalden)
Glarus (Glarus)
Sarnen (Obwalden)
Altdorf (Uri)
Appenzell (Appenzell-Innerrhoden)
Switzerland Map with Cantons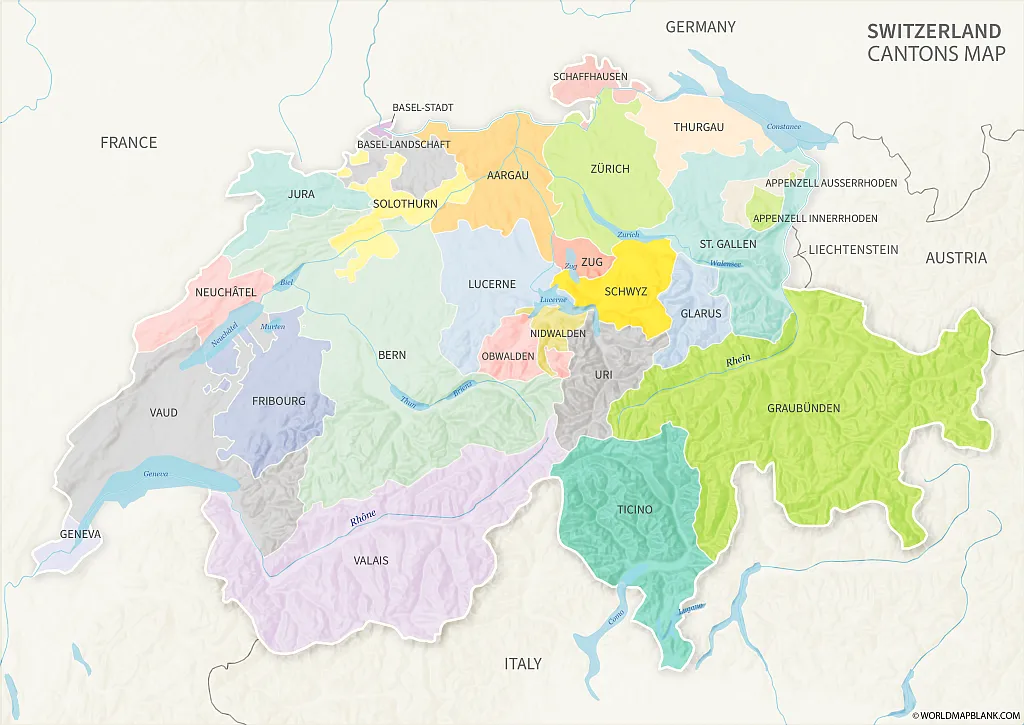 Download as PDF (A4)
Download as PDF (A5)
Above map shows both the elevations of the landlocked mountainous country and the surrounding states.
Cantons Map of Switzerland
Our final map with cantonal divisions shows Switzerland highlighted in front of a darkened background.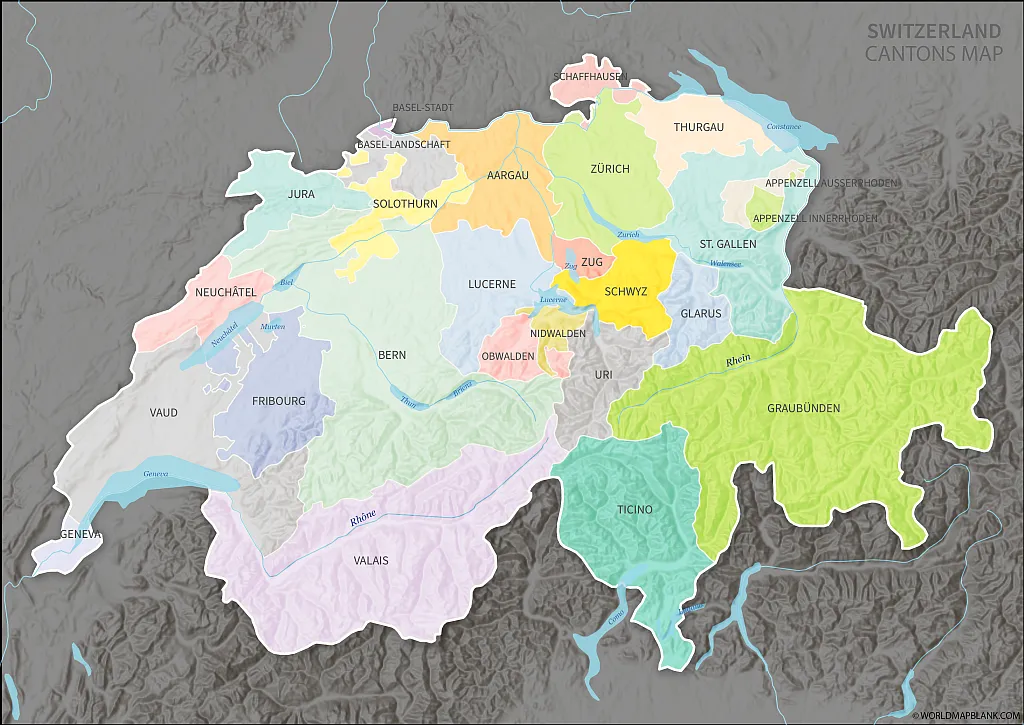 Download as PDF (A4)
Download as PDF (A5)
Make sure you also check our our outline maps of Switzerland and maps of other countries in Europe and the entire world.
More Free and Printable Maps
Here are a few links to some of our other maps that you can download as PDF files. If the ones you are looking for are not listed, try to find them via our search feature on top of this page.
County Maps (Europe)
Map of Germany with States and Cities
Other Country Maps
Continent Maps
South America Map with Countries
World Maps
Map of the World with Latitudes and Longitudes