Printable Ireland Map – Map of Ireland with Counties [PDF]
Do you need a printable Ireland map? Then check out our different versions of a map of Ireland with counties! All of them are available for free as PDF files. You can download and print them as many times as you like.
A county map of Ireland is a great tool to learn about the administrative divisions of the Republic of Ireland. You can use all maps on this page for free for your teaching, learning, professional and personal purposes.
And we also provide a blank map of Ireland as additional resource for your collection!
Map of Ireland Counties
The Republic of Ireland is a country located in the northwestern part of Europe. It has four provinces (Leinster, Munster, Connacht and Ulster) which are divided into counties. Our first map shows all of these counties but no cities or towns. The neighboring country of Northern Ireland is included as well.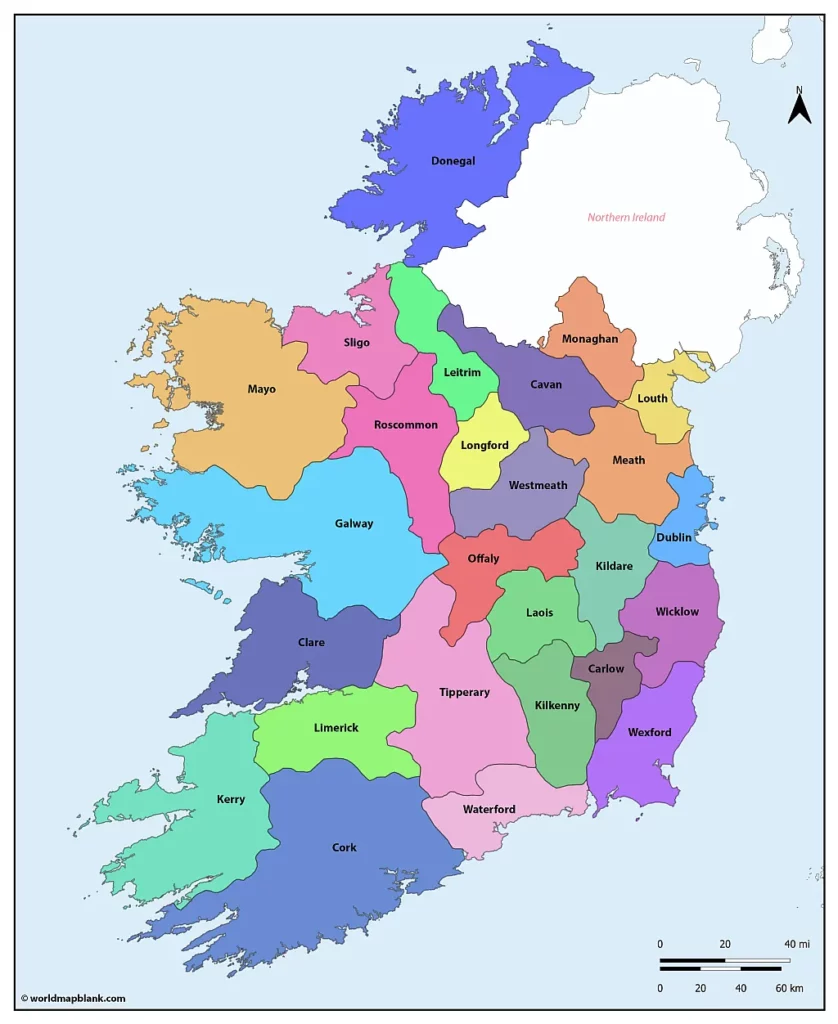 Download as PDF (A4)
Download as PDF (A5)
Download the map in the desired format by clicking on one of the links above. If you need a more detailed map of Ireland, please scroll donw further. We also have maps with county seats and towns.
How Many Counties are in Ireland?
Ireland consists of 26 counties, 3 cities and 2 cities and counties. These include Carlow, Cavan, Clare, Cork, Cork City, Donegal, Dublin City, Dún Laoghaire-Rathdown, Fingal, Galway, Galway City, Kerry, Kildare, Kilkenny, Laois, Leitrim, Limerick, Longford, Louth, Mayo, Meath, Monaghan, Offaly, Roscommon, Sligo, South Dublin, Tipperary, Waterford, Westmeath, Wexford and Wicklow.
The original Dublin county has been further divided into the local government areas of Dublin City, Dún Laoghaire-Rathdown, Fingal and South Dublin. The latter three now have country status.
Ireland County Map with Capitals
The three most populated counties (as of 2022) are Dublin City (590,000), Cork (359,000) and Fingal (329,000). The smallest counties by population are Leitrim (35,000), Longford (47,000) and Carlow (62,000).
Our next map shows the original 26 counties and their capitals or county towns.
Download as PDF (A4)
Download as PDF (A5)
Here is a list of the current Irish counties with their administrative centers:
Carlow – Carlow
Cavan – Cavan
Clare – Ennis
Cork – Cork
Cork City – Cork
Donegal – Lifford
Dublin City – Dublin
Dún Laoghaire-Rathdown – Dún Laoghaire
Fingal – Swords
Galway – Galway
Galway City – Galway
Kerry – Tralee
Kildare – Naas
Kilkenny – Kilkenny
Laois – Portlaoise
Leitrim – Carrick-on-Shannon
Limerick – Limerick
Longford – Longford
Louth – Dundalk
Mayo – Castlebar
Meath – Navan
Monaghan – Monaghan
Offaly – Tullamore
Roscommon – Roscommon
Sligo – Sligo
South Dublin – Tallaght
Tipperary – Clonmel and Nenagh
Waterford – Waterford
Westmeath – Mullingar
Wexford – Wexford
Wicklow – Wicklow
Ireland Map with Counties and Towns
Ireland is an island in western Europe surrounded by the North Atlantic Ocean. It consists of the Republic of Ireland and Northern Ireland, the latter belonging to the UK. The Irish Sea, the North Channel, the Celtic Sea and St. George's Channel separate the "Emerald Isle" from Great Britain.
The major cities in the Republic of Ireland are its capital Dublin (1.2 million), Cork (221,000), Limerick (94,000) and Galway (84,000). In Northern Ireland, the largest cities are Belfast (639,000) and Londonderry (84,000).
Download as PDF (A4)
Download as PDF (A5)
The map above shows the county boundaries as well as the county towns and additional smaller towns. It also includes the boundary of Northern Ireland.
Printable Ireland Map
The longest rivers in Ireland are the River Shannon (224 miles or 360 kilometers), the River Barrow (119 mi or 192 km) and the River Suir (114.5 mi or 184 km). The River Shannon is also the longest river in the British Isles.
Ireland has numerous large lakes which are called loughs. The largest lake in the Republic of Ireland is Lough Corrib in Galway with an area of 395 km² and a maximum depth of 25 m. The deepest lake is Muckross Lake in Kerry with a maximum depth of 75 meters (246 ft).
Our next printable Ireland map does not include any county borders but shows towns, the main roads and railroads as well as airports.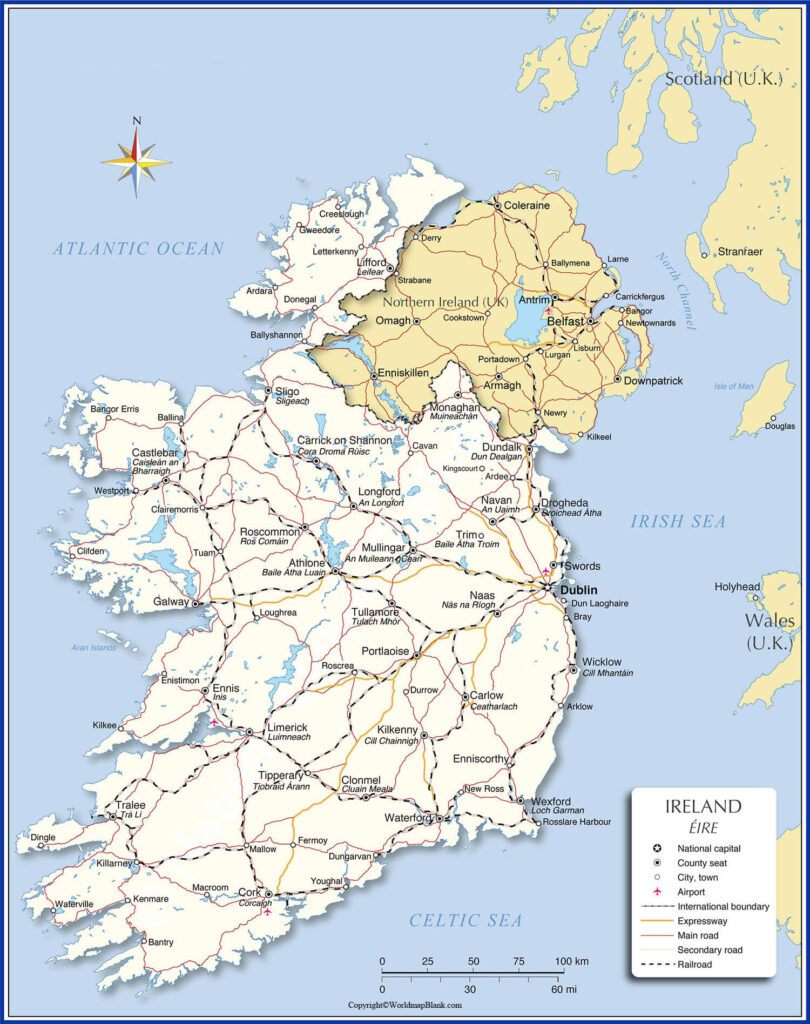 Do you want to use our maps to learn or teach about the geography of Ireland? Then also download a free and printable blank map of Ireland from out site!
More Free and Printable Maps of the World
Below we have compiled a collection of links to other interesting maps. If your desired map is not included, please use the search feature on top of this page. You can also send us a message via our contact form. Just tell us precisely what kind of map you need, and we will try to create it for you.
All of our maps can be downloaded free of charge as PDF files. We additionally offer geography worksheets and other related resources like wall maps, fun geography games and map puzzles.
Country Maps
Continent Maps
World Maps
USA Maps