Blank Map of Belgium – Outline Map of Belgium [PDF]
Are you looking for a blank map of Belgium? On this page you will find several different outline Belgium maps free to download and print, each different and useful! Whether you're a student or a teacher of geography, or simply someone planning an upcoming trip – this outline map of Belgium page definitely has something for you!
We've designed all our maps with convenient features so they can be easily printed out as well as customized to fit whatever project or task you have in mind. They are available in both A4 and A5 formats as PDF files. So scroll down and find your empty Belgium map now!
Outline Map of Belgium
Belgium (or officially the Kingdom of Belgium) is a small country located in Western Europe. It is bordered by the Netherlands to the north, Germany to the east, Luxembourg to the southeast, and France to the southwest. Belgium has a population of around 11.5 million people and lies at the heart of both the European Union (EU) as well as NATO.
Our first map is an outline map of Belgium showing only the outer boundaries of the country. This Belgium map outline is great for drawing in geographical features like rivers or climate zones. You could also use it to mark historical events that have affected the country.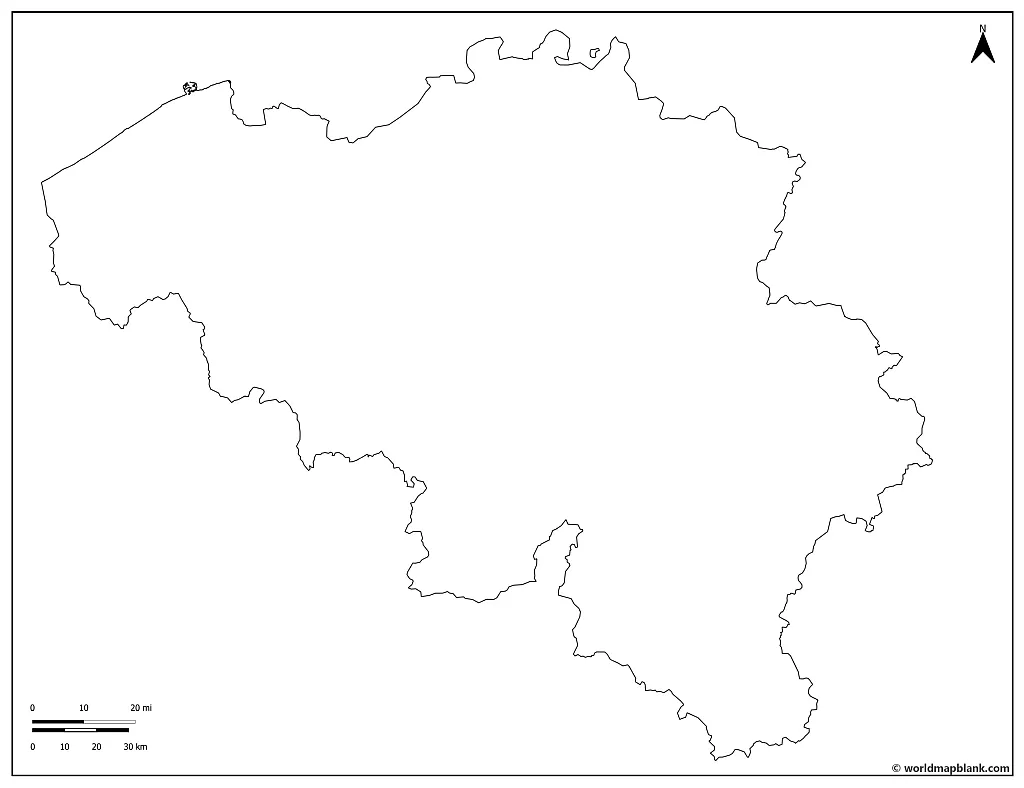 Download as PDF (A4)
Download as PDF (A5)
With an area of 11,786 square miles (30,528 km²) Belgium is approximately as large as the US state of Maryland, or a third the size of Portugal. Its terrain consists mostly of plains, plateaus and hills in the central region with coastal areas to its north-west side. The highest point is Botrange Mountain situated 694 meters above sea level while the lowest point is the North Sea at 0 meters elevation. Belgium's climate is temperate marine, characterized by mild winters and cool summers, and precipitation in every season.
You can download any map of Belgium from this page by clicking on the download links blow the images. Most the maps are available in the two sizes A4 and A5.
Blank Map of Belgium
Belgium represents more than just a rich history; it stands at the crossroads between various languages and cultures where each influences yet still remains distinct from the other.
Belgium has three official languages: French, Dutch, and German. Walloon is another language (with approx. 300,000 active speakers), and in addition there are several regional dialects. Both English and Arabic are widely spoken by parts of the population as well.

The Belgium people live in good health. Their life expectancy has grown by two months per year since 1960 to reach 79.65 years on average! In general, the country excels in reports about quality of life – from health care and education to standards of living.
Blank Map of Belgium with Provinces
Belgium's constitution, revised between 1970 and 1993, established a highly unique federal system that segregated political power into three distinct levels. The country is divided up by language areas with the Flemish Community (Dutch-speaking), French Community (French-speaking) and German-Speaking Community as part of this structure.
Our next blank map shows not only the outer international borders of Belgium but includes the inner borders between the Belgian provinces.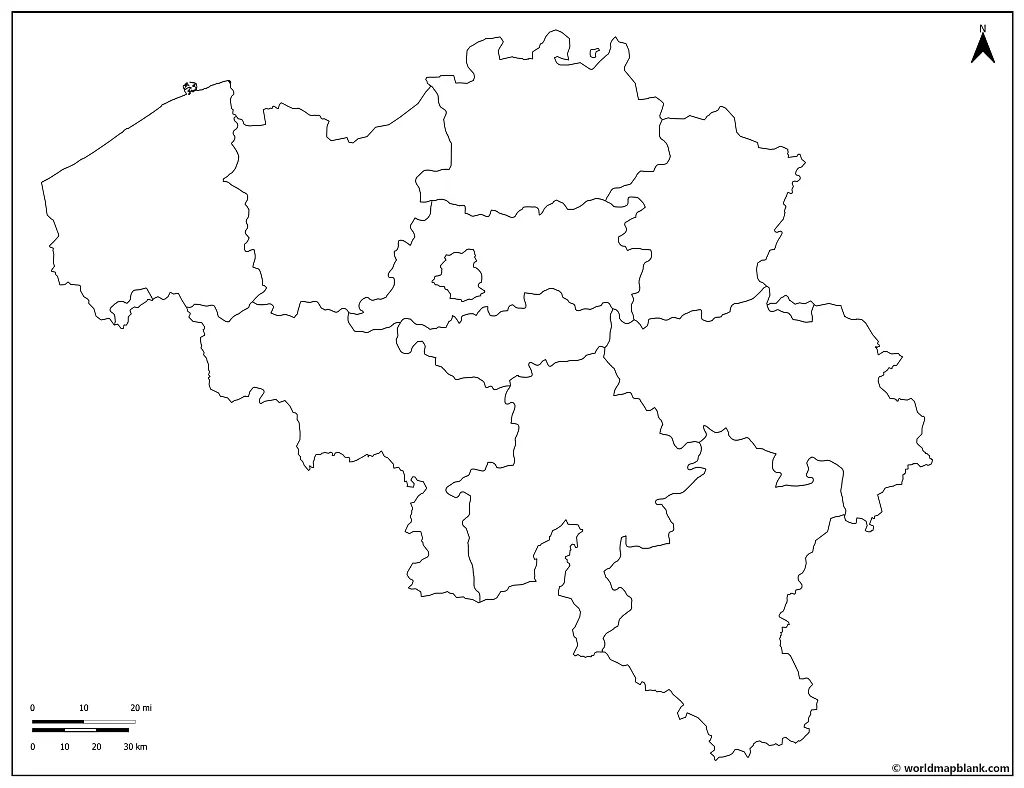 Download as PDF (A4)
Download as PDF (A5)
Furthermore these divisions determine the official languages used in their respective municipalities and also provide an outline for powerful institutions to hold jurisdiction over particular matters within each region.
There are three regions: Flemish Region, Walloon Region, and the Brussels region. The first two are then further divided into provinces, while the Brussels capital region is unique because it is not a province nor a part of one.
Outline map of Belgium with Neighboring Countries
Belgium shares borders with several countries, making it an important crossroads for Europe. To the north, the Netherlands, to the east, Germany. To the southeast, Luxembourg, and to the southwest, France. Belgium has a coastline with the North Sea in the northwest direction.
The next map is a map of Belgium and surrounding countries. It's great for teaching about history, and current events between the countries.
Download as PDF (A4)
Download as PDF (A5)
With its divided political and language factions, Belgium has played a significant role in the development of many influential European art movements. Although each section now holds independent cultural activity, together they constitute an impressive united sphere which is still gradually evolving today. There are only two bilingual post secondary institutes in the country; the Maritime, and the Military academies.
Where is Belgium on the Map?
The following Belgium location map can be used to learn about the size of the country in relation to its neighbors, and its place in the greater context of Europe.
The location of Belgium on a world map can be found by the coordinates of Brussels, the capital city of Belgium; 50° N, 4° E. The country lies in the Central European Time Zone, which is one hour ahead of Coordinated Universal Time (UTC+1). It is part of continental Europe, and located in the northern hemisphere.
Download as PDF (A4)
Download as PDF (A5)
Above map was created with MapChart.
With the following map we are putting more focus on the internal divisions of the country, highlighting the location of the cities of Belgium.
Blank Belgium Map with Cities
This Belgium outline map shows you where is Bruges on the map, and also includes many of the other cities and towns of the country. Try and color in the different languages spoken by each city to create a great visual of how multilingual and multicultural Belgium is.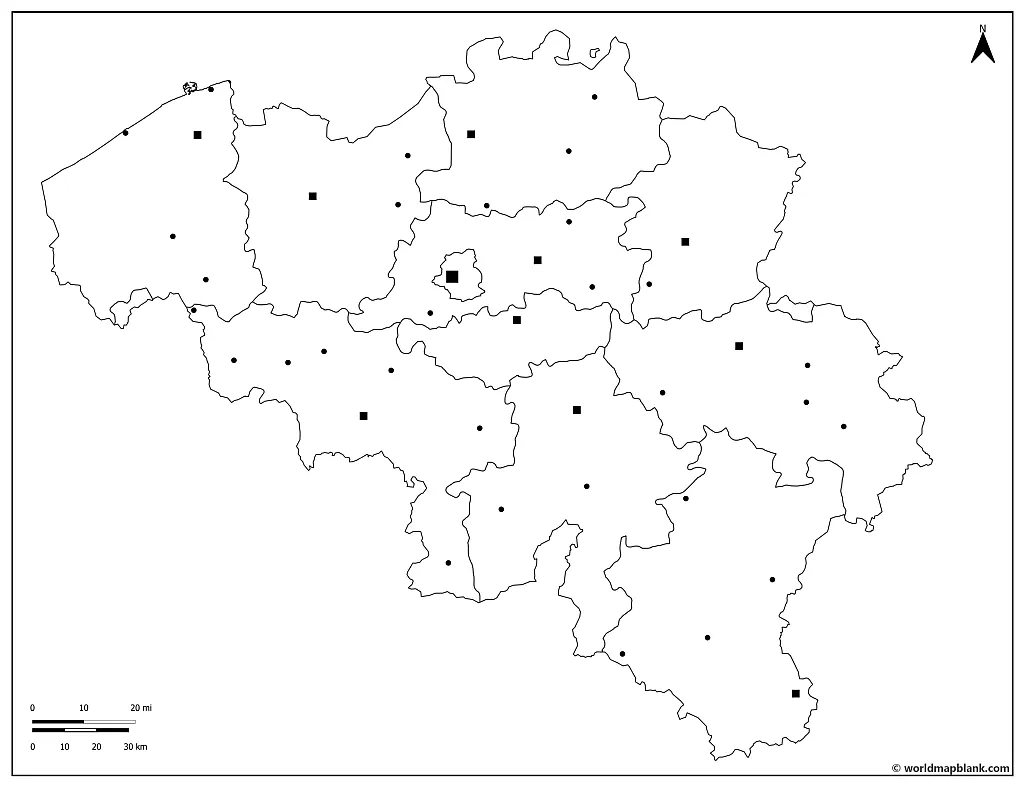 Download as PDF (A4)
Download as PDF (A5)
Below is a list of the largest cities in Belgium with their populations as of 2021, rounded to the nearest thousand, and the language(s) spoken in each city:
Brussels (1,208,000) – officially bilingual (French and Dutch)
Antwerp (529,000) – Dutch
Ghent (263,000) – Dutch
Charleroi (201,000) – French
Liège (198,000) – French
Bruges (118,000) – Dutch
Namur (111,000) – French
Leuven (105,000) – Dutch
Mons (97,000) – French
Aalst (85,000) – Dutch
More Free Maps for Download
Check out our other maps of European countries and the rest of the world! We offer both labeled and blank maps for free download as PDF files. All of our maps can be printed and are great resources to create worksheets and other learning materials. Below are are few links to pages where you will find more maps that might be interesting to you.
European Countries Maps
USA Maps
Blank Map of the United States
World Maps
World Map with Latitudes and Longitudes
Continent Maps
Political Map of South America