Blank Map of Portugal – Outline Map of Portugal [PDF]
Welcome to the blank map of Portugal page! Here you will find several different maps that vary in their detail and focus. From a simple outline map to a contextual region map and other administrative divisions maps. Each outline map of Portugal can be used to learn and teach about the geography of the country.
Whatever your intention, these maps are guaranteed to be of use! Almost all of our PDF maps are available in A4 and A5 sizes – free to download or print directly from your browser!
We also have included interesting facts and activity ideas alongside each map. So browse through this page and start exploring our blank maps of Portugal!
Outline Map of Portugal
Portugal is located on the west coast of the Iberian Peninsula in the southwest of the European continent. Its total landmass is 35,560 square miles (92,212 km²). The country is officially known as the Portuguese Republic (República Portuguesa) and consists of mainland Portugal plus two autonomous regions: the Azores, and Madeira.
Portugal first became an independent kingdom in 1143 and quickly grew to one of the most powerful empires of the world. It was a Portuguese, Fernão de Magalhães (sometimes referred to as Magellan), who planned and commanded, between 1519 and 1522, the first circumnavigation of the globe.
Today, the country's population is just over 10,3 million (as of 2023). The official language is Portuguese, and the native people make up 95% of the population. This ethnic group is considered Iberian, with roots drawn back to the beginning of human activity on the Iberian peninsula. Just the same, the country's population has been greatly influenced by migration throughout history, especially by Portugal's colonial past.
Download as PDF (A4)
Download as PDF (A5)
Our first outline of Portugal map above is great for filling in geographic features like lakes, rivers, and mountains.
Activity idea: The largest rivers of Portugal are the Tagus, the Douro, the Guadiana, the Minho and the Mondego. Can you identify their routes and draw it into the map?
Blank Map of Portugal with Districts
Portugal has two types of administrative divisions: municipalities and districts.
A district in Portugal is a higher-level administrative division that is responsible for coordinating and managing the various municipalities within its jurisdiction. In terms of size, districts are much larger than municipalities, with each district containing several municipalities.
There are 18 districts in mainland Portugal, each with its own capital city and government. Districts are responsible for overseeing various public services, such as public safety, healthcare, education, and transportation, and they also have the authority to enforce national laws and regulations.
Download as PDF (A4)
Download as PDF (A5)
There are 308 municipalities in Portugal, each with its own government and mayor. They are smaller administrative divisions, responsible for providing local services and managing local affairs. Varying in size, they can range from small rural villages to large urban centers.
Municipalities are in charge of a range of local services, including waste management, public parks, local infrastructure, and social services. They also collect local taxes and fees, such as property taxes and parking fees.
It is worth noting that while districts are appointed by the central government, municipalities are elected by the local population. This means that municipalities have a higher level of autonomy and are able to make more local decisions that directly impact their communities.
Below is a list of the 18 districts of Portugal in alphabetical order:
Aveiro
Beja
Braga
Bragança
Castelo Branco
Coimbra
Évora
Faro
Guarda
Leiria
Lisbon (Lisboa)
Portalegre
Porto
Santarém
Setúbal
Viana do Castelo
Vila Real
Viseu
Activity idea: Use this list to identify and label the districts on the map.
Where is Portugal on the World Map?
Wondering where is Portugal on a map? The map coordinates of the country tell us where we can find it. The Portuguese Republic extends between 30-42° N, and 32-6° W. The northernmost point of mainland Portugal is found at 42° and the southernmost point at 36°. The country is classified in both the western and northern hemispheres.
The Portuguese Republic adheres to two time zones. Mainland Portugal and Madeira observe UTC+ 00:00 while the Azores use UTC-01:00.
Historically, Portugal has changed its time keeping system time and again! Trying to match up with European time structure while also respecting the sunrise time of their region, proved to be a complicated task.
It took decades, switches of governments, and civil complaints to finally settle on a medium that everyone could agree upon. In 1996, the national government decided to switch back to the Western European Time Zone (from Central European Time).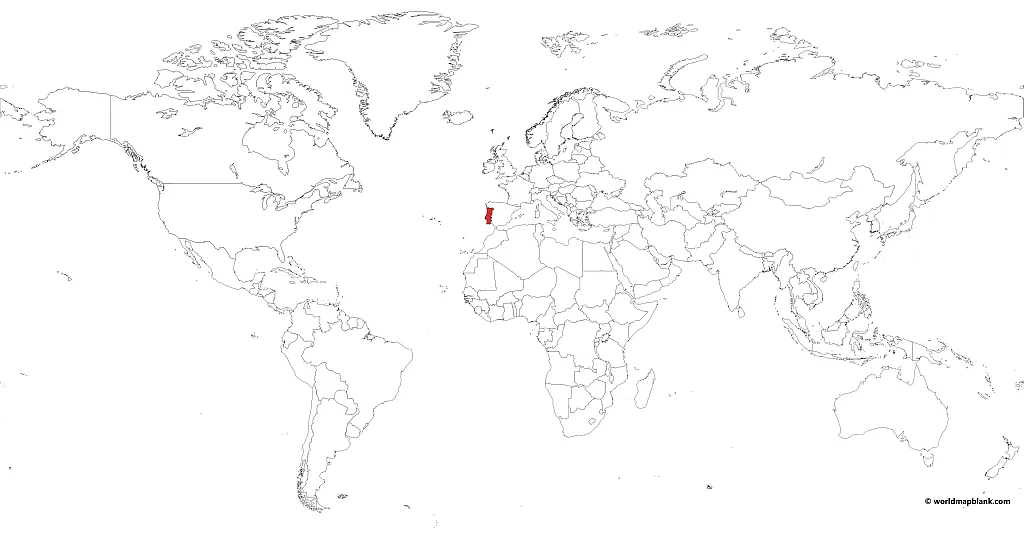 Download as PDF (A4)
Download as PDF (A5)
The above Portugal map was created with MapChart. In the next section, you will find a similar map with Portugal on a map of Europe.
Portugal on a Map of Europe
The mainland of Portugal has a 1,800 km coastline with the Atlantic Ocean. The archipelagos of the autonomous regions of the Azores and Madeira are found in the Atlantic Ocean. The island regions are to the west of the Iberian Peninsula where Portugal is located.
The highest peak of the Portuguese republic is found on the Island of Pico in the Azores. It is named Mount Pico and is an ancient volcano. It stands at 7,713 ft (2,351 m) above sea level.
Here is another map that we created with MapChart showing the location of Portugal on a map of Europe.
Download as PDF (A4)
Download as PDF (A5)
Activity idea: Can you identify the Azores and Madeira? Can you further locate the island of Pico where Mount Pico is found? See if you can draw in and label the highest geographical point of the country!
Blank Portugal Map with Capitals
The climate of Portugal is in general Mediterranean and mild. However, it differs from a colder, wetter climate in the north (precipitation all year round), to a warmer, dried one in the south (rain in the winter). Throughout the country, the temperature rarely drops below freezing.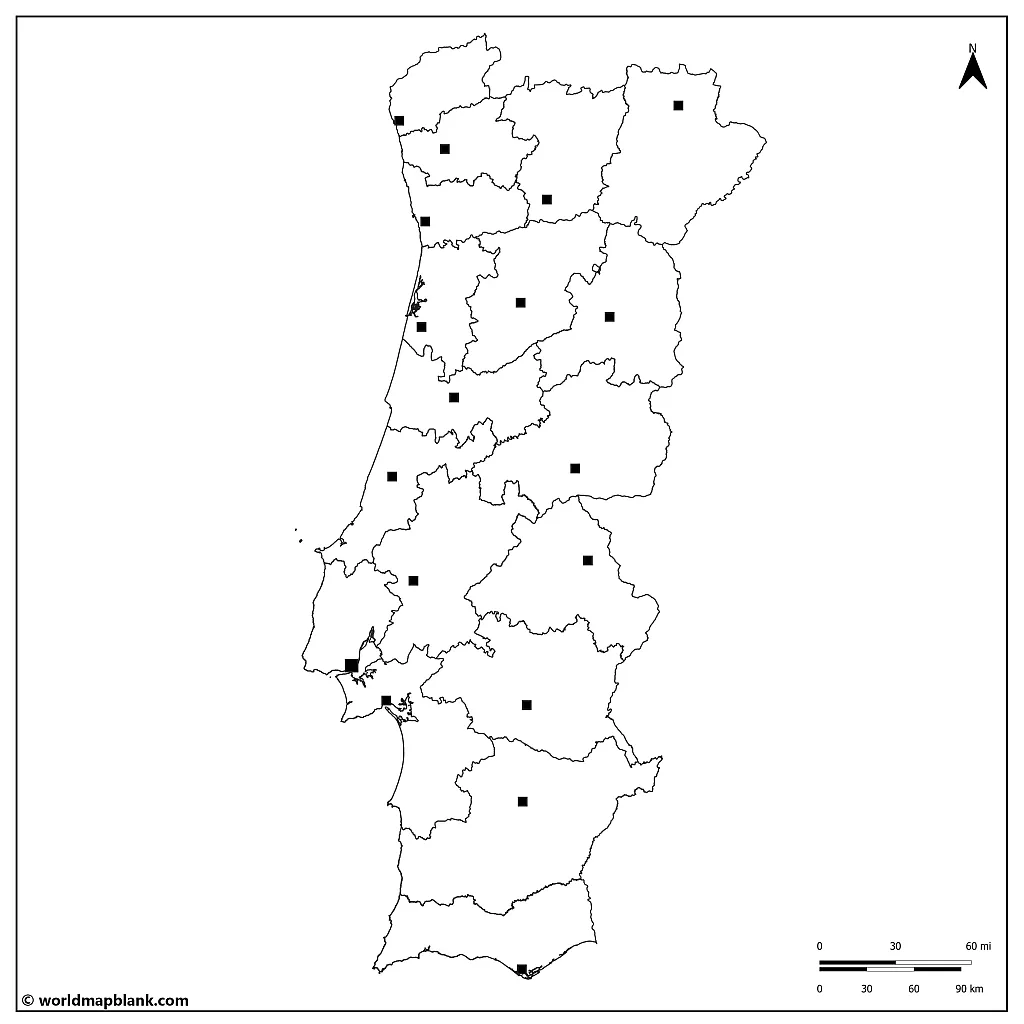 Download as PDF (A4)
Download as PDF (A5)
The above map has the capitals of each district marked. These capital cities carry the same name as their districts! Refer to the list in the previous section for all of these names.
Activity idea: Label and identify each capital and its district. Shade each district in a different color.
Portugal Map Outline with Cities
Portugal ranks 14th on the list of of the most to least urbanized countries in the European Union, based on data from the European Commission. As of 2023, roughly 65% of its population is living in urban areas.
In general, there is a trend towards urbanization in the European Union that will continue into the future. While Portugal has a relatively high level of urbanization, much of the country's land area is still dedicated to agriculture, forestry, and natural landscapes. Portugal has a long history of sustainable land use practices, with traditional agricultural methods and forest management techniques that prioritize environmental conservation and preservation.
Download as PDF (A4)
Download as PDF (A5)
Below is a list of the ten most important cities of Portugal. They are listed together with the district they are found in, and their population rounded to the nearest thousand. Included is a short description of each cities outstanding features:
Lisbon (508,000) – Lisbon District: capital and largest city of Portugal, with a thriving economy based on finance, tourism, and technology
Porto (214,000) – Porto District: second-largest city of Portugal, known for its historic old town, port wine, and contributions to the textile, paper, and wine industries
Braga (181,000) – Braga District: known as the "Rome of Portugal" due to its numerous churches and religious heritage
Vila Nova de Gaia (180,000) – Porto District: across the Douro River from Porto, famous for its port wine cellars, tourism, manufacturing, and services
Setúbal (118,000) – Setúbal District: a coastal city known for its seafood and the birthplace of the Portuguese poet Bocage
Coimbra (101,000) – Coimbra District: the University of Coimbra, one of the oldest and most important universities in Europe
Viseu (99,000) – Viseu District: a historic city with well-preserved medieval architecture, traditional crafts and cuisine
Faro (64,000) – Faro District: capital of the Algarve region with mainly fishing, agriculture, beaches, and tourism
Santarém (61,000) – Santarém District: in central Portugal with historic landmarks such as the Church of the Holy Miracle and the Alcáçova Palace; important hub for agriculture and food processing, particularly in wine, olive oil, and dairy products
Bragança (20,000) – Bragança District: in northeastern Portugal with a historic castle; center for agriculture and forestry
Activity idea: Can you find and label these cities? Think about what symbol you could draw into the map to represent each city. Then create a legend on the side of the map that explains the chosen symbols.
Blank Map of Portugal and Spain
Portugal is a member of the European Union, and it currently uses the Euro as its currency. Both Portugal and Spain joined the EU in 1986. This new union, known at the time as the European Economic Community, was an important shift towards democracy in the region, especially for Spain.
In 1993 the union of European countries became the European Union we recognize today. As of 2023, there are 27 member countries in the EU. The Portuguese make up 2% of the EU population.
Download as PDF (A4)
Download as PDF (A5)
What country borders Portugal? Spain! Portugal and Spain share a long history due to their common border on the Iberian Peninsula. Both countries are predominantly Catholic, and speak romance languages. There are close linguistic and cultural ties between Portugal and Spain due to centuries of exchange between these neighbouring regions.
Portugal does not have any other land border, but is surrounded by the Atlantic Ocean in the west and south.
Due to its geographic location, Portugal played a key role in the exploration of the uncharted territories beyond the European continent.
Activity idea: Take a deeper look into the characteristics of the region. Can you identify other similarities between Portugal and Spain? The Iberian Peninsula shares climate and geographic zones that have contributed to the way of life of the people who inhabit the area.
Draw in features that represent the culture of the whole region! Don't forget to make a legend explaining your symbols.
Other Free and Printable PDF Maps
Have you found what you were looking for? Maybe you would like to see other maps you can print out or download? There are several map sections on the site, featuring world maps, continent maps, labeled maps, and country maps. Check the main menu or use the search option to explore our site.
We regularly add in more content to our site. But if there is something you are looking for and have not found yet, please drop us a line! We would be happy to prioritize the information you need!
European Countries Maps
Continent Maps
World Maps
Other Country Maps