Blank Map of Denmark – Outline Map of Denmark [PDF]
Are you looking for a blank map of Denmark? You've come to the right place! On this page you will find various free and printable blank maps of Denmark in PDF. Get your outline map of Denmark now!
There are six blank maps of Denmark available. No matter what your needs are, you can find the perfect Denmark blank map for your purpose. Any of them will help to learn or teach the geography of this interesting Scandinavian country.
Additionally, check out our free labeled map of Denmark with regions to complete your resources!
Outline Map of Denmark
Denmark is one of three autonomous constituencies that make up the Kingdom of Denmark. The other two parts are the Faroe Islands, and Greenland. Also, Denmark is part of Scandinavia, sharing close cultural, linguistic and historical ties with Norway and Sweden. In the broader sense, even Finland, Iceland and the Faroe Islands can be regarded as Scandinavian countries.
Here is an outline map of Denmark only showing its outer boundaries: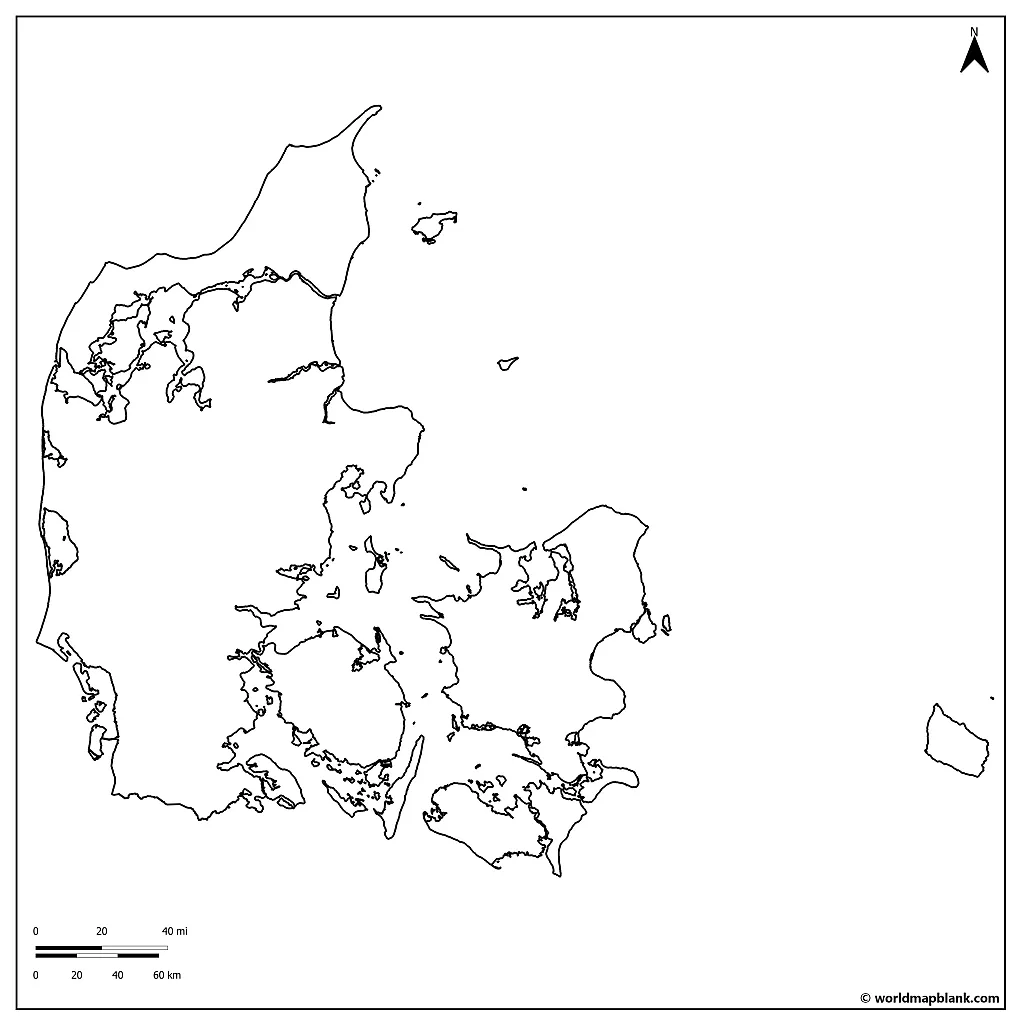 Download as PDF (A4)
Download as PDF (A5)
Denmark is the smallest nation in the north of Europe. As of 2023, it has a population of 5,9 million. Nonetheless, Denmark is a very well developed country with a high standard of living. The country is renown for its education, health, and government systems; the culture and societal structure have proven in international indexes to come out on top for levels of happiness and productivity.
Blank Map of Denmark with Regions
The country of Denmark is divided into five principal regions, which you fill find in our next map.
North Jutland, also known as Nordjylland, is the northernmost territory of Denmark. It is famous for some of Denmark's largest forests, including Rold Skov and Rebild Bakker. The area has many wildlife and bird reserves, making it the wildest of the five regions.
Central Jutland, or Midtjylland, is located in the heart of Denmark. Aarhus is the second-largest city in Denmark, and Herning, is known for its textile industry. Aarhus is a cultural hub, with numerous museums, galleries, and festivals. Central Jutland is home to Legoland.
Southern Denmark, or Syddanmark, is located in the southern part of the Jutland peninsula and on the island of Funen. It is the second-largest agricultural area in Denmark, with vast fields of wheat, barley, and rapeseed. Known for the iconic Egeskov Castle, and the historic towns of Kolding and Ribe.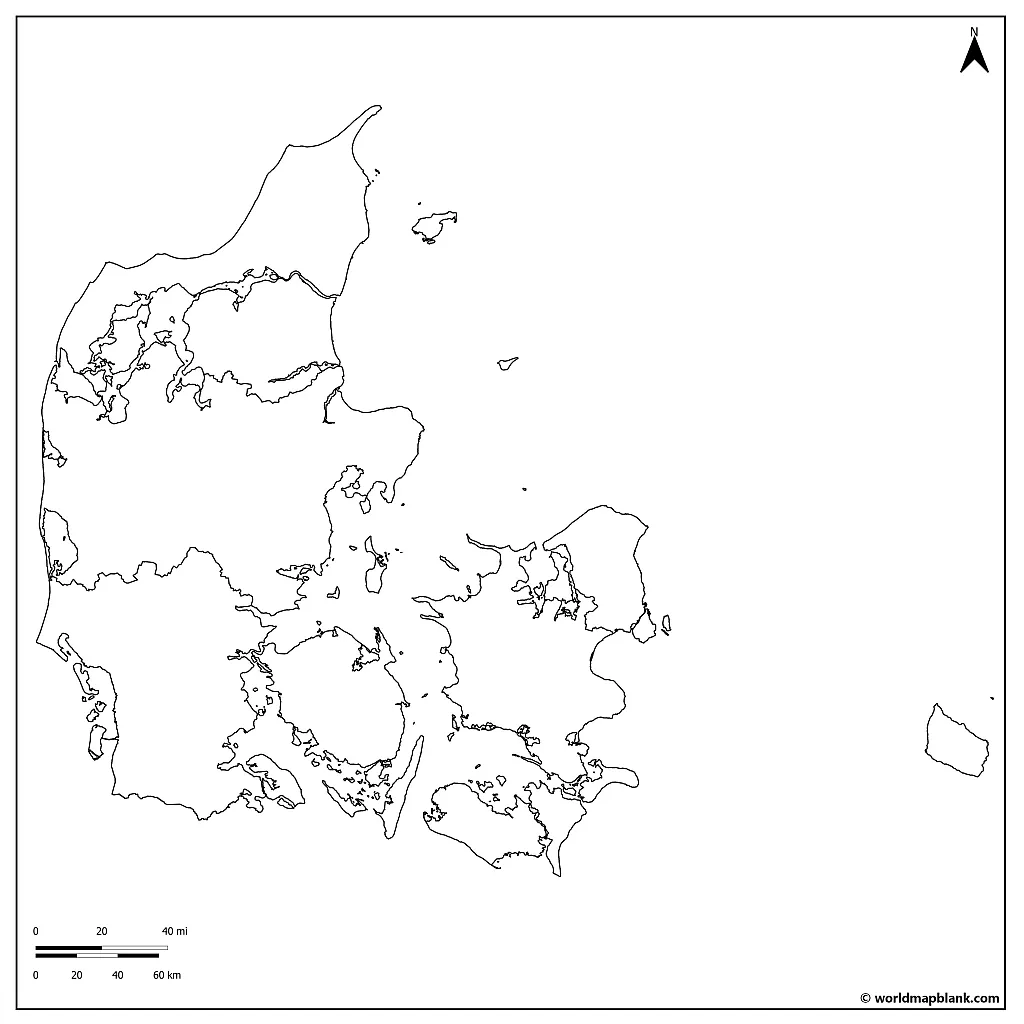 Download as PDF (A4)
Download as PDF (A5)
Zealand, or Sjælland, is Denmark's largest island and is home to the capital city, Copenhagen. It has the most diverse landscape of the localities with beaches, farmland, forest, and cityscape. The island is connected to mainland Denmark by several bridges and tunnels. Copenhagen is one of Europe's most vibrant and cultural cities, with world-class museums, galleries, and architecture.
The Capital Region, or Hovedstaden, is the smallest of Denmark's regions, but it is the most densely populated. This region encompasses the Greater Copenhagen area and is famous for it's edgy architecture, restaurants, museums, castles, and the royal palace of Amalienborg.
Even though each territory has its special distinctions, Denmark's five regions also have common ground in terms of geography and characteristics. One of the most impressive being, that most of the country is lying only 34 meters above sea level, making it one of the lowest lying countries in the world!
Denmark does not have mountains, the highest geographic elevation reaching no more than 170 meters. The country's landscape is primarily flat, with rolling hills and sandy beaches are found from end to end. This geography lends itself to agricultural production, which thrives throughout the country. In addition to agriculture, manufacturing, fishing, and shipping are the major contributors to the country's economy.
The following map outline is a blank map of Denmark with neighboring countries, it can be used to learn about northern Europe and Scandinavia.
Blank Map of Denmark with Neighboring Countries
Denmark shares one land border with another country, Germany. Historically, the southern part of Denmark and the northern part of Germany have blended, as border lines were drawn and redrawn throughout the ages. Today there is a large Danish minority in the German state of Schleswig-Holstein and a German minority in the South Jutland.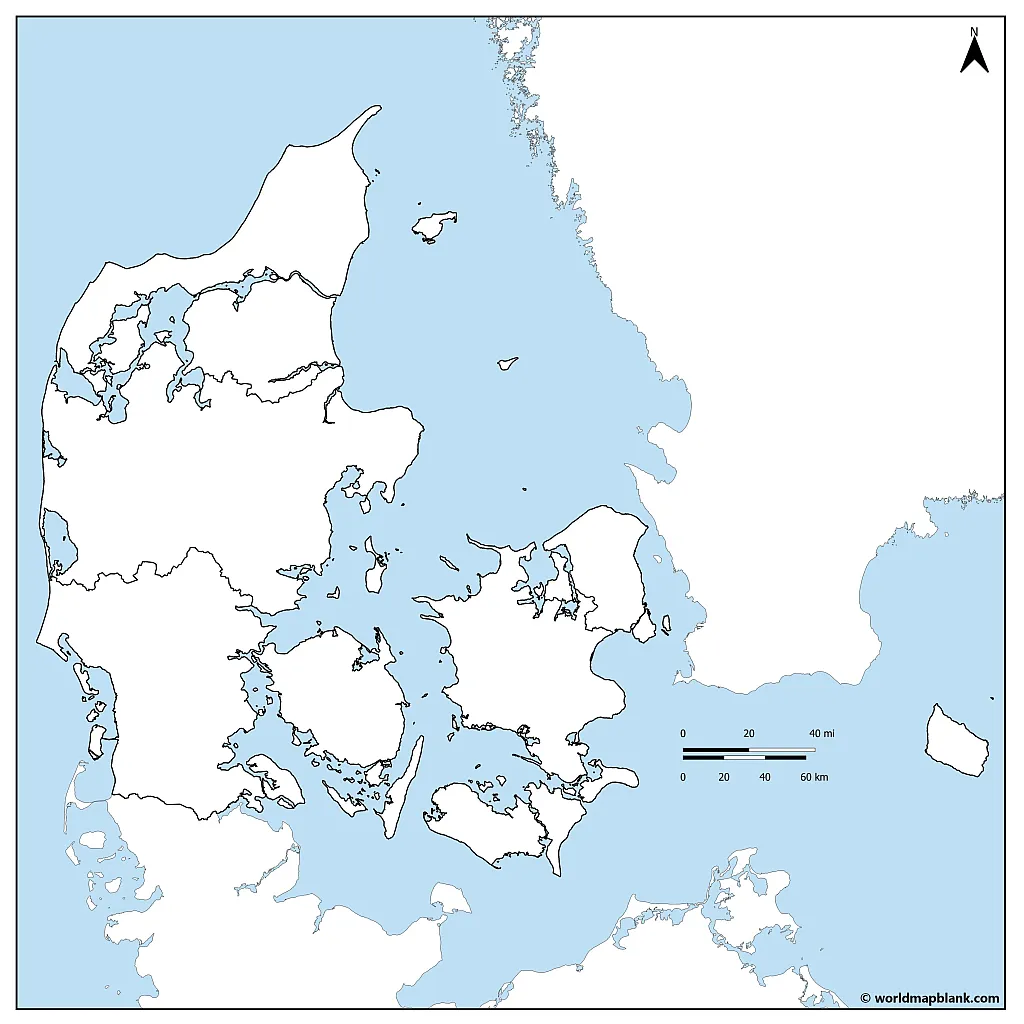 Download as PDF (A4)
Download as PDF (A5)
A part from the border with Germany, Denmark is connected to Sweden by a bridge-tunnel across the Øresund Strait in the east. The major boundaries of Denmark are defined by water, as it is surrounded by seas on three sides. To the west, Denmark is bordered by the North Sea, while the Baltic Sea lies to the east. The Skagerrak strait, which separates Denmark from Norway, lies to the north.
Denmark on Map of Europe
Here is a simple map that answers the question: Where is Denmark on the map? We created it with the help of a tool called MapChart.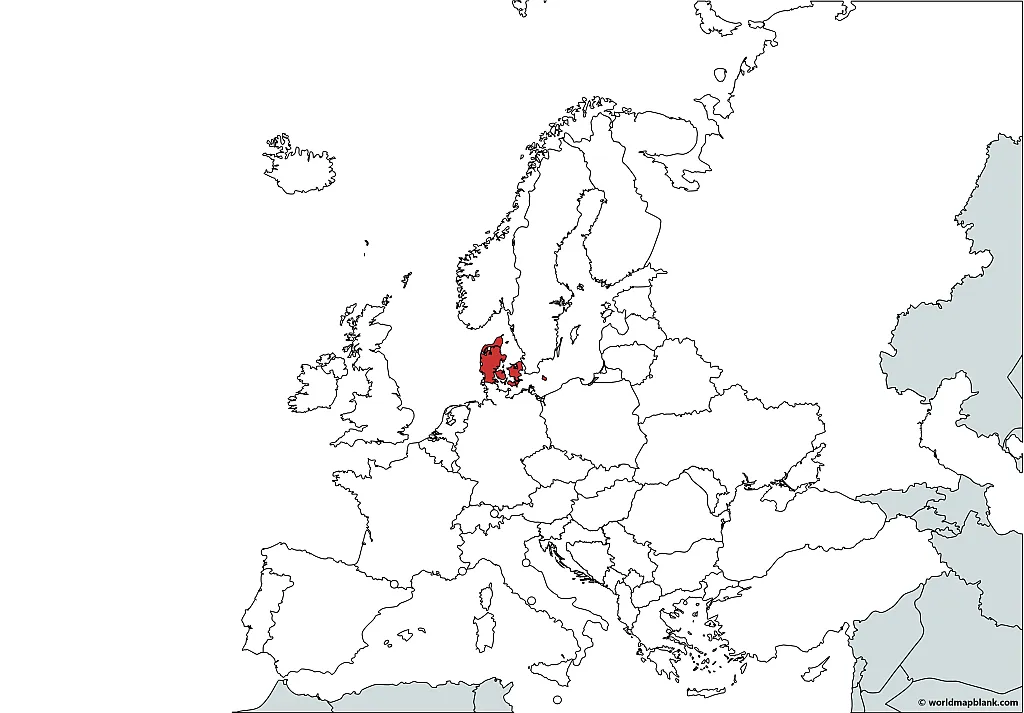 Download as PDF (A4)
Download as PDF (A5)
You can use above map to easily find out or demonstrate where Denmark is located on a map of Europe. Additionally, ou could combine exercises with this map with our Europe map worksheets.
Where is Denmark on the World Map?
Here is a similar printable map of Denmark that shows the location of Denmark on the world map. This map was made with MapChart as well.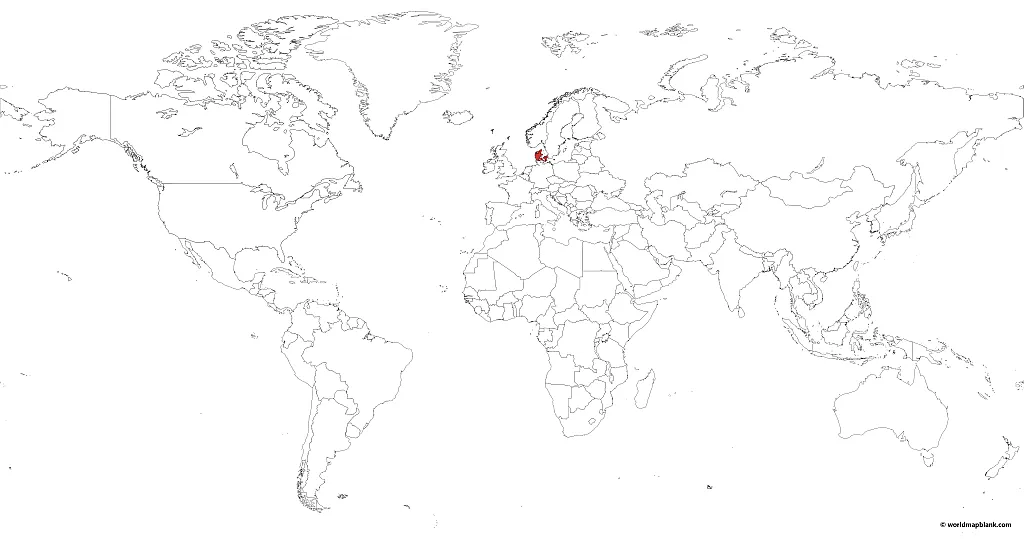 Download as PDF (A4)
Download as PDF (A5)
Depending on the definition and source, Denmark is the 131st, 130th or 133rd largest country in the world. It is similar in size to other European countries like Switzerland, the Netherlands, or Estonia. In comparison with US states, this corresponds approximately to the size of Ohio, Virginia, or Tennessee.
Blank Map of Denmark with Region Capitals
The next outline of Denmark map highlights the region capitals. This is a helpful map when studying the administrative structure of the country.
Listed below are the capitals of the five regions of Denmark and their population as of 2022:
Aalborg (North Jutland) – 216,091
Aarhus (Central Jutland) – 353,845
Odense (Southern Denmark) – 205,225
Copenhagen (Capital Region) – 633,565
Roskilde (Zealand) – 56,291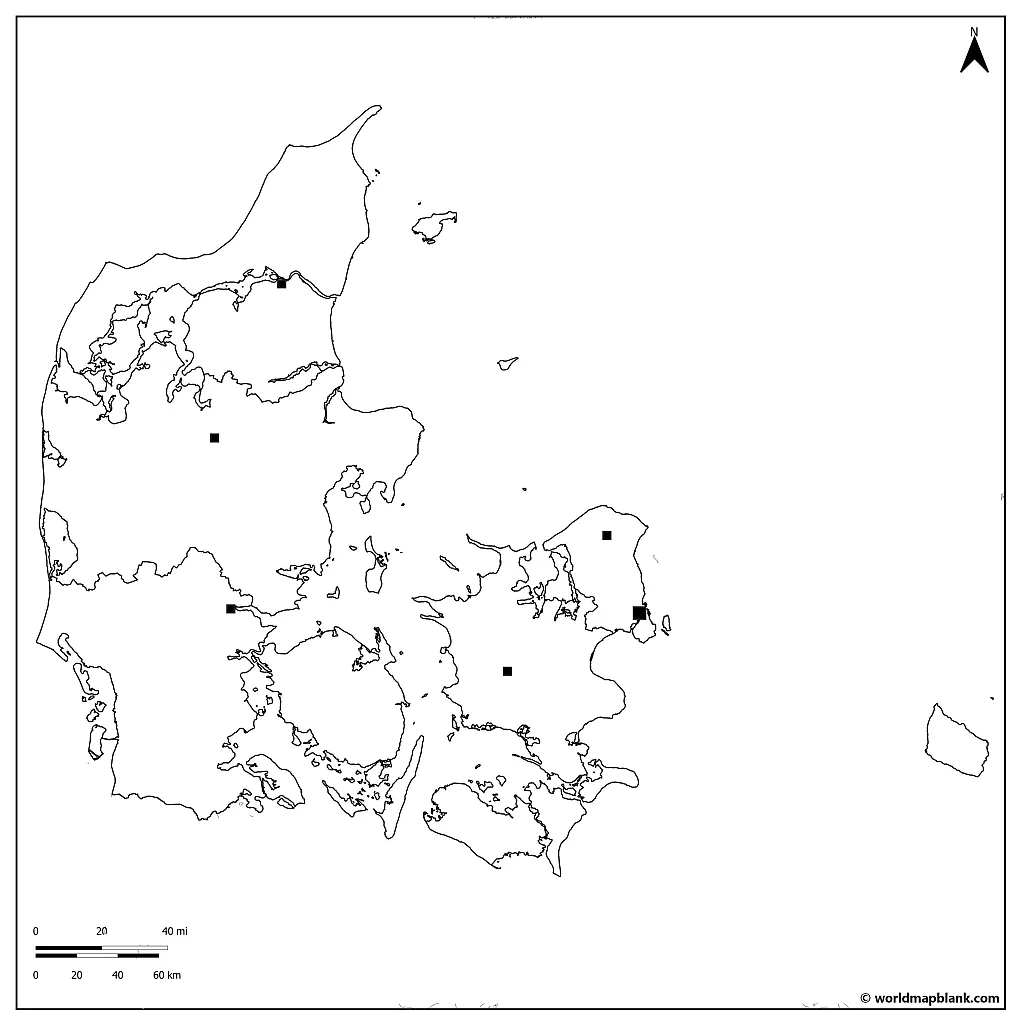 Download as PDF (A4)
Download as PDF (A5)
An empty map can be filled with a lot of information. For example, you or your students can use a Denmark blank map to learn the location of the main cities or the names of rivers, landmarks, and other features. Simply download it, print it out and use it for any kind of learning activities in the classroom or at home.
Blank Map of Denmark with Cities
Our next and final Denmark outline map is also our most detailed one. Apart from region borders and capitals, it also includes a number or larger cities and towns.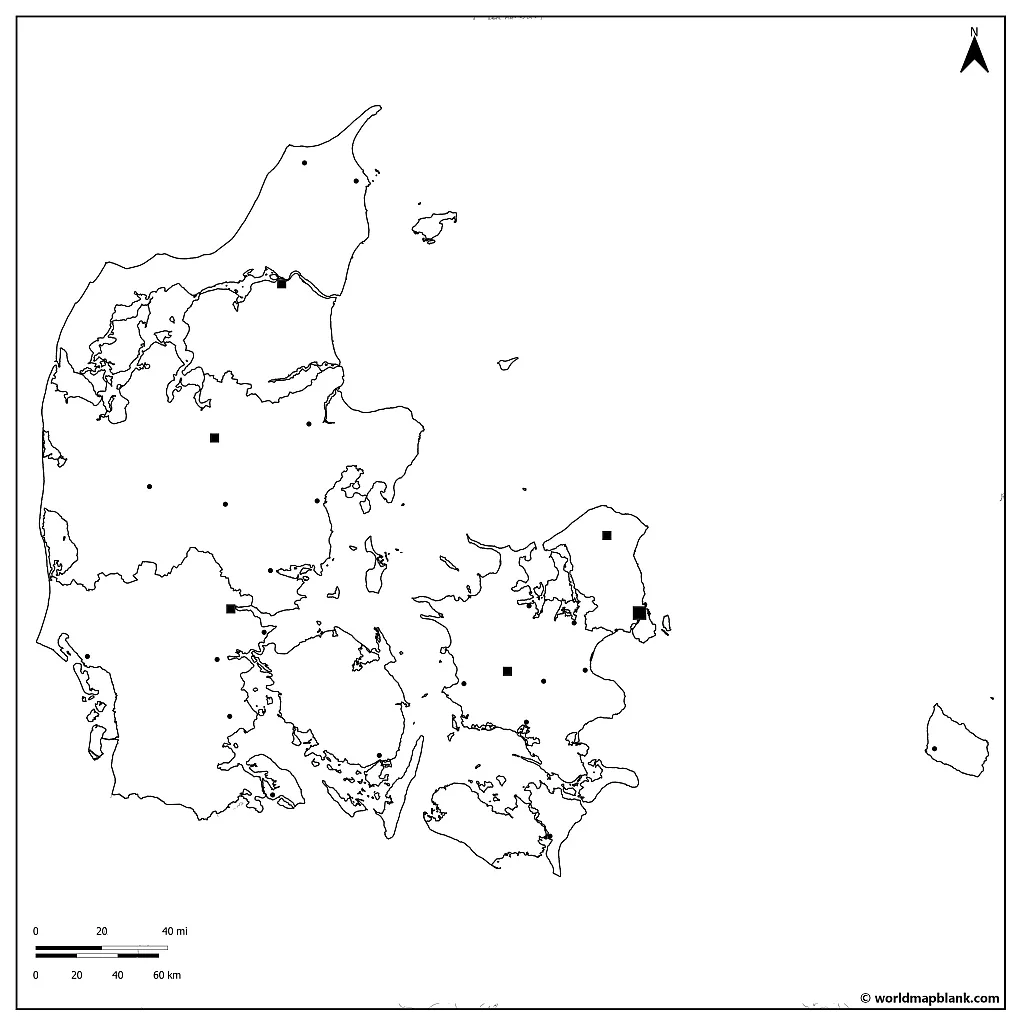 Download as PDF (A4)
Download as PDF (A5)
All cities and towns of Denmark have their own personalities based on their location, the main industry, and their population of course. Below you can find out something about each of the cities, as they are grouped by their regions.
North Jutland:
Frederikshavn: fishing industry, gateway to Læsø
Aalborg: fourth largest city, nightlife, Aalborg Zoo
Central Jutland:
Hirtshals: fishing port, ferry terminal to Norway and the Faroes
Viborg: Viking Age history, Viborg cathedral
Aarhus: second largest city, cultural scene, old town, viking museum
Vejle: fjord, gateway to Legoland
South Denmark:
Kolding: historic town, Koldinghus Castle, old town
Odense: Third largest city, Hans Christian Andersen's birthplace, museums
Esbjerg: Fishing industry, gateway to Wadden Sea National Park.
Zealand:
Hillerød: Frederiksborg Castle, Danish Museum of National History.
Roskilde: Roskilde Cathedral, annual Roskilde Festival.
Copenhagen: Capital and largest city, beautiful architecture, museums, Tivoli Gardens.
Capital Region of Denmark:
Helsingør: Kronborg Castle, inspiration for "Hamlet".
The Denmark country outline maps are great for anyone who wants to know more about this little but mighty Scandinavian country.
More Free PDF Maps for Download
Check out the links below to more geography sources such as maps of European countries, continent maps, or maps of the world. If your desired map is not available, please contact us and we will do our best to create it for you. Also, remember to use the search function on top of this page to find more useful maps!
Additionally, take a look at our map worksheets for interactive learning activities.
Country Maps
Continent Maps
World Maps