Oklahoma Outline Map – Blank Map of Oklahoma [PDF]
On this page, we invite you to explore various versions of an Oklahoma outline map or a blank map of Oklahoma. Just like our other offerings, these maps can be downloaded for free as PDF files. They are excellent resources for gaining knowledge about the geographical details of Oklahoma's counties and for familiarizing oneself with this U.S. state.
Apart from these Oklahoma outline maps, we provide you with other maps of the United States, both labeled and blank. We offer a blank USA map, a US Interstate Highway map, and several other individual state maps.
Moreover, you can find USA map worksheets in our store. Take a look!
Oklahoma Outline Map
Reputed as the "Sooner State", Oklahoma boasts an abundant history linked to its indigenous roots and early settlers. Located in the South Central region of the United States, it is known for its diverse landscapes that range from arid plains to subtropical forests and mountains. By utilizing the blank Oklahoma maps provided here, you can enrich your understanding of the state's shape, county divisions, key cities, and more.
Download as PDF (A4)
Download as PDF (A5)
The simplest map of Oklahoma presented here portrays the state outline. It only incorporates the outer boundaries of the state, making it an ideal tool for sketching rivers, roads, or other geographical features onto the map.
You can easily download, save, and print any of the maps on our site by clicking on the links beneath the images. They all are free to use according to our licensing terms.
Blank Oklahoma County Map
Oklahoma's tale as a state of the United States unfolds in the late 19th century when the Indian Territory was opened to settlers in the Oklahoma Land Run. It was incorporated as the 46th state of the United States in 1907.
Rich in natural resources such as oil, natural gas, and agriculture, Oklahoma's economy thrived from the beginning. The discovery of oil at the start of the 20th century led to an economic boom. Throughout the 20th century, Oklahoma expanded its economic portfolio to include aviation, energy, telecommunications, and biotechnology.
The subsequent map showcases all of Oklahoma's county boundaries and offers an excellent resource for learning about the state's counties.
Download as PDF (A4)
Download as PDF (A5)
Scroll down for more detailed Oklahoma county maps. We provide maps with all the county seats and another featuring additional cities. You can also use several of our maps in combination or building up on each other. This should make it easy to create interactive learning activities to practice all the names of the Oklahoma counties.
Oklahoma Outline Map with Capital and County Seats
Oklahoma City, the state's capital and most populous city, offers a vibrant blend of modern city life and traditional southern charm. The city holds a significant place in U.S. history and is renowned for its cowboy culture.
Famed for its vibrant arts scene and cultural landmarks like the Oklahoma City Museum of Art, the National Cowboy & Western Heritage Museum, and the Oklahoma City National Memorial, Oklahoma City offers much to its visitors and residents alike. It also has a thriving sports scene with notable teams like the Oklahoma City Thunder (NBA).
Oklahoma comprises a total of 77 counties. Here is a list of all of them, including the county names and the county seats:
Adair County – Stilwell
Alfalfa County – Cherokee
Atoka County – Atoka
Beaver County – Beaver
Beckham County – Sayre
Blaine County – Watonga
Bryan County – Durant
Caddo County – Anadarko
Canadian County – El Reno
Carter County – Ardmore
Cherokee County – Tahlequah
Choctaw County – Hugo
Cimarron County – Boise City
Cleveland County – Norman
Coal County – Coalgate
Comanche County – Lawton
Cotton County – Walters
Craig County – Vinita
Creek County – Sapulpa
Custer County – Arapaho
Delaware County – Jay
Dewey County – Taloga
Ellis County – Arnett
Garfield County – Enid
Garvin County – Pauls Valley
Grady County – Chickasha
Grant County – Medford
Greer County – Mangum
Harmon County – Hollis
Harper County – Buffalo
Haskell County – Stigler
Hughes County – Holdenville
Jackson County – Altus
Jefferson County – Waurika
Johnston County – Tishomingo
Kay County – Newkirk
Kingfisher County – Kingfisher
Kiowa County – Hobart
Latimer County – Wilburton
Le Flore County – Poteau
Lincoln County – Chandler
Logan County – Guthrie
Love County – Marietta
McClain County – Purcell
McCurtain County – Idabel
McIntosh County – Eufaula
Major County – Fairview
Marshall County – Madill
Mayes County – Pryor
Murray County – Sulphur
Muskogee County – Muskogee
Noble County – Perry
Nowata County – Nowata
Okfuskee County – Okemah
Oklahoma County – Oklahoma City
Okmulgee County – Okmulgee
Osage County – Pawhuska
Ottawa County – Miami
Pawnee County – Pawnee
Payne County – Stillwater
Pittsburg County – McAlester
Pontotoc County – Ada
Pottawatomie County – Shawnee
Pushmataha County – Antlers
Roger Mills County – Cheyenne
Rogers County – Claremore
Seminole County – Wewoka
Sequoyah County – Sallisaw
Stephens County – Duncan
Texas County – Guymon
Tillman County – Frederick
Tulsa County – Tulsa
Wagoner County – Wagoner
Washington County – Bartlesville
Washita County – Cordell
Woods County – Alva
Woodward County – Woodward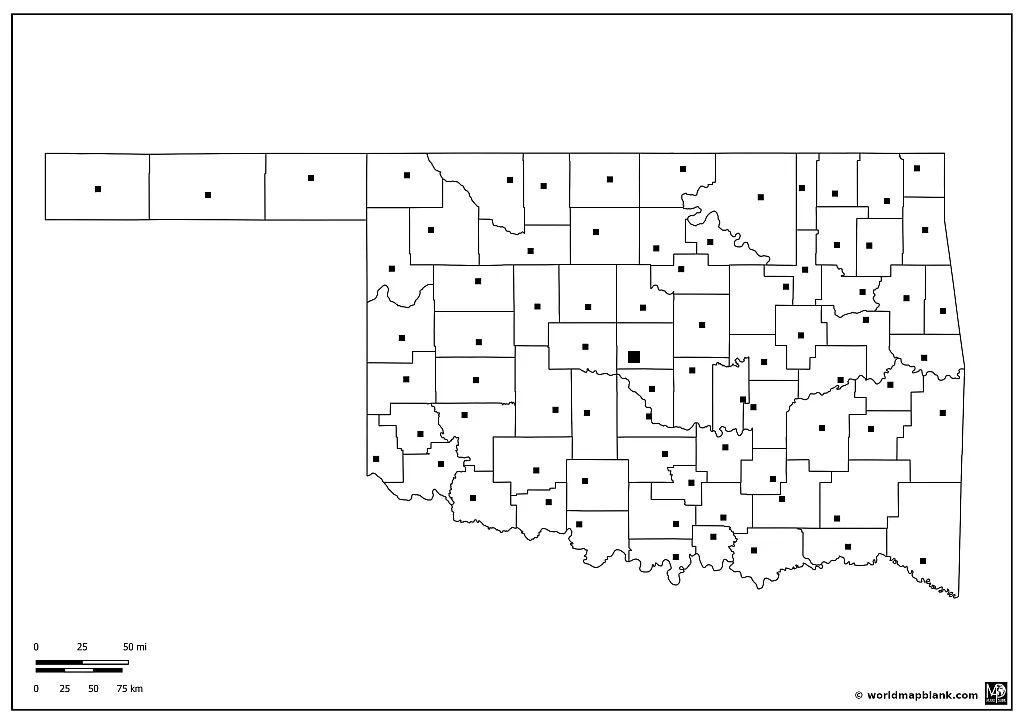 Download as PDF (A4)
Download as PDF (A5)
All of our downloadable PDF maps are ready for use, making them perfect for printing or incorporating into any educational or personal project. For instance, they could be used as teaching tools in a geography class, for tracing exercises, or for various crafts and DIY projects.
Remember, these maps are free to download, and you're welcome to use them as you need.
Blank Oklahoma Counties Map with Cities
Beyond Oklahoma City, the state boasts many other vibrant and notable cities. The city of Tulsa, for example, was once a hub for the nation's oil industry and now hosts a rich cultural scene, including the Philbrook Museum of Art, the Gilcrease Museum, and the Tulsa Performing Arts Center.
Other noteworthy cities include Norman, home to the University of Oklahoma, and Stillwater, where Oklahoma State University resides. Each of these locations contributes to Oklahoma's unique blend of history, culture, and natural beauty.
Download as PDF (A4)
Download as PDF (A5)
All maps provided here offer excellent resources for understanding the geographical, cultural, and historical aspects of Oklahoma. They can be a helpful tool for teachers, students, or anyone who is interested in learning more about this fascinating state.
Blank Map of Oklahoma with Neighboring States
Here is a short overview of the neighboring states of Oklahoma with links to relevant maps:
Texas: The Lone Star State, Texas, is located directly south of Oklahoma. The two states share a long history together, as well as a sports rivalry known as the Red River Showdown. Texas is famous for its diverse landscapes, ranging from deserts and mountains to coastal areas, and its significant influence in the energy sector with a large number of oil and natural gas reserves.
Kansas: Positioned directly north of Oklahoma, Kansas is known for its vast plains and agricultural productivity, particularly in wheat and sunflowers. The state played a significant role in the American Civil War and is remembered for its role in the Brown v. Board of Education case, which led to the end of racial segregation in public schools.
Missouri: Northeast of Oklahoma, Missouri is a state with diverse geography encompassing the Ozark Mountains, the Mississippi River, and large urban areas like Kansas City and St. Louis. Missouri is also known for its contribution to music with the Kansas City Jazz and St. Louis Blues genres.
Arkansas: East of Oklahoma, Arkansas is characterized by its diverse landscapes that include mountains, dense forests, fertile plains, and abundant rivers. It is known for its agriculture, specifically its production of poultry, cotton, and rice. The state is also home to Walmart, the largest retail corporation in the world.
Colorado: Northwest of Oklahoma, Colorado is recognized for its diverse landscapes of arid desert, river canyons, and the snow-covered Rocky Mountains. Colorado's economy is driven by industries like technology, aerospace, and outdoor recreation.
New Mexico: Located to the west of Oklahoma, New Mexico is known for its vibrant mix of Hispanic, Native American, and Anglo cultures, reflected in its architecture, food, and arts. It features diverse landscapes, including desert, mesas, mountains, and the Rio Grande.
Download as PDF (A4)
Download as PDF (A5)
Accordingly, our last map above shows all the counties of Oklahoma with their county seats as well as the borders of Oklahoma with other US states.
More USA Maps
If you found these maps helpful, we would appreciate it if you would share this page with others. If you have any questions or suggestions, feel free to reach out. Your feedback is important to us.
Here are some more USA maps for your collection. We offer both blank and labeled maps of the United States, which can be printed as often as needed:
Other Free PDF Maps
But of course, we do not only provide maps of America. We also offer various types of world maps, country maps, and continent maps. All of them are available for free as PDF files. Please find below a curated list of some of our most popular maps. If the desired map is not listed, you can also use the search feature at the top of this page.
World Maps
Continent Maps
Country Maps