Switzerland Outline Map – Blank Map of Switzerland [PDF]
Check out our different versions of a Switzerland outline map or a blank map of Switzerland. You can download any map for free in PDF and print it as often as you need. A blank Switzerland map can be very useful for teaching and learning about the country as well as for professional purposes.
Additionally, we offer a labeled map of Switzerland to make your resources complete.
Switzerland Outline Map
Switzerland is a landlocked country in Europe sharing borders with Austria, Germany, Liechtenstein, Italy and France. The country's population is roughly 9 million people with a high percentage of foreigners (approx. 26%). The largest groups of inhabitants without the Swiss nationality are Italians (328,000), Germans (311,000), Portuguese (255,000) and French 151,000).
There are four official languages in Switzerland: German (65.6% of the population in 2021), French (22.8%), Italian (8.4%) and Romansh (0.6%).
Our first map is a Switzerland outline map showing only the outer boundary of the country.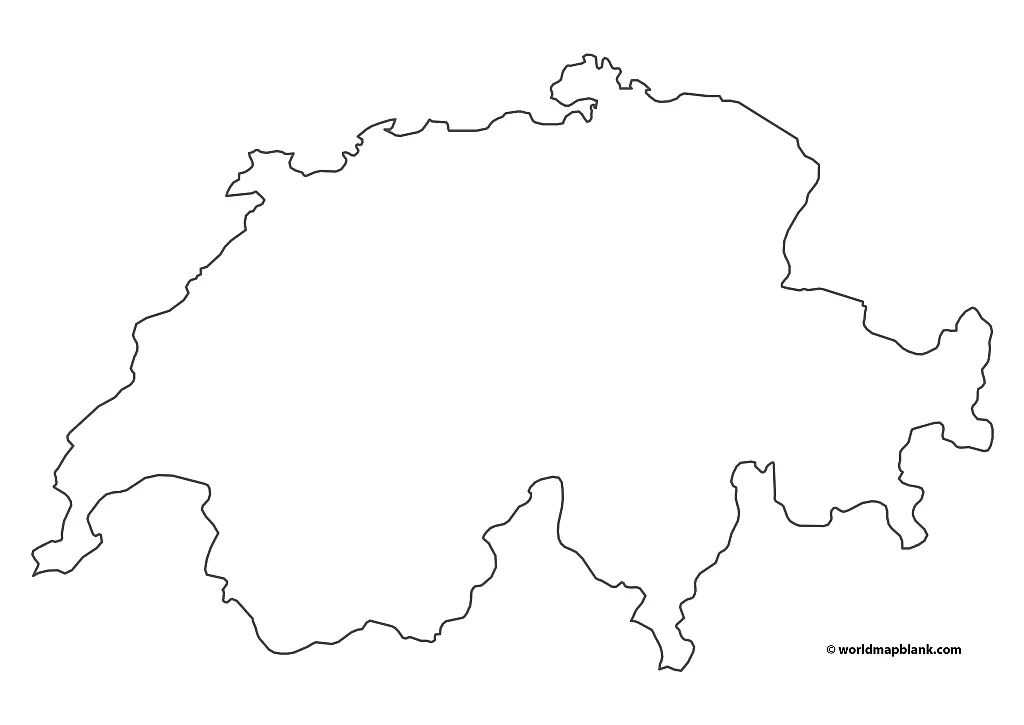 Dowload as PDF (A4)
Dowload as PDF (A5)
Use this and our other outline maps of Switzerland for drawing or marking geographical and other features into the map. This could be cities, mountains, lakes, rivers, spoken languages and many more.
Printable Map of Switzerland Outline
Since a significant part of Switzerland being dominated by the Alps, there is a large number of high mountain peaks in the country. The highest mountains in Switzerland are:
Dufourspitze – 15,203 ft (4,634 m)
Dom – 14,911 ft (4,545 m)
Lyskamm – 14,872 ft (4,533 m)
Weisshorn – 14,783 ft (4,506 m)
Matterhorn – 14,692 ft (4,478 m)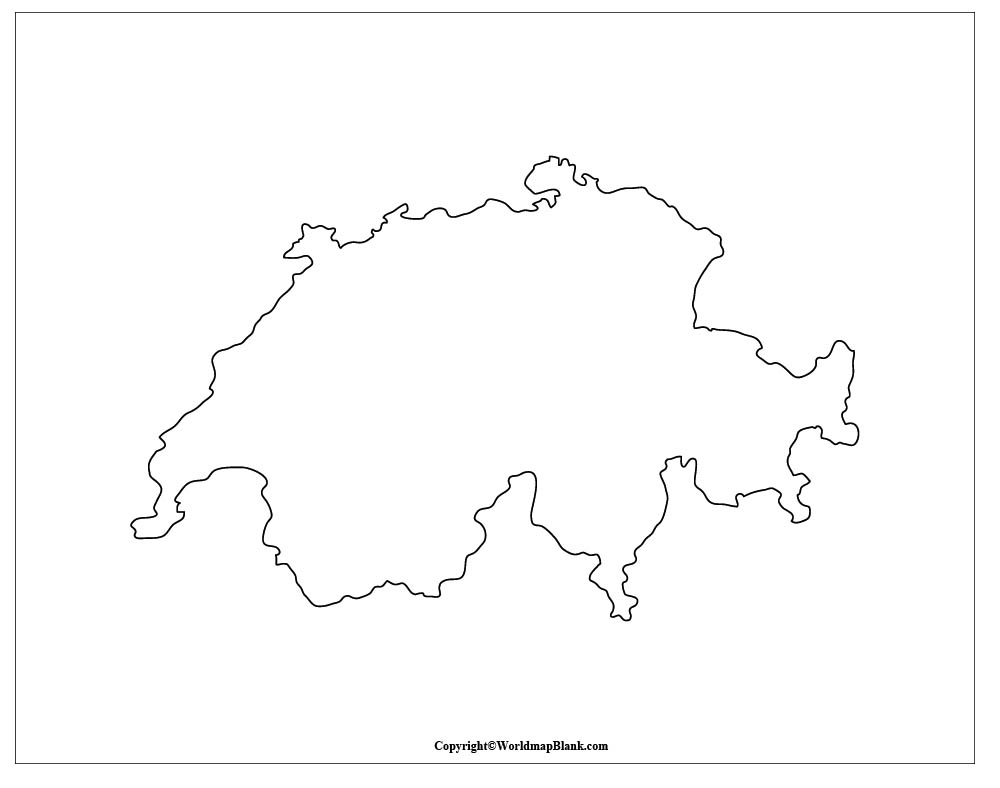 An interesting learning exercise could me to mark the location of above-mentioned and other mountains into this map.
Switzerland Blank Map Outline
Our next map is a very simple outline map of Switzerland. It is the least detailed map we offer.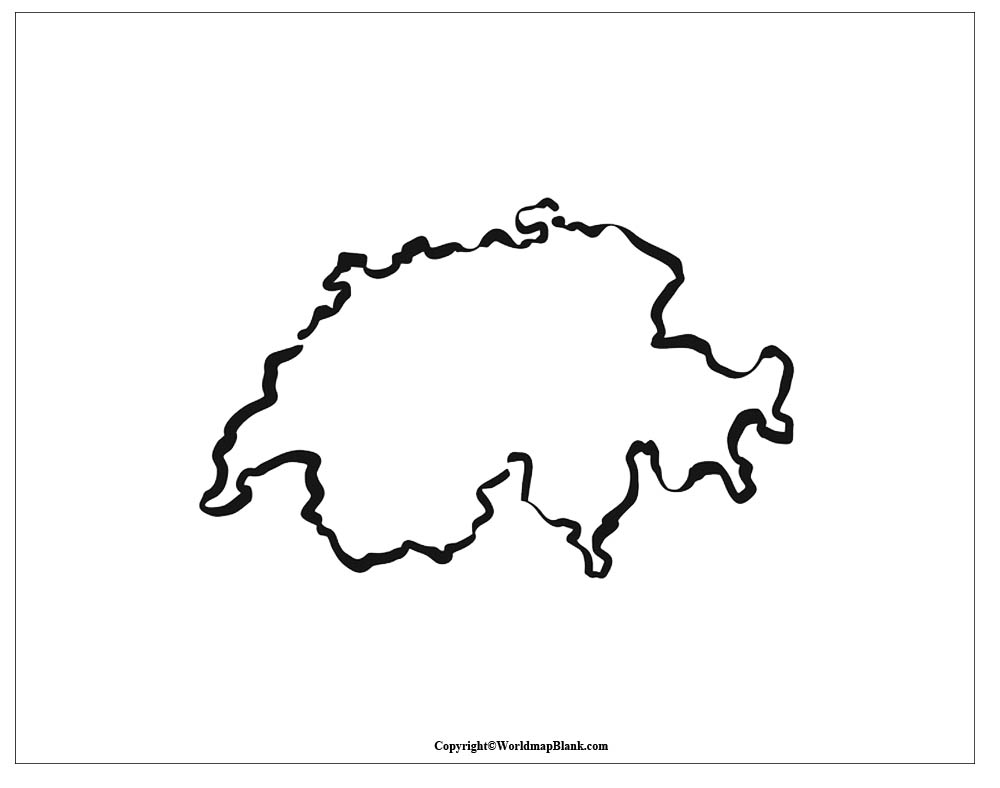 If you need more information already drawn into your blank Switzerland map, please try one of the following versions.
Blank Map of Switzerland
Switzerland is divided into 26 cantons which together form the Swiss Confederation. Its origins date back to the 13th century, when the Federal Charter of 1291 was signed by the cantons of Uri, Schwyz and Unterwalden.
Here is a list of today's cantons of Switzerland with their approximate populations (as of 2021) and capitals:
Zurich (1.6 million)
Berne (1 million)
Vaud (823,000)
Aargau (703,000)
St. Gallen (519,000)
Geneva (509,000)
Lucerne (420,000)
Ticino (352,000)
Valais (353,000)
Fribourg (330,000)
Basel-Landschaft (293,000)
Thurgau (286,000)
Solothurn (280,000)
Basel-Stadt (196,000)
Graubünden (201,000)
Neuchâtel (176,000)
Schwyz (164,000)
Zug (130,000)
Schaffhausen (84,000)
Jura (74,000)
Appenzell-Ausserrhoden (56,000)
Nidwalden (44,000)
Glarus (41,000)
Obwalden (38,000)
Uri (37,000)
Appenzell-Innerrhoden (16,000)

Above map is our first blank Switzerland map with cantons. A variation can be found below.
Blank Map of Switzerland with Cantons
Our next map is another blank map of Switzerland with cantons including all borders within the country. It is particularly useful for coloring exercises to memorize the locations of the cantons and for naming them directly in the map. Just like all of our newer maps, you can download this one in two different sizes.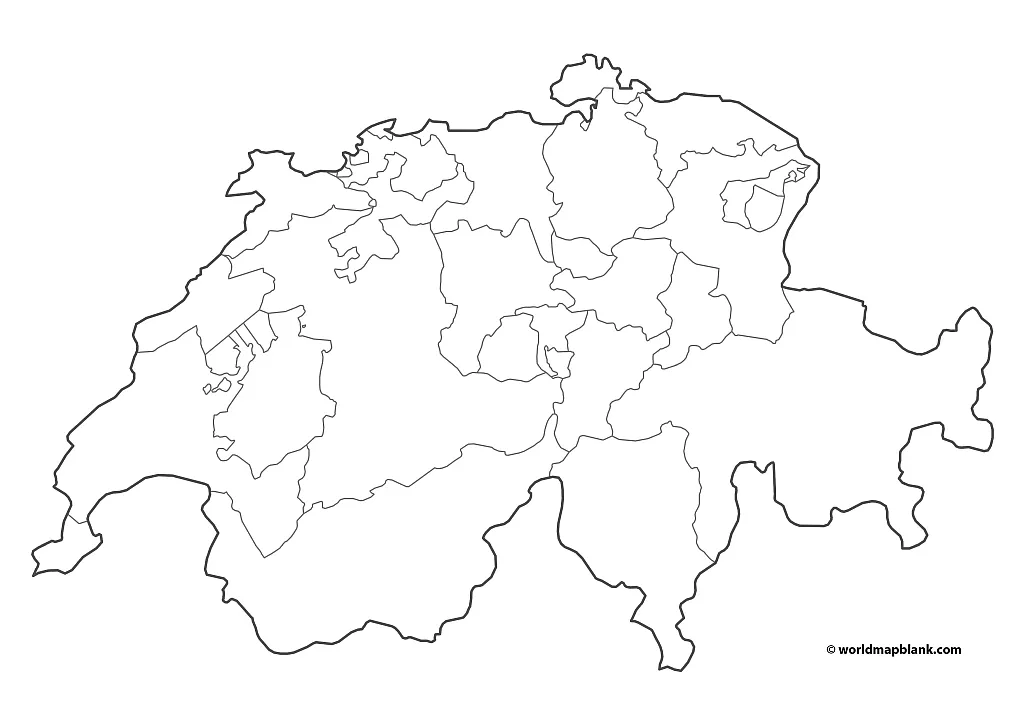 Download as PDF (A4)
Download as PDF (A5)
Blank maps of Switzerland are great for classroom use, but also for homework assignments and worksheets. You can even integrate them in exams or tests.
Blank Switzerland Map with Capitals
Our most detailed Switzerland map outline not only includes the canton borders but also the locations of their capitals. The country's de facto capital city Berne is indicated with a star.
This map is perfect to learn different categories of geographic features in one single map. In addition to canton and city names, students can draw rivers, mountains, languages and more into the map. They might even add the surrounding countries.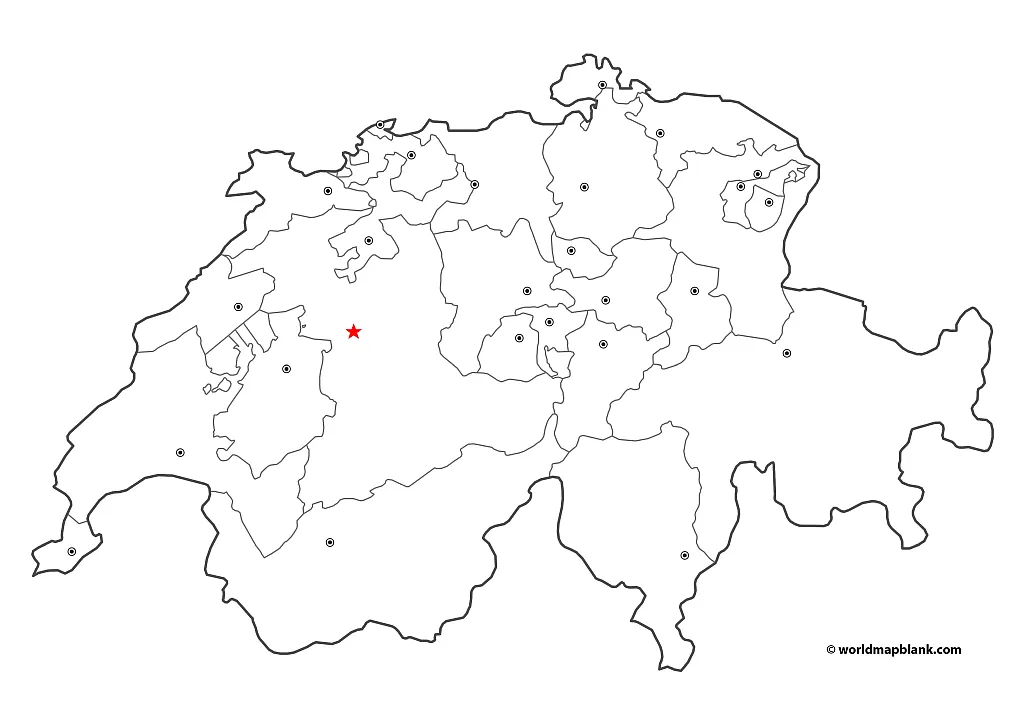 Download as PDF (A4)
Download as PDF (A5)
The capitals of the Swiss cantons are:
Zurich (Zurich)
Berne (Berne)
Lausanne (Vaud)
Aarau (Aargau)
St. Gallen (St. Gallen)
Geneva (Geneva)
Lucerne (Lucerne)
Bellinzona (Ticino)
Sion (Valais)
Fribourg (Fribourg)
Liestal (Basel-Landschaft)
Frauenfeld (Thurgau)
Solothurn (Solothurn)
Basel (Basel-Stadt)
Chur (Graubünden)
Neuchâtel (Neuchâtel)
Schwyz (Schwyz)
Zug (Zug)
Schaffhausen (Schaffhausen)
Delémont (Jura)
Herisau (Appenzell-Ausserrhoden)
Stans (Nidwalden)
Glarus (Glarus)
Sarnen (Obwalden)
Altdorf (Uri)
Appenzell (Appenzell-Innerrhoden)
More Free and Printable Maps
Download and use any of our maps for school activities, homeschooling or other educational, professional or personal purposes. They are all available for free in PDF. Here are a few links to other maps you might find interesting and helpful:
County Maps (Europe)
Map of Germany with States and Cities
Map of Sweden with States and Cities
Other Country Maps
Continent Maps
Labeled Map of Africa with Countries
Map of South America with Countries
World Maps
Map of the World with Latitudes and Longitudes